TRIED AND TESTED – COOLSCULPTING® ELITE NON-SURGICAL BODY-CONTOURING TREATMENT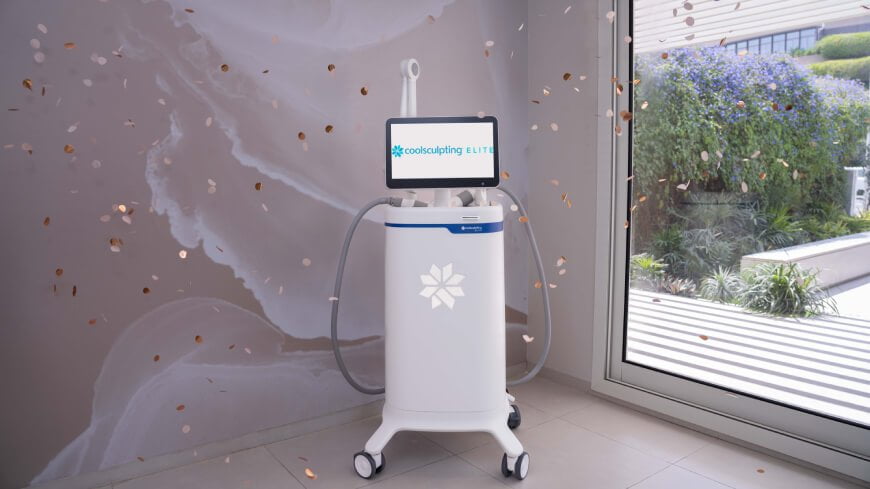 If your New Year's resolution for 2023 is to shape up your contours and look fabulous, Lucia Clinic is the best aesthetic center for it because it offers a vast variety of treatments – from plastic surgery and injectables to completely non-invasive contouring treatments.
One of the state-of-art treatments that Lucia Clinic offers is certainly CoolSculpting® Elite, a dual applicator, non-invasive, body contouring treatment that has been in the spotlight recently.
If you wish to contour your body without surgery, needles, anesthesia or long recovery then CoolSculpting® Elite is your thing.
WHAT IS COOLSCULPTING® ELITE?
CoolSculpting® Elite is the ultimate slimming treatment that uses cold temperatures. It has been built on the legacy of CoolSculpting® treatment but with improved technology which made CoolSculpting® Elite THE top treatment for body contouring. If you are looking for a safe, fast and effective treatment that will visibly reduce inches on your body then CoolSculpting® Elite is the IT treatment for you.
CoolSculpting® Elite has improved Dual applicator technology, which means that you can now treat two body areas at once. Just imagine – you can freeze away fat cells from both arms or both inner and outer thighs at the same time you used to treat just one body area.
There are some brilliant improvements on the applicators – they are 18% larger than before. Now they cover more skin surface and target more fat cells. So the results you achieve from CoolSculpting® Elite treatment are faster and more effective. The applicators are more comfortable because they are C-shaped and don't squeeze your tissue as much.
The new sleek design of applicators boosts your fat-freezing treatment even further. They contact and cover your targeted tissue much better. And they are more precise – the vacuum suctions your targeted tissue to the cold applicator's center. Again, more fat is frozen away which guarantees even more effective results for you.
It is a fat-freezing procedure that makes your submental area, thighs, arms, abdomen or waist slimmer and better contoured, without effort, downtime or discomfort. Want a quick, lunch break body shaping procedure? Enters CoolSculpting® Elite.
You need fewer sessions than before because CoolSculpting can reduce up to 30% of fat in just one session. You will notice the best results 2 to 4 months after the last treatment.
HOW DOES COOLSCULPTING® ELITE WORK?
When you arrive at Lucia Clinic, you are consulted with Lucia's Skin Therapist. The therapist checks the body area you want to address and creates a treatment plan that will bring you the best outcomes. We all have different bodies and different concerns so Lucia's skin therapist carefully determines if this treatment is the right one for you. You are an ideal candidate if you are generally healthy and close to your perfect body weight, but have stubborn pinchable fat pockets on your thighs for example, that simply won't give in and reduce no matter how much you exercise or keep a proper diet.
After consultation, you are taken to a treatment room that is full of light and more than welcoming. You instantly feel comfortable and know that you are in good hands.
The therapist then explains the CoolSculpting® Elite treatment to you and introduces you to the machine. And that's it.
The therapist applies a cooling pad to your targeted body area, to protect your skin from the cold. And then the therapist applies the new and improved CoolSculpting® Elite applicator to the targeted area – the applicator sucks your tissue inside its cup and keeps it firmly. But it's not uncomfortable because your tissue is squeezed less than before. And then the therapist applies another applicator to the second body area – this is amazing because, during a single session, you can address both thighs at the same time. Hello shorter treatment time and fewer sessions but brilliant results.
And then the cooling starts. You feel a deep cooling sensation deep within the tissue because the temperature is really low. It feels like putting ice on an injury. This is mildly uncomfortable, but luckily it lasts for 5 to 10 minutes only. Then your tissue gets numb and you don't feel anything.
This is where the magic happens. CoolSculping® Elite cooling technology singles out and targets only the fat cells in your thighs. The cooling is precisely controlled so you don't have to worry that it will harm surrounding tissue. Because of the cold temperature, these fat cells get crystalized and destroyed. After the session, your body starts to metabolize these destroyed fat cells and naturally flushes them away. Bye Bye fat cells!
The treatments time flies by – you can relax, read or watch TV and soon it's all over. The treatment time depends on the size of the treated area – for thighs, it's approximately one hour. For smaller areas like double chin, the treatment is finished in 30 minutes.
The applicators are taken from your targeted areas and you can continue with your day because there is no downtime. You may feel a mild tingling sensation and your skin may be little red, but this all passes in a day or two.
That's all. You can immediately see that your thighs are smoother but the best results will show after your body flushes away all the destroyed fat cells. This is when you will actually notice that your thighs are slimmer and that you lost inches – the fat pockets are gone!
WHY CHOOSE COOLSCULPTING® ELITE?
Simply because CoolSculpting® Elite is one of the most effective body contouring treatments on the market. Its advancements bring you better, faster and more consistent results than before. You can treat two problematic areas simultaneously and achieve better-shaped contours by freezing away more fat cells in half the time. And the treatment is more comfortable – one of the benefits you can't set aside.
So, what can you expect from the CoolSculpting® Elite procedure?
More fat reduction – CoolSculpting® Elite can now freeze away and destroy more than 25% of fat in just one session. If you are bothered with stubborn fat pockets that simply won't go away, this procedure will eliminate them for you.
Your body contours will be enhanced and shaped almost to perfection. The damaged fat cells will be flushed away from your body and you will notice a significant loss in inches in the treated area. This powerful but gentle procedure will give you the body contours you have always dreamt about.
9 different body areas can be treated – CoolSculpting® Elite applicators target, freeze and destroy stubborn fat cells in 9 different body areas – submental fulness/double chin, upper arms, inner and outer thighs, abdomen, waist, buttocks and back.
This means that you can reduce fat cells under your buttocks or banana rolls, bra rolls in the front and back, saddlebags on your thighs and the infamous love handles. But now you can do it twice as fast because of two applicators that work at the same time.
CoolSculpting® Elite applicators come in 7 sizes and shapes – perfect for larger and also for hard-to-reach areas. And with the sleek designs, the applicators fit perfectly with your natural curves and are much more comfortable. Get ready for perfectly shaped body contours without surgery or needles.
The results are permanent – this benefit is one that makes this treatment so popular. Once the destroyed fat cells are flushed away from your system, they are gone for good. The eliminated fat can't grow back again. This will definitely motivate you to continue with your healthy lifestyle and keep these brilliant results. With a regular fitness regime and proper diet, you will be able to enjoy your better-contoured body forever.
And your first results show up really fast – after just 4 weeks. You will notice that your clothes fit you better and your natural curves are smooth and shaped. Think about the rise in your confidence – you will be one step closer to fulfilling your aesthetic goal of having an ideally sculpted body.
And the final results will be there in 3 to 4 months after your final treatment session. CoolSculpting® Elite treatment will trigger your body to naturally eliminate fat cells so you need a bit of time for that. Since the results are achieved gradually they are completely natural-looking – nobody will notice that you had this treatment, but they will definitely notice that you look slimmer and better shaped. And that is your ultimate goal.
It is super safe – CoolSculpting® Elite is an FDA-approved procedure which makes it safe for all skin types, tones or textures, and since it is non-invasive there is no downtime. After the treatment, you can go on with your daily routine – there is no aftercare. There are no needles or invasive techniques – CoolSculpting® Elite delivers excellent results in a gentle but effective way. So if you're busy and want fast results, CoolSculpting® Elite is the right procedure for you.
It has been developed for 10 years – CoolSculpting® Elite represents the highlight of 10 years of extensive research, improvement and usage. Its brand new design and improved technology of fat-freezing is now more effective, more comfortable and faster. It shapes your body areas with two applicators so you get twice as fast and twice as better results with this non-invasive treatment.
WHY HAVE COOLSCULPTING® ELITE AT LUCIA CLINIC?
Lucia Clinic is and always will be the leader in the field of aesthetic and dermatology treatments. Lucia's team follows the developments in treatment technology and treatment methods, so you can expect to have innovative, safe and result-driven procedures.
CoolSculpting® Elite definitely deserves to be in the top place of Lucia's treatments. Lucia Clinic is among the first in the Emirates to offer this advanced slimming treatment. As they always see the importance of delivering contemporary aesthetic treatments, CoolSculpting® Elite is no exception for them.
What singles Lucia's team out is their appreciation of your well-being and natural beauty. That's why they create bespoke treatments that address your specific aesthetic concerns. And they bring you real and visible results with minimal to no discomfort.
Another thing – Lucia Clinic houses world-renowned skincare experts.
You can enhance your body contours with the guidance of one of the most trusted skin specialists in the aesthetic industry. Having Coolsculpting® Elite at Lucia Clinic will help you fulfill your new year's resolution. Lucia's team will treat you with absolute professionalism and bring you that long-desired shaped body contour. Your results with be natural and uncompromised.
CoolSculpting® Elite treatments are done only by highly trained and experienced skin therapists, who create a bespoke treatment plan just for you and put your safety in the first place. With CoolSculpting® Elite's advanced technology, they can treat your problematic body areas with precision and safety.
FEEL GREAT IN YOUR BODY AGAIN WITH COOLSCULPTING® ELITE
After your last CoolSculpting® Elite treatment sessions, you will look better and feel great in just 3 months. Your confidence will be boosted because your clothes fit better on your slimmer and smoother contours. Reach your cosmetic goals with reduced treatment time and in a comfortable way. Just keep up with a healthy lifestyle, like a proper diet and regular exercises and you will enjoy the effects of CoolSculpting® Elite forever.
Get ready to shape up in a completely non-invasive way with CoolSculpting® Elite. Don't hesitate to achieve your aesthetic goals. Start your journey to a more enhanced silhouette by scheduling your CoolSculpting® Elite procedure at Lucia Clinic.