DR. RADMILA LUKIAN TALKS ABOUT HER PASSION FOR DERMATOLOGY IN HER INTERVIEW FOR ELLE ARABIA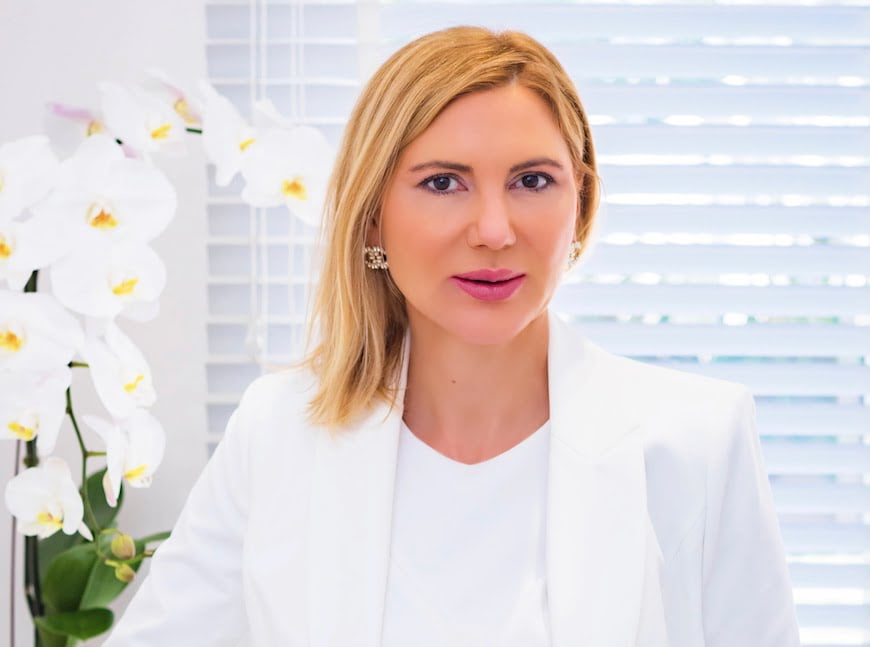 Dr. Radmila Lukian has recently given a wonderful interview for ELLE Arabia where she talked about skin issues, skin protection tips and her dedication to providing tailored treatment options that help her clients enjoy healthier and more beautiful lives. She also gave more details about EMSculpt NEO treatment as Lucia Clinic is proud to be the only provider of this revolutionary body sculpting procedure in the Middle East.
Let's see what this remarkable lady has to say…
DR. LUKIAN'S STORY
How did Dr. Lukian find her passion for dermatology? Well, as a dedicated doctor she maintains and restores human health through medicine – or in her case dermatology. She was always fascinated by aesthetic medicine and when you are passionate about something you succeed.
In her nature, dr. Lukian is a true sportswoman. Her drive for sports has always been a big trigger – she always strives to become a better version of herself and she is in constant competition with herself.
She also feels and transfers this passion to her work. Even though she is a renowned dermatology specialist, Dr. Lukian says – you should never stop learning, researching and developing yourself. As she always strives to help her patients become the best version of themselves, the same goes for her – she uses every opportunity to learn something new and exchange knowledge. But, she also spends her time teaching and training other physicians in her field of cosmetic procedures. She learned from the best and now she is the best.
WHAT DOES DR. LUKIAN SAY ABOUT NOURISHING YOUR FACE IN THE HOT DUBAI SUN?
Living in the UAE means paying attention to your skin – finding the best ways to keep your complexion fresh and nourished while exposing yourself to the sun. Dr. Lukian and her team at Lucia Clinic provide their patients with advanced treatments options for skin replenishing. Dealing with visible imperfections on the skin due to overexposure to the sun like freckles, dilated capillaries, skin dryness or wrinkles is just one part of their expertise. Dr. Lukian explains that it is also important to have healthy lifestyle habits that give you vibrant skin – goodnight's sleep and proper nutrition are just some of them. We can help our skin by simply changing our everyday routine. Dr. Lukian has a holistic approach to skin procedures – natural-looking outcomes are what she can provide you in the best possible way.
WHAT ARE DR. LUKIAN'S TIPS FOR SKIN PROTECTION?
Skincare is healthcare – that's what our star doctor always says. We show our love to ourselves when we take care of ourselves. Everyone has unique skin – meet your skin, understand your skin and find what is the best skincare for you with the help of experts. You can avoid premature aging signs if you find a dermatologist who is respected, experienced and has great communication skills. Together you can create the best treatment plan for your skin – natural, effective and the best! You are so right Dr. Lukian.
WHAT ABOUT THE LATEST NON-INVASIVE BEAUTY TREATMENTS AT LUCIA CLINIC?
Lucia Clinic – light, shine, clear, bright! The word Lucia says all that! And all that is what patients get when they come to Lucia Clinic for skin treatments. Dr. Lukian's team's mission is to use advanced technologies in providing all beauty treatments from laser procedures, hyaluronic acid injections, collagen replacement, facial contouring techniques – they provide the best results and use the best products. And how do they achieve that? They listen and understand their patients! They use their medical expertise to help their patients restore their light and confidence in their beauty.
DR. LUKIAN TALKS ABOUT LUCIA'S EMSCULPT NEO TREATMENT
Why is EMSculpt NEO treatment becoming more and more popular? Well, as Dr. Lukian explained in her interview, it is a revolutionary device – it is the first and only non-invasive body shaping procedure in the world that provides simultaneous fat elimination and muscle building.
Lucia Clinic is the only provider of this treatment in the Middle East.
YOU WILL LOVE YOUR NEW BODY SHAPE!
With EMSculpt NEO you can reduce stubborn fat pockets and tone your muscles at the same time. You can get a perfect body contour after just 4 sessions.
You can improve your core strength, lift and sculpt your buttocks, enhance your calves, add definition to your arm, abdomen and leg muscles, reduce fat – all in 30 minutes. You can lose on average 15% of fat and grow 16% of muscles in the targeted area. How amazing is that!?
THE SECRET BEHIND LUCIA'S EMSCULPT NEO TREATMENT
EMSculpt NEO boosts your body's potential to get a perfectly contoured shape with HIFEM or high-intensity focused electromagnetic energy that builds muscles and radiofrequency or RF energy that burns fat. Both energies work simultaneously – that's the secret behind the EMSculpt NEO treatment! This one-of-a-kind treatment deeply stimulates muscle 20,000 contractions in the muscle groups that are targetted – this is not possible with normal exercise. So, your muscles adapt and reshape. The advantage – you don't feel any pain or discomfort, but you feel how your muscles are getting stronger, more toned and defined. This treatment is full of surprises! It doesn't stop at building muscles – it causes fat reduction through heating its tissues. Again you don't feel uncomfortable as your stubborn fat cells get destroyed forever. Eventually, you eliminate these fat cells from your body through natural metabolic processes.
You can get stronger and slimmer in flash. EMSculpt NEO takes your body contouring solutions to the next level.
EVERYBODY IS OVERWHELMED WITH THE RESULTS OF EMSCULPT NEO TREATMENT
It is non-invasive, painless and fast – but above all effective. There is no downtime after the treatment – you can carry on with your daily activities right after the treatment. Patients can feel that their treated areas are much smoother and more toned. Their muscles are more defined and stronger.
Dr. Lukian is always for balancing everything in your life – exercising, a healthy diet and stress reduction. However, if your fitness and nutrition routine can't help you eliminate those stubborn pockets of fat or if you simply can't tone your abdomen muscles that Lucia Clinic's team is here to help you achieve your goals. EMSculpt NEO treatment can target specifically problematic body areas and provide you with the results you want.
But, again it's important to keep that healthy lifestyle like exercising regularly and having a balanced diet. Once you achieve your perfect body contour the key is to maintain it with your healthy habits. After the treatment, you will see the best results and keep them for an indefinite amount of time if you continue to care about yourself as you did before.
Dr. Lukian's team of specialists offers a new, non-surgical body enhancement with EMSculpt NEO. They help their patients reach their aesthetic goals and bring back confidence. They make the light shine through their patients again.
DR. LUKIAN SKINCARE PHILOSOPHY
Dr. Lukian is a doctor who cares and loves all her patients. Her job is to listen and understand her patients' concerns and to customize a treatment plan that will satisfy and far exceed their expectations. She also advocates for finding a healthy balance between cosmetic dermatology, nutrition, regular exercise and stress reduction is what actually works best for our beauty, mind and souls. Why is Dr. Lukian so appreciated and successful in what she does? Well, because she treats every patients' skin like her own. Dr. Lukian and her team always focus on their patients to the fullest – not just the face. The face and body need to synchronize so we can age gracefully. We should take care of our bodies with the same effort as we take care of our faces. The harmony between the face and body is the most important.
Dr. Lukian has more than 20 years of experience and she realized that there are three most important factors that patients should be aware of when they are looking for an aesthetic doctor:
#1
As dr. Lukian says we only get one precious face and when we take excellent care of our skin to prevent premature aging we show ourselves love. Our skin is unique. To get to know what is best for our skin, we should always go only to the expert dermatologists. In medicine, experience is important. Dr. Lukian advises – always go for a dermatologist who has at least 10 years of experience. Always go for a doctor who has experience treating different types of skins, great education, and ongoing training.
Of course, as well,  great communication skills.
#2
Next important thing is keep a good dermatologist for the rest of our lives. Dr. Lukian's Lucia Clinic is the place where Dubai goes for beauty – if you are living or visiting Dubai, or you did not find yet your perfect dermatologist you will find one here.
#3
The last advice – Always go for a doctor who is representative. Nobody is going to a doctor who does not take care of him/herself or doesn't have healthy skin.
Every patient is different and deserves individual attention and tailor-made beauty ritual. Lucia's Team combines a holistic approach with modern techniques when supporting the body and skin of their patients. They never solve patients' skin problems in the short term – they provide natural, long-term results. They address every sign of aging – skin laxity, loss of volume, wrinkles and discoloration.
Aesthetic treatments are constantly changing and new technologies are always emerging. By embracing the changes in this field, dr. Lukian brings non-invasive facial rejuvenation to perfection. Taking the best care of her patients is actually dr. Lukian philosophy and biggest passion.
Finally dr. Lukian's biggest inspiration is – think healthy, live healthy, nourish your body, mind and soul, do what makes you happy.
DR. LUKIAN AND HER AWESOME TEAM
Dr. Lukian is very grateful for having an amazing Team at Lucia Clinic because together they always succeed in making their patients satisfied with the results. That's why Lucia Clinic is so special – they work very hard and they have established their place at the top in the world of aesthetic beauty. They follow the trends, researches and developments and also set the trends. With new treatments always on the way, they offer a perfect solution for every problem – whether it's a facial issue or body imperfection. You can find a treatment at Lucia Clinic that will work the best for you and your concerns. Carefully listening and examining the patients is crucial when choosing the best treatment option – that's what dr. Lukian's team does the best. They have built their reputation over the years and earn confidence from a huge number of people. Lucia Clinic will always shine…
Thank you ELLE Arabia for meeting with our star doctor!