BRING YOUR FACIAL CONTOURS TO PERFECTION WITH THERMAGE AND ULTHERAPY TREATMENTS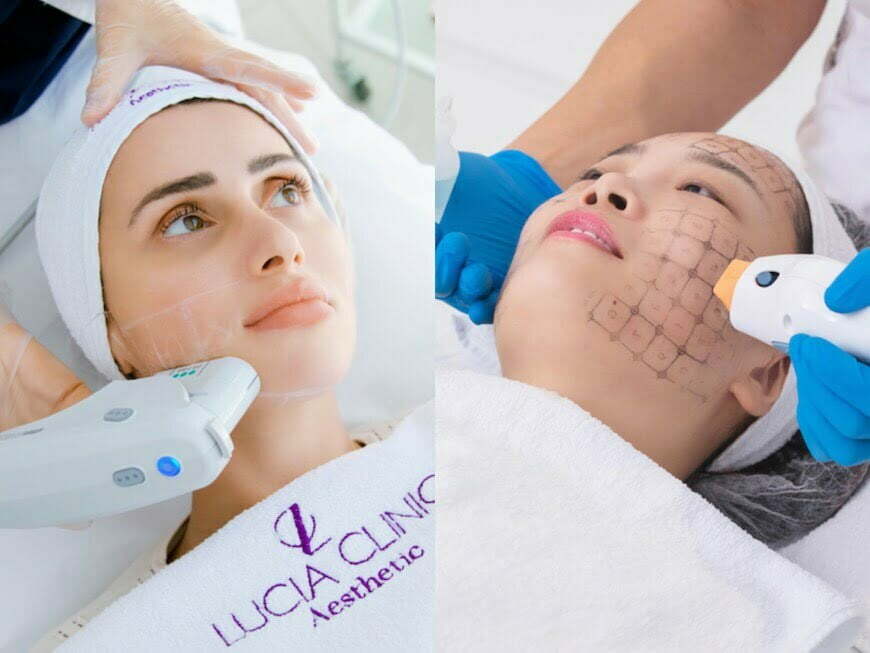 We are continuing with our holiday specials and this week we are offering you two brilliant treatments that can make your face more enhanced and defined. Thermage – a non-surgical treatment that tightens your facial skin and reduces fine lines and wrinkles and Ultherapy – an amazing treatment that gently lifts and firms loose skin on your face, neck and décolletage.
Keep on reading and find out what these treatments can do for your skin this holiday season.
REJUVENATE YOUR SKIN WITH ULTHERAPY
Getting ready to rock at a Christmas party, but your skin seems to have lost its vitality? Well, Ultherapy is the number one treatment that can tighten and lift your skin and make it youthful-looking again. How, you might ask? With collagen and elastin boosting – super important proteins that keep your facial skin nice, firm and beautiful. This Holiday season you can get flawless skin that shines with vitality and radiance. You can enhance not just your face but also your neck and décolletage with this brilliant treatment. Prepare yourself for the Festive season without the long downtime and excessively upsetting your facial skin.
AWAKE YOUR BODY'S OWN HEALING PROCESS
Your own body can do so much for your skin if you just boost it a little. With Ultherapy treatment, the natural processes in your body start to go wild and wake up the dormant collagen and elastin cells in your skin. Once they are woken up, these cells start to build up and bring the end result – reduced fine lines and wrinkles and more defined facial contours. All these happen without surgery. What is special about Ultherapy is that it uses micro-focused ultrasound energy. So, no incision – just a powerful and yet gentle energy that goes beneath your skin and doesn't harm the surface of it. Super important – you don't have to worry about missing the holiday fun because you can't wear makeup after the treatment. Once your face has settled after the treatment – get ready to shine.
FIRM, TONE AND LIFT LOOSE SKIN
Ultherapy can become your ally in fighting against gravity. Your face can reveal everything – all problematic areas that make you feel unsatisfied with your skin. This Holiday season at Lucia Clinic you can change all that – your skin can get youthful-looking again. All the results you achieve with this groundbreaking treatment are of course natural-looking – subtle brow lift, firmer chin, better-defined jawline. With 100% efficacy, Ultherapy lifts the skin on your face, neck and décolletage. There is no need for a surgical facelift – Ultherapy boosts the production of collagen and elastin and brings nicely-shaped contours to your face. You will love Ulterapy because it's safe, fast and above all effective treatment -perfect for preparing for the upcoming holiday celebrations!
REFINE YOUR FACIAL CONTOURS
What facial areas bother you the most? Is it your droopy eyelids or loose skin under your eyebrows? Or is it double chin and saggy skin on your neck? Well, with this aesthetic treatment all the problematic areas on your face, neck or décolletage can get rejuvenated and refreshed which ultimately brings nicer facial contours. Ultherapy addresses moderately loose skin under your eyebrows and makes it lifted, which gives you an overall refreshed look – tired-looking eyes become more opened up and vibrant. Once collagen starts to build up, your forehead wrinkles get smoother and hooded upper eyelids get lifted. All this contributes to returning a perfect frame for the upper part of your face.
With Ultherapy treatment, you can finally get rid of a double chin. This is particularly difficult to do in an old-fashioned way, but with Ultherapy it becomes the thing of the past. The ultrasound energy emitted during the treatment lifts the saggy skin under your chin and on your neck. Also, built-up collagen smooths fine lines and wrinkles on your chest -your skin gets enhanced and improves its quality. Your neck and décolletage look naturally rejuvenated and vibrant again.
Another awesome aesthetic treatment you can book at Lucia Clinic this Holiday season is Thermage – an advanced procedure that firms and smooths your facial skin and makes you look rejuvenated.
THERMAGE FOR EYES – THE TREATMENT THAT HAS IT ALL
 As the Holiday season is approaching, you are probably attending countless parties – a lot of fun, but also a lot of sleepless nights. You just have to do something about your eyes, and shake off those dark dark undereye circles. Well, Thermage for the eyes is a perfect solution for you here – it boosts the natural production of collagen, elastin and hyaluronic acid, all very important ingredients that keep the delicate skin around your eyes fresh and smooth. With its powerful energy, Thermage for the eyes makes the effects of aging less visible. It can tone your eyelids and reduce eyelid hooding, in a fast and effective way. Also, it softens the Crow's feet wrinkles around your eyes and makes your eyes pop with radiance and freshness. Nobody needs to know the actual number of parties you have been to -they will just wonder how you manage to look so great!
THE STORY BEHIND THE THERMAGE FOREYES
The brilliancy of this treatment lies in heating the deeper layers of your skin – this is where the real thing happens. The heating is done by RF energy that boosts the abundance of collagen that lies in these layers. Once the collagen starts to build up, the skin around your eyes gets plumper, smoother and rejuvenated. Also, fine lines and wrinkles get less visible, the texture of your eyelids is improved, your skin is softer. There are no more signs of aging and fatigue – you look refreshed and rejuvenated all thanks to this awesome treatment. Not to mention that this treatment is non-invasive and it doesn't require a long downtime – good news, because you can enjoy the party time right away. And yes, the effects are long-lasting. As new collagen continues to regenerate and rebuild, you will be able to enjoy your youthful-looking eyes long after the festive season is over.
THERMAGE FOR THE FACE – YOU WILL LOVE IT
We all know that the face reveals everything -our age and also other elements that affect it like gravity or the environment. As we mature our skin loses collagen and elastin – the proteins that keep it firm and youthful. We develop fine lines and wrinkles and saggy skin, which can diminish our self-confidence. But, that can all be the thing of the past with this beloved treatment – Thermage for the face tightens and smooths your skin by boosting the production of collagen – you can see the improvement after a single treatment session. And again the achieved results are long-lasting – your face will look youthful, better-toned and better-contoured even next summer. But, first let's get you ready for the upcoming festive season – return the bright shine to your face and rejuvenate your skin with this awesome treatment.
THE BEAUTY OF THERMAGE FOR THE FACE TREATMENT
Since you need a fast treatment that will make your face brilliant Thermage is an ideal treatment – it is non-invasive and doesn't require a long downtime. After the treatment, your face just needs a few hours to settle and you are good to go. The trick is that RF energy that is emitted during the treatment, heats the deeper layers of your skin and doesn't harm its surface. It works from the inside but you see the results on the outside – it stimulates the production of collagen which in turn makes the surface of your skin plumper, smoother and rejuvenated. Once the collagen network under your skin is remodeled, your fine lines and wrinkles get reduced, your facial contours are improved and your entire face looks subtly lifted -that's why this treatment is also known as a non-surgical facelift.
‍
RETURN THAT NATURAL GLOW TO YOUR COMPLEXION
As with all Lucia Clinic's procedures, your Thermage for the face treatment can be fully customized to meet your specific needs, goals and desires. You can get the full face and neck treatment or just the upper area (your forehead and around your eyes), or just the middle and lower area (your cheeks, around your mouth, jawline and chin). It all depends on you – your skin concerns and expectations from the treatment. The best part is that the treatment will restore the structure of your skin and make you look fresh and youthful again.
BE THE STAR OF THIS HOLIDAY SEASON'S PARTIES
With Lucia's Ultherapy and Thermage treatments you will be fully prepared to outshine everyone under the holiday lights. Your skin will be perfect – radiant, fresh and bright. Your face will be smoother, rejuvenated and nicely contoured. And of course, your whole face will be naturally enhanced – nothing overboard, but enough to keep everybody wondering what's your secret.
 Hurry up and book your consultation at Lucia Clinic!