ENHANCE YOUR FACIAL FEATURES AND LOOK GLAMOROUS WITH FULL FACE BEAUTIFICATION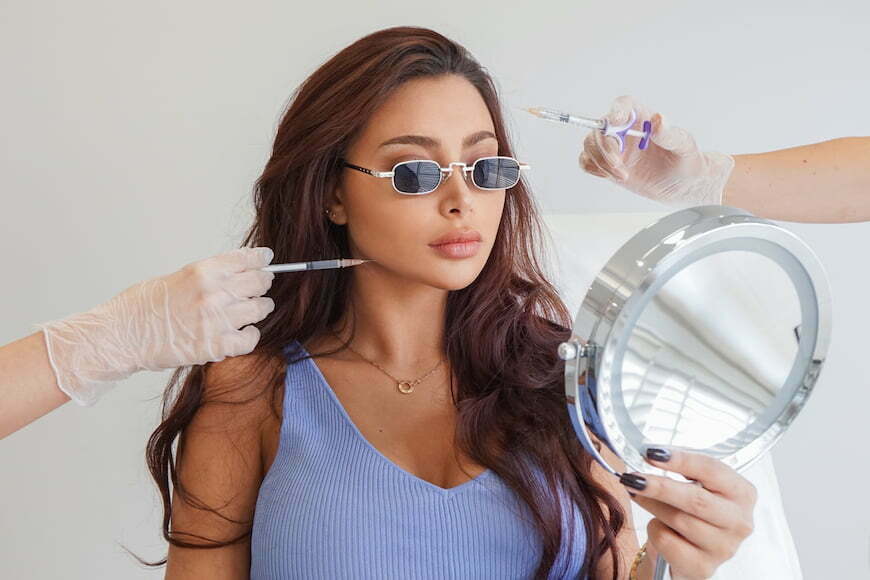 Welcome to the first out of many holiday specials that we are offering to you this festive season.
Lucia Clinic's Full face beautification is an aesthetic way to highlight your natural beauty. Look rejuvenated this holiday season with the help of Botox and Dermal Fillers that rebalance your key facial features, give your face a softer look and still keep your overall facial proportions.
THE TREATMENT THAT TURNS BACK THE TIME
With time, the first signs of aging start to appear on our faces – one of them is the loss of volume because our facial fat pockets diminish. This can greatly change how our faces appear and lead to saggy skin and loss of jawline definition. Also, we can develop wrinkles, fine lines and sunken hollows. But Full face beautification treatment can change all that, and this holiday season nobody needs to know how old you actually are -they will just say how great you look. With strategically injected facial fillers, you can firm the foundation of your face and also contour and make it more defined – you can bring back the facial shape and proportion as you once had and even make them more enhanced. With Botox, wrinkles and fine lines will be erased and you will add more volume to your face. The best part of this treatment is that you will return the youthful-looking appearance to your face without surgery and long recovery time. It's perfect for upcoming holiday celebrations and events.
‍
LET'S IDENTIFY YOUR DIVINE FEATURES
How about looking divine for the approaching Christmas or New Year's Eve party? It's all possible with this amazing treatment. Full face beautification actually involves evaluating your divine or golden proportion and achieving the best version of yourself while maintaining a natural look. This concept is not new – facial beauty is built around golden or divine proportions. A long time ago Leonardo Da Vinci studied this theory so we call this concept of evaluating the beauty of the face da Vinci's golden ratio. Our brain is predetermined to notice this ratio and in three seconds we can tell how beautiful somebody is according to his/her facial proportions. And this holiday season Lucia's team has made a resolution to help you achieve this kind of beauty with this brilliant treatment. Rest assured that they have all that it takes to do it – high-quality products, a high level of expertise and a great eye for aesthetic beauty.
BRING YOUR FACE IN HARMONY
Maybe getting ideally proportioned facial features sounds too much like maths, but it is actually quite straightforward. It's all about the right angles between different facial features. To start with there is a perfect angle between the nose and the forehead, the nose and the mouth and the chin and the mouth. We can say that it is most important how your nose fits with the rest of your facial features especially with your upper lip and your chin. With this wonderful procedure, you can make your face look harmoniously, but never fake. This is where the beauty of this procedure lies -it involves using a subtle technique of injecting a small amount of Dermal fillers in several target areas of your face. With this treatment, your facial features get more definition but they don't change the way you look. With Lucia Team's thorough comprehension of what proportions and angles define beauty, you will outshine others with your more symmetrical and yet completely natural-looking face.
‍
BEAUTIFY YOUR FACE WITH HIGH-QUALITY DERMAL FILLERS
Do you shy away from surgical procedures or you simply don't want to spend a long time recovering and miss some of the holidays fun? Then Full face beautification is perfect for you – it treats the face as a whole but doesn't require a long downtime. Dermal fillers restore the lost volume on different areas of your face – cheeks, lips, chin or jawline. They consist of Hyaluronic Acid – a natural ingredient already found in your skin. HA is what makes your skin plump and youthful-looking. At Lucia Clinic you will get only the best dermal fillers like JUVÉDERM® that guarantee nothing but natural-looking and superior results. Dermal fillers can restore volume and enhance the upper part, middle part and lower part of your face – this way you achieve a full symmetry and definition to your face.
ENHANCE YOUR CHEEKS, BROWS AND FOREHEAD
Cheeks are perhaps the most prominent feature on your face. With time, as you lose collagen in your face, your cheeks may start to look sunken and sagging. Dermal fillers effectively enhance your cheekbones and subtly lift your skin. This way your face gets better support and structure. You will look fresh and youthful as your cheeks restore their prominence again. Next stop – forehead. With dermal fillers, you can restore the forehead curve which will greatly contribute to the overall symmetry of your face. And finally, dermal fillers work great when lifting your brows and restoring the shape and support of the bone under your eyebrows.
MAKE YOUR NOSE AND LIPS PERFECT
The nose is another important feature that makes your face prominent. Full face beautification is an ideal treatment if you don't want to undergo surgical rhinoplasty. This way you actually get a liquid nose job – with dermal fillers you can align your nose properly and make your nose ridge look better defined. Next lips. Since there is a lot of kissing involved during holidays, your lips need to be perfect – soft, voluminous and hydrated. With Full face beatifications treatment, your lips can restore their lost shape and volume. They can get fuller and more enhanced but still, look completely natural. They can get better contoured. They can look perfectly proportioned with your nose and chin – all thanks to the dermal fillers and Lucia's Team eye for aesthetic.
‍
RECONTOUR YOUR LOWER FACE AND MAKE IT SLIMMER AND SOFTER
Finally, we come to the third part of your face that completes the symmetry and better definition of your entire face. Dermal fillers enhance these facial contours by improving their structure. Your chin can get more harmonious with the rest of your face either by getting less pointy or more prominent if it is too set back – dermal fillers do their magic in both cases. You get a perfect facial profile by filling up the chin dimples or chin creases. The skin texture around your lips gets more supple and smoother. With dermal fillers, you can reduce the loose skin on your jawline and make it better shaped, structured and lifted. This way your jawline contours are improved and provide better support for your lower face.
MAKE YOUR SKIN SMOOTH AND RADIANT WITH BOTOX TREATMENT
In addition to Dermal Fillers, Full face beautification also includes Botox to smooth out all the dynamic wrinkles that you are bothered with. Botox gives a final touch to this brilliant treatment that will make you shine with confidence on your holiday photos. With Botox, you can reduce frown lines, crow's feet and forehead wrinkles and make your eyes pop with a brilliant look. Forget about the dull and tired-looking appearance of your face – Botox can refresh and smoothen your skin. It can reduce the lines on the side of your nose bridge, bring more definition to your chin, jawline and mouth by smoothing the wrinkles in all these areas. With Full face beautification, you will look terrific – brighter eyes, proportional lips and fuller cheeks will contribute to your ideal facial shape and make you youthful-looking and radiant again.
GET A FULLY CUSTOMIZED FULL FACE BEAUTIFICATION TREATMENT
Lucia Clinic's team can create a bespoke treatment plan to meet your aesthetic goals, needs and desires. With a thorough examination of your face, rich experience and nothing but a friendly approach, Lucia team guarantees the best possible and natural-looking results.  Lucia's team has over a decade of experience in facial and aesthetic treatments and with their Full face beautification procedure, they will rejuvenate your entire face, make it smoother and more aesthetically pleasing. You will be able to enjoy your refreshed and youthful appearance long after the holiday season is over. Since Dermal fillers can last for up to 12 months, you will be able to join the upcoming holiday festivities but also feel revitalized even long long after. That's all possible thanks to Lucia's team's advanced techniques and exceptional artistry. In the end, they just want to make you look your best and provide you with a more beautiful, elegant and attractive face.
PREPARE FOR THE HOLIDAY SEASON WITH LUCIA'S FULL FACE BEAUTIFICATION TREATMENT
With the holiday celebration upon us, hurry up and book your consultation with Lucia's Team. With this quick and safe treatment, you will achieve a symmetrical and enhanced face – your fuller cheeks, plumper lips, delicate jawline and nicely shaped chin will turn heads. Your natural beauty will shine through with the help of little adjustments with Dermal fillers and Botox. Just follow the post-procedure protocol and once your face has settled, you will be ready to rock at parties.
Visit Lucia Clinic and schedule your Full face beautification treatment.