IV DRIP THERAPY – A QUICK WAY TO WELLBEING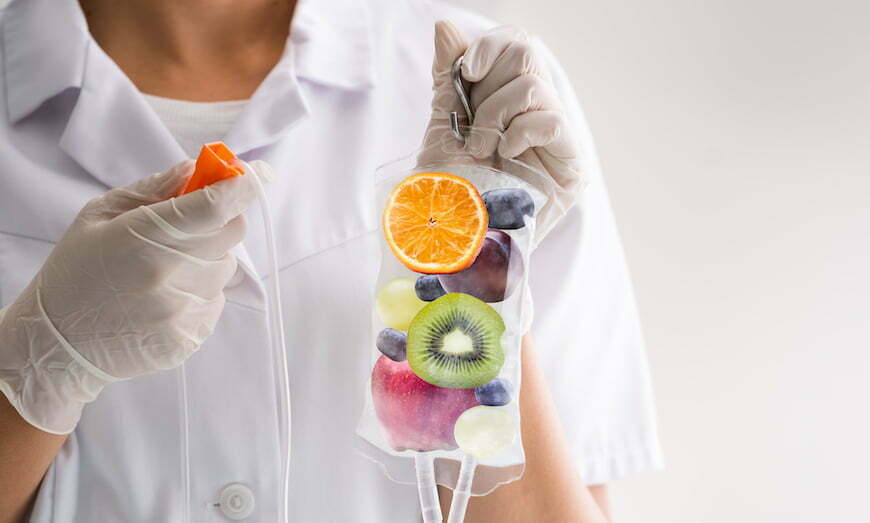 We live in a fast and busy world and try to keep up with all the demands – professional, social, domestic and other. It's not always easy to keep all the strings in our hands and by the end of the day, we feel exhausted. Sounds familiar? If yes, then chances are your busy life has deprived your body of some important nutrients and you are in need of replenishing and rejuvenation.
This is where IV Drips therapy works like a charm – it boosts your immunity system, detoxes your body from the unnecessary elements, improves your sleeping, and much much more. It can even enhance your beauty and make you feel and look youthful again. All in all, IV Drips are very beneficial for your general health and wellbeing.
‍
WHY IS IV DRIP THERAPY AWESOME?
There are numerous benefits of this treatment. Just to name a few – it's convenient, effective and super fast. You can restore fluids, vitamins, minerals and other essential nutrients by directly administering them into your bloodstream.
‍
IT INCREASES YOUR ENERGY
If you have a busy lifestyle odds are you occasionally feel tired, you might even get headaches or you can't sleep properly. These are all the drawbacks of modern life. If you feel tired it could simply be because you need to rehydrate your body – IV Drips will give you just that. It boosts your immune system and you feel energized again. When the B12 vitamin is added to your IV Drips solution you will regulate your sleep pattern, you will feel better and work better.
IT IMMEDIATELY HYDRATES YOUR BODY
We all know that our body is made up of 70%water – but we lose that water so fast. Spending a day in the hot sun, drinking alcohol, strenuous exercise – all this can contribute to dehydration. You can feel really bad when you are dehydrated. But you can quickly solve this problem with this therapy – with the help of IV Drips you recover really fast.
 IT HELPS YOU WITH VITAMIN ABSORPTION
IV Drips therapy is much more effective than standard vitamin supplements because it skips your digestive system and goes right into the bloodstream. This way all the necessary vitamins and nutrients are absorbed immediately and you quickly feel the benefits – your body recovers super fast.
YOU CAN GET A CUSTOMIZED IV DRIP THERAPY
You are not sure which IV Drip you need? Lucia's team will gladly make an infusion blend that will specifically address your health concerns. Whether you want to boost your immune system or enhance your beauty all ingredients will be carefully selected and added to your IV Drip solution. All the ingredients – Vitamins C and B, Magnesium, Calcium will work like a charm and target your health goals.
EVERYONE CAN BENEFIT FROM IV DRIP THERAPY
No matter what you do – play a sport professionally, own a huge business or anything that makes you feel stressed, you will feel relieved after your IV Drip therapy. It can meet your wellness needs and boost your beauty, immunity or energy.
‍
MYERS COCKTAIL – ENERGIZE YOUR BODY
Do you feel depleted and not yourself most of the time? Then this powerful IV Drips therapy will help your body return to harmony again. The essential nutrients found in Myers Cocktail will contribute to your vitality in the fastest way possible – all IV Drips solutions as well as this one are infused directly into your bloodstream – intravenously (IV).
With Myers Cocktail IV drips you will be replenished with the abundance of Vitamins B and C and minerals like Magnesium and Calcium. They all have their special benefits and help your body revitalize. B Vitamins help you to take advantage of the energy from the calories you eat and do your daily activities without feeling dead tired in the evening. B group vitamins also boost your memory, help with red blood synthesis, improve your mood – the list of benefits is endless.
Another essential ingredient of Myers IV Drips therapy is Vitamin C. You definitely know that it is responsible for immunity boost, but perhaps a not-so-well-known fact about this vitamin is that it boosts your body's iron absorption as well. It also reduces fat absorption and helps with hair growth.
Magnesium and Calcium work closely together to help you feel better. Magnesium regulates blood pressure and keeps your nervous and muscular system strong and healthy, while Calcium looks after your skeletal system.
 GET READY TO FEEL STRONG WITH MYERS COCKTAIL IV DRIPS
The benefits of this IV Drip therapy are numerous. You can instantly feel that your mood is boosted because of VitaminB12 – the comforting serotonin fills your head with a nice feeling. Also, be ready to experience a higher level of energy – you will be able to do everything you need with this huge support to your body. All you need is energy. Your immune system will be strong – no more viruses or flu. All thanks to Vitamin C. On top of all this, your memory improves and you will be able to perform your tasks and projects much faster and more efficiently. Why do you feel the benefits of the Myers Cocktail IV Drips so fast? Because these ingredients are100% absorbed by the body – they go past the digestive system and go directly into your bloodstream. All your cells get super energized and you instantly feel better.
BOOST YOUR IMMUNE SYSTEM WITH IV DRIP
Your immune system is precious and you should always try to enhance it even more. The immune system helps you fight against free radicals that can invade your body -and when your immunity is boosted with IV Drips you are well equipped to defend yourself from illnesses. Immunity IV Drips are full of antioxidants like Vitamin C and B group Vitamins that can make your cells stronger. This therapy also includes a hydration solution that can quickly replenish the fluids you lost during some illnesses. When you are well hydrated, your body gets quickly better after fighting against viruses or flu. That's why you always hear -drink plenty of water. With IV Drips for immunity, this is done for you.
You will definitely feel and look better after this potent IV Drip therapy.
‍
RESTORE THE VITAL ELECTROLYTES AND MINERALS WITH HYDRATION IV DRIPS
This is like the ultimate way of recharging your energy and eliminating dehydration. With all the vitamins necessary that are included in this therapy, you can really boost your health and replenish your body.
Have you ever considered that maybe your fatigue comes from a lack of hydration? Sometimes, it's that simple. When you are dehydrated, your heart needs to work harder to supply your body with blood – and it gets tired. So you get tired as well. To help your heart work properly you can start with hydration – with Hydration IV Drips you can do it in a fast, efficient and safe way. The hydration solution is immediately absorbed and will work ideally on days when you are expecting to get dehydrated – a busy day on the hot sun, intense walk or a party night. You can also benefit from this therapy if you know that you will be so busy that you won't even have time to drink water – Hydration IV Drips will keep you hydrated.
Moreover getting properly hydrated gives you more energy, makes your immune system stronger and helps your brain to work properly. It eliminates chemicals from your body, helps you fight against stress and fatigue. Needless to say, you need to be well-hydrated if you want to perform well athletically. Hydration IV Drips are filled with mineral electrolytes that are necessary for transferring water in and out of your cells, immediately. All in all, hydrating properly is important for your whole body – from head to toe. With Hydration IV Drips you can finally be at peace because you will be hydrated.
‍
LOOK YOUR FINEST WITH BEAUTY IV DRIPS THERAPY
Do you have a party coming up and you wish to outshine everyone? IV Drip therapy will truly make you shine – you will get glowing skin with the help of all essential ingredients that boost your beauty. The best part – you will enhance your beauty super fast.
First, you will get hydrated. Your skin will be plump and rejuvenated with the help of a quick-absorbing IV Drip solution.
Second, with the help of B group Vitamins, you will get a healthy glow. Vitamin B is an awesome beauty booster – it helps with the cellular growth of hair and nails. It keeps your skin healthy because it helps with skin cells restoration. You definitely want to prevent some skin blemishes that would ruin your special event like acne, eczema or rosacea. Vitamin B will keep you looking radiant.
Third, you will get detox and cleanse your body from toxins, free radicals and other undesired elements. It will even protect you from viruses – you will be strong and rejuvenated from the inside out.
Finally, the electrolytes in the Beauty IV Drips solution help your cells to absorb water and make your face plump and smooth. Your face will be glowing because fine lines around your eyes and mouth will be improved.
There you have it- everybody will ask you what is your secret. How come you shine so much. Well, everything comes from inside – minerals, vitamins, antioxidants and electrolytes put your organism into balance. You shine inside and you shine outside. Everything will be radiant – your hair, your face, your nails.
‍
YOUR JOURNEY TOWARDS WELLNESS STARTS WITH IV DRIP THERAPY
Get ready to feel energetic after this procedure – you will be able to do anything you wish for. When your body is balanced you feel on top of the world. With IV Drips you will be hydrated because your electrolytes will be restored, your immune system will be boosted so that you can fight against illnesses and all the harmful agents from the environment. You will erase the signs of aging and feel so many other benefits.
IV Drip therapy is fast and its benefits are long-lasting. Book your consultation at Lucia Clinic today and feel and look your best.