DR. RADMILA LUKIAN SHARES HER KNOWLEDGE AT THE FIRST INTERNATIONAL JORDANIAN AESTHETIC CONFERENCE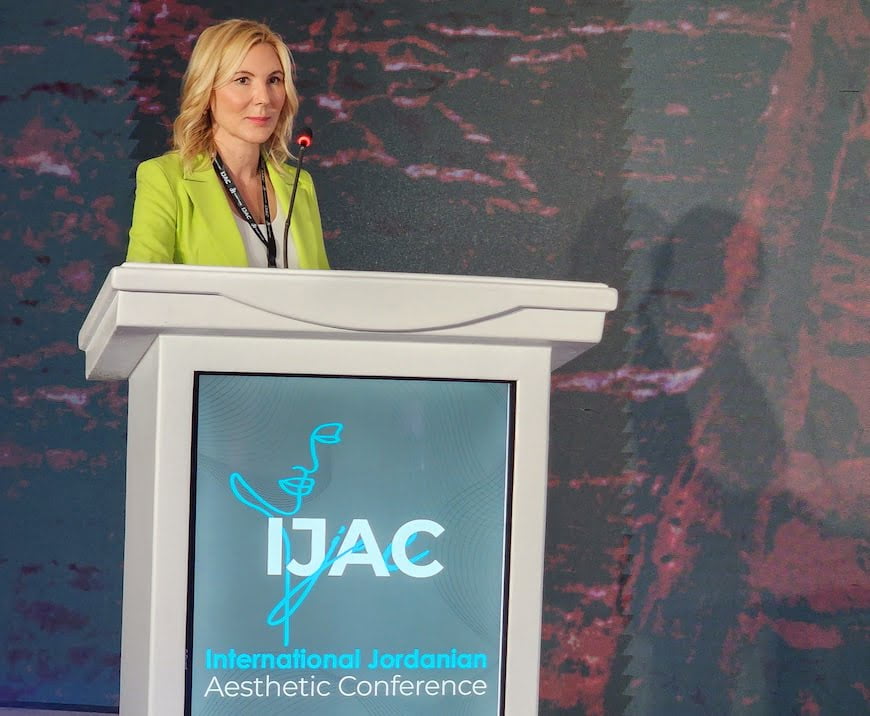 Dr. Lukian was invited once again to a prestigious international event to share her expertise with her colleagues. This time it was IJAC – The first International Jordanian Aesthetic Conference. Dr. Lukian was privileged to contribute to this event as one of the speakers.
The Jordanian International Aesthetic and Antiaging Academy is a newly found organization whose goals are the education and training of dermatologists and plastic surgeons. This June, this esteemed event hosted renowned speakers from all around the globe who shared their findings in the aesthetic and antiaging industry. Through numerous workshops and panels, the attendees learned everything about the latest breakthroughs in the technology of antiaging.
This event was a perfect blend of science and aesthetic medicine – it covered everything that respectful anti-aging expert needs to know to improve their skills and advance in their career.
And since the IJAC event presented the latest advancement in technology, Dr. Lukian was more than proud to speak about the EMFACE treatment – one of the newest non-invasive methods in antiaging (some say that it's more effective than BOTOX).
EMFACE is a hot topic and Dr. Lukian is always at the forefront of innovation – her speech certainly made a great contribution to the IJAC conference.
DR. LUKIAN AND HER PRESENTATION OF THE LATEST EMFACE TREATMENT
This celebrity dermatologist shared some important insights about a revolutionary anti-aging treatment – EMFACE. Since Dr. Lukian was the first to introduce this amazing non-invasive treatment in the UAE, it's only logical that she was chosen to present it at this prestigious event.
Dr. Lukian is well-known in her field of non-surgical beauty and antiaging treatments. She certainly stands out in the medical community because of her achievements and contributions. This is just one of many times this wonderful doctor was invited to be a speaker at international and prestigious events and conferences. Her knowledge and expertise inspire other dermatologists to pursue excellence in their careers.
As a leading authority on cutting-edge treatments and techniques, it's no surprise that Dr. Lukian presented EMFACE at Lucia Clinic. With EMFACE treatment, Dr. Lukian and her team have already helped numerous clients to reverse aging signs on their faces. With this treatment. Dr. Lukian has delivered exceptional results to her clientele and strengthened her position as an opinion leader even further.
With EMFACE, Dr. Lukian and her team have taken skin care to another level. Their clients have recognized the effectiveness of this powerful antiaging treatment – each session for them is an exciting journey toward the ultimate fulfillment of their aesthetic goals. EMFACE is just one of many Lucia Clinic treatments that impressed its patients and this certainly adds sophistication and allure to this prestigious clinic.
Good word spreads quickly – as an exclusive provider of EMFACE, Lucia Clinic created a lot of buzz in Dubai and the Middle East. By setting new standards, Dr. Lukian and her team confirmed their commitment to implementing the latest innovations. This definitely inspires the whole aesthetic industry to evolve.
And EMFACE really is the latest technological breakthrough – it's the first treatment that simultaneously treats facial skin and muscles. It's like a gentle gym exercise for your face – except that you don't have to do anything. EMFACE brings you amazing results without any effort from your side. You just sit and relax while EMFACE does its magic.
EMFACE is perfect for you if you are not a fan of needles – it is the first treatment of this kind that gives you a subtle facelift completely non-invasively. The numbers say it all – on average patients can see 23% more lift. You must agree that this percentage is outstanding. Plus you reduce up to 37% of facial wrinkles and notice 30% more muscle tone.
It all happens without cuts, bruises or downtime. After EMFACE treatment you can continue with your daily activities without worrying about the side effects. This treatment is a great alternative for you if you want to avoid the risk of invasive antiaging procedures like surgical facelift for example.
WHAT DO CELEBRITIES SAY ABOUT EMFACE TREATMENT?
They love it! Many regional and international influencers, actors and actresses, sports people and business people have tried EMFACE at Lucia Clinic and they can't stop raving about it! They are amazed by its effectiveness in facial skin lifting and toning. In just 4 sessions they can notice how their skin is improved all without downtime, side effects or risks. This revolutionary treatment sure does deserve all the attention it is getting.
You don't experience such advancement in antiaging technology every day. And since Dr. Radmila Lukian is a pioneer in innovation she is more than competent to introduce this treatment to the whole world. As she did at the IJAC conference.
This was just a small segment of what Dr. Lukian spoke about at the IJAC conference in Jordan. Her expertise, knowledge and skills definitely contributed to this prestigious Aesthetic and antiaging event.
 Visit Lucia Clinic's website to find out everything you need to know about EMFACE and other treatments and schedule your consultation with Lucia's skin experts.