MAY SPECIALS ARE HERE – CHECK OUT "THE SUMMER PREP" WE HAVE FOR YOU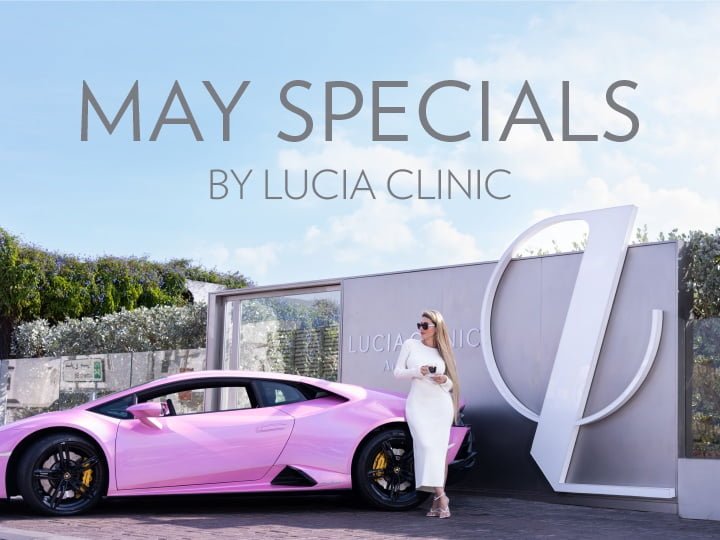 This month at Lucia Clinic, we are helping you get ready for your summer vacation. With the most advanced, non-invasive and sophisticated treatments, you can slim your contours, rejuvenate your facial skin or refresh the skin on your back (this area of your body also deserves some attention, especially now in summer months). Finally, there is a complimentary consultation with plastic surgeons where you can get professional and expert advice regarding your surgery goals.
This month's specials offer you enjoyment and rejuvenation which will have you feeling confident and glowing.
Find out more.
SAY GOODBYE TO STUBBORN FAT POCKETS WITH LUCIA'S COOLSCULPING ELITE
The time of feeling uncomfortable and dissatisfied with the appearance of your body contours is over – CoolSculpting ELITE comes to the rescue. This non-invasive and revolutionary fat-freezing treatment will bring you a slimmer and more contoured body in those areas which you can't sculpt no matter how much you exercise and keep a controlled diet. Sometimes those pesky fat pockets just won't go, but they stand no chance against the new CoolSculpting ELITE – a star of body-contouring treatments.
GET READY FOR A SLEEK SILHOUETTE
If you are bothered that some of your summer clothes don't fit you well, swimsuit included, then CoolSculpting ELITE is your answer. It will eliminate those last parts of pinchable fat that prevent you from feeling confident in yourself. It can be your abdomen, flanks, thighs, arms or chin – CoolSculpting Elite is super versatile and treats the 9 major body areas. With its innovative technology, CoolSculpting precisely targets fat cells that bother you and freezes them. After some time, your body flushes away these destroyed fat cells and they are gone for good. You are left with a toned and contoured silhouette.
NO DOWNTIME MEANS MORE TIME FOR FUN
Yes, you've read it right – since CoolSculpting is non-invasive it requires no downtime. You just relax during the treatment, while it does its magic. After that you can go back to work or meet with friends – you don't need to take time off your daily routine. Also, there is no hassle with needles, anesthesia, recovery, cuts and bruises – CoolSculpting leaves you with minimal to no side effects. That's all thanks to its advanced and improved technology which includes applicators that are larger and even more comfortable than before. So, if you want to avoid surgery or other more invasive treatments, CoolSculpting ELITE is a perfect alternative.
COOLSCULPTING ELITE IS IDEAL FOR YOUR BUSY LIFESTYLE
Why? Because it's faster and more convenient than before. With CoolSculpting ELITE you can get a fully customized treatment plus address two body areas at once. That's super awesome because you can freeze fat cells at the precise areas that bother you and finish the treatment session in half the time. CoolSculpting ELITE is a real time-saver – if you don't have a lot of time to spare this treatment is your thing. During one session you can treat both arms or legs simultaneously with larger and more convenient applicators. Since they are shaped to gently squeeze your skin, there is less redness or swelling. CoolSculpting ELITE really is what they call a lunchbreak treatment.
The next special this month is reserved for your facial skin – you can choose Morpheus8 with PRP or Dermapen with PRP according to your skin concerns and aesthetic goals.
RETURN YOUR YOUTHFUL FACIAL SKIN WITH LUCIA'S MORPHEUS8 AND PRP
You can finally look in the mirror and see a rejuvenated and refreshed face – the time of dull, aging skin is over. With this dynamic combo, you can turn back time and finally look radiant. After this duo, your skin will be enhanced and your natural beauty will be revealed. Remember that natural-looking results are the best results and these two treatments will bring you all you have always wanted for your skin.
DOUBLE BOOST YOUR COLLAGEN FOR AMAZING-LOOKING SKIN
Morpheus8 is an advanced and sophisticated treatment that uses a micro-needling technique and RF energy. It triggers collagen production deep in your skin and makes your skin tighter and smoother. If you believe in magic, then think of Morpheus8 as a magic wand that will erase your wrinkles and fine lines, lift saggy skin and reduce acne scars. It's a busy wizard that brings you a rejuvenated complexion in a flash. When combined with topical PRP this treatment gets even more effective. PRP brilliantly regenerates your skin in the most natural way – it uses your own plasma drawn from your own blood that then boosts collagen production.
LEAVE DULL AND TIRED-LOOKING SKIN BEHIND YOU
This powerful duo will improve your skin from the inside out. PRP will heal your skin and trigger new cell growth and collagen. After a while, you notice that your skin tone and texture are significantly improved. Your pesky wrinkles and fine lines are disappearing and your whole face looks glowing, plump and youthful. It is like a fresh start for your skin with the help of these minimally invasive treatments that require no significant downtime or cause significant side effects.
MEET THE SUPERB FACIAL SKIN REGENERATION WITH LUCIA'S DERMAPEN AND PRP
If you have long desired flawless, glowing and radiant skin then your wish can come true – the combination of Dermapen and PRP will be your fairy godmother! Treat skin blemishes, fine lines and wrinkles, acne scars or poor skin texture – Dermapen with PRP is a treatment that helps to reduce all of these issues.
UNLEASH THE POWER OF COLLAGEN
The beauty of Dermapen treatment lies in its ability to stimulate your skin's healing processes. As it is done with very fine needles, these micro-wounds trigger cell turnover and collagen and elastin production. Very soon, you see the results – your skin is firmer, smoother and more youthful. Your face simply shines with health and beauty. Add PRP to all this and the improvement of your skin will be even more visible. Your skin absorbs PRP faster after Dermapen and so you get even better and more noticeable results. With this powerful combo, your skin is double-charged with rejuvenation.
NO DOWNTIME SO NO TIME TO LOSE
Both treatments are safe, especially PRP since it uses plasma from your own blood. There is no chance of infection which makes PRP one of the most natural skin rejuvenation treatments. Also, Dermapen plus PRP is only minimally invasive so you don't have to worry about a long recovery. There are only mild side effects like redness or swelling but this is resolved after a couple of hours. It's a really small price to pay when you consider the results – plumper, rejuvenated and younger-looking skin.
Moving on to the next treatment this month – Rejuvenating peel for your face or back and Dermaclear for your back.
REVEAL YOUR BEAUTIFUL SKIN WITH LUCIA'S REJUVENATING PEEL
Get rid of dull and tired-looking skin with this rejuvenating peel. It will make your skin look revitalized and refreshed. This, non-invasive rejuvenating peel will bring you that youthful radiance – all without much effort. It will be like a spa day for your face – relaxing, soothing and effective. Plus you can get it on your face or back, and as we've already said, your back also deserves a bit of pampering, especially in the season of backless shirts and dresses.
CLEAR YOUR SKIN FROM BLEMISHES
Lucia's rejuvenating peel is a powerful and yet gentle exfoliating procedure that removes dead skin cells and unclogs the pores. It is a mixture of ingredients that are applied to your skin and then removed after a proper amount of time. Once the blemishes are removed, new and healthy skin is revealed – it is bright, clear and radiant. Your facial or back skin is refreshed and renewed. All this happens without downtime or significant side effects. With Lucia's rejuvenating peel, beauty treatments don't have to be uncomfortable.
GIVE YOUR BODY A SPECIAL BACIAL
Now, if you really want to pay special attention to the skin on your back then Lucia's Dermaclear Bacial is just for you. A bacial is perhaps not a typical treatment as facial but it proves that the skin on your back deserves pampering and rejuvenation. It is great for various skin concerns like acne, oily or dry skin. Or it can simply refresh this usually neglected area of your body. Just think about wearing your favorite shirt or swimsuit after this treatment – your back will definitely draw attention.
PAMPER THE SKIN ON YOUR BACK IN 3 STEPS
The first step is cleansing and peeling. All the dead skin cells are removed from your skin and your skin is fresh and clean. Then there is extraction – deep cleansing that suctions all the dirt, pollutants, debris and harmful agents for your skin. This is how your skin is prepared for the best step – infusion and hydration. The skin on your back is fused with antioxidants and anti-aging solutions that deeply hydrate your skin. After this step, the skin on your back is radiant, refreshed and ready for the swimsuit or cocktail dress.
GIVE THE SKIN ON YOUR BACK A LUXURIOUS TREATMENT
And Dermaclear is just that – a sophisticated treatment that is effective for all skin types. You can improve so many skin concerns with this non-invasive treatment – acne, aging signs, uneven skin tone and texture. Or you can just refresh your back skin – this hard-to-reach area, that we never bother to pamper. Getting Dermaclear for the skin on your back will be soothing and relaxing – this treatment truly represents the ultimate self-care! And it is quick and convenient and perfect if you have an upcoming special event.
Finally, this month you can have a complimentary consultation with Lucia's plastic surgeons to get a fresh and professional perspective on this type of aesthetic treatment.
 FULFILL YOUR AESTHETIC GOALS FROM A DIFFERENT ANGLE
Getting plastic surgery is not an easy decision, but fortunately, you are not alone. After a complimentary consultation with Lucia Clinic's plastic surgeons, you will be one step closer to making your final decision. And to be certain that you are on the right track, it's important to consult with skilled and board-certified surgeons – as are the surgeons at Lucia Clinic. With their guidance, the process of choosing the best plastic surgery for you will be much less anxious.
FIRST THING FIRST – YOUR SAFETY
Lucia's surgeons are trained and experienced in performing different surgical techniques. There are so many advanced and groundbreaking techniques that require minimal recovery and bring you excellent outcomes. After carefully examining your area of concern and your general health and medical history, Lucia's plastic surgeons can advise you on the best plastic surgeries and the most appropriate techniques that will fulfill your aesthetic goals. Plus, they will create a bespoke treatment plan just for you because there isn't one plastic surgery that fits everyone. Perhaps one size of breast implant worked perfectly for your friend. But perhaps you will feel better with a different size – that's why getting a professional opinion is so important.
IT'S ALL IN THE HARMONY
Lucia's plastic surgeons will fully understand if you are unhappy with some areas of your body. It could be the size of your nose, your breast shape or stubborn fat bulges on your abdomen, arms or legs. They will advise you on how to solve your body's insecurities in the safest and fastest way possible. Having these imperfections can interfere with the perception of your body image – you simply feel disharmonious. But with the artistry and knowledge of Lucia's plastic surgeons, you will be able to imagine how your body's appearance will improve after the right plastic surgery. Best of all you will immediately feel more confident.
VISIT LUCIA CLINIC THIS MAY AND TAKE A STEP FURTHER IN YOUR BEAUTY REGIME