SEPTEMBER'S SPECIALS ARE HERE!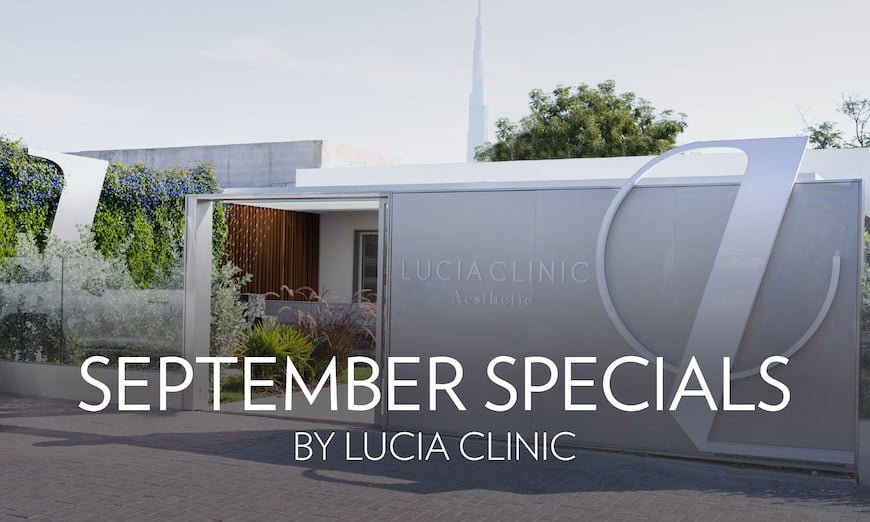 If staying 'cool' is your thing this September, then try out our specials this month. If you want to focus on your skin rejuvenation, here is Accent Prime. Do you want to shape your body? Then why not go with the unique muscle toning and fat reduction treatment? Or if you wish to recontour your chin and neck area, then Lipo for double chin is your answer.
LIPOSUCTION FOR DOUBLE CHIN AT LUCIA CLINIC
How do you know you are ready for liposuction? Well, let us help you. If you want to eliminate fat cells under your chin forever and get a better-contoured profile then double chin lipo is your answer. Just think about it – if you feel self-conscious by submental fullness and you look older than you actually are because of a double chin that can easily change. Improve the contours of your neck and slim your jawline with safe and effective double chin lipo.
MAKE YOUR UNDER CHIN AREA SUPER CONTOURED
Getting rid of submental fullness just by exercising or a proper diet can be difficult. Those stubborn fat deposits just don't want to give in no matter how much you try. But if you are close to your perfect weight and unsatisfied with just your double chin appearance then you may really benefit from this procedure. Double chin lipo brings wonderful results in slimming your neck and chin area when traditional ways of losing weight simply don't work.
GETTING DOUBLE CHIN LIPO CAN CHANGE YOUR LIFE
You may wonder right away – isn't plastic surgery very invasive and require a long recovery? These questions are completely legit, but double chin lipo is minimally invasive and is performed by the latest technique – only small incisions and a tiny cannula to suction out the fat is used. So, nothing too disruptive – remember your safety is our number one concern. And our main goal is to bring you the best results with minimum downtime. And double chin lipo will do just that for you.
GET THIS QUICK SURGERY WITH DRAMATIC RESULTS
Yes, this procedure is quick and can be done under local anesthesia – this means that you don't have to deal with the potential side effects of general anesthesia. And your recovery is therefore much faster and less uncomfortable. And the results are fantastic – the build-up fat under your chin is eliminated, your neck is better defined and your jawline is nicely contoured. The major benefit – you look youthful again. Improving just a small imperfection like a double chin can dramatically improve the appearance of your entire face.
SAVE TIME WITH A SIGNIFICANTLY SHORTER RECOVERY PERIOD
You don't have to take a long time off work to recover. Of course, in the first couple of days, you need to take it easy, but pretty soon you are back at your feet and ready to continue with your life. This is all thanks to the plastic surgeon and the special technique he uses for this procedure. You are in good hands all throughout your journey towards nicely contoured and well-balanced facial features.
PREPARE TO LOOK FABULOUS AFTER DOUBLE CHIN LIPO
With this quick, safe and absolutely effective cosmetic surgery, you can lift saggy jowls and remove fat pockets along your jawline. Once your body starts healing, it will produce more collagen that will additionally firm your neck and submental area. You can notice the improvements very soon – some initial improvements in your under-chin area are visible right away. But you need to give your body some time to recover. And the period of healing will be much shorter with the help of all doctor's recommendations – resting, hydration, and proper nutrition. Perhaps these recommendations seem basic, but they really make a difference and help you heal properly and quickly. Most importantly, you will achieve the best results – A natural looking, nicely enhanced lower area of your face.
REJUVENATE YOUR SKIN AT LUCIA CLINIC
How about looking dazzling this September? Try Accent Prime – a brilliant treatment that firms your skin and contours your facial features. With its incredible combination of RF energy and ultrasound, it makes your face slimmer by eliminating stubborn fat pockets right underneath your skin. No downtime and no discomfort – just natural-looking and long-lasting results.
ACCENT PRIME – SAFE BUT EFFECTIVE
With a single session, your skin can be completely transformed. But the top layer of your skin is left unharmed – Accent Prime works beneath your skin. This non-invasive treatment is perfect if you have a busy schedule – with no downtime you can continue with your daily activities immediately. You don't need to avoid social interactions – instead, you will gladly show your new radiant face.
LET YOUR NATURAL BEAUTY SHINE THROUGH
Accent Prime's dual technology will tighten the skin on your face and neck and naturally enhance your facial contours. The powerful RF energy travels deep into your skin layers and heats and tightens the skin tissue.  Everything happens underneath your skin. But the final result is shown on your face – smooth, tight and youthful-looking skin.
REBUILD YOUR COLLAGEN
This is what makes this treatment so advanced and so unique – it boosts your existing collagen and triggers the production of the new one. With the abundance of collagen, your skin gets firm, smooth and rejuvenated. This powerful antiaging procedure will also help your skin get resilient to gravity and future aging. It's all because of collagen – Accent Prime is a brilliant ally in enhancing this skin essential protein.
PREPARE TO LOOK YOUTHFUL AGAIN
And return your confidence! This treatment reduces fine lines and wrinkles, subtly lifts your skin and firms your saggy skin. Forget about a double chin or loose skin on your neck – Accent Prime will tighten your skin and slim your face. By eliminating stubborn fat pockets under your chin, your face instantly gets bettered contoured and smoother.
AESTHETIC DERMATOLOGY IS ALL ABOUT CUSTOMIZED TREATMENTS
And Accent Prime is no exception. With the custom-tailored procedures, you can specifically address all skin concerns that bother you. The biggest advantage here is that you get the best possible outcomes and fulfill our primary goal – your satisfaction with the treatment. And you will love Accent Prime because it is safe, it brings you fast results and it really makes a difference in the world of aesthetic procedures.
UPGRADE YOUR SKINCARE ROUTINE
Ready to boost your beauty without surgery? Then this cutting-edge skin tightening treatment will accentuate your facial features and give you a firmer and more youthful appearance. RF energy for collagen production and ultrasound for fat deposit reduction make a perfect combination for an advanced procedure for getting rejuvenated, taut and healthy skin. Plus – the results are natural-looking and more importantly long-lasting.
Another awesome thing you can do for yourself this September is get fit with body shaping treatment and
BRING YOUR BODY CONTOURS TO PERFECTION AT LUCIA CLINIC
Ready to get fit? Then EmSculpt NEO a groundbreaking and first-of-its-kind treatment that simultaneously eliminates stubborn fat deposits and builds muscles is just for you. Just imagine – you have unwanted fat pockets on your abdomen, you eliminate them and tone the muscles on your abdomen. You may think that this is impossible but it actually delivers amazing results.
ALL YOU NEED IS 30 MINUTES
That's all you need – half an hour of your time. You can easily fit the EmSculpt NEO session into your lunch break. This non-invasive treatment requires no downtime – return to your busy daily schedule immediately. This treatment saves your time and gets you fit. It is really something you haven't experienced before! Get ready to shape your contours as you have always desired!
ELIMINATE UNWANTED FAT DEPOSITS
EmSculpt NEO will definitely upgrade your fitness regime. If your diet and regular exercising don't bring the results you want and you simply can't get rid of those unattractive fat bulges then this treatment will melt the undesirable fat. This treatment is so effective that it can trim up to 30% of fat in your problematic area – abdomen, hands, buttocks, legs – you name it. Prepare to get the super-shaped body in no time!
SWAP FAT WITH SHAPED MUSCLES
Now prepare for magic – this brilliant treatment firms, tones and defines your muscles. With powerful HIFEM technology that contracts your muscles 20,000 times, almost 95% of your muscle fibers are activated. This is impossible to achieve in regular situations – just imagine sitting comfortably, while this treatment does all the work for you. You can build 25% of pure muscle mass – your treated area gets strong and firm!
ENJOY THIS INTENSE TREATMENT
This does sound contradictory – how can you enjoy intense treatment? Well, that is how EmSculpt NEO works – it's powerful but far from uncomfortable. We always look after your safety and comfort, so if by any chance your treatment feels a bit over the top, we can always lower the intensity, so that you can really enjoy it. You just relax and imagine how you are effortlessly building your muscles and melting fat.
EMSCULPT NEO CAN DO SO MUCH FOR YOU
By eliminating fat deposits and defining your muscles simultaneously, you can shape your body in just 4 treatment sessions. You will feel that your core strength is improving while your muscles are building. Just choose the body area you are not satisfied with and lift, sculpt and enhance it. If you are bothered by separated muscles on your abdomen, this treatment can also improve this concern – your abdomen will be flat and firm again.
ONE LAST THING – GET MOTIVATED TO KEEP YOUR NEWLY SHAPED BODY
So, you treat the body area that you are unsatisfied with, get it shaped and nicely contoured and then what? Well, it's simple – with your healthy habits like proper diet and regular exercise you will stay fit and healthy. You will be more confident because you finally defined your abdominal muscles or lifted your buttocks – and you will be happy to keep those results forever.
Finally, if you are ready for plastic surgery, don't miss out on a chance to get
VISIT LUCIA CLINIC THIS SEPTEMBER – AND ENJOY IT
Your experience at Lucia Clinic will be something special. You can opt for facial rejuvenation with Accent Prime or shape different body areas with one of the most effective fat elimination and muscle-building treatment. If your biggest concern is an unattractive double chin then you can safely eliminate that stubborn fat pockets with double chin lipo. It's all up to you. We can only say that whichever special you choose this month you will get top-quality service, full care and of course the best outcomes.
Schedule your appointment at Lucia Clinic this September and find out why we are one of the most eminent aesthetic and plastic surgery centers.