SHOW THAT FESTIVE AND PARTY SEASON GLOW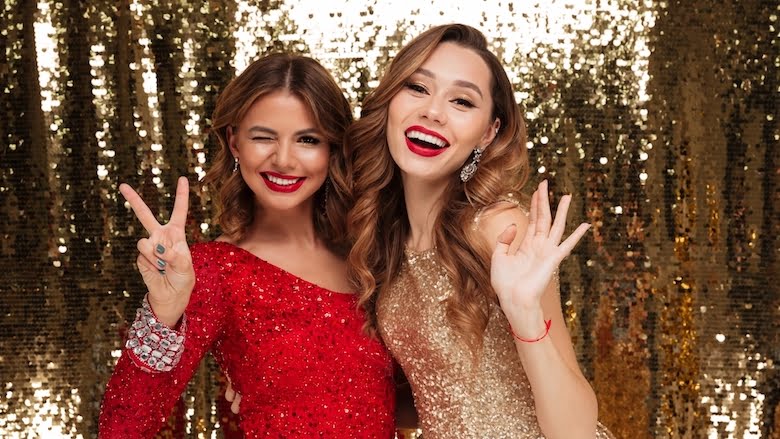 The festive season is approaching fast and this is the right time to think about aesthetic treatments that will prepare you for social events, parties and celebrations. We know that you desire to feel and look great in your party clothes and get glowy and radiant skin that will make you the star of every social gathering. So, we have brilliant offers that will pamper and your skin and eliminate early signs of aging and stress.
Or you can opt for a bespoke body contouring treatment that will give you that boost of confidence you need to feel fantastic – EmSculpt NEO Edge. Lucia Clinic is proud to be the first to present this game-changing treatment in the Middle East. EmSculpt NEO Edge applicators are the newest extension to the already well-known EmSculpt NEO treatment.
So put Hydrafacial Express and Dermapen Microneedling or EmSculpt NEO Edge treatment on top of your festive wishlist.
REFRESH AND HYDRATE YOUR SKIN WITH EXPRESS HYDRAFACIAL AND DERMAPEN MICRO-NEEDLING
That's just what your skin needs to restore its glow this festive season – hydration and nourishment. These two treatments are one of the most popular ones in this period because when they are combined they bring you faster and more effective results. They work perfectly when separated, but when you combine them they make a real boom to your skin! It looks even more enhanced and beautiful. With combined Express HydraFacial and Dermapen micro-needling, you can treat active skin issues and prevent early aging signs.
GET CLEAR SKIN IN A SECOND
What is the first rule for applying festive makeup? Having clear skin. And one of the most effective skincare treatments for clearing your skin is Lucia's Express HydraFacial. It does so much for your skin – decongests the pores, extracts dirt and other pollutants and nourishes and hydrates it. This treatment is super gentle and leaves no side effects – just softer and smoother skin. It is also fast and lasts only for 30 minutes – ideal if you have a really busy schedule.
MAKE YOUR SKIN TONE AND TEXTURE EVEN
Express HydraFacial treatment is completely non-invasive and gentle – it is very comfortable. That's the pampering your skin needs. With its patented technology, this treatment leaves you with clear pores and uncovers a new layer of your skin that is fresh and radiant. The results are instant – this is perfect when you are in a hurry to go to a party. Your skin is hydrated and significantly improved. You can even address acne breakouts, oily skin or eczema – Express HydraFacial can put an end to all major skin concerns.
ENHANCE YOUR SKIN APPEARANCE
Lucia's Dermapen micro-needling treatment is the one that will make your skin fresh and rejuvenated. It triggers collagen production – a much-needed protein for keeping your skin youthful and tight. So it tightens the skin but it can also be a great anti-aging solution because it reduces your fine lines and wrinkles. Since it is only minimally invasive because it uses very fine needles you don't have to wait long for getting that smooth skin you desire – it requires minimal to no downtime. Your festive glow will show the very next day.
GET READY FOR DRAMATIC SKIN IMPROVEMENT
Because that's what you'll get with Lucias Express HydraFacial and Dermapen treatments. You will notice a significant impact on your skin with minimal time invested. That's just what you need to prepare for the festive season. The concerns like skin scarring get improved once your collagen starts kicking in. Your skin will be noticeably softer and smoother once your wrinkles and fine lines are reduced. All this happens with no downtime. You can even treat delicate areas around your lips or eyes – perfect for a festive glow.
GIVE YOUR SKIN A BOOST BEFORE THE PARTY SEASON
With Lucia's facial treatments your skin will be equipped to shine at all your festive social gatherings. You will feel refreshed and youthful. This is an ideal moment to give your facial skin well-deserved pampering – your skin will restore its glow and look like you have turned back time. The aging clock will stop – once you give your skin a boost, you will also boost your confidence. Best of all the results are long-lasting – you will look fresh and youthful long after the festive season is over.
GET A BESPOKE SKINCARE TREATMENT
Lucia's Express HydraFacial and Dermapen Micro-needling treatments can be customized to meet your specific skin concerns and to achieve your unique aesthetic goals. No matter if you are bothered with wrinkles and fine lines, large pores, acne breakouts and scars, pigmentation and others – these treatments will leave your skin radiant and provide you with long-term results and confidence. Since the treatments can be specially designed for you, they reward your devotion to your skin health.
PREPARE TO BE THE STAR OF ALL YOUR FESTIVE GATHERINGS
With these special facial treatments, you will outshine everyone at your holiday parties. With perfect-looking skin, your face will be rejuvenated, smoother and refreshed. And it will be naturally enhanced and beam with the glow. Significant improvement with natural-looking results that's what you can expect. Will everybody wonder – what's your secret to such amazing skin? Yes, and you can tell them that it's a special and proper skincare routine.
Another Lucia special you can try to restore the shape and confidence is EmSculpt NEO Edge – a new amazing body contouring procedure.
BUILD MUSCLES AND REDUCE FAT AT THE SAME TIME WITH LUCIA'S EMSCULPT NEO EDGE TREATMENT
Now we're talking – if you want all your wishes to come true regarding your body imperfections, EmSculpt NEO Edge is your answer. It melts stubborn fat pockets and tones your muscles to contour your body and helps you put your fitness regime on another level. But there is a twist – with Emsculpt NEO Edge's new applicator you can now address your waist and tone your oblique muscles. The new design of this treatment applicator wraps around your curves and melts those love handles away. Without investing any effort, that you would normally have to in the gym, EmSculpt NEO Edge sculpts those body areas you could never sculpt just by exercising. And when is the perfect time to shape up? Now, at the beginning of the festive and party season.
LET YOUR PARTY CLOTHES FIT YOU PERFECTLY
Have you already chosen your festive gowns? But, you are a bit unsatisfied with how it fits you because you simply can't tone your waist. Well, with EmSculpt NEO Edge you will achieve that final tweaking of your body. The last inches of fat will melt down and your party clothes will look like they were made just for you. You won't have to worry about love handles showing through your party clothes. Talk about a boost of confidence at a festive social gathering – you will simply glow.
REACH YOUR FITNESS GOALS IN JUST 30 MINUTES
If you're busy organizing a Christmas party in your company or with your family and friends you don't have a lot of time to spend in the gym trying to contour your abdomen. The festive season is approaching fast and you need fast treatment. EmSculpt NEO Edge ticks this box – one session lasts just 30 minutes. 30 minutes of intense sculpting of your waist area and then continuing with your busy schedule right away. This also means a lot to you – there is no recovery time so you can return to work immediately or continue with your Christmas shopping.
TRY THIS NON-SURGICAL AND YET SUPER-EFFECTIVE PROCEDURE
You may think that this is impossible but actually EmSculpt NEO Edge delivers excellent results without making you feel uncomfortable. You don't have to do anything – just sit or lie comfortably while this treatment does its magic. It reduces stubborn fat pockets and defines your muscles at the same time, but without leaving you with any side effects. Its powerful energy makes your muscles contract and get stronger while you are writing your Christmas guests list and imagining how you will look amazing in your New Year's outfit, after just 4 sessions of this amazing treatment. Bottom line is that non-surgical body contouring has never been easier.
GET A TAILORED TREATMENT AND TARGET JUST YOUR PROBLEMATIC BODY AREAS
You just tell Lucia's therapist which area troubles you the most and the therapist will design a bespoke treatment just for you. But EmSculpt Neo Edge treatment brings in a novelty – it can treat areas of your body that are curvy like the waist or lower flanks. These areas were out of reach before, but now since the treatment applicator is sleekly designed to wrap all around your body, or more precisely to contour your curvy areas, you can successfully eliminate stubborn fat pockets and tone your muscles in those areas. Another awesome benefit of this new treatment is that once your waist and lateral abdomen are better defined and stronger you can even notice that your posture improves, your core strength is increased and you don't feel back pain so much.
Since its energy is intense, you can choose what level of intensity suits you the most – remember you shouldn't feel any discomfort. That's why Lucia's therapists are here – to help you achieve your aesthetic goals in a safe way. After just 4 sessions in one body area, you will achieve great results – stubborn fat cells will be eliminated and exchanged with muscles. Best of all – EmSculpt NEO Edge brings you permanent results.
EMSCULPT NEO EDGE MOTIVATES YOU TO KEEP HEALTHY HABITS
Once you achieve your aesthetic goals with this treatment and get permanent results, you will want to maintain a proper diet and regular exercise. Your nicely shaped lateral abdomen will stay like that forever because once you melt fat pockets in those areas they never return. But it's important to maintain your newly shaped body and stay healthy and fit. You especially need to do it during the festive season and your clothes will fit you like a glove. You will simply glow under the holiday lights.
WITH LUCIA'S TREATMENTS NOTHING CAN STOP YOU FROM FEELING CONFIDENT
Get ready to show that festive glow. It's the perfect time to prepare for the festive period with the most appealing skincare treatments that bring you fast and effective results. Express HydraFacial and Dermapen Micro-needing treatments will do wonders for your skin – they will hydrate, nourish and make it smoother. Your face will look refreshed and youthful with reduced aging signs, reduced acne scars and even tone and texture. With clear skin, your festive makeup will look flawless.
If you are more interested in contouring your body before the festive period starts, then choose EmSculpt NEO Edge and sculpt the body area that troubles you the most. With this innovative, non-invasive treatment, you will eliminate stubborn fat pockets and build muscles instead – you will finally be satisfied with your appearance in your special festive clothes. And you will be able to address body areas that curve, like your lateral waist and finally get rid of unattractive love handles. EmSculpt NEO Edge boosts your confidence and helps you feel and look amazing – all with no recovery time and in just 30 minutes.
All these Lucia Clinic treatments will do something great for you and they are perfect for your festive glow.
Don't miss out on a chance to feel and look radiant. Visit Lucia Clinic.