FEBRUARY SPECIALS ARE HERE – GET PERFECT SKIN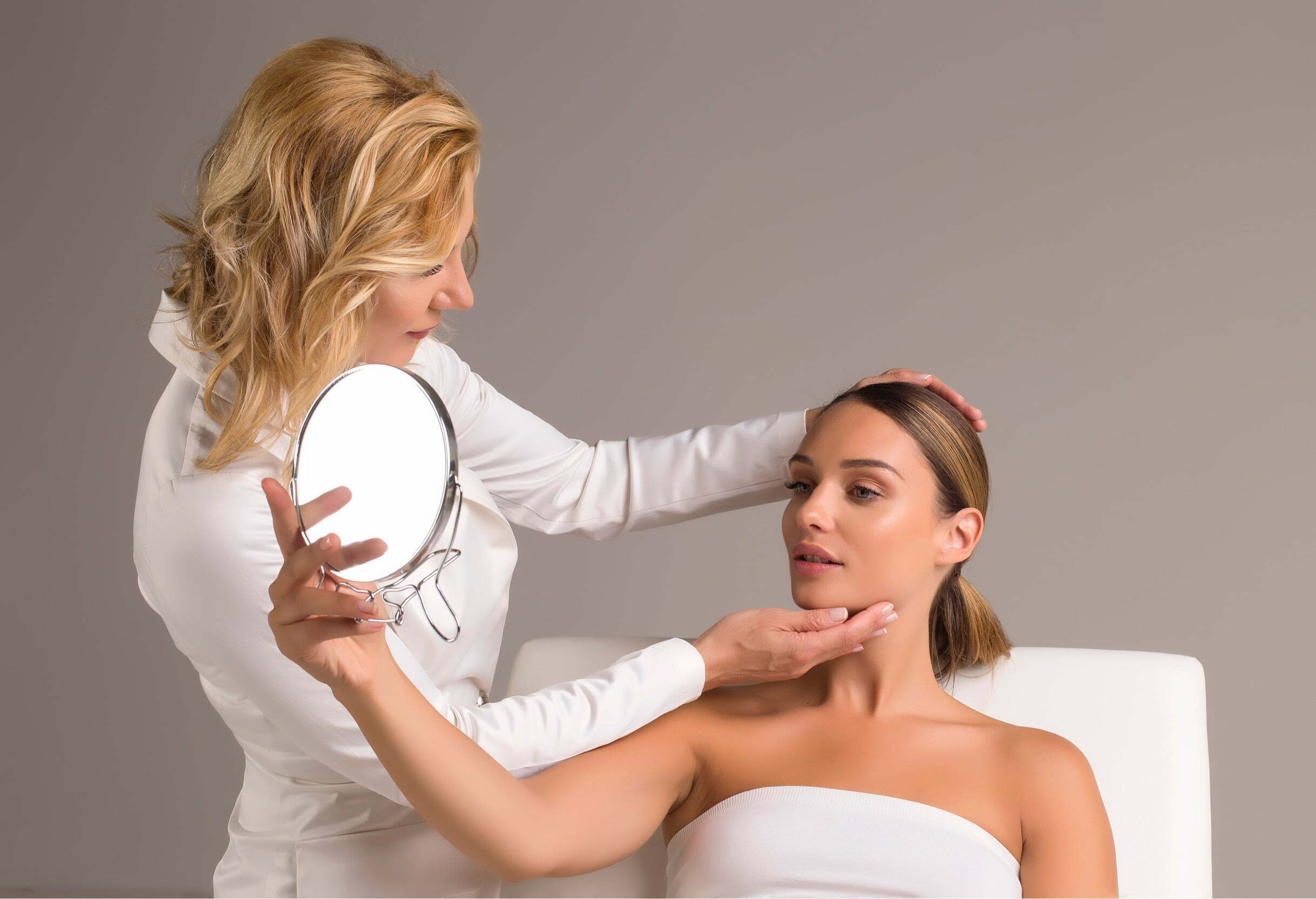 It's time to look after your skin this month. Lucia Clinic offers you amazing, non-invasive treatments that reverse aging signs and pamper your skin. EmFace treatment is like a non-surgical facelift – you can rejuvenate your face in just 30 minutes. It simultaneously improves your facial muscles, skin and connective tissue. Or, which body area you don't pay enough attention to? Your back. So, this month get a pampering back facial.  And finally, if you are ready for your plastic surgery, you can get a complimentary consultation with Lucia's plastic surgeons to get the best recommendations.
Read more about this month's specials.
THE FUTURE OF FACIAL TREATMENTS IS HERE WITH EMFACE
Are you in for a treatment that doesn't include needles? Well, EmFace is perfect then and you can try it exclusively at Lucia Clinic. This most advanced treatment uses technology that's stronger than BOTOX! It is non-invasive, comfortable and doesn't require any downtime. So if you want a treatment that will bring you great results but won't stop you from social interactions, then EmFace is your new thing.
GET A PERFECTLY LOOKING FACE
This is what EmFace can offer you – tighter skin and stronger facial muscles. This powerful treatment unites two energies that will make your face youthful again. RF energy targets your wrinkles and fine lines by triggering collagen and elastin production deep in your skin. The heat, emitted from RF energy travels deep into your dermis and makes these important proteins build up. And then it happens – your wrinkles become less visible, especially those on your forehead and around your mouth. Soon you notice that EmFace has taken years from your face.
The other energy that works along with RF, is HIFES – the energy that firms your facial muscles. It targets the muscles on your forehead and cheeks and makes them contract. Your facial muscles get stronger and keep the entire structure of your face firm. Your saggy skin is lifted and your face looks youthful. This powerful facial muscles workout is something you could never do alone – luckily EmFace can do it for you.
REJUVENATE YOUR FACE IN A NON-INVASIVE WAY
EmFace treatment is perfect if you want to avoid injectables. This needle-free, non-invasive treatment is very comfortable and requires absolutely no downtime. Its applicators are applied to your forehead and on both cheeks – the most targeted facial areas. You just feel a mild warmth as the RF energy is heating your dermis and a funny, tingling feeling as HIFES energy is contracting your muscles. It's a completely safe treatment that brings you smoother skin and a youthful-looking face in a flash.
SAY GOODBYE TO AGING SIGNS
There is no other treatment like EmFace. This 2-in-1 facial procedure can address your entire face without side effects or downtime. EmFace really made a revolution in aesthetic anti-aging treatments because it was impossible to treat both the skin and facial muscles before. But now you get the whole thing – firm, lifted and smooth skin and toned muscles. No more wrinkles or saggy skin, just a perfectly contoured face.
GOT A LUNCH BREAK? PERFECT FOR EMFACE
EmFace treatment really is a lunchtime treatment. In just 30 minutes you are in and out of Lucia Clinic. You don't have to prepare for the treatment or take some special care of your face afterward – you just simply continue with your day. There are no side effects and literally, no downtime because Emface is non-invasive and gentle to your face. And yet after just 4 sessions, you notice that your facial skin is firmer, your wrinkles are less visible and your facial muscles are keeping your face nicely structured. Your face gets radiant and youthful, all thanks to the magic of EmFace. That's really amazing!
Another awesome treatment you can have this month at Lucia Clinic is a back facial.
PAMPER YOUR BACK SKIN WITH LUCIA'S BACK FACIAL
Back facial perhaps isn't a typical facial, but that doesn't mean you shouldn't get one. You have heard of a facial that is just for your face, neck or decolletage. But your back also deserves rejuvenating aesthetic treatment. A back facial is very beneficial for your back skin because it can help you with acne breakouts, dry or oily skin or it can just simply relax you. This treatment is a game changer for your back, an often neglected body area in terms of aesthetic procedures.
CLEAR YOUR BACK FROM SKIN BLEMISHES IN 3 STEPS
The first step is cleansing and exfoliation, performed with an applicator that has a fast-rotating tip. Lucia's skin therapist uses this applicator to remove dead skin cells and open the pores on your skin. Your skin is fresh and clean and prepared for the next step – extraction. All the dirt, pollutants and debris are suctioned and eliminated. The skin on your back is prepared for solutions or the third step – diffusion and hydration. The skin therapist gently fuses your skin with a customized solution that has antioxidants and other anti-aging ingredients. This solution hydrates and protects your skin from impurities or harmful agents.
With a back facial, you will definitely prepare for bikini or backless clothes season. Clean and hydrated back skin enhances your entire appearance. And this treatment is all about that – making you beam with radiance all over your body. This completely non-invasive treatment is very soothing. After a back facial, your back is clear, hydrated and soft.
GET RID OF DRY OR OILY SKIN ON YOUR BACK
Back facial works for both dry or oily back skin. Dry skin is common and becomes even more prominent as the skin matures. So it's time to deal with dry skin with a back facial treatment. You always moisturize our face, hands, elbows and other parts of the body. But your back deserves the same attention. With a back facial, you can finally hydrate your back – a hard-to-reach body area. If, on the other hand, you have oily skin it can often lead to acne breakouts or simply make you feel uncomfortable. With a back facial, you get rid of excess oil and refresh your back skin. Also, this procedure improves the tone and texture of your back skin and leaves it smooth and silky.
DETOXIFY THE SKIN ON YOUR BACK WITH BACK FACIAL
Environmental factors like sun, wind, pollution and dirt can negatively affect your back skin. And you can't treat your back skin alone – you need a helping hand. Lucia's skin therapists can do wonders to your back skin with their back facial. Eliminating the negative effects of environmental pollutants is one important benefit of this treatment. Back facial penetrates the layers of the skin on your back and detoxifies them from sun and wind damage and other pollutants. It nourishes your skin and hydrates it deeply. And only well-hydrated skin is beautiful, healthy and radiant.
PREVENT AGING SIGNS ON THE SKIN OF YOUR BACK
With Lucia's back facial, you can trigger collagen production and boost cell production. With more collagen, your skin on the back will be smoother and firmer. Back facials take your everyday skincare routine to a whole new level. With regular back facials, your skin will improve its appearance, tone and texture. Your whole body needs proper hydration and nourishment – your back included. If you have a special event coming up where you want to wear a backless dress, a back facial is a perfect treatment that will make your back radiant and put you in the spotlight!
RELAX YOUR BACK MUSCLES DURING A BACK FACIAL
Another awesome benefit of a back facial is that it relaxes your muscles and reduces their tension. As we said, with a back facial you are pampering your back and every pampering is soothing and relaxing. Back facial covers your shoulders, neck and back so you get cleansing, exfoliation and moisturizing of one of the largest body areas that you can't do alone. Even if you don't have issues with acne breakouts, back facials will be greatly beneficial. The best thing there is no downtime after a back facial – you can continue with your daily routine or social interaction immediately.
Finally, if you have decided to have plastic surgery, get a complimentary consultation with Lucia's plastic surgeons.
GET ALL YOUR QUESTIONS ANSWERED ABOUT PLASTIC SURGERY
If plastic surgery is something you would like to undergo, then you certainly have tonnes of questions. This February, you can get a free consultation with Lucia's plastic surgeons – it's a first step towards fulfilling your aesthetic goals. It's not easy to decide and have plastic surgery, but when you are in hands of highly-qualified and world-renowned surgeons, then it's much easier. During your free consultation, you can find out what plastic surgery can do for you and what to expect – so prepare to open up and share.
IT'S TIME TO GET PERSONAL
Building an open and honest relationship with your plastic surgeon, will help you feel more confident about your plastic surgery. It may be difficult to talk about your body concerns, but it's necessary for the best outcomes of your surgery. Once you meet Lucia's surgeons, you'll realize that you are in good hands, and talking about your insecurities won't be uncomfortable at all. By openly sharing your aesthetic goals, you will help the plastic surgeon to create a customized and innovative procedure plan that will bring you real and therefore the best results.
THE RIGHT PLASTIC SURGERY WILL EXCEED YOUR EXPECTATIONS
During your free consultation with Lucia's plastic surgeon, you will get a clearer picture of which plastic surgery will bring you the results you expect. The first thing you will learn from your plastic surgeon is that there is no one size that fits everybody – we are all different and have different bodies and aesthetic goals. So, to help you fulfill your vision, Lucia's plastic surgeons can help you imagine what results you will get from your breast enhancement, buttocks enlargement, liposuction, facial rejuvenation or facelift. The best results are natural results and that's why being open to your surgeon will help you achieve them with the best plastic surgery for you.
EVERY QUESTION IS IMPORTANT
This month's complimentary consultation gives you the opportunity to ask Lucia's plastic surgeons about every little detail of your plastic surgery. Knowing all the specifics of liposuction, pecs enlargement, breast reduction or gynecomastia surgery helps you get closer to your final decision. You can find out about anesthesia, risks, side effects, recovery protocol and so on. More importantly, your consultation will bring you insights into what results to expect and how these results fit into your aesthetic goals. You can rest assured that once you get a detailed description of your plastic surgery, you will definitely decide to go for it.
LUCIA CLINIC ALWAYS THINKS ABOUT YOUR BEAUTY
So this month's specials are no exception. You can choose the best treatment for you and get the perfect skin appearance. If you are looking for a needle-free, non-invasive, anti-aging treatment, then Lucia's EmFace is just for you. It is a facial procedure that will lift and firm your skin dramatically by triggering collagen and firming your facial muscles. Or if you want to pay much-deserved attention to the skin on your back then Lucia's back facial is your choice. It works as any other facial, but focuses on hydrating, exfoliating and improving the skin on your back. Finally, if you have decided to fulfill your aesthetic goals with plastic surgery, then don't miss out on a chance to have a free consultation with Lucia's plastic surgeons and see what plastic surgery can do for you.
Schedule your appointment at Lucia Clinic today.