SHINE BRIGHT WITH LUCIA CLINIC'S SPECIALS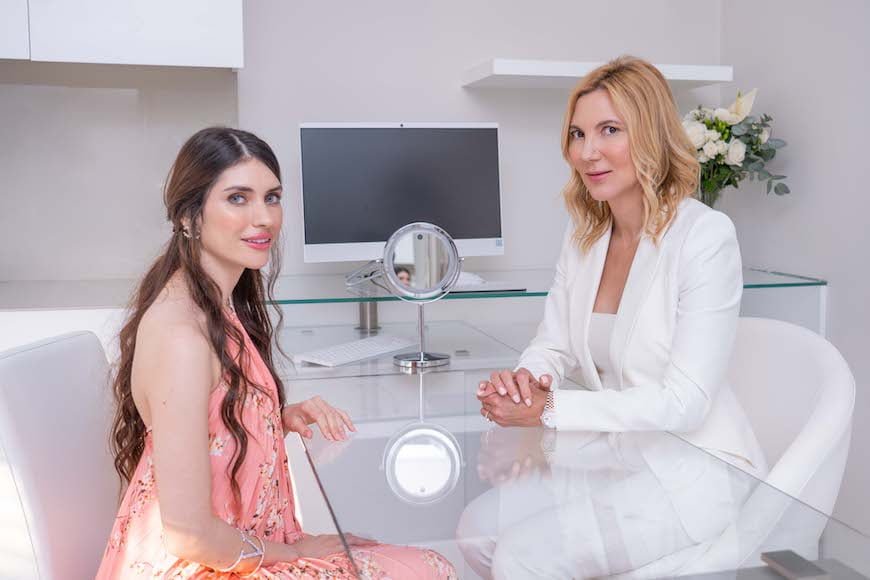 This month it's all about letting out your inner glow. It's the festive season so feel the positive atmosphere at Lucia Clinic. This month we have prepared really awesome specials for you. One of them is EmFace – a revolutionary, needle-free treatment that improves facial muscles, skin and connective tissue all at once.
Read about it and other special offers
MEET THE FUTURE OF FACIAL TREATMENTS
Exclusively at Lucia Clinic, you have the chance to experience something completely revolutionary when it comes to facial treatments – EmFace! We are pleased to offer you this first-of-its-kind technology that is stronger than Botox!
Intrigued? Well, EmFace is intriguing and everyone is buzzing about it in the world of aesthetic dermatology. It is non-invasive, completely painless and causes no side effects. This is all a plus since it's the festive season and you need a treatment that will bring you outstanding results without downtime. Get ready to party with your radiant face.
THE POWER OF EMFACE THAT BRINGS YOUR FACE TO PERFECTION
Yes, EmFace is powerful because it combines two separate energies that work together to make your face radiant and youthful-looking. HIFES energy targets your facial muscle precisely where you need it – on your forehead and around your mouth. This energy makes your facial muscles contract and get stronger. The result – your cheeks get lifted and there is less saggy skin. Your facial skin is firm and toned and the whole structure of your face looks more youthful – all thanks to the powerful workout of your facial muscles.
REDUCE WRINKLES AND FINE LINES WITH RF ENERGY
This is the second energy that kicks in together with HIFES and triggers collagen and elastin production in your skin. This energy heats the dermis and awakens these important skin proteins. Pretty soon, the wrinkles on your forehead and around your mouth become less visible. Your skin is smooth and tight and it looks younger. No more aging face – with EmFace you take off years of your face.
REJUVENATE YOUR WHOLE FACE WITH EMFACE
No more separated treatments – EmFace is the first treatment that can address your full face. You get the full package – it works on firming your muscles and tightening your skin at the same time. This used to be impossible, but now, with this totally futuristic treatment, you get it all. And as you already know, everything is possible with Lucia Clinic's team of experts – they always WOW you with their treatments and amazing results. EmFace is no exception here.
NOT A FAN OF NEEDLES? THAT'S OKAY
EmFace is a needle-free, non-invasive treatment that causes absolutely no pain. Lucia's therapist places EmFace applicators on strategic areas of your face and you just feel slight warmth and funny feeling of muscle contractions that actually makes you laugh. It sounds silly, but remember – your safety is in the first place and with EmFace you are safe and sound. You just get a tingling sensation – it's a really unique experience. But the results are there – smooth skin and stronger facial muscles in no time.
IMPROVE YOUR FACIAL CONTOURS DURING YOUR LUNCHTIME
EmFace is really fast, so it's perfect for you if you're busy. In just 20 to 30 minutes you are finished with the session. There are no preparations or aftercare – you simply carry on with your daily routine after the treatment. But with a twist – your face will glow, it will feel tighter and it will look youthful.
After 4 sessions of Emface you can expect fewer wrinkles, firmer skin and stronger facial muscles, all without needles or downtime. And as we said at the beginning Emface is even stronger than Botox!
So don't hesitate to schedule your appointment for a unique EmFace treatment. You will love it!
If you want to focus more on your body areas then CoolSculpting is another treatment you can try this month.
FREEZE AWAY UNWANTED FAT AT LUCIA CLINIC
Stubborn fat pockets are no longer welcomed – this month you can eliminate them with Lucia's CoolSculpting treatment. Are you ready to slim your contours after the festive period? Then it's time to try this amazing fat-freezing procedure. It will melt away all your trouble spots. Whether you have unattractive fat bulges on your arms, abdomen, thighs, chin or back, CoolSculpting will eliminate them. Are you bothered with love handles? After CoolSculpting treatments your waist will be super-shaped.
GET SLIMMER MORE EASILY WITH COOLSCULPTING
There is no need for surgery – you can easily get rid of stubborn pinchable fat with this awesome treatment. Just say which areas trouble you the most and CoolSculpting targets those fat cells just under your skin. The fat cells get frozen and their time is over. Your body eventually flushes these cells away and they are gone for good. You can notice that the targeted area of your body is getting slimmer and slimmer. In the end, you get nothing but natural-looking results and nicely shaped contours – without effort, pain or discomfort.
CUSTOMIZE COOLSCULPTING TREATMENT JUST FOR YOURSELF
That's a big plus for this treatment because it is so versatile. It has so many different applicators – small, medium and large, that you can actually target a hard-reachable body area like a double chin. Or you can focus on love handles or saddle bags on your thighs. It's all up to you and the aesthetic goals you want to achieve with CoolSculpting. It can address stubborn fat cells in almost all body areas and help you feel great about your new slimmer contours. Just complete all the recommended sessions and enjoy your better-contoured body areas.
FIT COOLSCULPTING IN YOUR BUSY SCHEDULE
If you are short on time, CoolSculpting is perfect for you – the session can be finished in 30 minutes. You are free to go and continue with your day right away because there is no downtime. After this non-invasive treatment you will see the first results immediately – smoother skin and slimmer contours that's your goal. Of course, the results will be natural-looking and as we all know, those results are the best. And as the destroyed fat cells never return, the results are long-lasting.
KEEP YOUR SLIMMER CONTOURS FOREVER
Again, that's because once you flush away the destroyed fat cells you will never grow them again. Still, maintain a healthy diet and regular fitness regime and your newly shaped body will look even better. CoolSculpting can help you get rid of the precise fat pockets that don't give in and stay put no matter how much you exercise. So, once you bring your contours to perfection, you will definitely want to keep them like that. A plus for CoolSculpting – it motivates you to maintain healthy lifestyle habits.
How about super hydrating your face and detoxing for radiant skin? Try Express HydraFacial with IV vitamin therapy.
POWERFUL DETOX FOR RADIANT SKIN BY LUCIA CLINIC
Hydration and nourishment is what your skin needs this festive season. It needs to return its glow and get more enhanced and beautiful. Express HydraFacial plus IV drip therapy will give your skin all this – fast! These treatments are so beneficial for your skin – together they make it clear and shiny. And shine and glow is your goal this festive season.
CLEAR YOUR SKIN IN 30 MINUTES
No wonder it's called Express HydraFacial – it really is fast. In half an hour your skin can be transformed. You will love this treatment. It clears the pores, eliminates dirt and other pollutants and also hydrates and nourishes the skin. There are no side effects – just super soft and clear skin. Perfect for applying makeup!  Also another plus – if you are busy, you can have this treatment during your lunch break.
GIVE YOUR SKIN A WELL-DESERVED PAMPERING
Express HydraFacial is gentle and non-invasive and makes you feel completely comfortable. It has a patented technology that leaves your skin radiant and fresh. After deep cleansing and exfoliation, your skin is fused with much-needed ingredients like antioxidants, hyaluronic acid, vitamins and others. These ingredients will protect your skin from environmental pollutants and keep it radiant long after the festive season is over.
BOOST YOUR SKIN FROM THE INSIDE
This special Lucia's facial includes a treat – IV Detox drips. This therapy works like a charm – it detoxes you from harmful elements and fuses you with important vitamins that keep your skin youthful and beautiful but also improve your overall well-being. These vitamins, minerals and other nutrients are administered directly into your bloodstream which makes this treatment super fast and super effective.
GET READY TO FEEL MORE ENERGETIC
After these treatments you will be more than ready to continue with your busy days. Well-hydrated and detoxified, your skin will glow. Also, IV Drips therapy can protect you from harmful elements in the environment so you will feel stronger and healthier. Forget about aging signs – they will be eliminated. You will feel fresh and youthful and ready to hit another festive party. That's all because you will be packed with important nutrients. If anybody asks you – what made your skin glow so much, you can simply answer special skincare!
Finally, find out what plastic surgery can do for you during a complimentary consultation.
UNRIVALED BEAUTY TRENDS AT LUCIA CLINIC
If you have been thinking about plastic surgery and want to approach your aesthetic goals from a different angle, meet with real plastic surgeons at Lucia Clinic for a complimentary consultation. Together with your plastic surgeon, you can create a customized and innovative treatment plan that will bring you real results – results that can even exceed your expectations. But, first things first, get all the questions answered by world-renowned plastic surgeons.
IT'S TIME TO OPEN UP AND TALK ABOUT YOUR AESTHETIC GOALS
This is not an easy step, but Lucia's plastic surgeons will help you feel comfortable talking about all your body concerns. It's important to be honest and open – this way the surgeon can advise you on the best plastic surgery that will bring you those much-desired outcomes. You will get full attention from them and that's the thing that singles out Lucia's team – every patient is treated as an individual. That's how you can get a customized treatment plan that will work just for you. In plastic surgery as in any other aesthetic procedure, there is no one fit for everybody – we are all different.
CHOOSE THE BEST PLASTIC SURGERY FOR YOURSELF
Maybe it's breast augmentation or more enhanced buttocks – it's all up to you. During a complimentary consultation, Lucia's plastic surgeons can tell you all about breast implants, fat grafting, liposuction and other procedures. They can help you visualize what plastic surgery can do for your body and make it more proportionate or slimmer. With their sense of artistry and trained eye, Lucia's plastic surgeons can advise you on which plastic surgery will bring your body to perfection.
EVERY LITTLE DETAIL COUNTS
This means that you can ask your plastic surgeon everything that comes into your mind. Deciding to have plastic surgery is not easy but you can definitely feel one step closer to it if you know all details. During a complimentary consultation, you can cover a lot of topics, like recovery, side effects, risks and others. But you can also find out how proper plastic surgery will make you feel rejuvenated and more confident. The important detail that you will learn is that you will get natural-looking results because Lucia's plastic surgeons are the best at that.
LUCIA CLINIC WELCOMES YOU AS ALWAYS
This month's specials are really special. You can improve your facial skin drastically with EmFace, without needles or downtime. Or slim your contours with CoolSculpting. If you want to hydrate and make your skin radiant then Express HydraFacial with IV drip therapy is the ideal treatment for you. Finally, meet with Lucia's plastic surgeons for a complimentary consultation and find out more about the plastic surgery you had in mind.
Don't miss out on the chance to schedule your appointment at Lucia Clinic.