STEP INTO THE NEW YEAR WITHOUT SCARS WITH ALMA HYBRID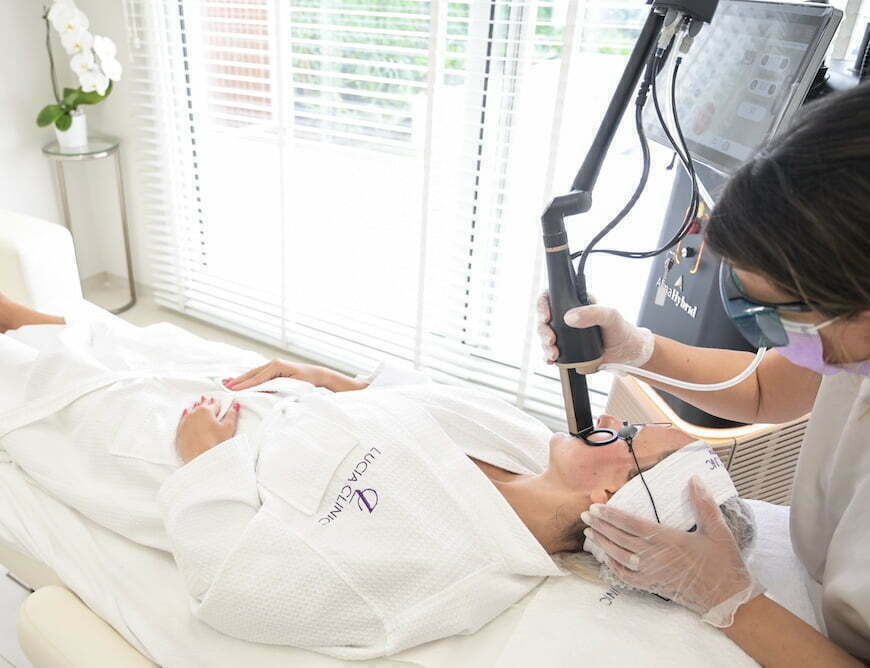 We are continuing to spread the love with our Holiday specials. This week you can prepare your skin for the New Year with our special Alma Hybrid OScar treatment. With this state-of-the-art procedure, you can bring your skin to perfection. With a brilliant face, you won't have to worry about your makeup – it will look stunning. Get ready to enjoy the festivities to the fullest with smoother skin and significantly less visible scars!
THE BEAUTY OF HYBRID OSCAR TREATMENT
Or let's say 'the beauties' because there are so many of them. Hybrid OScar treatment unites the three things your skin needs to be free of scars – ablation for flawless resurfacing, perfect thermal effect for the stimulation of new collagen and finally boosting the skin with essential skin products. This unique combination of energies truly does what is best for your skin – it dramatically reduces acne, trauma, surgical and other scars but without long downtime. Perfect for looking fully rejuvenated for your best New Year's Eve party!
ACHIEVE THE LOOK YOU HAVE LONG DESIRED
Hybrid OScar treatment really shows its predominance over standard fractional laser treatments – it keeps your expectations and your needs in the first place. And Lucia's Team is beyond excited to help you leave your scarring concerns in the old year – with their expertise and nothing but a professional approach, they will create a tailor-made treatment protocol just for you. More importantly, they will deliver exceptional results.
The greatest benefit of OScar treatment are amazing results and decreased downtime – this is something that definitely singles out this treatment. This holiday season you can get a perfect solution for your scarring issues with a customized combination of ablative and non-ablative injury patterns. This is something that only this unique treatment can achieve. The treatment duration is greatly reduced because laser energies are fully controlled and affect only the damaged skin tissue – the healthy skin tissue is left uninjured. Your Hybrid OScar treatment will be totally comfortable because it is just for you.
EXPERIENCE THE MAGIC OF THIS TREATMENT
Yes, OScar treatment is magical. You don't need to waste your time thinking which treatment will work the best for you for eliminating scars – ablative or non-ablative. Now, you can get both of them at once, no matter how contrasting they are. The effectiveness of this treatment actually lies in uniting the best things these two energies can do for your skin. This remarkable synergy is accompanied by the third benefit – Trans Epidermal Delivery of essential ingredients that boost the results of the treatment even more. These ingredients are so much more effective than topical skin products and bring you amazing results – after a significantly reduced downtime, your skin will look so much better. The scars will be noticeably reduced and your skin will be smoother and youthful-looking.
‍
REJUVENATE YOUR SKIN AND GLAM UP
With this revolutionary skin resurfacing treatment, you will go one step further in addressing your scarring concerns. Hybrid OScar is so much more than traditional fractional laser treatment. The ratio of ablative and non-ablative parameters can be precisely customized -this treatment works completely in your favor because it targets your skin imperfections exactly where it is necessary and with the precise amount of energy. And what's the result? Minimal discomfort, short downtime and best optimal results.
‍
BLEMISHES OUT, BRILLIANT FACE IN
The Hybrid OScar treatment is amazingly effective in eliminating different kinds of scars because the laser beams penetrate into your dermis at a precise depth and density. The two lasers -ablative CO2 and non-ablative 1570nm, can be properly adjusted to address your specific scarring concerns. The CO2 laser uses fractional energy that unites thermal, coagulative and ablative effects. On the other hand, the 1570nm laser wavelength has a thermal effect and regenerates your dermis. It is totally safe- it works on the inside and leaves the upper layer of your skin undamaged.  It triggers collagen production which replaces the damaged tissue with the healthy one. You can finally achieve that smooth and glossy appearance of your face.
BRILLIANT VERSATILITY OF OSCAR TREATMENT
No matter what kind of scarring you are concerned with, this treatment will address it and achieve amazing results. Everyone has different skin issues and Hybrid OScar can treat each and every scar with success. This is one of the biggest advantages of this treatment – it can be fully customized. This means that you come to Lucia Clinic, get your skin examined by Lucia's team of specialists and receive a first-class, tailored procedure that will restore the brilliancy of your skin and your confidence. Virtually every pixel can be pre-determined – it all depends on how much scarring you actually have, what kind of scars you wish to eliminate and most importantly what your desires and expectations are.
HYBRID OSCAR TREATMENT JUST FOR YOU
This tailor-made treatment will only serve your needs – it will balance the moment you see the results and the needed downtime. You don't have a lot of time for a longer recovery, because you have an important party to go to? Perfect! You can choose to have a more non-ablative and less ablative combination and still get great results. Lucia's Team will provide you with the best possible solution for your scarring issues with Hybrid OScar treatment – the first treatment of this kind in the world of aesthetic dermatology.
YOU WILL LOVE YOUR SKIN AGAIN
With so much ahead of you in 2022, the first thing you can do for yourself is clear your skin from any unwanted scars. With Hybrid OScar you can achieve this in a completely safe way because it is suitable for all skin types and tones. Even if you have a darker skin tone you don't have to worry about unwanted side effects – as we said, every parameter can be predetermined to achieve a lover ablation density. This significantly minimizes the necessary downtime, so you won't miss any of the holiday fun. Everyone will love your new, brilliant skin, but more importantly, you will shine with bright new confidence.
GO ONE STEP FURTHER IN YOUR SKINCARE
After the completed treatment, you can boost the results even more and maintain them with IMPACT TM – patented ultrasound technology for Trans Epidermal Delivery. This perhaps sounds a bit too complicated but it is actually straightforward – it infuses your skin with essential skin products through those micro-channels made by the CO2 laser. This is the final touch of your treatment – all the necessary cosmeceuticals and pharmaceuticals go deep into your skin layers and enhance the results. This innovative method of scar treatment truly gives your skin everything it needs -it reduces the unwanted scars, nourishes the skin with powerful ingredients and leaves the skin shiny, smooth and rejuvenated. Get ready to be the star of every holiday event!
IT'S TIME TO 'WOW' YOUR FAMILY AND FRIENDS
You will dazzle everybody with your new and clear face. This holiday season, Lucia's Team will gladly guide you on your journey towards your skin improvement. Don't forget that you will achieve a full transformation of your skin, but in a completely natural-looking way -nothing exaggerated. Revealing your natural beauty is actually the point of this or any aesthetic treatment because there's nothing more radiant or brilliant than nature. With just 4 to 5 sessions of Hybrid OScar treatment, you will enhance your face and make it smooth, clear and shiny again. The unity of three powerful energies truly represents a revolution in skin resurfacing and scar elimination – add Hybrid OScar treatment to your wish list this holiday season and just watch how your skin improves and restores again.
RETURN YOUR CONFIDENCE WITH YOUR CLEAR FACE
Your Hybrid OScar treatment protocol will include everything that is necessary for the best results – your skin type and tone, the targeted area, duration of the treatment and the needed downtime. This ideal balance of every parameter enables you to take full advantage of this treatment – the supreme results will make you shine among others. Everyone will wonder what your secret is. This holiday season is all about treating yourself to the best treatments – trying this revolutionary aesthetic treatment can be the first thing you do to reveal your true beauty.
‍
LUCIA CLINIC INVITES YOU TO TRY THIS CUTTING-EDGE TREATMENT
Prepare your skin, reduce the scars and love your smooth face – you will look brilliant this holiday season. Best of all, you will be able to enjoy the results of this treatment long after the festivities are over. Let's start the new year with healthy, glowing and rejuvenated skin.
 Hurry up and book your Hybrid OScar treatment at Lucia Clinic.