READY FOR NEW YEAR RESOLUTIONS? GIVE YOUR BODY A NEW LOOK WITH EMSCULPT NEO AND COOLSCULPTING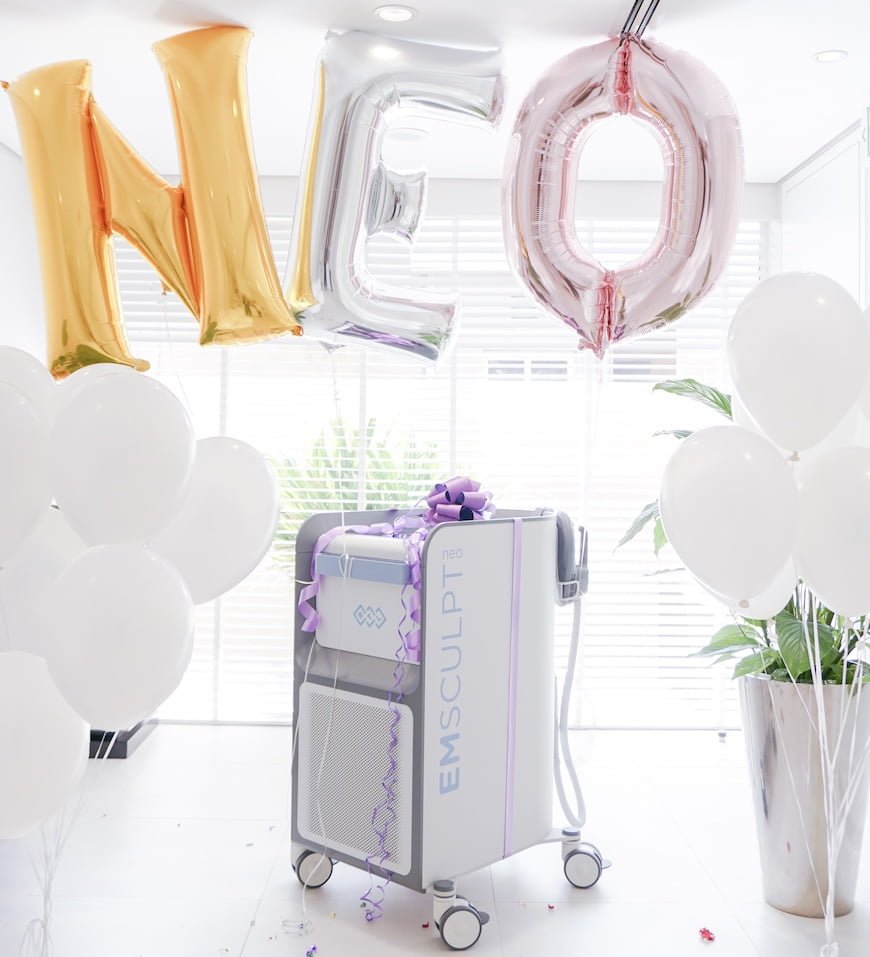 Ready for this year's goals? You are in for a treat – we are offering two excellent treatments that can bring you flawless body contours. EmSculpt NEO – the leading treatment that addresses stubborn fat pockets and defines your muscles.  And CoolSculpting, a gentle but powerful treatment that freezes away all your fat cells. These two treatments can genuinely give your body a complete makeover – shape up for the perfect body shape!
‍
EMSCULPT NEO – A STAR TREATMENT
Do you have trouble eliminating unattractive fat pockets no matter how much you exercise or keep a healthy diet? Then it's time to try something new – the latest treatment in body sculpting. EmSculpt NEO achieves brilliant results in just 4 treatment sessions – it targets fat cells and gets rid of them and stimulates muscle contractions at the same time. How about that? You lose unwanted fat and get better-shaped muscles on your arms, legs, abdomen or buttocks. Get ready to look stunning in your festive clothes!
IT TAKES JUST 30 MINUTES
Yes, you've read it right – EmSculpt NEO treatment sessions last just half an hour. If you have a lunch break, you can easily fit a visit to Lucia Clinic and get those last few inches trimmed. Best of all, go back to planning that perfect party right after the treatment because there is no downtime. EmSculpt NEO is painless, non-invasive and safe, but above all – really really fast. You must agree – 30 minutes is less than you spend working out in your gym. This holiday season, you won't have to worry about not fitting in your desired clothes – with EmSculpt NEO treatment your clothes will fit you like a glove.
PUT AN END TO STUBBORN FAT
This game-changing treatment will do wonders in contouring your problematic body areas. With the use of safe and non-invasive RF energy, EmSculpt NEO targets fat cells and reduces them by heating their tissue. Accumulated fat gets melted away – in a nothing but comfortable way. Once destroyed fat cells can't return – you get rid of them for good. Once those destroyed fat cells get eliminated from your body you get a slimmer and better-sculpted look. Let's not forget to mention – you can reduce up to 30% of stubborn fat in a targeted area with this brilliant treatment.
GET FIT AND BUILD YOUR MUSCLES
Forget about poorly shaped muscles – EmSculpt NEO steps up your game with 25% of better-toned, more defined and stronger muscles. Next to melting the fat away, this awesome and powerful treatment uses electromagnetic energy to stimulate your muscle contractions. It's focused, intense and safe – EmSculpt NEO activates 20,000 contractions in the targeted muscle group. We don't have to remind you that this is impossible with a normal workout. But with EmSculpt NEO everything is possible – your muscles adapt to these extreme conditions and get deeply reshaped. This holiday season you can do something great for your body – get stronger and slimmer super fast!
YOU WILL LOVE EMSCULPT NEO
We know that it's not always easy to shape your body the way you desire – it takes a long time to get there. But EmSculpt NEO will take you one step closer to a firmer, contoured and slimmer silhouette. With its 2 in 1 treatment, EmSculpt NEO gives you more muscles and less fat – it's something you have never experienced before. You can improve your core strength, sculpt your arms, buttocks and abdomen – you can choose which body area you wish to enhance. This treatment really represents the future of body contouring solutions. This future can become your present this week at Lucia Clinic.
TAKE ADVANTAGE OF THIS REVOLUTIONARY TREATMENT
Once you try EmSculpt NEO you will be amazed how fast it can bring you the desired results. This treatment is really unique- not only does it burn unwanted fat and define your muscles at the same time but it also does it in a fast way. All this magic happens during a single session – this aesthetic treatment never fails to deliver visible results. Once you achieve the desired outcomes – less fat and more muscles, you will never have to struggle with eliminating persistent fat bulges or building muscles. Just keep up with your balanced diet and regular exercise and you will feel confident about your improved body contours long after the holiday season is over.  Let's get moving towards that dazzling new body shape together!
Don't miss out on booking your consultation and trying out this comfortable, fast and effective treatment.
Another awesome treatment you can schedule this Holiday season is CoolSculpting – an effective treatment for reducing stubborn fat deposits.
IT'S TIME TO LOOK GORGEOUS WITH COOLSCULPTING
This Holiday season you can do something for yourself that you have long wanted to – get rid of small pockets of fat that simply won't go away on their own. CoolSculpting treatment will do it for you without effort and downtime. Those tricky areas that accumulate fat like thighs, abdomen, waist, the chin can finally look firmer and smoother -CoolSculpting will make them better-shaped in a safe, comfortable and effective way. The best part – go to your next party right after the treatment session. There is no need for recovery, just put on your best clothes – you will look and feel great!
FREEZE THE UNDESIRABLE FAT
Stubborn fat bulges stand no chance against CoolSculpting treatment – it freezes them to the point where they have to give in. Fat cells are super sensitive to cold temperatures so they shrink and eventually get eliminated from your body, never to return. Just imagine – fat pockets that used to stay on your waist and form love handles finally disappear. With your healthy lifestyle, you can enjoy the effects of this great treatment for a long long time. And all this is possible to achieve in a comfortable and easy way all thanks to CoolSculpting treatment.
LOOK GRACEFUL WITHOUT EFFORT
All you need to do is consult with Lucia's therapist and get a customized treatment plan. With CoolSculpting you can precisely target problematic body areas that might be difficult to reach. This treatment is really versatile – it can eliminate pinchable fat pockets under your buttocks, on your back or beneath your chin. You can eliminate saddlebags from your outer thighs and fall in love with your legs again. It's all up to you to decide which body area you want to bring to perfection. Just remember -this Holiday season you will shine with newly found confidence about your firm, smooth and natural-looking body contours.
BE THE STAR OF THE FESTIVITIES WITH THIS PRIME TREATMENT
It's so easy with this non-invasive and gentle treatment. Just take a break from your busy holiday schedule and visit Lucia Clinic. In just 35 minutes you can finish your first CoolSculpting treatment session and already feel better. The results will be there -less fat in your problematic body area. Once you finish the treatment session you will enjoy your new and improved body shape after only 2-3 months. That's one of the CoolSculpting treatment benefits – it provides natural-looking and long-term results.  And together with a balanced diet and regular fitness regime you will never have to worry about those unattractive fat bulges. Start your journey towards your perfectly shaped body contours this Holiday season at Lucia Clinic.
ENHANCE YOUR SILHOUETTE
With CoolSculpting treatment, you can finally get that long-desired smooth body contours. You can take your beauty and well-being one step further. This comfortable treatment will help you achieve ideally- toned and shaped arms, legs, waist or chin once the undesirable fat cells get frozen and eliminated from your body. With versatile treatment applicators, you can eliminate the most stubborn fat pockets that won't go away in an old-fashioned way. That's the beauty of this treatment – you just relax while your targeted body areas are becoming slimmer. CoolSculpting treatment can do so much for your body shape in little time and in a comfortable way. Now it's the perfect time to get into the perfect shape.
LUCIA CLINIC INVITES YOU TO GET PERFECT BODY CONTOURS WITH ITS COOL TREATMENTS
The holiday season is all about fun and enjoyment. Let us fulfill all your wishes and help you shine among others. With number one treatments like EmSculpt NEO and CoolSculpting, you can finally get those natural-looking and smooth body contours. Eliminate unwanted fat bulges and get better-defined muscles in a safe, fast and effective way. Let the start of the new year be all about doing something just for yourself – getting a perfectly-shaped body.
Book your consultation at Lucia Clinic today and enjoy the festive period to the fullest. ‍