THE NEXT GENERATION OF BREAST IMPLANTS DESIGNED FOR WOMEN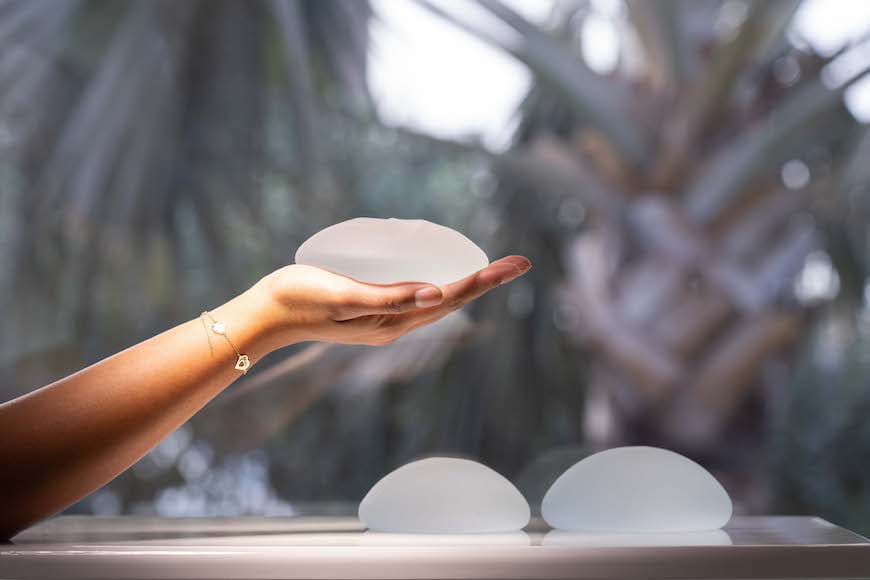 Lucia Clinic is introducing an innovative experience for breast augmentation. Welcome to the future with Motiva implants with an RFID chip.
We are all aware that technology is rapidly developing and bringing new approaches to plastic surgery and other fields of medicine. So, Motiva breast implants are no exception here – these implants are constantly being improved in terms of your safety and cosmetic outcomes. You can truly appreciate the fact that Motive implants are specially designed to maximize harmony and biocompatibility with your body. They have excellent elasticity and are designed to offer enhanced safety and precision. Their balanced softness and firmness are ideal for you no matter your age, preferred look and the level of your daily activities. Therefore, these implants are one of the most preferred ones when it comes to breast augmentation and reconstruction.
Let's discuss Motiva breast implants and shed some light on the questions that might pop into your mind when you are considering these implants for your breast augmentation surgery.
Are Motiva breast implants FDA-approved?
Yes, they are. This is very important for you because it tells you that the implants are safe. Motiva implants with RFID chips are the first ones that got FDA approval. It also means that these implants won't interfere with MRI breast check-ups.
 Another essential fact about Motiva implants is that they are filled with NUSIL gel which is also FDA-approved for usage in medical purposes. Motiva implants are 100% gel-filled and they are designed to last for a long time without causing you problems. Therefore, this type of gel is specifically made to give breast implants long-lasting stability and a high level of purity. With a long span of usage in medical implants, NUSIL gel is a reliable material for breast implants. This is great for you because your breast implants can be custom-tailored to suit your body type and aesthetic goals. And these 100% gel-filled implants offer you permanent results.
With Motive implants, your breast augmentation surgery will be safe and meet your needs and expectations.
What is an RFID chip?
This is where safe technology reached its peak – RFID is a tiny passive radio frequency identification chip or the only microchip that can be used in humans. This small chip is inserted in your breast implants to serve as an information carrier. Your plastic surgeon can check everything about your breast implants from outside of your body with a particular reader that is moved across your breasts. This completely biocompatible chip has 15 digits on it that are safely added to a secure database and can be accessed only by an authorized person, like your plastic surgeon.
 So for the first time, this microchip allows you to check your breast implants in a non-invasive and secure manner. These 15 digits on the RFID microchip store information like the name of the manufacturer of your implants, the date when the implants were made, lot number, your implants size, volume and format, the quality and level of the silicone, and how long your implant will last. This information about your silicone implants can never be lost so you can rest assured that if you happen to have any issues with your implants, your surgeon can easily diagnose and solve the problem. These breast implants, therefore, give you long-term results and peace of mind. They give you the power to control your breast implants, as long as they are inside your breasts. 
What kind of surface do Motiva implants have?
You may wonder why this question is essential, but without the proper surface, your breast implants just won't feel right. Motiva breast implants have solved this issue for you – with their nano-textured surface they are categorized as somewhere in between smooth and textured implants. With their latest SilkSurface technology, Motiva implants' surface makes them more stable in the pocket and they don't cause a risk of inverting or rippling. In fact, the rate of capsule contractures is less than 1% after a period of 10 years. The smooth surface of Motiva implants makes you feel good after your surgery. They don't ripple when you move sideways, and they don't show wrinkles. These implants feel very smooth when touched because they have much higher contact points than any other breast implants. This is what makes Motiva breast implants feel so natural. You can be sure that your Motiva breast implants will meet your aesthetic goals.
 Another super important fact about the nano-textured surface is that it is not linked to ALCL or a type of lymphoma that can develop because of textured breast implants. Textured breast implants carry a risk of creating trauma and microtears in the tissue around your breasts. Since the Motiva implant surface is smooth, you are safe from this issue.
How do Motiva implants feel?
In two words – completely natural. They are designed to feel, move and look like natural breasts. They have ergonomic properties which actually means that they match your body structure and provide you with absolute comfort. These implants are smooth and soft, and they mimic mammary tissue – this is something that most implants can't achieve. Motiva implants can be designed with a natural curve when they are upright and full projection when they are downright – this is how your breasts move. So if you are looking for realistic results from your breast augmentation surgery, Motiva silicone implants are designed just for you. Motiva implants also have a lot of different sizes and projections so you can choose them according to your wishes, like upper roundness or fullness. No matter which you choose they will give a natural look to your breasts.
 Motiva implants also give you the same elasticity and consistency as natural breasts. They move as you move without causing rotation or feeling hard under the skin. If you are standing, the implants will project to the lower pole. When you are lying, they will project closer to the middle of the breast.
 The elasticity of Motiva silicone implants plays another vital role – the implant can be inserted through smaller incisions. Since it can bend easily, breast augmentation surgery is much less invasive. You end up with minimal and almost invisible scarring. Also, the smooth texture of these implants speeds up your recovery because it doesn't contact the surrounding breast tissue that much.
 So, without much difference in natural breasts, Motiva implants can really provide you with a sense of satisfaction when it comes to your decolletage.
What Motiva implants'
shapes are there?
You can opt for a Motiva round implant if you desire fuller breasts and higher projection. These implants give you that perkiness that your breasts are missing but they still feel soft and natural. You can easily jog or work out because these implants move with you and give you an outstanding balance.
 The ergonomic shape of Motiva implants provides you with entirely natural-looking breasts. These implants move as you move, and because of their balanced softness and firmness, even on closer look, nobody can notice that you had breast augmentation surgery.
Can Motiva breast implants be customized?
Absolutely! Whichever look you wish to achieve from your breast enlargement surgery with Motiva implants, you will find an ideal shape, that suits your anatomy and meets your aesthetic goals. There are more than 500 different Motiva implant shapes so you are bound to find the perfect match. Of course, your plastic surgeon will advise you on the size, shape and projection that most suits your body contours but he/she will also take your wishes into account. Lucia Clinic's plastic surgeons have years of experience in helping their female patients get the results they are looking for from breast augmentation surgery. So, rest assured that you are in good hands with Lucia's plastic surgeons.
Can breast implants last forever?
Well, this is still open for discussion. It depends on many factors, like your lifestyle, overall health, and after-surgery care. And also, as you get older your body changes and so your breasts do. Having regular check-ups with your surgeon keeps you at peace regarding your implants.
However, Motiva implants do have higher longevity than other breast implants and they offer permanent results. As they have been designed using advanced technology, they pass the risk of rupturing or causing pain. So you are good in that aspect. These implants have a smooth surface and strong structure so they can last for a really long time. When you have your check-up after 10 years, your surgeon can easily access data about your silicones and advise you if you need to replace them or not. On the whole, Motiva implants can last even longer than ten years so you don't have to worry about their longevity.
Why choose Motiva silicone breast implants?
As we already mentioned above, these implants are of the highest quality, they are safe and efficient and meet your aesthetic goals. They are very beneficial and can help you finally enjoy your bust.
Their safety lies in the special nano-textured, smooth surface, which doesn't harm the surrounding breast tissue. They have an RFID chip that stores all the data about your implants and is easily readable.
Motiva implants are firm but soft to the touch and feel completely natural. If you are going for that natural look of your breasts then Motive implants are the best choice for you. They look real and nobody can really tell that you had breast enlargement surgery. This is because they fully adapt to the surrounding tissue of your breasts and move the same as you – they don't cause wrinkles or rippling. In addition to all this, they are elastic so they are inserted in your breasts through minimal incisions. All this goes in favor of Motiva breast implants.
E
NJOY THE NEW ATTRACTIVE LOOK OF YOUR BREASTS WITH MOTIVA IMPLANTS
Deciding to have breast augmentation surgery is a major life changer. It is your and only your decision. There are a lot of things you need to consider before you undergo the surgery but the most important thing is that you trust your plastic surgeon and choose the most suitable implants for you. Motiva silicone breast implants are preferred among plastic surgeons because of their balanced softness and firmness and ability to offer a natural look of your breasts.
 With Motiva implants, you can feel comfortable in your own body, attractive and beautiful. Above all, you can feel safe that in case of any issue your surgeon can easily solve the problem thanks to the RFID chip. So, in the end, technology has really advanced one step further when it comes to Motiva breast implants.