DR. RADMILA LUKIAN – A PIONEER IN THE WORLD OF AESTHETIC BEAUTY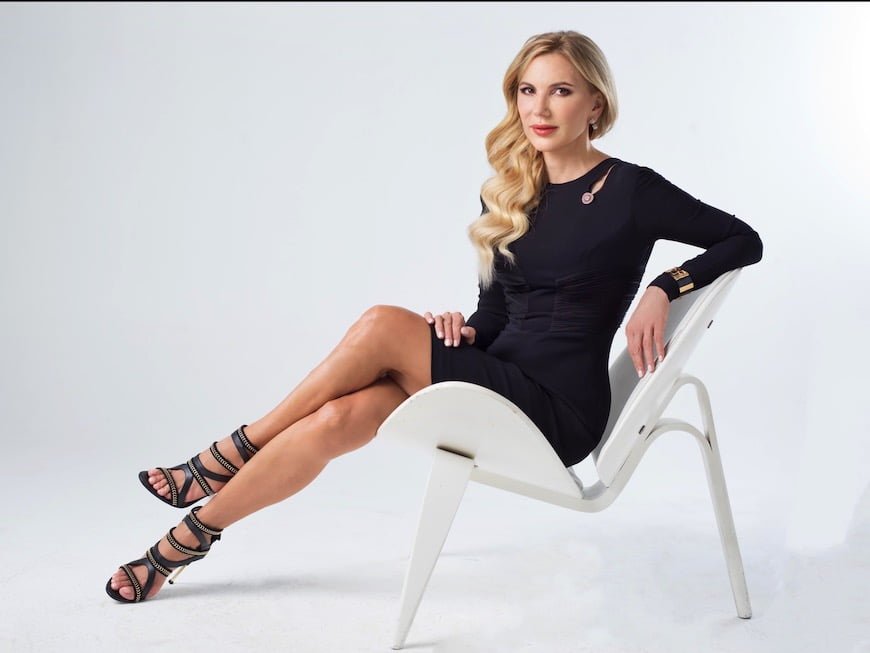 In dermatology and aesthetic beauty, it is always a priority to be innovative and creative – this is something Dr. Lukian knows really well. Next to taking care of their clients' skin, Dr. Lukian and her team are the ones who always offer the newest techniques, products and treatments. This and of course the highest quality of service has led them to become the leading aesthetic clinic in the Middle East and worldwide. This, among other things, has Dr. Lukian recently discussed in her interview for the prestigious Emirates Woman magazine. This eminent doctor was also featured in Mojeh Magazine, as one of 100 women that shaped the region.
Let's see, what. Dr. Lukian had to say on this topic.
DR. RADMILA LUKIAN – A LADY WHO LOVES CHALLENGES
Challenging herself is in Dr. Lukian nature – without challenges you can succeed. Setting up a dermatology clinic was definitely one of the biggest challenges for Dr. Lukian but she did it all by herself – learned how to do business and follow the laws. Now she is recognized all over the world including the USA. As a superior professional and creative aesthetic doctor, Dr. Lukian shares her knowledge of new technologies and techniques, especially in the field of non-surgical facelifts. But she doesn't shy away from working with experts and getting training from the best. Dr. Lukian is always among the keynote speakers at congresses in Europe, Asia and the USA but is also determined to learn from other experts.
LUCIA CLINIC – A PLACE OF CONSTANT DEVELOPMENT
When Dr. Lukian founded Lucia Clinic she was the only doctor. Now, 10 years later her team consists of more than 40 doctors, skin experts, external consultants and others. And the number is still growing. But, her view on the business hasn't changed – every single patient deserves individual attention because every skin is different. Every client gets a tailor-made treatment no matter if that treatment is aesthetic, dermatological or plastic surgery. Dr. Lukian and her team are devoted to helping their clients live healthier and happier lives. That's why Lucia Clinic is so much more than a medical center.
STAYING AHEAD OF THE GAME
In the world of major competition, how is staying competitive possible? By knowing the international and national markets and being the first to implement innovations. Lucia Clinic is the leader in the GCC market, with the newest products, treatments and techniques. They included 4 groundbreaking technologies in the last year. And they are the first to do it in Asia. This says a lot about them – they are always the first to find out about the latest developments in their field. And since the field of aesthetics and dermatology is always developing, keeping pace with these changes is one of the things that makes you a leader.
DUBAI – A CITY OF OPPORTUNITIES
Dr. Lukian first came to this beautiful city to give a lecture at a conference. Soon, she fell in love with this city of lights. Dubai offers so many opportunities for people with clear visions and unique ideas. Dr. Lukian was definitely one of those people. She founded a clinic where doctors' expert opinion comes first. This is a new concept of running this type of business. Even though there were obstacles, they didn't stop Dr. Lukian from developing her vision and completing her mission. One more thing that made this city appealing was its multiculturalism. Working with so many different people was another challenge for Dr. Lukian as a doctor and as a dermatologist.
Today, Dr. Lukian and her team have so many clients with different skin types. This gives them a chance to be creative and approach every skin type differently.
TREND-SETTING IN THE DERMATOLOGY AND AESTHETIC WORLD
How do you get this role in business? Of course, by working hard, challenging yourself, constant improvement and listening to your clients. This is Dr. Lukian's company culture – always try to find ways to enhance the business and cut down on unproductiveness. Dr. Lukian always encourages her team members to suggest ideas on how to improve efficiency – together they find ways to improve their services. Apart from that, Dr. Lukian believes that it is important to learn about new treatments, new techniques and new products all the time and apply them in the business. That's how you become a trend-setter – you gather the knowledge and offer your clients brand-new but always high-quality services.
GOING BEYOND THE EMIRATES
Although Lucia Clinic is located in Dubai, Dr. Lukian has always strived to combine her European touch with aesthetic treatments and dermatology. This shows her true creativity – implementing knowledge and beauty standards from Europe with wonderful diversity in the Emirates. This is something unique and singles out Lucia Clinic. Every client can get a specific treatment that is currently trendy in his/her own country. The beauty standard are constantly changing and to stay ahead of the game, you need to follow those standards but also set your own. The clients really appreciate this – they can choose the treatments that are most suitable for their skin and still keep up with the trends.
LUCIA CLINIC – A BEAUTY SANCTUARY FOR CELEBRITIES
It's not said in vain that Lucia Clinic is the place where Dubai goes for beauty. A lot of national and international VIPs visit it for VIP treatment. They trust Dr. Lukian and their team when it comes to their aesthetic desires. Every client has a tailor-made treatment that works especially for his/her skin issues. Also, the openness and friendliness of all Lucia Clinic employees create a welcoming atmosphere – everybody, including Lindsey Lohan, Huda Kattan, Jelena Jankovic, Eva Longoria and many others, says that Lucia Clinic is their first destination when they come to Dubai. This trust and recognition are definitely earned by Dr. Lukian's absolute devotion to all clients and, of course, her professionalism.
THE LATEST TREND – HEALTHY LIVING
As Dr. Lukian and her team are more for the holistic approach to aesthetic and dermatology treatments, this trend has brought many new clients to Lucia Clinic. Dr. Lukian understands her clients' desire to feel good, live healthy and have cosmetic treatments that bring natural-looking results. Beauty comes from the inside – from our emotions and soul. What we eat is also important for our beauty, as well as physical activity. Everything is shown on our skin – how well we eat, how much we sleep and how active we are. All those factors contribute to feeling good and healthy on the inside and they are mirrored on the outside. So, apart from suggesting proper treatments for keeping the skin fresh, radiant and youthful, Dr. Lukian is always more than willing to advise her clients on how to adopt healthy lifestyle habits.
A WHOLE PLETHORA OF NEW CLIENTS
Another research and another trend have attracted new clients to Lucia Clinic – men. Men are more and more open to aesthetic treatments because of very simple reasons – they want to stay competitive and youthful in the social and business world. Lucia Clinic welcomes men from all walks of life and offers them bespoke treatments that keep their facial skin fresh and younger-looking. Of course, the results of these treatments are nothing but natural-looking – the key is to refresh their skin but keep tier masculinity. Men can also get treatments that sculpt their body areas by trimming inches of unwanted fat tissue. Another group of new clients is the young Z generation. They are looking for dermatologists that will start taking care of their skin and advise them on how to maintain their skin healthily and radiantly. So, Lucia Clinic is there for everyone – every client no matter his age or gender is treated with care and professionalism.
LISTENING TO THE PATIENTS IS THE KEY
All patients are different. They have different stories and different skin issues. And of course, different aesthetic goals. So paying attention to what the patient has to say is important when determining which treatment is the best for him. With a huge experience in aesthetic and anti-aging procedures, Dr. Lukian and her team always go the extra mile to create a treatment that will help the client feel good on the outside but also on the inside. When the clients feel that they are truly heard, they build a relationship with the dermatologist that is based on trust and confidence.
LUCIA CLINIC WILL KEEP UP BEING A PIONEER
Even though Lucia Clinic has built its reputation and earned the trust of many clients, continuing with improvements is something that will never be neglected. Dr. Lukian and her team will do everything to keep their clients healthier and happier. New technologies, products and procedures will find their places as well as more innovative and safer approaches to skin care.
Dr. Lukian is dedicated to remaining a patient-oriented doctor whose clients are happy and satisfied with all she does for their skin. Working at Lucia Clinic is an adventure for Lucia's team that keeps them motivated to find new ways of helping their clients maintain healthy and radiant appearances.