TIMING YOUR HOLIDAY TREATMENTS – ALL YOU WANT FOR CHRISTMAS IS TO LOOK AWESOME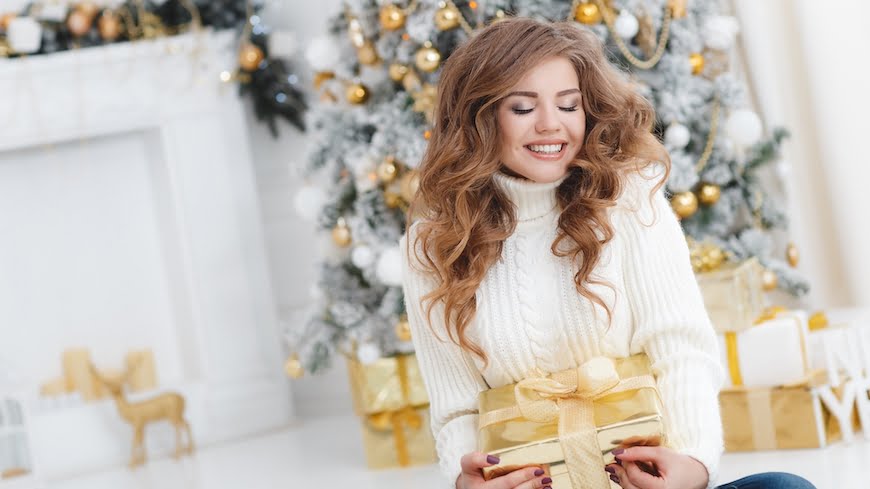 With the upcoming festive time, it's time to look your best. You can spend your holidays reuniting with your friends, seeing your family or meeting your work colleagues. On all these social occasions, you want to feel radiant and confident and not worried about early signs of aging. Or you want to eliminate those stubborn inches of fat under your chin or anywhere else on your body.
If you start noticing aging signs on your face, you may feel anxious about reuniting with people you love and not feel excited about holidays. But at Lucia Clinic, you can get various anti-aging treatments like Dermal Fillers, Profhilo and of course, Botox. All treatments are safe, minimally invasive, and effective in reducing or completely erasing wrinkles and fine lines. They also restore facial volume. You can take years off your face with these treatments. Or if you want to turn to the most popular non-invasive treatments, try Ultherapy, EmSculpt NEO or Laser Hair Removal – all perfect for your holiday preparations.
NOVEMBER IS THE PERFECT MONTH FOR ANTI-AGING TREATMENTS
Anti-aging injectable treatments are super effective but their full results are not seen immediately. You need one week to notice the full effects of Botox and two weeks for most Dermal Fillers. Most injectables enhance the production of your own collagen and elastin so their full effects are improved with time. It all depends on how long your body needs to start its natural healing. Some patients even say they notice a further enhancement in the volume and tightness of their skin one or two months after getting dermal fillers. Also, for non-invasive treatments like Ultherapy, EmSculpt NEO or Laser hair removal, you might need more treatment sessions to achieve the best results.
So it would be best to have Botox or Dermal Fillers injected in November – a perfect amount of time before the holiday season starts. Before you head off to your first Christmas or festive party, all the effects of anti-aging treatments will have settled and you will look youthful and radiant. Or you will have completed all the sessions of non-invasive treatments. Also, since these treatments don't require downtime, you don't need to take time off work to get them. You can spend your holiday time doing something meaningful. So, start this holiday season feeling confident.
GET THAT SMOOTH SKIN WITH THE BOTOX TREATMENT
If you have dynamic wrinkles that appear because of your muscles creasing, Botox is perfect for that skin issue. It is carefully injected into specific facial muscles that cause those wrinkles. The muscles temporarily relax, and your wrinkles disappear. Take care of Frown Lines or Crow's Feet and take years off your face. It's time to have this treatment and sparkle at your holiday parties. With just one treatment session, you can significantly improve the appearance of your skin. Your skin will be smooth, fresh, and youthful-looking. So, prepare for this holiday season and feel merry with a magical touch of Botox.
REFRESH YOUR FACE WITH DERMAL FILLERS
Dermal Fillers are super effective in filling in wrinkles and fine lines on your face. But that's not all they do. Dermal fillers also improve other blemishes like acne scars and hollows under the eyes. Fillers can restore their volume and make you look refreshed and youthful again if you are bothered by your sunken cheeks. You can choose different types of fillers depending on your needs and aesthetic goals. Dermal Filler like Juvederm is full of hyaluronic acid, a natural ingredient of your skin. But hyaluronic acid slowly reduces with time so your skin needs a little boost of it with Dermal fillers. On top of that, they also start collagen production which is super essential for your skin's overall health look. So you get an instant filling effect and improvement of your skin and a prolonged impact because your skin gradually looks even better as collagen builds up.
IMPROVE YOUR SKIN TEXTURE WITH CUTTING-EDGE PROFHILO TREATMENT
For excellent skin rejuvenation, Profhilo injectable treatment is one of the most effective ones. It is full of stabilized hyaluronic acid that can dramatically improve the appearance of your skin. It improves your skin elasticity, boosts its firmness and reduces fine lines and wrinkles. On top of that, it hydrates your skin, evens its tone and texture and makes it softer. Profhilo injectable can rejuvenate your cheeks, wrinkles around your lips, Marionette lines and wrinkles around your eyes. You can go even further and use it to enhance your jaw, neck, decolletage and arms – this injectable product is really versatile. Forget about dull, dehydrated skin – after Profhilo treatment, you will shine on your festive parties.
LIFT, TIGHTEN AND REFINE LOOSE SKIN WITH ULTHERAPY TREATMENT
Get flawless skin that beams with radiance and vitality with this hit treatment. It strengthens your skin by boosting collagen and elastin, super essential proteins that keep your skin beautiful and youthful. It's great that you can also have this treatment done on your neck and decolletage in a non-invasive way and with no downtime at all. Ultherapy treatment is done with powerful ultrasound energy that goes deep into your skin but doesn't harm it. It lifts your jawline, defines your facial contours and eliminates fine lines and wrinkles, all in a non-invasive and comfortable way. The results you get with this treatment are natural-looking – your brows are subtly lifted and your jawline is better defined. Ultherapy is safe and fast – ideal for getting ready for the upcoming holiday season.
GET FIT WITH THE EMSCULPT NEO TREATMENT
Now we are getting to one of the best and most effective body sculpting treatments. If you are bothered by stubborn fat pockets on your abdomen, buttocks, hands, or arms, EmSculpt NEO is your answer. It will melt those unwanted fat cells in a flash – just in time for your festive clothes. But that's not all it does. With EmSculpt NEO you simultaneously tone your muscles in the area where you are eliminating fat pockets. That's how great this treatment is! No wonder it is considered the hit treatment! It requires no downtime and leaves you with no side effects – it just sculpts your body as you always desired. Now is the perfect time to start with EmSculpt NEO treatments – with 4 sessions, you will be ready to rock your holiday parties in your more-flattering gowns!
GET THAT SILKY SMOOTH SKIN WITH LASER HAIR REMOVAL
Don't bother waxing or shaving before the holiday season – get a safe and effective Laser Hair Removal and enjoy your glossy skin. This non-invasive treatment takes your hair grooming routine one step further. It's fast and saves you time to enjoy your upcoming festivities fully. This procedure destroys unwanted hair follicles so that they don't grow hair anymore. At the same time, it doesn't harm the surface of your skin. So you won't have to deal with unwanted side effects – you will finally get that smooth skin on your arms, legs, bikini area or other areas of your body. Laser Hair Removal gives you long-lasting results, but you may need several treatment sessions to achieve them. This is simply because all your unwanted hair doesn't grow simultaneously. But don't worry – start with Laser Hair Removal now and you will have plenty of time to get that gorgeous skin before all the festivities start.
GENTS, IT'S ALSO YOUR TIME TO GET READY FOR THE HOLIDAY SEASON
Don't think that we have forgotten about you! You also have your specific skin concerns and aesthetic goals. Injectable treatments are the most effective procedures that will bring you a youthful appearance but keep your masculine features. They don't require long downtime, so they are perfect for the upcoming holidays. Aging signs like wrinkles and fine fines and loss of volume in the facial skin can impact your confidence in your business and personal social interactions. So put an end to that and clear those deep furrows in your forehead or frown lines with Botox – or as you call it 'Brotox'. It will make you look younger, refreshed and ready to hit the holiday parties.
Or if you don't like the apparent loss of volume in your cheeks or under the eye area, Dermal Fillers are the answer. Let that powerful hyaluronic acid return that natural fullness of your face and soften wrinkles and fine lines around your lips. Or make your chin and jowls more defined. You will look masculine, healthy and younger without taking time off work and with long-lasting results. So, prepare for the festive season and feel and look your best.
Or you can opt for non-invasive treatment like Ultherapy and finally get rid of that double chin. With safe ultrasound energy, Ultherapy lifts the skin under your chin and on your neck and returns that masculine and well-defined look of your lower facial area. As the collagen builds up, your skin improves its quality and gets enhanced. This treatment is perfect for you if you don't want to spend time on downtime and take time off work. You can have an Ultherapy session during your lunch break. Best of all, after completing all Ultherapy treatment sessions you will be the star of your holiday celebrations with your youthful and refreshed look.
Another non-invasive procedure that prepares you for the holiday season is EmSculpt NEO – it melts those unwanted inches on your abdomen and tones your muscles. Get ready to have six packs in just four treatment sessions. Start with EmSculpt NEO treatment now, and you will be more than prepared for the holiday season. By eliminating fat cells and toning your muscles, your clothes will fit you better and you will feel confident about how you look. It's like you finally achieved what you always wanted – a flat stomach, more strength and a fit middle body area.
THIS HOLIDAY SEASON THINK LUCIA CLINIC FOR YOUR AESTHETIC TREATMENTS
Lucia Clinic is here for all your preparations for the upcoming festivities. Get a consultation with Lucia's skin therapists and they will create a customized treatment plan that will address all your skin concerns and fulfill your aesthetic goals. Your treatment plan can include some effective injectables that will rejuvenate your face and make it radiant. Or you can focus on non-invasive treatments that will also take years off your face or other body areas. All in all, expect excellent results before you start enjoying the upcoming holiday season.