5 BEAUTY TIPS TO MAINTAIN YOUR GLOW WHILE FASTING FOR RAMADAN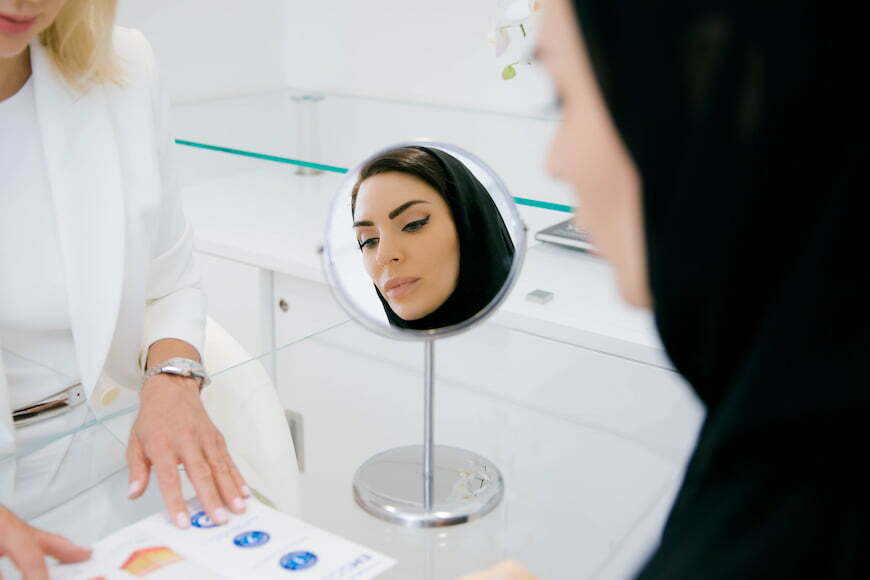 Ramadan is eagerly awaited as a time of spiritual observance and reconnection with family and friends. Unfortunately, it's also a time that can cause havoc on your skin. The heat, long fasting hours and disrupted sleep can rob your complexion of its healthy, youthful glow, leaving dullness and dehydration in its place.
Although appearance isn't the most important concern during this time of reflection and prayer, taking care of your skin can have a serious impact on your health, mood and overall well-being. Observing Ramadan doesn't mean you have to sacrifice your skincare routine — it can also be a great time to be mindful about what you're putting onto your skin and into your body to help you look and feel better than ever.
With the right beauty routine, gorgeous skin is every bit achievable while you're fasting. Here's what you can do to keep your skin fresh during Ramadan and throughout the summer months ahead.
FIRST THINGS FIRST: STAY HYDRATED
We all know water has tons of health and beauty benefits, but its skin-preserving powers are even more needed during Ramadan. Dehydration causes your complexion to look tired and depleted, makes imperfections like fine lines even more noticeable, and compromises your skin's tone and texture. This is especially unwelcome news if you have naturally dry skin to begin with. In the window between iftar and suhoor, drink as much water as you can and eat foods with high water content. Avoid beverages that contain caffeine, as they can worsen dehydration.
MOISTURIZE LIKE YOU MEAN IT
Hydration starts from within, but moisture comes from without. Pair your increased water intake with topical moisturizers applied at least twice per day. Use high-quality facial toners, serums and creams with nourishing ingredients like hyaluronic acid and squalane. You may also want to add a face mist and oil to your routine for even more moisture while you're fasting. The drier your skin, the richer your products should be. Regardless of your skin type, make sure your routine includes sunscreen. Sun exposure during Ramadan can be even more stressful on already vulnerable skin.
KEEP IT SIMPLE
Ramadan is not the time to use your most aggressive skincare products or heaviest cosmetics. To avoid stripping your skin of moisture, use a gentle cleanser and don't over-wash. Choose products with mild ingredients that are unlikely to dehydrate or irritate your skin. When it comes to makeup, skip thick foundations and concealers that can be drying and cause breakouts. Instead, opt for products that provide lighter coverage and hydration (and don't forget to use lip balms with SPF!).
EAT SKIN-BOOSTING FOODS
The recipe for beautiful skin starts with the right ingredients. If you want radiant, healthy-looking skin even while you're fasting, eat foods rich in antioxidants, vitamins, minerals, protein, fibre and fatty acids. Limit your intake of sugar, processed and packaged foods, overly salty items that can be dehydrating, dairy products if you're prone to breakouts, and oily and fried foods. You can't go wrong with a diet that includes fruits, vegetables, nuts and fish. These foods are packed with good stuff for glowing skin, and they're great for your overall health.
TREAT YOURSELF AND YOUR SKIN
Spoil your skin with professional treatment to give it the ultimate pick-me-up. A series of preparatory treatments prior to Ramadan can set the stage for healthier skin during the holy month, and a rejuvenating treatment after Ramadan can restore your skin after it's been under stress. Exfoliating and resurfacing treatments such as chemical peels or lasers are ideal for restoring radiance, while facials, hydra-dermabrasion or mesotherapy can soothe irritation and give your complexion a much-needed dose of hydration.
READY YOUR SKIN FOR RAMADAN AT LUCIA CLINIC DUBAI
If you want glowing skin come Eid, now is the time to start upgrading your skincare routine. Making smart choices about your lifestyle and products throughout the month can not only enhance the health and appearance of your skin but can also get you into good habits that last for the rest of the year. Contact Lucia Clinic at +971 4 385 4525 or via WhatsApp at +971 56 115 9194 to speak with one of our Dubai skin specialists. We wish you a blessed and beautiful Ramadan.