BEAUTY ISN'T JUST FOR WOMEN – 6 MIND-BLOWING AESTHETIC TREATMENTS FOR MEN IN 2023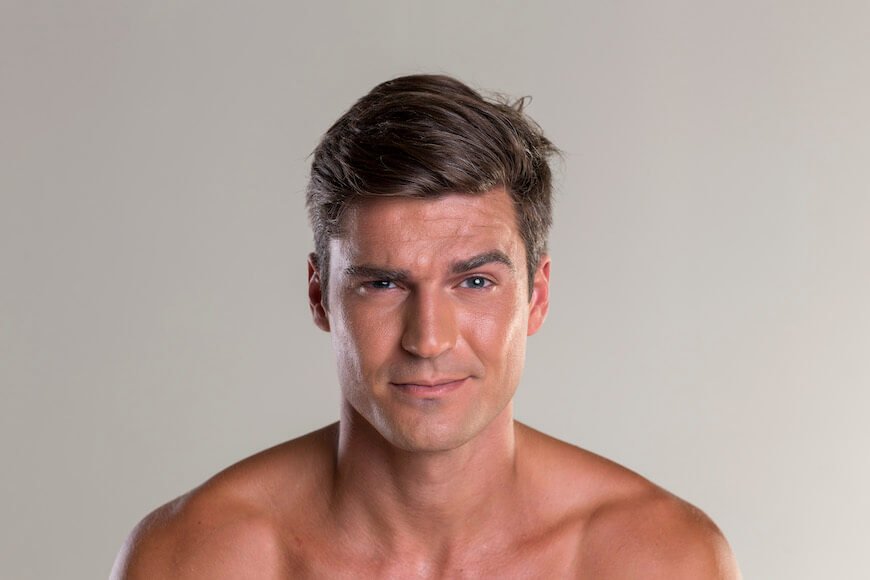 Today I am going to present you with some effective and rejuvenating treatments that work great for gents. All the treatments are done at Lucia Clinic by expert skin specialists and plastic surgeons who will bring you awesome results. So, sit tight and find out which one out of these 6 treatments will meet your aesthetic goals.
TABLE OF CONTENTS:
1.     BOTOX for men – wipe out those wrinkles.
2.     CoolSculpting for men – freeze away fat and stay 'cool'.
3.     Laser hair removal for men – say goodbye to the 'Sasquach look'.
4.     Liposuction for men – sucking out unnecessary fat.
5.     Skin resurfacing for men – rejuvenate your face to the fullest.
6.     Hair loss treatment for men – out with the bald, in with the fuzz.
1. BOTOX FOR MEN – WIPE OUT THOSE WRINKLES
Picture this – you look in the mirror and you see that you are slowly gaining your wisdom and character with every wrinkle on your face. You age like fine wine, but all of a sudden there is one too many wrinkles and fine lines. You don't look so dashing anymore. If this is your case, then meet BROTOX – BOTOX treatment designed for men.
Let's discuss more about it.
It's 2023 and BOTOX has captured the world. Why you might not know is that BOTOX is no longer just for women. Men who want to fight against the forces of gravity and return smoothness to their faces have become regular users of BOTOX. So, if you want to step up your game, it's time to open up to this aesthetic treatment.
HOW CAN BROTOX HELP YOU REJUVENATE YOUR FACE?
First things first, you may ask what is BROTOX. Well, there is no mystery here – it's the same as BOTOX.
The focus is on preserving your masculinity with BOTOX because you know that women have different facial features.
It's super important to have your BOTOX treatment done by an expert who won't change your appearance with this treatment, but subtly enhance your facial areas.
Anyway,
BOTOX is an injectable treatment that relaxes facial muscles which creates these unwanted wrinkles and creases.
It is strategically injected into facial areas that reduce the appearance of frown lines, horizontal forehead lines, Crow's feet and smoker's lines around your mouth.
You may have heard about all this from your female friends who have already tried BOTOX – the most important thing that they may have told you is that BOTOX is a super safe procedure. It does involve tiny needles, but they feel like mosquito bites so you'll be able to deal with it just fine.
WHAT DOES BROTOX TREATMENT LOOK LIKE?
First, you come to Lucia Clinic, ready to face the needle. You may feel a bit nervous at first, but BOTOX is really just mildly uncomfortable. And when it is done by expert hands of Lucia's doctor you may end up feeling absolutely nothing. Getting BOTOX is your opportunity to take years off your face so being injected with tiny needles is a small price to pay.
You take a seat in a waiting room and see that there are already many men of different ages – this is promising. Then,
You have your consultation with Lucia's doctor who will explain all bits and pieces of this procedure.
You will hear phrases like subtle enhancement and strategic injections, and fast treatment with minimal downtime. You realize that these are all big pluses for the BROTOX procedure.
Then comes the breaking point – the start of the treatment. But you already feel relaxed because you know that you are in good hands. After the injection is over you instantly feel excited – you start picturing the reaction of your friends when they see you. And you are right – they will be amazed at your new look. They will ask you what's your secret – you don't have to tell them! All this can stay between you and your doctor.
The results will be so natural-looking that your friends will think you found a fountain of youth. You can just say – it's all in the genes.
After a couple of days, when your BROTOX has fully settled in the injected areas, you notice that your furrowed brow is gone and that your forehead is smooth. Your eyes got a new youthful sparkle because you got rid of Crow's feet. Plus, the lines around your mouth are gone even though you can smile and laugh as before. That's the beauty of BROTOX done by Lucia's doctors. Forget about the frozen look – you will keep all your facial expressions.
WHY IS BROTOX AMAZING ANTI-AGING SOLUTION FOR MEN?
First, it will keep your dashing look for a long time. Then, you can boost your employment possibilities. You will look youthful and fresh and land that promotion in no time.
The treatment is fast and can be finished in 10 minutes – this greatly saves you time. You can continue with your daily routine immediately after BOTOX has settled. The results are great and long-lasting – you can have touch-up treatments after 6 months or so. All this boosts your self-confidence with just a little investment in rejuvenating your look. Just think about improving your personal and business life – it's priceless.
In the end, don't go overboard with BROTOX. It's not about looking for perfection but enhancing your natural charm and individuality.
And when done by the expert hands of Lucia's doctors, you will enjoy a smooth and rejuvenated face and still keep your masculinity. All thanks to BROTOX.
Moving on to the next amazing aesthetic treatment for gents in the next chapter.
2. COOLSCULPTING FOR MEN – FREEZE AWAY FAT AND STAY "COOL"
How often do you look in the mirror and see a pesky muffin top that rolls over your waistband? Very often, I bet. And you wish that it would melt down and finally show your abs. But these stubborn pockets of fat just won't give in no matter how much you exercise. Or you are bothered with fat deposits in other body areas that just stick by. Well, if this is true for you, then CoolSculpting will freeze away all your problems with fat bulges.
Let's discuss this in more detail.
Same as the ladies, you also want to look as lean, mean machine. You sweat in the gym, but there is no progress – you simply can't sculpt your abdomen or waist. That's why it's time to change all that and start your 'freezing' journey towards slimming your waist and abdomen and finally getting that perfect reversed triangle shape. That's all possible with advanced, non-invasive body-contouring treatment, CoolSculpting.
HOW DOES COOLSCULPTING HELP GETS TO ACHIEVE SCULPTED BODY?
CoolSculpting is really transformative. Its advanced technology of fat freezing targets specifically fat pockets that bother you.
The only thing that's important is that you need pinchable pockets of fat that the CoolSculpting applicator can suck in and freeze.
The fat pockets are treated with very low temperatures that they can't fight against. They get destroyed and eventually, they are flushed out of your body. That's the moment you notice that your targeted body area is becoming slimmer and nicely contoured.
You may think that this treatment is super chilling and uncomfortable, but don't worry. You do experience a deep sensation of cold but very soon it becomes numb and you don't feel anything anymore. You just relax while CoolSculpting does its magic.
It can target double chin, love handles, thighs, legs and arms – basically any stubborn fat deposits don't stand a chance against CoolSculpting.
WHAT DOES COOLSCULPTING TREATMENT LOOK LIKE?
First, you come to Lucia Clinic for your consultations. You meet with an expert CoolSculpting therapist who explains the procedure to you. Again you hear things like very low temperatures, cryolipolysis, and dying out of fat cells. The most important thing you hear is that CoolSculpting is completely safe and non-invasive, which means that there is no downtime after your session. You just continue with your day. You must admit that that's pretty cool.
And then comes the crucial moment. The skin therapist places the CoolSculpting applicator on your targeted area, for example, abdomen or flanks. You start feeling an intense cold, but it's not that bad considering what comes after the treatment. It actually feels like icing and injury.
During the session, you start picturing yourself in awesome swim trunks and shirtless – without love handles or muffin tops. Plus there are no side effects except mild redness or swelling which stops after a while. CoolScupting really is a brilliant non-invasive solution that requires absolutely no effort from your side.
You will need a few sessions to reach your target goals and after about 3 months these goals will be there – slimer waist and defined abdomen. Does this remind you of a handsome Greek god? Well, you can easily look like that after the completed treatment protocol.
WHY IS COOLSCULPTING A BRILLIANT BODY-CONTOURING TREATMENT FOR MEN?
Because it can transform your entire body. After a couple of months, you notice that your clothes fit you better and you look better contoured and defined. And that will boost your confidence and make you feel great.
The treatment is simple and quick and you don't have to waste time on downtime – if this isn't a time-saver I don't know what is.
Even though it is powerful when destroying those pesky fat deposits, CoolSculpting is gentle on your skin and doesn't harm any tissue.
That is why CoolSculpting is so revolutionary – it only targets fat cells. You don't have to worry about adverse reactions. Plus, once the fat cells get flushed away of your body they never return – they are gone for good!
Perhaps the biggest advantage of CoolSculpting is that it will motivate you to keep your lean and contoured figure. You will continue with your exercise and sculpt your contours even more. And you will steer clear of doughnuts and hamburgers and keep a balanced diet. This is also important in maintaining the brilliant results of CoolSculpting.
So, as you can see, CoolSculpting gives you the results you want which are slimmer and contoured figures but also motivates you to stay healthy and fit. How great is that?
3. LASER HAIR REMOVAL FOR MEN – SAY GOODBYE TO THE 'SASQUATCH' LOOK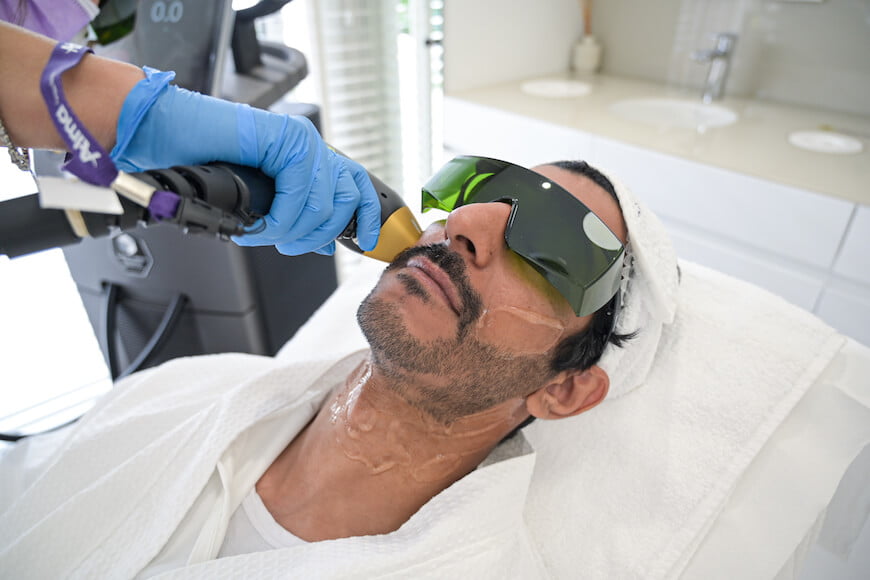 How many times have you thought that you are sick and tired of constant shaving? You shave in the morning and soon you see the 5 o'clock shadow on your face before afternoon. Let's not mention other areas of your body like your neck, back or chest. It's time to think outside of the box and do something permanent with that unwanted body hair like laser hair removal. Trust me – you will love your smooth skin.
Let's see why.
Ladies discovered laser hair removal long ago. It's an effective alternative for constant shaving, painful tweezing and expensive and messy waxing. These are all short-term solutions that you can't count on if you are in a hurry. But laser with hair removal is a whole different story. It brings you permanent results, it is almost painful and works on all skin types and most hair types.
HOW CAN LASER HAIR REMOVAL FREE MEN OF UNRULY BODY HAIR?
Let's face it – grooming for men can carry a lot of predicaments. But with laser hair removal these predicaments become a thing of the past.
At Lucia Clinic, there are two laser hair removal treatments Soprano ICE and Soprano Titanium and they work like a charm for men and their relentless stubble.
Both laser hair removal treatments target and heat the hair follicle and destroy the hair at its root.
The difference is that,
Soprano Titanium is faster and virtually painless. It keeps the surface of the skin protected and cool so don't worry about burns or other adverse reactions. You can get this laser hair removal at any time of the year even if your skin has a darker tone. This applicator slowly reaches the right temperature to destroy the hair follicle so it doesn't damage the melanin in the skin. Plus, the applicators are large and can cover your back area faster. All you have to do before the treatment is shave – that way you will be more comfortable during the treatment and boost its efficiency.
Soprano ICE is also super effective in eliminating that pesky body hair but it isn't the best choice if you have white, ginger, grey or very fine hair. It works best on darker hair or hair that has melanin in its follicle.
WHAT CAN YOU EXPECT FROM LASER HAIR REMOVAL TREATMENT?
Well, you come to Lucia Clinic for the consultation first. The expert skin therapist tells you which laser hair removal will be the best for you. As we said if you have strong dark hair and a fair skin tone Soprano ICE will be just fine. You hear all the details of the procedure – the cooling tip that keeps your skin undamaged and the SHR movement that makes the treatment comfortable and almost painless. This doesn't mean a lot to you – what's important is that after 8 to 10 sessions you will be stubble free. And that's all you want.
Before Day D comes, all you have to do is shave. You start your journey toward smooth skin with a powerful but gentle laser hair removal treatment. You just sit or lie comfortably while the skin therapist slides the applicator across your targeted area. You start realizing that your excessive body hair stands no chance against the laser. You start picturing yourself playing sports and making your life much easier – there is no more unruly hair on your chest or back.
Why do you need more treatment sessions?
Well, because not all your hair grows at the same time and at the same speed. You need more sessions to cover all your hair in its growing phase.  After 8 to 10 sessions, at least 80% of your hair follicles should be destroyed. That's the moment when you can see the best results of laser hair removal.
The results of laser hair removal can be really life-changing.
Apart from eliminating unwanted body hair, this treatment improves your skin quality and removes ingrown hair.
Also, there are no irritations or other unwanted side effects – just smooth skin.
WHY ARE MORE AND MORE MEN GETTING LASER HAIR REMOVAL?
The answer is simple – because it works. It is a simple and quick procedure that doesn't need any preparations, except for shaving. And shaving is all you do between two sessions.
It's painless and safe and doesn't require downtime – you can go back to work or meet with friends right after the treatment. Just steer clear of direct sun exposure or saunas after the sessions. That's all.
Every laser hair removal treatment is customizable – you can address your back, chest, abdomen, legs, armpits, knuckles, and toes or eliminate your unibrow.
It's super versatile. Plus with laser hair removal you destroy the hair follicles forever. This means a lot in the world of men grooming.
After you eliminate all your unwanted body hair, your confidence will hit the roof. You will look sleek and attractive and leave the rugged look of the past.
4. LIPOSUCTION FOR MEN – SUCKING AWAY THE UNNECESSARY FAT
Picture this scenario – your spare tire (or stubborn fat bulges around your abdomen and waist) simply won't melt away no matter how much you exercise. Your sculpted chest and pecs just can't draw attention because your abs are surrounded by excess fat. It's not a pretty sight, you must admit, especially when you walk shirtless at the beach. It's high time to deal with this unwanted fat and get rid of it with liposuction.
Let's discuss more about liposuction.
We can all blame it on genetics – sometimes the unwanted fat accumulates around your abdomen and nowhere else. If that's the case, liposuction is a great option because it safely removes the fat from this area and improves your entire physique – hello reversed triangular shape!
Once you eliminate fat from your abdomen and waist you get a slimmer waistline and prominent bulky upper body – perfect, right?
WHY IS LIPOSUCTION SUCH AN EFFECTIVE PLASTIC SURGERY FOR MEN?
It goes without saying that liposuction can be done on both genders, but there are subtle differences in the final results.
This means that,
If you want to have this procedure done properly, you need to find a skilled plastic surgeon who is an expert in male liposuction and understands the fine artistry of liposculpting.
That's the only way you will get the best results – the best form and best proportions. You will find these types of plastic surgeons at Lucia Clinic – they are all board-certified doctors who are artists in fulfilling your aesthetic goals.
Liposuction is a great solution because it eliminates fat deposits from the body areas where you tend to accumulate them more – lower abdomen, flanks and chest. But you are not limited from having liposuction done under your chin or neck.
Talking about chest, gynecomastia surgery is one of the most popular among men. Using liposuction, your plastic surgeon suctions out the excess fat deposits from your chest and makes this body area better sculpted and defined. No more "man boobs" for you! This surgery can really transform your life in terms of boosted confidence and improved body image. So, double thumbs up for liposuction.
Now the big question is –
WHAT DOES LIPOSUCTION FOR MEN INCLUDE?
Well, since liposuction is a surgery, the process is a bit longer than non-invasive treatments. First, you need to relieve your anxiety about the surgery by meeting with Lucia Clinic's brilliant plastic surgeons. You actually have more than one consultation before the surgery. This gives you plenty of time to ask the surgeon every single question that you have. Although, your surgeon will explain every step of the surgery, risks and side effects, and results during the first consultation.
Also, your plastic surgeon can tell you which technique is the best for your case. Here, you have a lot of options – Tumescent lipo, laser or ultrasound-assisted lipo or traditional liposuction. It all depends on your aesthetic goals and concerns. For example, Tumescent lipo is awesome, because it is done under local anesthesia. This is a huge deal for you because you don't experience any side effects connected to general anesthesia. It's totally painless and effective and you are back on your feet in less than 2 days.
Another thing that is important to mention, is that,
Liposuction methods and instruments are so advanced that your surgeon can use the tiniest cannulas to suction the fat out.
That's again great for you because you are left with tiny stitches and later with almost invisible scars.
Now, let's talk about the 'mouse in the house' – the side effects and recovery.
Liposuction is nothing but a safe procedure, but it does live you with bruising, swelling and soreness for some time. It all depends on the extent of the procedure and how much 'juice' was suctioned out. You will take some time off work to heal and follow the strict recovery recommendation from your surgeon. Don't cut corners here because once you properly recover you will see the best outcomes.
After a couple of weeks, you will notice the transformation that liposuction has brought you. Your clothes will fit great and your reflection in the mirror will put a smile on your face – you will look and feel great.
You will be able to continue with your fitness regime when your surgeon gives you the green light. Don't start too soon, but also don't prolong it – it's important to stay fit after liposuction. But don't worry, I'm sure you'll be more than motivated to keep the results of liposuction once you see your better contoured and slimmer figure.
WHY DON'T MEN SHY AWAY FROM LIPOSUCTION ANYMORE?
Well, because we live in the 21st century and it's completely normal for men to take care of themselves and stay fit.
Liposuction is one of the most effective plastic surgery for sculpting your body and finally helping you get rid of belly bulge, muffin top or spare tire.
It's safe and effective when performed by a skilled plastic surgeon who will suction all the unnecessary fat but keep your masculinity. You definitely don't want to end up looking too feminine after liposuction. Remember – we said reversed triangular shape is what you are aiming at. And with Lucia's plastic surgeons, you will get it.
Once your body has healed and settled and you see the final results, your confidence will be super boosted. Hello, shirtless fashion – you will feel great in your defined and fit mid-section or toned chest and pectorals.
5. SKIN RESURFACING FOR MEN – REJUVENATE YOUR FACE TO THE FULLEST
If you started having a skincare routine that includes anti-aging creams and lotions, thumbs up for you! But when you look in the mirror does your skin still look tired and dull? If yes, then you probably think that creams and lotions are not enough to keep your skin fresh and youthful. The treatment that can boost your skin quality and bring you that radiant glow you desire is skin resurfacing.
Let's discuss.
Regular skin care is like a battle against time and environmental wear and tear. It helps a bit but it is just topical skin care which isn't as effective as you want it to be. That's where skin resurfacing can help – it takes years off your face, eliminates aging signs and leaves you with a fresh and rejuvenated look. All you need is the right skin resurfacing treatment and the proper number of sessions and you are good to go.
HOW TO CHOOSE THE BEST SKIN RESURFACING TREATMENT?
Perhaps this question should be how to choose the best skin resurfacing treatment for my skin concerns and aesthetic goals.
There are numerous skin resurfacing treatments that address different skin problems.
It's important to choose a skilled dermatologist who can recommend which one will improve your skin based on your skin type and tone.
There isn't one solution that fits everybody – the best dermatologist will tell you this right away.
So, let's talk about consultation with the dermatologist first. Here you will find out that men have different skin than women because they produce more oil and tend to develop pimples, blackheads and other skin blemishes. Let's not forget that men also have different skin textures which can be rough and develop deep wrinkles and furrows.
But, you will also hear don't worry, because Lucia Clinic offers many different skin resurfacing treatments that are safe and effective and bring you wonderful results. So with the help of your dermatologist, you are bound to choose the best one for you.
For example, there is a groundbreaking skin resurfacing treatment called Alma Hybrid. It's a laser that can be fully customized for your needs. This means a great deal for you because,
It specifically targets your skin imperfections, with the intensity that you can handle.
This reduces the recovery period and side effects – this treatment is a piece of cake!
If you want to learn more about why this laser skin resurfacing treatment is so great here it is – it combines ablative and non-ablative lasers into one.
Ablative means resurfacing your skin, while non-ablative means triggering collagen production (I'm sure you've heard of collagen). If not – collagen is a super important protein that keeps your skin firm and youthful. The bad thing is that as we age we start to lose it and develop aging signs. So this treatment gives your collagen a nice boost.
Finally,
This amazing treatment fuses your skin with essential skin products and gives a nice and shiny finishing touch.
This way your results are even better.
Since this is a skin resurfacing treatment you can expect peeling of the skin. It's like you're shedding the old skin and revealing the new and healthy one. That's the best part of Alma Hybrid – it makes your skin fresh and glowing after just 3 to 4 sessions. Don't worry about the peeling part – it only lasts for a couple of days.
And then comes the magic – your skin is completely transformed. Your skin texture is radiant and even. Wrinkles and fine lines are improved, there are no scars and other imperfections, and your skin is smooth. When they ask you if have you found the fountain of youth, you can just say – No, it's just an awesome skincare routine.
Finally, let's talk about the last phenomenal treatment for men –
6. HAIR LOSS TREATMENTS FOR MEN – OUT WITH THE BALD, IN WITH THE FUZZ
How many times have you looked at yourself in the mirror in the morning and thought in horror – where is my hair disappearing? You develop a receding hairline and realize that you are going bald. It's not a very promising condition and you start losing confidence. But there is something you can do about it – stimulate your hair to regrow with hair loss treatments (yes, they are a real thing).
Let's talk about this more.
Losing hair is a mysterious phenomenon that you gents are more prone to than ladies. It's definitely your thing. It can start at any age after adolescence without any specific reasons. Your hair simply starts to vanish. But the secret of hair loss treatments is that they trigger your hair follicles to wake up and start growing new hair. That's pretty awesome.
WHY ARE HAIR LOSS TREATMENTS SO EFFECTIVE?
To be clear right away – we are talking about super-advanced serums that are injected into your scalp. It may sound scary but when done by professionals, this treatment is quite bearable. It's a small price to pay considering that you improve the quality, health and strength of your hair and grow new hair after just a few sessions.
There are numerous effective and minimally invasive hair loss treatments that you can get at Lucia Clinic. But I want to focus on the star treatment  ACELL + PRP – a powerful combo that will wake up those sleepy hair follicles in no time!
First things first, ACell is a state-of-the-art product that promotes cell regeneration. It's safe and naturally derived so you don't have to worry about adverse reactions. It boosts your body's healing processes and repairs the cells.
On the other hand, PRP is short for Platelet-rich plasma. This doesn't mean anything to you – yet! But don't get iffy when I tell you that it has to do with your own blood. This is groundbreaking because,
Platelets and plasma from your blood can heal the damaged tissue of your scalp, get your new hair to grow and prevent future hair loss.
It's most effective when you do it at an early stage of hair loss. So, as you see, blood is very powerful.
First, your doctor draws a bit of your blood and prepares it for the treatment. The blood is put into a centrifuge to get separated into main ingredients – two of them are plasma and platelets. The doctor then mixes these two elements and creates a powerful serum that has growth factors and proteins and everything good and nice, necessary for repairing the damaged hair follicles.
When combined, ACell + PRP make a powerful combo that works like a charm against hair loss.
IS ACELL+PRP HAIR LOSS TREATMENT SCARY?
Not really. Your doctor injects this combination into your scalp quite quickly and almost painlessly. Remember that these are very fine needles that don't cause much discomfort. Your hair follicles immediately wake up and start their growing phase. The new and healthy hair is on its way.
There is no downtime and you can immediately continue with your daily routine. You may experience mild redness or tenderness at the injection sites, but that's all. Remember that,
This serum is natural so there is a minimal to no possibility of infection or other unwanted side effects.
After 3 to 4 sessions, you will see the magic of ACell+PRP hair loss treatment. The new hair starts to grow, your hair texture looks better and the hair shaft is thicker. Plus you get rid of dandruff because PRP revitalizes your scalp.
The results are long-lasting and natural-looking. This treatment will boost the blood flow to your hair follicles and prevent them from shrinking or dying out.
So, gents, if you are not up for surgical hair transplantation, then ACell+PRP is your perfect alternative. There are no cuts and stitches, just shiny new hair.
That's it. These are the top 6 aesthetic treatments for you, gents.
Now over to you,
To find out more about these aesthetic treatments, visit Lucia Clinic and schedule your consultation.