LUCIA CLINIC'S AUGUST SPECIALS – PREPARE FOR SOME SOPHISTICATED TREATMENTS, WORTHY OF THE VENICE FILM FESTIVAL STARS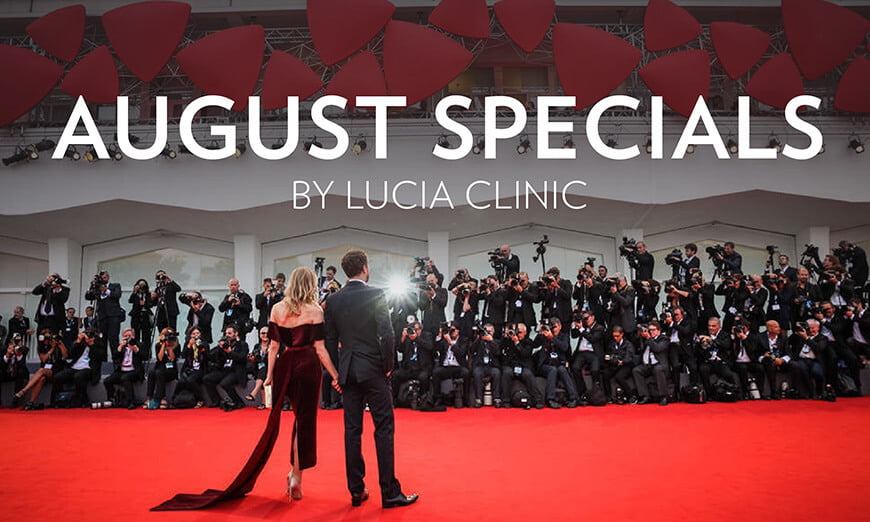 This month is all about luxury and charm. With August specials, you can embark on an enchanting journey toward glowing skin, perfectly toned contours, or refined transformation with plastic surgery. You are in the spotlight this August and with Lucia Clinic's specials, you will reveal your inner star. Get ready to feel and look sophisticated – as the Venice Film Festival stars do.
REVEAL YOUR RADIANCE WITH LUCIA CLINIC'S FILMSTAR GLOW
Venice Film Festival is an elegant and glamorous event, where the stars simply glow with charm and sophistication. This glowing beauty is first noticed on their faces – they are a picture of a perfect complexion that shines under the glittering lights. But there is a secret behind this perfection – a powerful combo of facial treatments that you can get this August at Lucia Clinic. After these treatments, you will feel like a celebrity, strolling down the red carpet.
EXPRESS YOUR BEAUTY WITH EXPRESS HYDRAFACIAL AND DERMAPEN
These are the first two treatments from the powerful facial treatments combo we have prepared for you. And this is a match made in aesthetic heaven. When you think about skincare treatments, sometimes you can't decide which one to try. Luckily for you, you can have these two treatments at the same time. Lucia Clinic's dermatologists saw the benefits and significant improvements in their clients' skin after this combo. Now it's your turn to start your journey toward celebrity glow with these two sophisticated procedures.
NURTURE YOUR SKIN FROM THE OUTSIDE WITH EXPRESS HYDRA FACIAL
That's the first step that will restore your skin's radiance. Express HydraFacial deeply cleanses your skin, provides it with gentle peel and extraction and finally hydrates it with super important ingredients that can be customized to meet your aesthetic goals. This powerful but elegant procedure improves different skin blemishes, including acne, sun damage, and fine lines. It also shrinks your pores and decongests your oily skin.
The first step is deep cleansing with a vortex tip which exfoliates your skin with gentle suctioning. All the dirt and debris is removed from the surface of your skin. Then comes the extraction of blackheads or other congestions. Finally, your skin is fused with powerful serums for hydration and radiance. This month your skin will be super hydrated because of the brilliant combination of PRP and Hyaluronic Acid. After all this, your skin will look better than ever.
REVITALIZE YOUR SKIN FROM THE INSIDE OUT WITH DERMAPEN
Dermapen is a type of micro-needling treatment that will make your skin beautiful. Tiny needles penetrate the surface of your skin at the appropriate depth to create micro wounds. Again, this treatment can be fully customized to meet your aesthetic goals and level of comfort. As the needles create these micro-channels in your skin, your skin awakes and starts its healing process. This is the moment when collagen and elastin start to build up and literally improve your skin from the inside out.
Your skin becomes smooth, acne scars are reduced and fine lines and wrinkles are less pronounced. Also, the general quality of your skin is improved, with evener texture and tone. As collagen continues to produce, you notice that your skin is getting better and better as time passes.
After this sophisticated treatment, your appearance will match the splendor of the Venice Film Festival – your face will be rejuvenated and radiant.
But, that's not all. Let's dive into the brilliance of Mesotherapy which is added into this exciting treatment for even better results.
ENHANCE YOUR SKIN'S GLOW WITH CUTTING-EDGE MESOTHERAPY  TREATMENT
Now, this extravagant combo will reveal the ultimate radiance of your skin. Mesotherapy takes center stage in this treatment. It represents advanced anti-aging treatment and it is ready to make you shine. It brings you a revitalized and perfect-looking complexion. Its powerful cocktails are full of vitamins, peptides, growth factors, antioxidants and other elements necessary for your skin rejuvenation. Plus, it is combined with Hyaluronic Acid which is already present in your skin. HA will keep that much-needed moisture and plumpness of your skin.
The entire facial treatment will completely transform your skin. Express Hydrafacial will cleanse and moisturize it to perfection. Dermapen will remodel your collagen and prepare your skin for the fusion of Mesotherapy solutions with HA. These two last ingredients will be like an exquisite final touch in making your skin enhanced, glowing, and most importantly naturally beautiful. All the stars at the Venice Film Festival could envy your luxurious and sophisticated appearance.
The next advanced and sophisticated treatment you can get in the month of the Venice Film Festival is non-invasive, body-contouring EmSculpt NEO.
GET READY FOR LUCIA CLINIC'S ENCHANTING FILMSTAR CONTOURS
When you think about Venice Film Festival, you imagine a perfect blend of grace, beauty and harmony. Celebrities dressed in the latest fashion and style trends walk down the red carpet and spread their magic. It all appears like a fairytale – perfect contours, enhanced with perfect clothes. You can meet these Venetian beauty ideals with this month's special treatment – EmSculpt NEO. This sophisticated and unique body contouring treatment will sculpt your body areas to perfection.
REACH YOUR FULL BODY POTENTIAL WITH POWERFUL TECHNOLOGY
EmSculpt NEO is so much more than traditional body-contouring treatments. It's a revolutionary procedure that you haven't experienced before. Sophistication and elegance is what you can expect from EmSculpt NEO – your improved body tone will emerge after just 4 sessions. You'll be ready to step into the limelight.
EmSculpt NEO brings a whole new level of body-sculpting treatments to the center stage. It simultaneously burns fat deposits in the targeted area and tones the muscles in that area. It can be your abdomen, buttocks, thighs, legs or arms. EmSculpt NEO effectively works on any of these body areas that you can't contour enough with exercising in the gym.
REVEAL YOUR SLIMMER CONTOURS
EmSculpt NEO's technology is like magic – it emits two different energies that work perfectly together. One of those energies, called RF energy, melts down isolated fat pockets in your body. The destroyed fat cells are eventually flushed away from your body and you are left with leaner, slimmer and graceful contours. You can reduce up to 30% of stubborn subcutaneous fat – that's pretty amazing!
All this happens in a completely non-invasive way. You feel the warmth of the energy but it's not uncomfortable. And since the treatment can be customized to suit your comfort and aesthetic goals, your EmSculpt NEO will be like a breeze. We mustn't forget to mention, that once your body eliminates fat cells through your metabolism, they will never return – they are gone for good. Just keep a steady weight and forget about the yo-yo effect.
TONE YOUR MUSCLES AND GET AN ACTION FILM STAR FIGURE
Now comes the real brilliance of EmSculpt NEO in the spotlight. Next to burning fat, this super-advanced treatment provides you with the ultimate muscle definition. That's the other energy that is emitted together with the RF energy. Another benefit of RF energy is that it warms up your muscles – similar to warming before exercise. The best part is that you don't have to invest any effort from your side – you just sit and relax while EmSculpt NEO works for you.
You start feeling powerful electromagnetic energy that awakes your muscles and activates them. They start contracting super fast and intensely – you could never achieve this in the gym. With every pulse you feel, your muscles get firmer and better toned. Again it's not an uncomfortable feeling. As we said, your EmSculpt NEO can be fully customized. This means that the intensity of the energy can be lowered to suit your level of comfort.
You can expect your targeted body area to transform as you imagine it. You can build 25% more muscles after 4 sessions – this percentage really speaks for itself. EmSculpt NEO works on your muscle toning with absolute precision, and this precision is what brings you graceful and super-sculped contours.
IN 30 MINUTES IT'S ALL OVER
Another benefit of EmSculpt NEO is that it's super fast. And since it's absolutely non-invasive and leaves you with no significant side effects, you can squeeze your session into your lunch break. If you have always dreamed about a fast and effective body sculpting treatment, that doesn't include stitches, needles, bruises or other side effects, then EmSculpt NEO will make this dream a reality. There is no downtime and you can continue with your day right away. But you will feel and look differently – elegant, sophisticated and strong.
So, to return to the story of the Venice Film Festival, with EmSculpt NEO treatment you will definitely feel like a movie star. Apart from your clothes that will fit perfectly, you will beam with newly found confidence and walk with your head up high – all thanks to your perfectly toned and contoured figure.
Finally, the last August special that will take you to the world of Venice Film Festival elegance is a complimentary consultation with Lucia's plastic surgeons.
START YOUR ETHERIAL FILMSTAR ENHANCEMENTS JOURNEY  WITH LUCIA CLINIC'S COMPLIMENTARY PLASTIC SURGERY CONSULTATION
When you think about the world of cosmetic surgery, you instantly imagine a perfect balance of beauty. It is a mesmerizing universe of sophisticated procedures that combine artistry and expertise. Much like the Venice Film Festival – a perfect blend of creativity and visual delight. Lucia Clinic's plastic surgeons offer you the opportunity to find out all bits and pieces about plastic surgery and decide which one would fulfill your aesthetic goals. And we all know what they are – enhanced beauty and harmonious silhouette.
EXPERIENCE THE MAGIC OF PLASTIC SURGERY
Deciding to have plastic surgery is not easy. It's something that can fully transform your life. But this transformation is actually magical when you have skilled and experienced plastic surgeons by your side. They are the artists in this scenario and they help you imagine what you will look like after your plastic surgery.
The world of plastic surgery is so advanced today, that you can actually have plastic surgery done with groundbreaking techniques which leave you with fewer scars and minimal side effects. Lucia's plastic surgeons will advise you on the best technique and give you the best recovery recommendations so that your plastic surgery experience will be nothing but positive.
REAL AND NATURAL-LOOKING RESULT IS WHAT YOU CAN EXPECT
This is all thanks to the expertise and creative eye of Lucia's plastic surgeons. They don't want to eliminate your individual beauty and change you completely with plastic surgery. During your complimentary consultation, the first thing you're going to hear is that Lucia's plastic surgeons respect your individuality. They will create a bespoke treatment plan that will enhance and refine your features. There isn't one-size plastic surgery that fits everyone. Every nose job, breast augmentation or liposuction is different.
This vision guarantees that you will be satisfied with the results. Your silhouette or face will be in harmony after your plastic surgery. That's because Lucia's surgeons plan every step of the procedure – much like film directors planned every scene of their films at the Venice Film Festival.
EMBRACE THE GRACE AND SOPHISTICATION OF LUCIA'S AUGUST SPECIALS
For more information about this month's specials, visit Lucia Clinic and schedule your consultation.