THE HOTTEST CELEBS AND INFLUENCERS LOVE COMING TO LUCIA CLINIC. HERE'S WHY!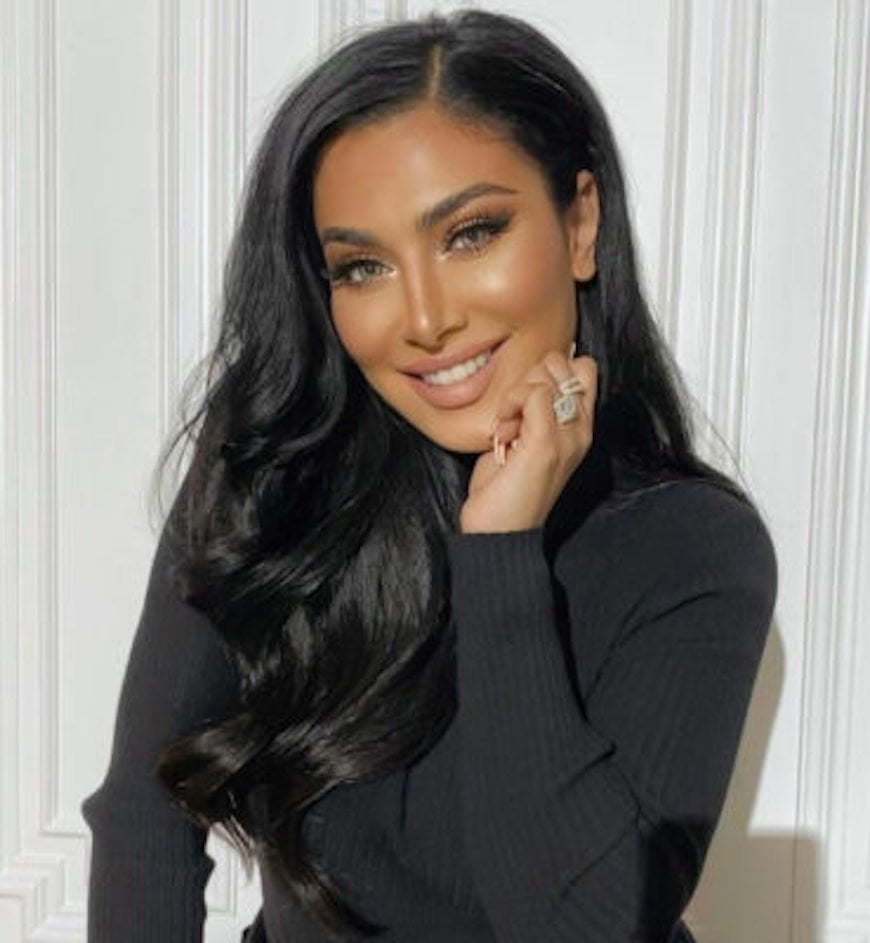 With our unrivaled reputation for service and attention to detail, Lucia Clinic has made a name for itself as Dubai's premier destination for aesthetic treatments, dermatology and cosmetic surgery. We love treating Dubai's most notable residents and international visitors to world-class services in our beautiful clinic in the heart of Jumeirah. Find out who we've had the pleasure of seeing recently and the treatments they swear by below.
We thank all of our clients for their loyalty and the joy they bring to our lives.‍
HUDA KATTAN
When one of the most influential ladies in the world is a regular client, you pull out all the stops. Beauty mogul Huda Kattan visits Lucia Clinic for a tailor-made treatment plan combining complementary non-invasive and minimally-invasive treatments. With the guidance of our Chief Physician and Founder Dr. Radmila Lukian, we created this bespoke care program to address a variety of Huda's face and body goals. We always look forward to the infectious energy and positivity she brings to the clinic, and we're honored she calls us "one of my favorite places in the world." Follow Lucia Clinic on Instagram to watch Huda's transformation.
Try One of Huda's Favorite Treatments: Radiofrequency
Our ability to make collagen slows down as we age, resulting in wrinkles and sagging skin. This non-invasive treatment uses radiofrequency energy and vacuum therapy to encourage collagen production, which means it uses your body's natural regeneration processes to deliver results without any incisions, injections or downtime.
MONA KATTAN
Mona Kattan has plenty to be confident about. She's the co-founder of billion-dollar beauty brand Huda Beauty and the fragrance brand Kayali, as well as the president of the Kattan family's strategic investment office. She's one of Dubai's most successful and beautiful women — but even with so much to celebrate, she didn't always feel confident in her skin. Mona has been visiting Lucia Clinic for our signature facials to keep her complexion clear, smooth and radiant. Her skin transformed after just a few treatments from our team, so she can wear her gorgeous Huda Beauty products with the confidence she deserves! Thank you, Mona, for your ongoing support and kind words.
Try One of Mona's Favorite Treatments: Hydra-dermabrasion Facial
Our popular hydra-dermabrasion treatment combines cleansing, exfoliation, extraction, hydration and antioxidant protection into one powerful procedure. All skin types — even sensitive skin — can use this soothing, non-invasive treatment to achieve healthier and more beautiful skin with no discomfort or downtime.
CARLA DIBELLO
Entrepreneur. Producer. Columnist. Business consultant. Social media celeb. Carla DiBello is one of the most glamorous go-getters around, and her discipline doesn't stop at her beauty routine. Carla has made it a daily habit to take care of herself with wholesome food, hydration, exercise and sleep, and when she's ready for a treatment that can take her healthy lifestyle to the next level, she sees Dr. Lukian for a personalized care plan. Carla's approach to beauty and aging gracefully focuses on non-invasive treatments that build natural, long-lasting results.
Try One of Carla's Favorite Treatments: Injectable Hyaluronic Acid
Hyaluronic acid (HA) is one of the most talked-about ingredients in aesthetics. Lucia's breakthrough bioremodeling treatments contain a unique kind of hyaluronic acid unlike any other on the market. Instead of acting like a traditional dermal filler, these injections stimulate positive reactions in the way your body regenerates and renews its cells to restore hydration, elasticity and skin tone.
JOAN SMALLS
The holidays are a wonderful time of year, but the indulgent meals, unpredictable weather and stressful to-do lists can wreak havoc on your complexion. Joan Smalls stopped by Lucia Clinic in January to refresh her skin after the festive season. The Puerto Rican model, actress and philanthropist has been a fixture in the fashion world for over a decade, with career highlights that include becoming the first Latina model to be the face of Estée Lauder and earning a top 10 spot on Forbes'highest-paid models list. We're thrilled this beauty icon entrusted Lucia Clinic with her skin and we look forward to seeing her next time she's in Dubai.
Try One of Joan's Favorite Treatments: Lucia's NO1 Facial
Facials are an integral part of skin care and can achieve amazing results when done consistently. Our signature custom facials are a completely personalized experience designed specifically for you. Your facial will be tailored around your exact skin type and goals, so you can feel confident your complexion is getting the pick-me-up it needs.
SABINE KHALED
Who knows more about beauty than a pageant queen? The stunning Sabine Khaled, Miss Lebanon Emigrant 2013 (UAE), comes to Lucia Clinic when she's in the mood for a self-care session. The Miss Lebanon Emigrant competition honors accomplished women with Lebanese heritage living around the world. As a pageant competitor, model and Instagram star, Sabine knows the importance of maintaining healthy skin and a consistent fitness routine. We're delighted to have her visit us for her aesthetic treatments so she can continue looking and feeling her best, whether she's walking a runway, on set for her latest film or simply relaxing at home.
Try One of Sabine's Favorite Treatments: Injectables
Our versatile injectable treatments can minimize fine lines, soften under eye hollows, enhance lips, lift cheekbones and eyebrows, define the jaw and more.
JELENA JANKOVIĆ
Sports stars deserve pampering too. Jelena Janković pushed her body to the limit as a former world #1 tennis player. She discovered a love for the sport before she was 10 years old and went on to win 15 WTA singles titles and two doubles titles throughout her career. Now, she's showing gratitude to her body for all its hard work with regular visits to Lucia Clinic. Our team has been focusing on giving her exquisite skin with non-invasive laser treatments. We're grateful to have Jelena as a member of our family and we can't wait to show our appreciation next time we see her!
Try One of Jelena's Favorite Treatments: Laser
Lucia's Advanced Fluorescence Technology™ (AFT) is a photo-rejuvenation treatment that uses light to revitalize your skin. Our AFT treatment is suitable for anyone who wants to address skin imperfections like age spots, dark spots, freckles, redness, rosacea, broken capillaries, acne and other scarring, enlarged pores and irregular texture with minimal downtime.
SALAMA MOHAMED
Salama Mohamed embraces the beauty of self-love. In addition to being one of Instagram's funniest Emirati influencers, she's an entrepreneur, a humanitarian and an advocate for those living with vitiligo, a skin condition she was diagnosed with at five years old. Salama uses her platform to encourage others to discover their unique beauty and become more comfortable in their own skin. By openly sharing her own journey to self-acceptance, Salama inspires thousands of followers to celebrate their differences, not disguise them. We love Salama and her empowering message.
Try One of Salama's Favorite Treatments: Body Sculpting
If you've worked hard on your diet and fitness game but can't seem to get the results you want, try Lucia's muscle-toning treatment. Our next-gen body sculpting procedure uses high-intensity focused electromagnetic (HIFEM) technology to build muscle and tone your body. This is a great option for women or men who want to strengthen, firm and reshape their physique.
DISCOVER THE UNMISTAKABLE GLOW OF INNER AND OUTER BEAUTY
You don't have to be a celebrity to enjoy celebrity treatment. At Lucia Clinic, we offer thoughtfully customized therapies, elegant amenities and a top-notch team for clients of every age, ethnicity and gender. We're proud to be Dubai's leading destination for beauty and skin health. Contact us by phone at +971 4 385 4525 or on mobile/WhatsApp at +971 56 115 9194 to request an appointment today.