LUCIA CLINIC IN PARIS AGAIN – 24th EDITION OF IMCAS WORLD CONGRESS 2023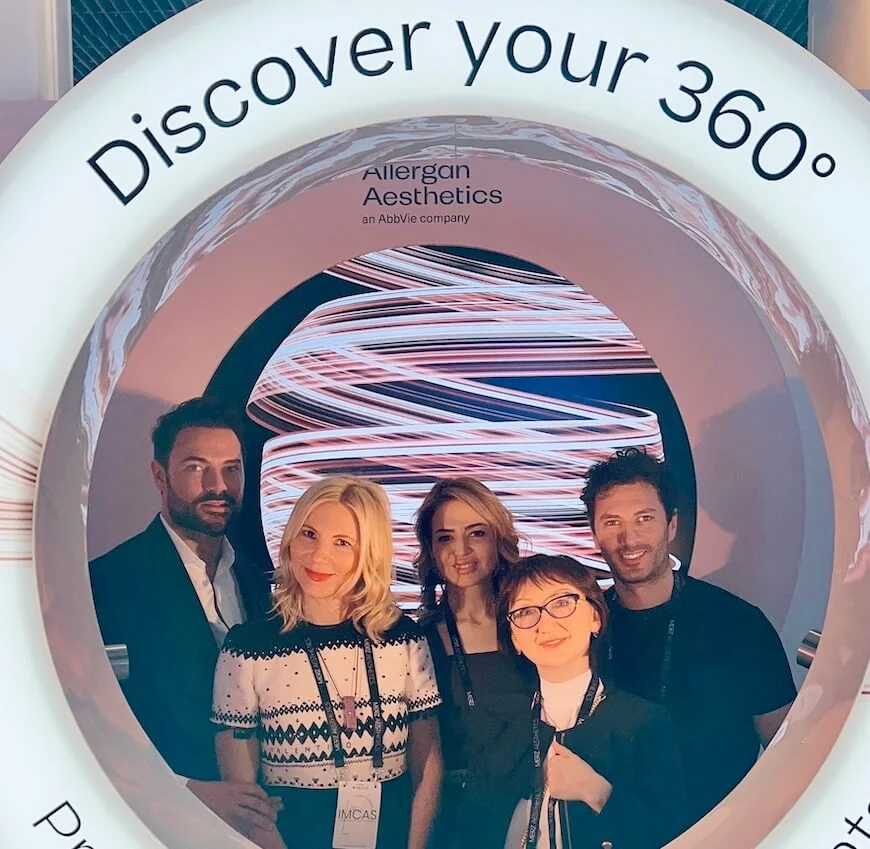 Lucia Clinic's team is proud to have been invited again to attend the next IMCAS World Congress in Paris this January. It is the world's leading congress in dermatology, anti-aging solutions, and plastic surgery. This inspiring medical conference offers extensive learning about the most up-to-date technology and methods in dermatology and plastic surgery. All checks for Lucia Clinic! By gathering the newest info on these topics, Lucia Clinic will implement all the knowledge into new treatments for its clients.
Going forward and always educating themselves on the latest aesthetic, dermatology and plastic surgery procedures is what makes Lucia Clinic a regional leader and a trend-setter.
Therefore, Dr. Radmila Lukian and her team are more than happy to start the new year together with the most renowned experts in dermatology and plastic surgery.
IMCASS congress in 2023, joined different fields – aesthetic dermatology, aging science and plastic surgery. This prestigious learning event was dedicated to bringing together the evidence-based techniques from prominent speakers and the latest developments from the major players in the industry.
With the latest updates, this extraordinary event enabled Dr. Lukian and her team to gain the highest quality of knowledge in their areas. They met and learned from the top experts in the fields of dermatology, plastic surgery and aging science.  As they are constantly striving towards professional progress, Lucia's team of dermatologists and plastic surgeons have participated in this amazing congress with thousands of other speakers and attendants.
This amazing congress covered a lot of topics – injectables, laser therapy, hair restoration, clinical dermatology, plastic surgery, cell therapy and many others. Lucia's team had the chance to share their love for aesthetics and explore different methods in each area and received specialized education in their medical specialty. This shows their dedication to learning about the most advanced technologies which will certainly inspire their work now and in the future.
Regarding injectable treatments, Dr. Radmila and her team participated in a signature IMCASS workshop that brought some new insights into methods of injecting. The workshop gave a live procedure demonstration that covered the full face and body. This learning experience definitely helped Lucia's team to upgrade their already high level of expertise and go even further in achieving the best possible results for their patients.
This prestigious world congress really makes a difference. It connects the aesthetic medical community. It gives a chance to be surrounded by top dermatologists and plastic surgeons from all over the world.
LUCIA CLINIC IS AND WILL STAY A REGIONAL LEADER IN AESTHETIC DERMATOLOGY
And here's why!
All your skincare and skin health will be taken care of by Lucia Clinic's dedicated team. Luci's team comprises leading dermatologists, physicians and plastic surgeons. They are experts who regularly attend national and international congresses to stay ahead of the competition by implementing the newest techniques and trends in aesthetic dermatology. They bring their knowledge to Lucia Clinic and fully use it to help their clients fulfill their aesthetic goals.
Lucia Clinic's team offers only the highest quality products and the latest innovations when performing treatments.
Being a GCC leader and earning the trust of thousands of clients from all walks of life is something that Dr. Lukian and her team are really proud of. They always put their patients' safety in the first place by knowing all the possible risks and complications of all treatments. This is something that depicts true professionals – following ethics and keeping the patients satisfied and safe.
Customization of every single treatment is another thing that makes Lucia Clinic so successful in fulfilling its clients' aesthetic goals. Every patient is different and has different skin. Dr. Radmila Lukian and her team always pay individual attention to every client and create a bespoke treatment plan that addresses the client's specific skin concerns. There is no one size or one aesthetic solution that helps everybody. This is especially true when we talk about plastic surgery. Lucia Cllinic's surgeons consider every surgery they perform as a work of art – that's why all their patients are so happy with the final results.
And finally, introducing the best aesthetic treatments first in the UAE is another thing that makes Lucia Clinic a leader in the aesthetic and dermatology world. They follow the trends but they are also the trendsetters. That's something all their clients appreciate very much – if you heard about a new approach in dermatology, plastic surgery or anti-aging treatments, chances are that Lucia Clinic is already offering it.
While we are on that topic, one of the latest facial treatments that you can exclusively get at Lucia Clinic is
EMFACE TREATMENT – INTRODUCED IN THIS YEAR'S IMCAS WORLD CONGRESS
As Dr. Radmila Lukian recognized the quality and effectiveness of EMFACE treatment, she was more than glad that Lucia Clinic had an opportunity to launch EMFACE before the world premiere.
EMFACE really is a ground-breaking treatment that brings the future of facial treatments into a reality. A lot of regular clients from Dr. Radmila have tried this effective anti-aging solution and raved about the results. Especially for those clients who are not fans of needles and always look for needle-free facial treatment – EMFACE works wonderfully.
The effectiveness of EMFACE lies in the powerful connection of two different energies – this is something really revolutionary. Never before any facial treatment could target the patient's facial skin, facial muscles and connective tissue at the same time. EMFACE is a powerful workout for the face – it makes it smoother, better structured and youthful. These features are the ones that give the patient's face the ultimate rejuvenation – in just 20 minutes.
Since Lucia Clinic offers its patients only the highest quality and absolutely safe treatments, EMFACE is definitely no exception. It is a non-invasive, painless and super-effective treatment that brings visible and real results. After just 4 sessions, you can see significant improvements in your facial skin.
Wrinkles and fine lines become visibly reduced because of the RF energy, that targets collagen in your skin and awakes it. Once your collagen starts to build up, your face becomes plumper, smoother and youthful – one plus for EMFACE. Another plus goes for HIFES energy that makes your facial muscles contract, and get stronger and better-toned. These muscles keep your skin lifted and give you nice facial contours. No more saggy skin. All this happens in a completely natural way because of your own skin proteins like collagen and elastin that create that rejuvenated look you have always desired. And combined with defined facial muscles and beautifully tight skin on your facial contours like chin, jawline, cheeks and forehead you get the full package.
So no needles and injectable treatments for you if you don't like them – EMFACE brings you the same satisfying results very quickly, without side effects and downtime.
LUCIA'S TEAM ALWAYS GIVES CONTRIBUTION TO WORLD MEDICAL CONGRESSES
This privilege is exceptional and precious. In 2018, Dr. Lukian was one of the keynote speakers at the 20th anniversary of IMCAS in Paris. That year, a couple of thousands of people attended this extraordinary congress, which is undoubtedly one of the most important events in the field of dermatology and plastic surgery.
Dr. Radmila presented her successful approach in dermatology for multiple ethnicities. This world-renowned specialist proved once more how vital it is to always strive for new findings and perfect the techniques in dermatology and aesthetic treatments. Dr. Radmila's clients know this very well.
So, Lucia Clinic is more than excited to have attended this world congress in this beautiful city. Lucia's team once more had the opportunity to participate in an interactive, multidisciplinary program and interact with other inspiring colleagues, learn about new techniques, gather new experiences and discover new products.
Lucia's team once more equipped themselves with the latest updates in techniques, research and innovative approaches in dermatology, minimally invasive cosmetic procedures, body contouring and practice management.
This congress brought fresh knowledge that will boost Lucia Clinic's practice even further and offer Lucia's patients a new scope of aesthetic and dermatology treatments.  Lucia's Team's high level of expertise will go one step further again.
EDUCATION AND KNOWLEDGE – THE KEY TO LUCIA CLINIC'S SUCCESS
You already know that Lucia Clinic is patient-oriented and exists to boost confidence in people by helping them feel, look and live better. They are here for their patients every single moment with a rich portfolio tailored to a huge variety of cosmetic goals and more than 10 years of real results.
This year's IMCAS conference was fantastic, full of new information on the latest ideas, trends and techniques gathered from world class experts.
Part of their culture is looking for new approaches and being persistent in innovations – this was their mission from the start and shaped them as regional leaders today.
Their personal mark is supporting, listening and advising their patients on their journey to feeling and looking their best.
By attending IMCAS World Congress, Lucia Clinic's team continues to educate themselves in aesthetic and anti-aging dermatology and plastic surgery. They learned the latest techniques and groundbreaking science from international experts and Scientific Board. This knowledge will definitely contribute to already magnificent and high-quality treatments for patients of different age, ethnicities and socioeconomic groups.
This world-renowned congress provided Lucia's team with even better standards and tools for helping their clients to feel, look and live like the best versions of themselves. Lucia Clinic's huge array of clinically proven products is now enriched with injectables and skin care treatments that meet each client's individual aesthetic goals with the highest standard of efficacy and safety.
Dr. Radmila Lukian understands that we are in an era of rapidly evolving medical, dermatology and other sciences and that there is a constant need for dermatology and aesthetics expansion. Keeping up with modern patient needs, Dr. Lukian and her team are gaining modern training that is evidence-based and relies on science.
Their focus on innovative techniques and state-of-the-art products has enabled them to be among the first in UAE when introducing revolutionary treatments.
Once again, further education and new knowledge are the two features that single Lucia Clinic out.
We are more than grateful to have witnessed a true blend of art and science at this year's IMCAS World Congress. We are looking forward to the next beautiful experience full of new ideas and inspiration.