SPREAD YOUR VALENTINE'S DAY GLOW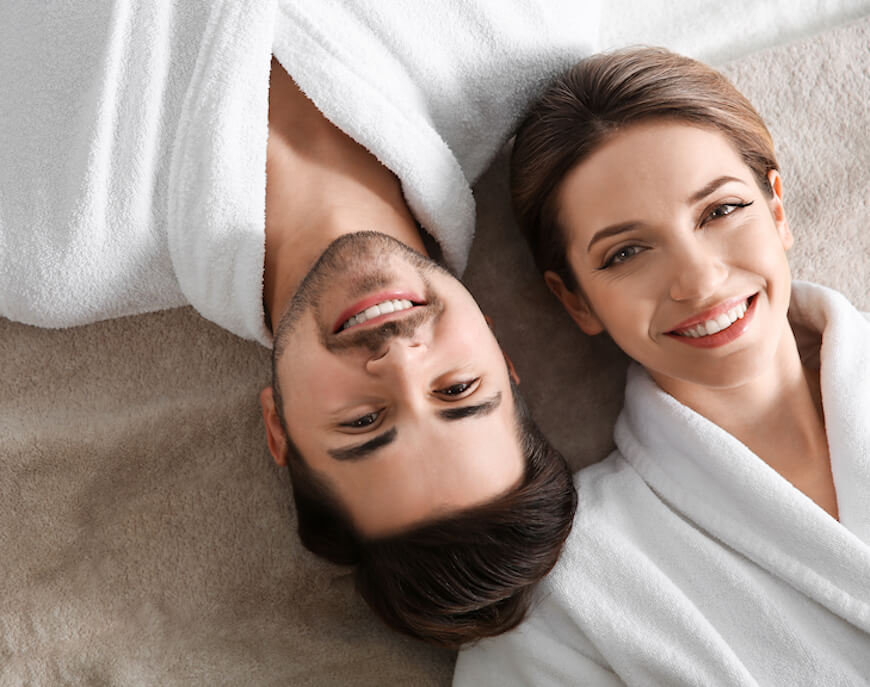 Valentine's Day is approaching – it's just around the corner. It's time to plan it. Have you organized a romantic date with that special someone? Or are you going solo? In both cases, it's time to have some treatments that will make your skin glowy and rejuvenated. Or perhaps you wish to give that someone special a unique present they will absolutely love – a skin rejuvenation treatment. This will definitely show how much you love and appreciate that special person.
Valentine's Day season is also a time when you should embrace what you love about yourself. It's a perfect time to appreciate yourself and do some self-care. The good news is that at Lucia Clinic you can enhance what you love about your face and improve what bothers you.
Nothing will make this Valentine's Day more special than feeling confident and letting your inner beauty shine through.
Lucia Clinic is presenting you with a limited-time offer, valid until Valentine's Day. So hurry up and get treatments that will help you get beautiful and glowy skin. The treatments are quick and effective and require zero downtime. Show your face some love now and you will love the results of your treatment in time for Valentine's Day.
You will definitely draw the attention of that special someone or a new love, but most importantly you will feel great about yourself.
Check out the best aesthetic treatments that will make your Valentine's Day unforgettable.
GET A FRESH NEW LOOK FOR VALENTINE'S DAY
That's exactly what your skin needs this Valentine's Day – a refreshed and hydrated look. With Express Hydrafacial you can quickly nourish your facial skin and get brilliant results. Enhanced, beautiful, youthful are just some of the compliments you will get after Express Hydrafacial. That's because this wonderful and gentle treatment helps you to show that inner glow on the outside.
CLEAR YOUR SKIN AND MAKE IT RADIANT
If you are planning to apply some special Valentine's Day makeup, then your skin needs to be clear. Then your makeup will sit on perfectly. Express Hydrafacial can give you just that and so much more. It clears your pores, eliminates dirt, pollutants and dead skin cells and finally it hydrates and nourishes your skin. All thanks to special technology that doesn't harm the surface of your skin in any way – on the contrary, it makes it soft and smooth. Remember that beautiful skin is clear and shiny and with Express HydraFacial, your skin will just spread radiance on your Valentine's Day.
PAMPER YOUR SKIN AND SHINE BRIGHT
Your skin deserves a little pampering, especially before Valentine's Day. Express HydraFacial is completely non-invasive and comfortable and helps you relax as if you are having a spa treatment. The cleansing of your skin is so gentle that you won't even feel it, but it will dramatically improve its surface. And as a final touch, your skin is fused with powerful and protective ingredients like antioxidants, vitamins, hyaluronic acid and so on. These ingredients keep your skin nourished and are absorbed much faster when you prepare your skin with HydraFacial treatment. And after a complete HydraFacial, you will be ready to spread the love with your glow on your Valentine's Day.
ARE YOU IN A HURRY WITH VALENTINE'S DAY PREPARATIONS?
Then Express HydraFacial is just the right treatment for you. It gives you that express improvements – as its name says. The session lasts only 30 minutes – it is super quick. You don't have to prepare before the treatment, nor do you need to take some special aftercare. Since it is non-invasive and gentle, Express HydraFacial requires no downtime and it doesn't leave you with side effects – you can start celebrating your Valentine's Day right after it. With this treatment, you really invest a minimal amount of your time but you get brilliant results in turn – soft, radiant, shiny skin. Skin that will make you feel special on your special Valentine's Day.
How about having a treatment that will improve your entire complexion like Dermapen?
TAKE CARE OF YOUR SKIN BEFORE VALENTINE'S DAY
Since Valentine's Day is fast approaching, your skin needs fast rejuvenation. If you are bothered by a dull and tired-looking complexion then Lucia's Dermapen treatment is just for you. This outstanding procedure will make your skin bright and glowy by triggering collagen production and your skin's healing process. With minimally invasive micro-needling, Dermapen reduces your acne scars and wrinkles, lightens hyperpigmentation and makes your skin ready for your Valentine's Day. It will be radiant.
LOOK YOUTHFUL AND CONFIDENT
After the Dermapen treatment you will definitely restore that youthful-looking skin appearance. That will certainly boost your confidence and help you feel awesome on your Valentine's Day. All aging signs get significantly reduced with Dermapen and since the treatment is safe and gentle it can even be used in sensitive areas like around your lips or under your eyes. You don't have to worry about the side effects because they are minimal and resolve really quickly. And then you are left with even skin tone and texture and a glowy complexion that will definitely draw the attention of your significant other on Valentine's Day.
ENHANCE YOUR SKIN BEFORE VALENTINE'S DAY
That's just what you need and you will get it super fast with Dermapen. You can see the first results right after the treatment, but the best part is that they continue to improve with time. As your collagen builds up, your acne scars fill up, as well as your wrinkles and fine lines. You even notice that dark circles under your eyes are reduced, because micro-needles improve circulation and firm your skin, so your eyes become bright and shiny. In no time, you will see significant improvements in your whole complexion and enjoy your Valentine's Day to the fullest – just as you deserve!
Finally, choose another brilliant treatment that will make your skin glow – Mesotherapy.
CELEBRATE VALENTINE'S DAY WITH REJUVENATED LOOK
If your skin needs that final touch of radiance then Lucia's Mesotherapy treatment is a must. Mesotherapy truly enhances your natural beauty by hydrating it and making it look healthy and refreshed. Your dull or tired-looking skin belongs in the past – Mesotherapy will make it youthful, bright and glowy. Just perfect for your Valentine's Day. With the time you invest in getting Mesotherapy treatment, you will get instant and long-term results – your skin will continue to improve even after Valentine's Day.
IMPROVE YOUR SKIN DRAMATICALLY
You will love your skin after Mesotherapy and you will feel amazing during your Valentine's Day celebration. Mesotherapy significantly reduces wrinkles and fine lines all around your face,  eliminates scars and other imperfections and gives you that glow you so much desire. As you can see, Mesotherapy can effectively help you with a lot of skin concerns because the micro-needles used during this treatment trigger collagen production. New collagen keeps your skin nice and firm and all this happens with your own skin's healing processes. That's why the results of Mesotherapy are natural and beautiful.
HYDRATE YOUR SKIN AND MAKE IT GLOWY
Another important feature that makes Mesotherapy so beneficial for your skin is that it fuses your skin with special solutions. These solutions have antioxidants, vitamins, plant extracts, minerals, hyaluronic acid and many other super-important ingredients that improve your circulation and make your skin firm and youthful. This powerful cocktail hydrates your skin, reduces aging signs and enhances your natural beauty. For your Valentine's Day preparations, you really shouldn't miss out on Mesotherapy – you will simply glow and spread the love.
GET A SPECIAL TAILOR-MADE TREATMENT AT LUCIA CLINIC
You already know that Lucia's team pays individual attention to every client. You can rest assured that they will create a customized treatment plan that will address your individual skin concerns and fulfill your aesthetic goal – making your skin radiant for Valentine's Day. Whether you choose Express HydraFacial, Dermapen or Mesotherapy treatment, Lucia's skin therapists will go the extra mile to make the results of each treatment the best possible. It doesn't matter if your skin concerns include wrinkles and fine lines, open pores, acne scars or pigmentation, Lucia's team will design a bespoke procedure that will definitely take your skincare to the next level. You will feel confident and more than ready to enjoy your Valentine's Day.
All treatments are of the highest quality and precisely target skin concerns that you are bothered with. Lucia's team uses only the highest quality products that are safe and super-effective and bring you those much-desired results very quickly.
We are all different and have different skin concerns and with Lucia's team, your facial skin will really look special after your treatment – fresh, healthy and ready for Valentine's Day.
Let everybody wonder why your skin looks so glowy. You can simply say I am just spreading love.
LOVE YOURSELF – LOVE YOUR SKIN
Now it's the perfect time to give your facial skin some love with Lucia Clinic's treatments. These special Valentine's day treatments will help you feel great and spread the love with your shiny face. Your skin will be refreshed, rejuvenated and healthy – all in a natural way. There is nothing more beautiful than subtly enhanced skin. All the treatments are simple and fast and don't require a lot of your time or downtime. You will get instant results but also long-term, because your skin continues to improve after the treatment.
Also, all these treatments are safe and advanced and bring you so many different aesthetic benefits – you and your skin will simply love them.
So, preparing for your Valentine's Day should definitely include rejuvenating and refreshing your skin. Remember – we all need to pamper our skin occasionally and Valentine's Day season is one of the best times for it.
SHOW YOUR LOVE IN A UNIQUE WAY
Since Valentine's Day is all about expressing love and care for that special someone, you can really make this Valentine's Day special for your loved one. You can show how much they mean to you with a present that will brighten up their faces. In your Be My Valentine card, you can present a gift of skin rejuvenation treatment and relaxation that will definitely leave your loved one refreshed and with a radiant and rejuvenated complexion. Doing something nice for your loved one is really precious and this gift will definitely show your love in a meaningful and unique way.
Your special someone can enjoy a spa day that will be rejuvenating and relaxing. Lucia's team will create a bespoke-treatment plan that will address their specific skin concerns and help them restore that youthful glow. So don't miss out on a chance to surprise your special someone with this limited-time offer.
HURRY UP AND BOOK YOUR VALENTINE'S DAY SPECIAL TREATMENTS
With Lucia Clinic's special treatments you will look and feel great on Valentine's Day. You will get your skin a quick boost before the holiday of hearts and love. Choose the best treatment for yourself or your Valentine. Lucia Clinic is offering you special tailored-made treatments for your loved one, that they will simply love.
Love is in the air everywhere and at Lucia Clinic also. Make this Valentine's Day memorable for you and your loved one. Let your beauty shine in this beautiful season.
Schedule your limited-time-only treatment at Lucia Clinic today.