PAMPERING HOLLYWOOD STAR, LINDSAY LOHAN, BEFORE HER NEW NETFLIX MOVIE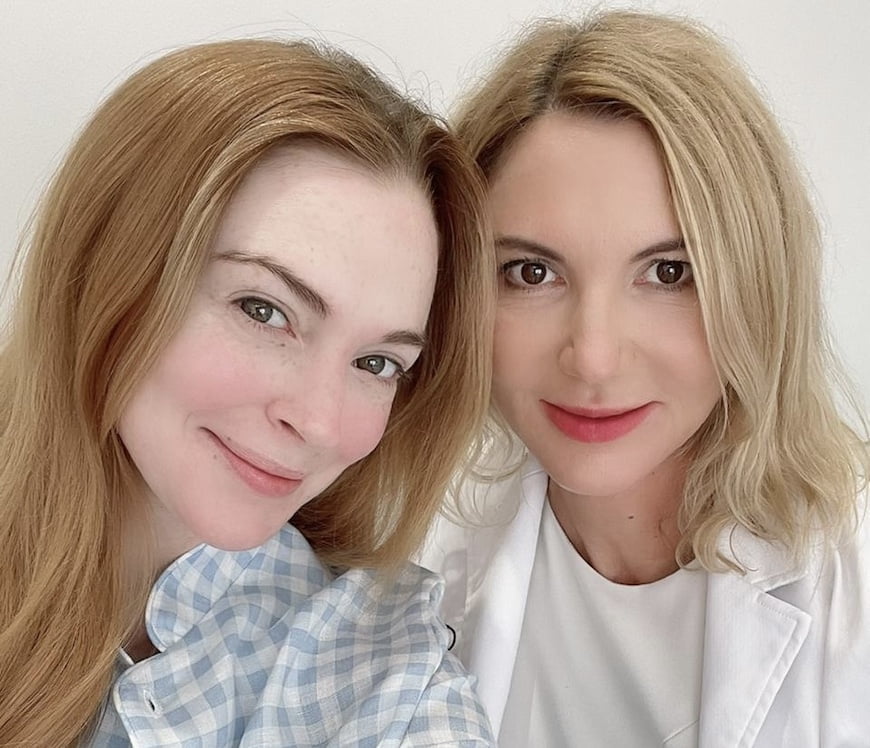 Lindsay Lohan is known for lighting up the movie screen, but Dubai's Lucia Clinic is where she goes when she wants to shine IRL. Since capturing our hearts at a young age, she has starred in several films, won numerous awards and released two studio albums, but she's more recently known for stepping up to support humanitarian causes in the Middle East. She's forging her own path and has become an advocate for those in need, bringing positive awareness to things happening around the world.
But now she's setting the stage for her acting comeback, and Dr. Radmila had the pleasure of making sure her skin is beautiful and glowing for the camera!
Lucia Clinic welcomed Ms. Lohan at the end of May, where she was pampered with some of our signature treatments. Her busy schedule means that she needed a personalised beauty program for a rejuvenating boost, and we were happy to oblige. Tailored luxury treatments are what we do best, after all, and why we're one of Dubai's go-to spots for celebrities, supermodels and influencers who want the best for their skin.
DUBAI'S PREMIER AESTHETIC CLINIC
No matter what life throws at you, Dr. Radmila can help your skin stay smooth, supple and hydrated. As our founder and a leading authority in aesthetic dermatology, Dr. Radmila delivers world-class treatments that reveal your true beauty and help you feel like your best self. She brings more than 20 years of experience to our clinic and believes wholeheartedly in giving the same TLC to each client's skin as she does her own.
Dr. Radmila knows that our skin is more than a protective covering — as our biggest organ, it reveals the state of our body, soul and emotions. That's why she combines her expertise with the latest technologies and aesthetic treatments. Her love of beauty and desire to help each client put their best face forward drive her to continuously seek out the most innovative skin care solutions, ensuring that every person who walks through our doors receives the VIP treatment they deserve.
Lucia Clinic's personalized approach is designed to help our clients shine, either on or off the screen. We're thrilled that Lindsay Lohan trusted Dr. Radmila to give her skin the revitalizing boost it needs to stay truly forever young!
DISCOVER WHY CELEBS CHOOSE LUCIA CLINIC
Dr. Radmila's high-profile clientele includes some of the biggest names in fashion, beauty and entertainment, but you don't have to be an icon to receive VIP treatment. Whether you're a talented actress or prefer to stay out of the limelight, Lucia Clinic provides your skin with star-quality treatment. When in Dubai, you deserve the best, and we're here to pamper your skin with a day of luxury and relaxation.
Book your visit today to get your own personalized beauty plan. We're waiting for your call — get in touch by dialing +971 4 385 4525 or reach us on mobile/WhatsApp at +971 56 115 9194.
And Lindsay, we can't wait to see you on the big screen again!
‍