START YOUR SUMMER WITH LUCIA'S JUNE SPECIALS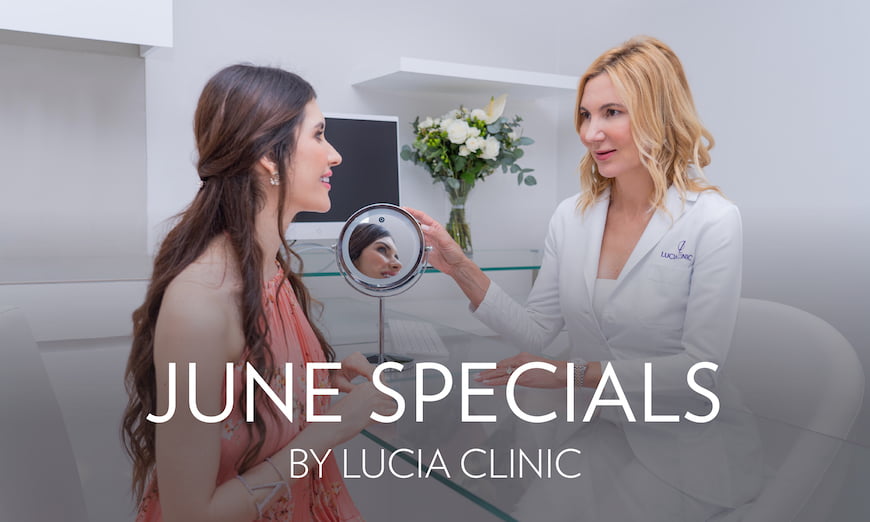 Are you ready to enjoy summer? Then this month's specials are perfect for you! You can choose to rejuvenate your face and neck skin, eliminate the last inches of stubborn fat or consult with our plastic surgeons. We have covered all for you – you just need to come to Lucia Clinic and fulfill your aesthetic dreams. With our latest and most advanced treatments, you will feel great during these hot summer months.
EXPERIENCE THE ULTIMATE FACIAL REJUVENATION WITH LUCIA'S ALMA HYBRID
We have something really unique for you this June – a powerful combo of Alma Hybrid facial and neck treatment and topical PRP with hyaluronic acid. Your skin will love it! Alma Hybrid laser treatment really rises your skincare to the next level. It's a sophisticated and groundbreaking procedure that uses special technology to bring you exceptional results. It significantly improves your skin appearance – you can say goodbye to fine lines and wrinkles, sun spots and uneven skin complexion. After this treatment, your skin will be smooth and youthful – that's all you want this summer.
REGENERATE YOUR FACIAL AND NECK SKIN AND FEEL CONFIDENT
It's all about the right combo of ablative and non-ablative lasers – Alma Hybrid gives you exactly that. You don't have to ask yourself anymore which one to choose – this laser treatment has both! That's why you are guaranteed a customized treatment that brings you brilliant results. These two laser work perfectly together.
The ablative laser gives your skin the necessary resurfacing, while the non-ablative one boosts your collagen. The right amount of both energies improves your skin's appearance with minimal to no side effects and downtime.
FUSE YOUR SKIN WITH POWERFUL INGREDIENTS
This is another feature that makes this treatment super effective. With a special applicator, your skin is fused with topical products that go directly into the microchannels created by the laser. Your skin easily absorbs these nutrients and immediately gets hydrated and nourished.
This month your skin is nurtured with topical PRP and hyaluronic acid – perfect ingredients for the perfect skin. PRP is the most natural ingredient because it is actually taken from your own blood. PRP stands for Platelet-rich plasma which is extracted with a simple procedure (nothing to worry about). Add HA to that and you get a perfect blend of skin essential nutrients. Hyaluronic acid is already present in your skin and an additional boost to it will make a significant difference. After this treatment, your skin feels smooth and appears youthful – It is prepared for the hot summer months.
GET A FULLY PERSONALIZED TREATMENT
That's what will make your skin super rejuvenated and help you with your skin concerns. Alma Hybrid offers you the ultimate customization – your skin type, treatment area, treatment duration and downtime are preset. Every parameter is set according to your skin concerns and aesthetic goals. Plus you get a perfect balance of non-ablative and ablative lasers for exceptional results. All this makes this treatment a star between other skin resurfacing and rejuvenation treatments. This month you can feel and look like a star after Alma Hybrid plus PRP with HA treatment.
FINALLY REVEAL YOUR TRUE BEAUTY
We must agree that there is nothing more beautiful than nature. The same goes when we talk about aesthetic treatments – natural-looking results are the most beautiful ones. With this unique treatment, you can finally let your inner glow shine on the outside. Your beauty will be enhanced but in a subtle and natural way. It's not about overly dramatic results – it's about your skin's improvement without changing your essence. Once the triggered collagen builds up, it will make your skin smooth, rejuvenated and radiant – all thanks to gold standard Alma Hybrid treatment.
The next treatment you can get this month at Lucia Clinic is a sophisticated body-contouring CoolSculpting ELITE.
EMBRACE YOUR SLIMMER CONTOURS WITH LUCIA'S COOLSCULPTING ELITE
It's time to fall in love with your body contours with CoolSculpting ELITE. This revolutionary, non-invasive treatment freezes away your stubborn fat pockets even in those body areas that don't get slimmer no matter how much you exercise. CoolSculpting ELITE is perfect for the start of summer – it will restore your confidence because you will look great in your bikinis, shorts and other summer clothes. You will be the star at the beach!
LEAVE STUBBORN FAT POCKETS IN THE PAST
With CoolSculpting ELITE, your silhouette will be sleek and contoured. You will definitely feel more attractive after these pesky fat pockets disappear from your stomach, waist, thighs, legs or arms. This treatment has different applicators and you can literally target any body area that you are not satisfied with. Once the targeted fat cells get frozen, they are destroyed and flushed away from your system after a short period of time. These destroyed fat cells will never return and that's one of the biggest advantages of CoolScuplting ELITE. You can finally say – I look cool in my summer clothes.
CONTOUR YOUR BODY WITHOUT EFFORT
This is another awesome thing about CoolSculpting ELITE – it is completely non-invasive and therefore quite comfortable. You do feel a deep freezing sensation but that means that the treatment is working. And it's not uncomfortable – you can relax during your season. It's great when you can watch TV or read a book while your CoolSculpting ELITE is doing its magic.
The great feature of this innovative treatment is that it has improved applicators that squeeze your skin just enough to target fat cells. They also won't harm any of the surrounding tissue. All this means that there is no downtime – you don't have to take time off work or social events. You must agree that you don't want to miss out on all the fun, especially during summer. With CoolSculpting ELITE you won't!
GOT A BUSY SCHEDULE? THAT'S OKAY
CoolSculpting ELITE really saves you time and you can even get a session during your lunch break. With its Dual applicator system, you can now address two legs or arms simultaneously. It cuts the session time in half. Plus the applicators are larger so they can treat large areas faster. What's even more amazing is that after CoolSculpting ELITE you are left with minimal to no side effects. If any side effects like redness or swelling appear, they are resolved after a couple of hours. So as you can see, CoolSculpting ELITE is a perfect alternative if you are not ready for plastic surgery or you wish to avoid more invasive treatments.
Finally, have a complimentary consultation with our plastic surgeons – let them guide you on your journey to your fulfilled aesthetic goals.
GET A PROFESSIONAL RECOMMENDATION FOR YOUR PLASTIC SURGERY
If you are considering plastic surgery, this is the perfect time to meet with Lucia's plastic surgeons and get all your questions answered. They are more than happy to meet you and help you understand what to expect from plastic surgery.
They are all highly skilled and board-certified surgeons – with them by your side you will be in good hands. When deciding to have plastic surgery, it's important to trust your plastic surgeon – together with Lucia's plastic surgeons you will make the right decision.
DURING YOUR CONSULTATION YOU WILL FEEL UNIQUE
That's something you feel the moment you meet Lucia's plastic surgeons. They treat each patient as an individual because everyone is different and everyone has different body concerns and aesthetic goals. It's important to understand that plastic surgery is a great way to improve the body areas that you are dissatisfied with. It can be your breasts, nose, or eyelids – everyone has different body areas that make them feel self-conscious.
That's why having a consultation with real plastic surgeons can help you see what plastic surgery will do for you – not for someone else. A real plastic surgeon will take everything into account when creating your bespoke treatment plan. You will share your medical history, your concerns and your doubts. Every question counts – Lucia's plastic surgeons will answer everything you ask.
YOUR SAFETY IS A TOP PRIORITY
When you start your consultation with Lucia's plastic surgeons, you immediately feel safe. Our surgeons are highly skilled to perform all plastic surgeries with the highest quality and level of care. The field of plastic surgery is constantly developing – there are numerous advanced techniques that bring exceptional results with minimal recovery.
During your complimentary consultation, Lucia's plastic surgeons can recommend which plastic surgery technique would be most appropriate for you. When you hear this from a professional, you know that you are one step closer to making your decision about getting plastic surgery.
RESTORE YOUR CONFIDENCE WITH THE RIGHT PLASTIC SURGERY
During your complimentary consultation, you can imagine how your troubled spots will be improved. Our plastic surgeons will help you visualize what the right plastic surgery can do for you. Next to being highly skilled in performing plastic surgeries, they have an artistic eye – their creativity plays an important role in creating your customized treatment plan.
For example, our plastic surgeons can advise you on the size and shape of breast implants that will perfectly go with your body proportions. The right breast implants will enhance your entire body.
Or if you are bothered with enlarged male breasts, customized gynecomastia surgery will help you restore the masculine look of your chest. It is important to say that a skilled plastic surgeon fully understands the differences between male and female anatomy. Lucia's plastic surgeons have all that's necessary to make ladies feel more feminine and gents more masculine. You can find out how at your complimentary consultation.
VISIT LUCIA CLINIC THIS JUNE AND FIND YOUR PERFECT TREATMENT
It's the right time to add those last finishing touches to your skin and body before summer. With Alma Hybrid and PRP with hyaluronic acid, your facial and neck skin will be rejuvenated and more than ready for the hot sun. Or with CoolSculpting ELITE your body contours can get perfectly sculpted before you hit the beach. In the end, if you are looking for a different way to put your body into harmony, then complimentary consultation with Lucia's plastic surgeons will bring you one step closer to finding the perfect plastic surgery for yourself.
Don't miss out on a chance to get amazing treatments this June at Lucia Clinic.