VOGUE ARABIA & DR. RADMILA LUKIAN, THE PREMIUM DERMATOLOGIST AND LEADER IN THE REGION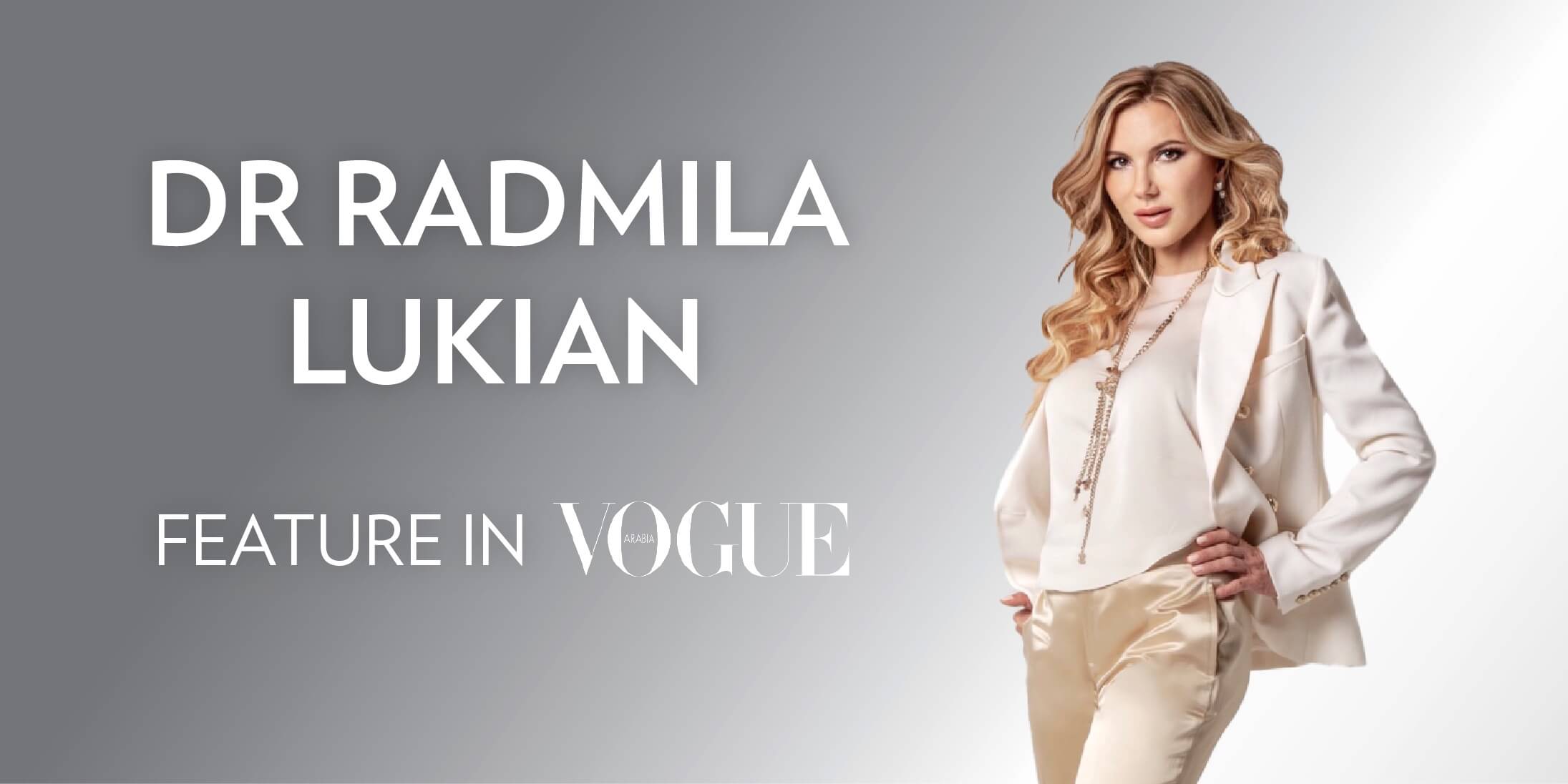 The founder of Lucia Clinic, Dr. Lukian talks about her passion for dermatology and her vision in advocating a holistic approach to aesthetic treatments. This remarkable dermatologist and anti-aging specialist is someone who believes in natural-looking results and enhancing the best features of her clients. Also by providing her clients with beautiful and real results, Dr. Lukian helps her clients rejuvenate their skin and feel refreshed and more confident. It's all about listening to the client's wishes and aesthetic goals which this world-renowned doctor can't stress enough.
Find out how Dr. Lukian approaches her work and why so many clients feel safe in her hands.
"I am genuinely passionate about aesthetic medicine and believe it can
enhance the health and beauty of the body, soul, and emotions."
And Dr. Lukian discovered her passion for dermatology and aesthetic medicine very early. She earned the title of a specialist in dermatology and anti-aging treatments by gaining knowledge and experience all over the world. The USA, Switzerland, Germany, and the UK are just a few countries where this exceptional doctor learned from the best experts in her field. And we mustn't forget Paris, the city of beauty, where Dr. Lukian specialized in aesthetic medicine.
Now Dr. Lukian is one of the best experts in her field. She shares her knowledge and experience at international conferences and congresses. And she never stops learning about new developments, research and advancements – that's why she always offers the latest aesthetic treatments to her clients.
Let's mention that Dr. Lukian values creativity in her work – by being creative she can find the most efficient and safest treatment for her clients. And of course, offer them the best and real results. But, her priority is always the patient's safety and health – she genuinely cares for her patients and believes that through beauty enhancements, her patients can enhance their whole being. And that's what a holistic approach to beauty treatments is all about.
"Our approach to beauty is centered around understanding our clients and their individual vision of beauty."
This is what singles out Lucia Clinic – it's all about the right approach. And the best approach means understanding clients and their unique beauty standards. That's why Dr. Lukian and her team are so successful in determining the best treatments for each and every client. Every person is different, with different skin concerns and aesthetic goals. By tailoring quality treatments that bring real results to her clients, Dr. Lukian has earned the trust of thousands of patients.
And another thing that makes Dr. Lukian and her team so successful in practicing aesthetic medicine is their passion for their work and their clients. Lucia's team never lacks inspiration and goes the extra mile to fulfill the aesthetic needs of those who visit Lucia Clinic. The end results are always better than expected – clients simply love their naturally enhanced, rejuvenated and refreshed appearance. Dr. Lukian's philosophy is to take care of the client's well-being and not create unnatural results. Natural-looking results are the most beautiful – this is what stands behind Dr. Lukian's vision of beauty and what every client really appreciates.
"Our commitment to combining medical expertise with a passion for beauty sets us apart and has made us known for our natural and rejuvenating results."
And that's a real art – Dr. Lukian has found that perfect balance between new developments and techniques and the holistic approach when treating her clients. What she really wants for her clients is to help them get their inner light to shine on the outside. Light is what the name Lucia actually represents and clear and rejuvenated skin is full of light.
Lucia's team uses a wide range of safe, advanced and effective techniques and treatments such as RF, lasers, LED lights and others. These cutting-edge procedures are of the highest quality – this is something Dr. Lukian and her team are really proud of. Safety plus natural-looking results is a winning combination for all of Lucia's clients.
But it's not just about introducing the latest techniques – it is more important to understand how these technologies work and what results they achieve. Dr. Lukian and her team are experts in using these new technologies that enhance the natural beauty of their clients and resolve their skin concerns. Only by creating customized and safe treatments, you can achieve the best results. So, Lucia's team is truly devoted to bringing their clients' skin to perfection and achieving top aesthetic results. When the clients are satisfied with the end results, their confidence shines through – this is so precious for Lucia's team.
"Our clients come to us with various concerns, ranging from fine lines and wrinkles to sun damage and uneven skin tone, and are looking for solutions that can help them look their best and feel confident in their own skin."
Dr. Lukian really has a huge range of patients with different skin types – this is a privilege of working in Dubai. Dr. Lukian and her team have helped thousands of patients with various skin types and tones which actually made them experts in finding the best procedure for every client. In the end, all their clients want to feel and look their best and this is achieved by carefully assessing of their skin concerns.
There isn't one treatment that can help everyone – every client deserves special attention and special care. It's challenging to work with so many different skin types but it's also fulfilling and exciting.
Lucia Clinic's clients ask for different treatments, including anti-aging and rejuvenating procedures – they want to look refreshed and more youthful but with natural results. What's especially important for Dr. Lukian is to educate her clients about their skin type and the best treatments for their skin. This knowledge is precious for her clients because they realize what actually works for their skin type and brings them the results they desire.
That's why creating a bespoke treatment for every client is what makes Lucia Clinic exceptionally successful in achieving rejuvenated and natural-looking results. There is nothing more beautiful than naturally enhanced features.
"As a dermatologist, I believe in taking a holistic approach to patient assessment."
Without a careful assessment of the patient's skin, you can't find the best and most effective treatment for the patient's skin concerns. But the assessment also includes medical history, skin type, and lifestyle – that's all important for Dr. Lukian when she has a consultation with the client. She openly discusses patients' needs and aesthetic goals. After all this, her patients know that they will get the most suitable treatment which will bring them natural-looking and beautiful appearance.
We live in a fast and dynamic world, especially in a city like Dubai. But skin assessment can't be done quickly – it takes some time to get to know the patients and their skin. Dr. Lukian is the best at what she does because she really listens to her patients and then she gives her recommendation about the most effective treatments. That's why so many clients trust her and feel safe – they know that Dr. Lukian will pay them individual attention and care.
"At Lucia Clinic, I am grateful to have welcomed many high-profile individuals from the entertainment, sports, and fashion world."
Over the years, Lucia Clinic has become a beauty sanctuary for many VIPs like Lindsey Lohan, Eva Longoria, Naomi Campbell, Sania Mirza, Huda Kattan… We can also mention Bollywood stars, sports champions, successful entrepreneurs and influencers. Lucia Clinic is their premier destination when they visit Dubai. This tells a lot about the quality of Lucia's services and the dedication of Lucia's team – it is exceptional.
But, Lucia Clinic's doors are open to people from all walks of life – every client gets professional and respectful treatment. Let's not forget that Dr. Lukian's mission is to fulfill the aesthetic goals of each and every client, whether that client is a celebrity or not. Her end goal is to help everyone feel more confident and rejuvenated with her outstanding aesthetic procedures.
"As a dermatologist and founder of Lucia Clinic, I am constantly evaluating the latest trends and techniques in aesthetic medicine."
Although it's important to follow the trends in aesthetic treatments, sometimes the trendy procedure isn't for everyone. Dr. Lukian openly shares her concerns with her clients if she believes that some popular treatment wouldn't be effective for their skin concerns. We must remember that Dr. Lukian wants to keep her clients safe and happy with the results – long-term, natural-looking results are something that she always aspires.
For example, the threads procedure is very popular now, but it isn't suitable for everyone. Therefore, Dr. Lukian carefully examines the client's skin before she recommends threads. If she determines that threads won't bring the desired results, she is more than happy to recommend an alternative procedure. That's what counts in the end – the best outcomes for every patient. Achieving harmony between the face and the rest of the body is the best option – anything too altered and unnatural is out of the question for Lucia's team.
"As a dermatologist, I view my role as one of guidance, education, and support."
Dr. Lukian is responsible for her patients and helps them to understand their skin and the ways they can improve their skin appearance. That's why she is always honest with her patients and recommends treatments that will specifically address their skin concerns – even if they had something else in mind.
Giving a clear explanation of why some treatments won't work is very important for Dr. Lukian. But as we said so many clients trust her completely and feel safe in her hands. This is because Dr. Lukian truly believes that looking after the patient's well-being is more important than performing an unsuitable procedure at any cause. In the end, getting those beautiful results is what counts – Dr. Lukian's patients understand this very well.
"At Lucia Clinic, we are committed to providing safe and effective treatments that help our patients look and feel their best."
We live in a different time now, where people are more open to aesthetic and surgical enhancement. The stigma about aesthetic treatments belongs in the past. Dr. Lukian, a leader in aesthetic medicine in Dubai understands this very well and believes that having aesthetic treatments is one way of self-care and wellness. This is something that is earning more and more respect – taking care of your skin in a natural and safe way.
Effectiveness and safety are two features of Dr. Lukian's treatments. And educating her clients about what these treatments can do for their skin and how they can help them feel and look their best. When clients know everything about a certain procedure, they are more open to having it and achieving their personal aesthetic goals. That's why Dr. Lukian and her team are always there for their patients – their ethical and responsible approach to their clients is something that singles them out.
Dr. Lukian will keep taking care of her clients and their skin… Once you find your passion, nothing can stop you from pursuing it.
Thank you VogueArabia for interviewing our brilliant Dr. Radmila.