WHEN WOMEN SUPPORT EACH OTHER, NOTHING IS IMPOSSIBLE AND AMAZING THINGS HAPPEN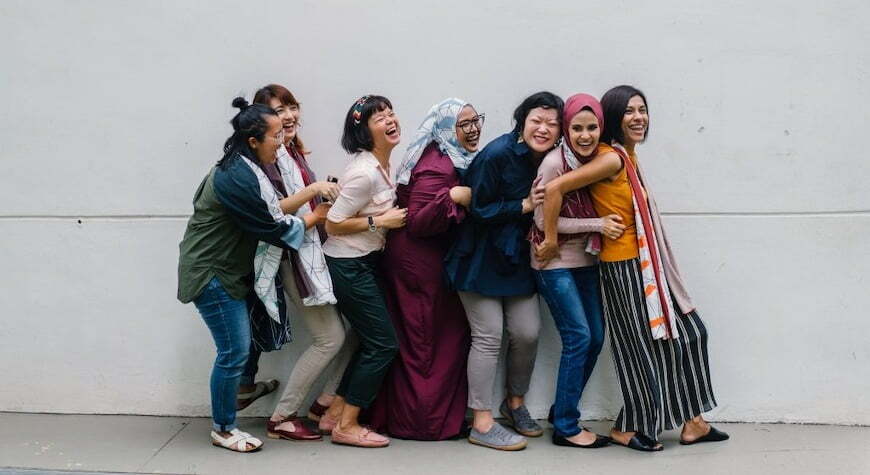 Today is International Women's Day – the right moment to appreciate the incredible women behind the incredible Lucia Clinic. Dr. Radmila Lukian, together with her wonderful team has proven so many times that the talent, strength and determination that women poses can accomplish so much. They communicate with women of all ages every day – some have difficult stories, some are carefree. But when they start their journey towards revealing their natural beauty they all feel great because Dr. Lukian and her team do their best to make every experience comfortable. They know that a friendly and approachable manner goes a long way and this is something that makes this clinic truly unique.
With her passion and desire to help others feel and look beautiful, Dr. Lukian has earned the trust of so many clients all around the world, who are applauding and congratulating her from the bottom of their hearts on this special day.
‍
"Dr. Lukian, today is your day." – Maria Bravo
This exceptional woman is a successful entrepreneur and Chief Executive Officer at Maupy Worldwide and Global Gift Foundation. Ms. Bravo has put together all her business knowledge to advocate philanthropy and bring nothing but positive changes in the world. This amazing lady founded a prosperous company that organizes fundraising events that unite celebrities, charities and other corporations in one goal – to help other people.
Today she is congratulating another successful woman- Dr. Lukian. Ms. Bravo recognizes Dr. Lukian's determination and above all her passion for creating something great and that's helping all her clients feel beautiful. With her gentle nature but also her strength, Dr. Lukian has earned the trust of so many women and become one of the most respected aesthetic dermatologists in the world. Ms. Bravo always feels exceptional when she visits Lucia Clinic because she knows that she's in good hands. Ms. Bravo, thank you for supporting Dr. Lukian and Lucia Clinic. You are truly special…
‍
"Any women-led business is something to celebrate." – Sania Mirza
This is so important in today's world because, as Ms. Mirza states, it is an example of women's empowerment. This amazing lady is an Indian professional tennis player who has won six Grand Slams and was India's number one player until she retired from singles. This talented athlete has achieved so much throughout her successful career and became one of the 50 Heroes of Asia and one of the 100 most influential people. She certainly makes her country so proud.
Today she is talking about how much she respects and trusts Dr. Lukian and Lucia Clinic. She really loves coming to Lucia Clinic because she knows that Dr. Lukian will help her feel radiant and take care really well of her skin and hair. Ms. Mirza has confidence in Dr. Lukian because she always gives her the best advice and never fails to achieve the results that Ms. Mirza expects. Every time she visits Lucia Clinic, she has a great experience and Dr. Lukian has really helped her a lot on her journey to revealing natural beauty.  Dr. Lukian has been in the business for a long time and has an incredible gift to offer each and every client exactly what they need for their skin. Ms. Mirza has found her beauty haven where she always feels relaxed, pampered and delighted. Apart from that, Dr. Lukian's friendly approach has won Ms. Mirza over.
Celebrating the achievements of other excellent women is so important, as Ms. Mirza said. When one woman supports another, it is an outstanding example of empowerment and self-confidence. Together, women can make positive changes in the world and when equal opportunities are given to them – the sky is their limit. Thank you for speaking so warmly about Dr. Lukian and Lucia Clinic – we love you, Sania Mirza…
‍
"Dr. Lukian, you are so amazing and so good with everybody" – Carla DiBello
Carla DiBello is another exceptional lady – a successful businesswoman and executive television and film producer. She is a founder of a consulting firm that facilities new opportunities for business in the Middle East – entertainment, art, real estate, and other lines of work. This incredibly inspirational lady is also a columnist for Arab News and Harper's Bazaar Arabia.
Today, on International Women's Day, she is thanking Lucia's Team of intelligent and talented women, led and supported by Dr. Lukian. They have all helped her on her journey towards proper skincare. Ms. DiBello completely trusts Dr. Lukian's experience and creativity in the world of aesthetic dermatology. Dr. Lukian's results show it all – Ms. DiBello found her beauty sanctuary in Lucia Clinic. Another thing that was important to her was the friendly and approachable atmosphere – she found an abundance of it in this clinic. Dr. Lukian's warm personality really won Ms. DiBello's heart. A smile goes a long way. Even though Dr. Lukian runs a successful aesthetic and dermatology clinic, she never forgets to smile and be kind to everyone. And these smiles and friendly nature are shared by all members of Lucia Clinic. Ms. DiBello, you have really made this day special for Dr. Lukian and Lucia Clinic. Thank you so much for that…
Dr. Lukian and her dedicated team have helped so many women feel great about themselves. And when they see how these women are returning their radiance and with it their self-confidence, they feel empowered to continue to spread their magic. Apart from sharing the experience of their clients, Dr. Lukian and her team never forget to support and inspire each other to become even better, to expand their knowledge and to present their clients with all the latest innovations in aesthetic and dermatology world. Lucia Clinic is without a doubt a wonderful example of a successful women-led business that has won the love and trust of so many people with its professionalism, dedication and expertise.
Let's always remember the words of Michelle Obama -There is no limit to what we, as women, can accomplish.