21 AMAZING BENEFITS OF DERMAL FILLERS THAT WILL CHANGE YOUR VIEW ON AESTHETIC DERMATOLOGY FOREVER
Today, we are going to help you overcome confusion when it comes to Dermal Fillers and talk about their purpose and benefits.
Find out how you can restore your youthful-looking skin and add plumpness to your face.
TABLE OF CONTENT:
Hyaluronic acid fillers are preapproved by your body
Non-HA fillers have their benefits
One injection of dermal filler can smooth and plump your skin so much
Add volume and shape to your lips
Smooth out your laugh lines
Contour your jaw and chin
Tech-neck lines are out
Eliminate the hollowness under your eyes
Invigorate your hands
Firm your earlobes
Treat acne scars with the game-changing procedure
Enhance your cheeks
Get rid of hollow temples
Liquid nose job – contour your nose
Liquid facelift – enhance your face
Lift your brows and your eyes will pop with brightness
Maintain, sculpt and define with fillers
Men, return your edge with fillers
Is a good injectable detectable? No
Extend the results of fillers with a few simple tricks
Get a customized plan for touch-up treatments
1. HYALURONIC ACID FILLERS ARE PREAPPROVED BY YOUR BODY
Imagine you are buying shoes – there are sneakers, flats, heels and so on. You wouldn't buy heels if you're not a big fan of them. You would buy the ones you need. It's the same with fillers in the way that they can be of different types and do different things. When you know this you will get the best results from your dermal filler treatment.
The doctor is examining the patient's face before creating a customized Dermal Fillers treatment plan
Hyaluronic Acid Fillers are anti-aging favorites. It's simple -HA is already present in your body, so these fillers actually work in your service. They restore lost hyaluronic acid and are biodegradable and biocompatible. This feature of HA Fillers is awesome because your body easily accepts them and treats them as natural HA. Plus they hydrate and regenerate your skin.
Imagine a foundation matrix for your skin -that's what HA Fillers provide. HA can retain water more than 1000 times its weight and it binds elastin and collagen by transporting important nutrients to these fibers.
But,
When we turn 28 we lose 1% of HA every year.
So, it's time to do something about it. HA Fillers make up for the loss of Hyaluronic Acid and boost collagen and elastin.
Collagen and elastin work as super supporters of the structure of your skin so it's a good idea to have an abundance of them.
HA Fillers can have different properties which determine their performance. But, the thing which makes them beloved is the strong Hydrogen bonds. This is what keeps them stable and manufacturers don't need to use chemicals to achieve their stability.
These natural  bonds are a plus which makes HA Dermal Fillers suitable for almost everybody.  
If you are wondering how HA Fillers behave when they are injected, don't. They are gel-like and are invisible under the skin. They stretch and compress as your muscles move – you don't even feel them.
Superficial and deeper HA Fillers
 This is another thing that differentiates HA Fillers – the depth of their injection. If they are injected only into the superficial layers of your skin they need to spread over the connective tissue and sit smoothly in those layers.
If they are injected into deeper layers they need to support and give volume to your skin and not spread out easily.
One feature of HA Fillers which really comes in handy especially if you are not satisfied with their appearance is that they can be easily dissolved by a special solution. Not that you will need this, because if fillers are done by a doctor there is a small chance of an adverse event.
One more thing that will put you at ease if you shy away from needles is that HA Fillers contain a numbing agent so you won't feel uncomfortable during the treatment.
NOT ALL HYALURONIC ACID FILLERS ARE THE SAME
This is something worth remembering because it will help you understand why your doctor is using a thicker filler in one facial area and a lighter filler in another.
It's pretty simple – Fillers have different densities or more specifically different G Prime. A high G Prime means that the Filler is thicker and is awesome for building facial structures like cheekbones for example.
The point is that some HA Fillers are used to fill and smooth only superficial wrinkles, while others are best for moderate to severe wrinkles. Also, some can be injected to add volume for mild lifting and contouring the face while others are perfect for lips augmentation, filling deep folds and restoring general fulness of the face.
2. NON-HA FILLERS HAVE THEIR BENEFITS
Different fillers do different things. This actually means that fillers have different textures, injection depth and density so some work better for specific areas than others. If you want to enhance your lips you will get softer fillers while if your goal is to enhance cheekbones you will get thicker fillers. It's that simple.
The good news is that there are a lot of dermal fillers that  are FDA-approved. Always look for these fillers and also famous brand-name  fillers because you'll know you are on the right track.
 And of course, only let the experienced dermatologist get close to your face with injections.
Poly-L-Lactic Acid or PPLA is a unique filler because it boosts the production of collagen and fibroblast. It dissolves after a few days and stimulates your body to produce collagen.
It takes sometime for this filler to kick in and give results – approximately 6 months. This is what makes the major difference between PPLA Filler and other fillers – it doesn't give you immediate results. But once that new collagen is produced, the results are completely natural and the effects last up to two years. That's something don't you think?
It is an awesome filler for adding volume and smoothing deep wrinkles and it gives your face a great structure and frame.
Calcium-based microspheres Filler is in a form of a water-based gel. Calcium hydroxylapatite is something that we all have in our bones. It's used in reconstructive surgery and dentistry and it's very safe. As a Dermal Filler, it can give you immediate and extended results – it boosts collagen production and tissue regeneration.
This filler is perfect for improving moderate to severe wrinkles and folds and for cheek augmentation. It gives your facial skin a nice structure and firmness.
It is also soft and gel-like but thicker than HA fillers – this makes it last longer than HA fillers. It can stay in your treated area for 12 months.
Polycaprolactone Filler (PCL) is biodegradable and absorbable and can be used for defining facial features, correction of asymmetries and of course filling up wrinkles.
It boosts production of collagen and increases elastin and hyaluronic acid. As we all know, these three things firm and hydrate the skin and make it more elastic. Once the collagen is built up the skin looks completely rejuvenated. This filler is different than others in the sense that it can stay for a really long time – up to 4 years. And since it is biocompatible it shouldn't cause any adverse reaction.
Word of advice:
 Since it is not a natural substance you might want to use it  in small amounts first and then add if necessary.
KNOW WHICH FILLER IS THE BEST FOR YOU
As we said, each filler is different and has its advantages. Different fillers have different textures, densities and duration so you can't use the same filler to plump your lips and enhance your cheekbones for example. Also, the severity of your facial wrinkles will determine which filler will work for you.
Remember:
Dermal Filler  that worked for your friend might not work for you.
But if you decide to try Dermal Fillers you are not alone – your doctor will help you choose the best treatment option. There is a thorough consultation before the procedure which involves examining your facial anatomy and taking all your skin concerns into account. The doctor determines what kind of wrinkles you have, which areas you would like to address and how long you wish the results to last.
Also, your doctor needs to understand what you wish to get from the treatment so just be open and say all your goals and expectations from filler treatment. Only then you can truly achieve the best outcomes and of course, be satisfied with your new look.
3. ONE INJECTION OF DERMAL FILLER CAN SMOOTH AND PLUMP YOUR SKIN SO MUCH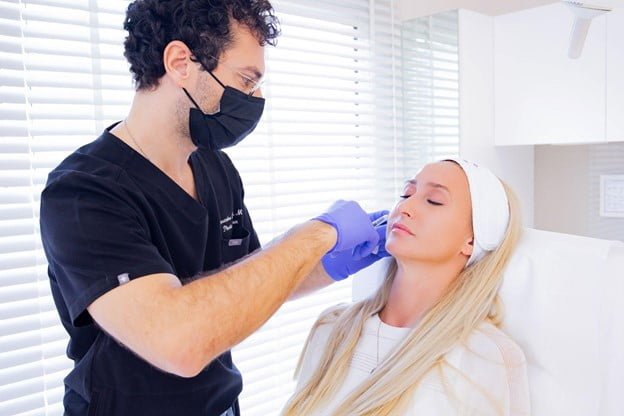 The doctor is injecting a proper amount of Dermal Filler into the patient's cheekbones
So, you have decided to try Dermal fillers because you are bothered with your facial wrinkles and folds or with your sunken cheeks. But you don't want to go overboard, and that's OK because in the case of Dermal fillers less is more. With the proper amount of this aesthetic enhancer, you can achieve complete rejuvenation of your skin in a natural way. You don't want your face to look like a pillow.
So how much filler is enough?
If placed correctly only a few milliliters.
It also depends on the product and on how old you are.
If you are in your forties, fifties or sixties, generally you need from 3 or 4 ml. If you are in your late twenties or thirties, you can get awesome results with 1 to 2 ml. But, it's all individual.
It's also individual when we talk about different areas of your face. So let's cover them area by area.
Lips – usually it is only necessary to get half or one ml of fillers.
With half, you get a subtle and very natural result. With one ml, you get noticeable but still natural results.
Temples– it is a larger area so 1 ml for each side is usually enough.
This amount of fillers adds volume to this sometimes overlooked facial area and makes it youthful-looking again.
Jawline and lower face – 1 to 2 ml per side are generally enough.
Cheeks – for the mid-cheeks half to 1 ml is generally used. For lateral cheeks one ml on each side is enough.
This amount of fillers will restore the volume in this facial area and bring you dramatic improvements.
Hands – there are different products that can be used and generally, from 1 ml per hand is injected.
Teartrough – from only half ml per side is enough if you had fillers done in the upper cheek first for support.
Wrinkles and scars – half to one ml, depending on the area.
You don't need to treat your whole face with fillers, maybe you just have one or two areas that have significantly lost volume or you have deeper wrinkles there. Focusing on those areas can make a big difference with only a single treatment.
So, consult with your dermatologist first. In the end, they are here to help you get the best results.
Just keep in mind that
The best results are the natural results.
4. ADD VOLUME AND SHAPE TO YOUR LIPS

The doctor is massaging the patient's lips after administering Dermal Filler
Some people have naturally plump and full lips, but maybe you don't fall into this category. And also as your lips are maturing they become thinner – again this doesn't go in your favor. This can all change with this simple treatment and a small amount of Dermal fillers. Your overall look can dramatically change.
All you need is a few treatment sessions -take it slowly.
Why?
You will gradually get used to fuller lips  and avoid over-plumping them.
Over-plumping lips can easily happen if you go over the top and get too many fillers (you might have noticed it on some celebrities). Let's face it – it doesn't look natural and therefore it is not attractive.
But again you are not alone in this process. Together with your doctor, you will work out how much of the filler you actually need to achieve the desired results.
Usually,
The lower lip needs more and the upper lip needs less or very  little of the filler.
 This way you are guaranteed to get a natural look.
You want to enhance your lips but it doesn't have to be obvious that you had fillers.
The most popular lip fillers are HA Fillers because they plump your lips but also keep them hydrated. Remember that HA can hold a large amount of water which actually gives you a more natural look.
The best part is that lip fillers can last between 6 to 18 months and you can kiss almost right away – there is minimal to no downtime.
In the end, Dermal Fillers can make your lips fuller or they can be a great anti-aging treatment for restoring lost volume. You can change the shape of your lips and give them a better structure and get a better smile. Just imagine your new and perfect smile on your selfies.
5. SMOOTH OUT YOUR LAUGH LINES

The doctor is injecting Dermal Filler into the patient's Nasolabial folds
Can you imagine yourself never smiling because you want to avoid laugh lines? Of course not. Laughing is a normal part of our lives, but it does bring those annoying lines around our mouths. You can't avoid them especially if you are over-expressive. Add maturing to that and you end up with deeper lines and folds that make you older than you are – nobody wants that. But Dermal fillers can help you make them less visible and still keep all your facial expressions.
You might have heard some other names for laugh lines like Nasolabial folds and Marionette lines.
 Smile lines are formed further outward than the nasolabial folds.
 Nasolabial folds are the lines that form from the bottom of your nose to the corners of your lips. They can also appear because of the loss of volume in your cheeks. Fillers are injected right in those folds and make your skin instantly plumper and youthful-looking. If your nasolabial folds are severely deep you can even get fillers in the surrounding area which restores the volume that is lost and softens these folds.
Even though the procedure is not permanent it can last you for 6 to 12 months.
Marionette lines are not so much formed because of laughing but more because of aging and loss of fat in the upper part of the face. The skin sags downward and forms these folds which make you appear sad even if you don't feel like that.
These lines can be pretty deep so Dermal fillers work like a charm here. They plump the folds and give you a smoother appearance. You can even get fillers in your cheeks to give them more volume and make up for the lost fat pads. Your skin gets subtly lifted and marionette lines get reduced.
HA Fillers are awesome for all these facial wrinkles and will bring your skincare to the next level – they will take years off your face.
6. CONTOUR YOUR JAW AND CHIN

The doctor is contouring the patient's jawline with Dermal Fillers
There are a lot of reasons why people are unhappy with the look of their jawline or chin. It could be their age that makes the lower area of the face sag. It could be genetics and they are predisposed to having a small chin or weak jawline that makes their face appear disproportionate.
If you are dealing with similar aesthetic concerns then Dermal filler is a great option – they can re-contour this area of your face.
Even though beauty is in the eye of the beholder, a strong and prominent chin and jawline appear more attractive. The amazing feature of Dermal fillers is that they can make your lower area of the face more proportionate looking together to the rest of your face.
Heard of the Golden ratio?
If your face  is better proportioned it is more attractive.
If you have a short or squared chin, chin fillers can make your face appear longer and slimmer.
Small enhancement of your lower facial area can do so much for your general appearance.
If you want to contour your chin, you will get fillers injected right into the chin which will make the skin firmer and make it more defined.
If you want to enhance your jawline, you will get fillers injected again into your chin and in the corners of the jaw. Maybe even in the cheekbones which will additionally lift your jawline.
After the treatment, your chin and jawline will be more pronounced and better-contoured and you will finally be able to have that ideal facial profile.
7. TECH-NECK LINES ARE OUT

The doctor is examining the patient's neck before determining the Dermal Fillers injection sites
Are you keeping your chin down while you are reading this?
You can guess right away that these lines appear after spending a lot of time in front of the computer or mobile. The repeated motions of your neck lead to the so-called tech neck. If you look down at the screen and bend your neck downwards chances are you got these lines -the skin on your neck is constantly folding and these horizontal lines are formed. Dermal fillers can restore the smoothness of your neck and make it look youthful again.
We should point out that these lines also appear because of aging. The skin on your neck is much more delicate so it easily gets wrinkled and loose.
Be that as it may, Dermal fillers do wonders in both cases of necklines. The results are instant – the skin on your neck looks plumper and smoother.
What if your tech-neck lines extend down to your décolletage?
 This is not surprising because the muscles in your neck are almost always moving and can lead to crepey skin on your décolletage.
You can easily solve this by having fillers injected into this area of your body.
You will get two things – rejuvenation and  hydration of your décolletage.
So with one treatment you can get rid of tech-neck lines and make your décolletage plumper and firmer.
‍
8. ELIMINATE THE HOLLOWNESS UNDER YOUR EYES

The doctor is improving the appearance of the patient's tear troughs
The eyes say so much. They are perhaps the most beautiful part of the face. They can lose their brightness so easily as the years pass and the skin underneath them loses collagen and elastin. With the loss of these super important proteins, the skin loses its volume and structure and turns hollow. Have you noticed this? If yes, then it's time to tackle it with the help of fillers.
This hollowness we are talking about is sometimes also called the tear trough. You can easily restore the plumpness and lost volume underneath your eyes with Dermal fillers.
Fillers will provide you with instant results and also boost your skin to produce more collagen – this area of your face will get even more volume in the long term.
Just remember that-
The skin in this area is one of the most delicate on your body  and the Filler treatment must be done only by a doctor.
 You don't want to end up with adverse reactions.
The fillers used for treating hollowness underneath your eyes have HA and are gentle but also powerful when it comes to plumping your skin.
You can enjoy the effects of this filler treatment for 6 to 12 months and then you can get an additional touch-up.
Apart from treating hollowness, fillers will reduce dark circles, fine lines around your eyes and eye bags.
So forget about feeling uncomfortable because you appear tired and stressed because of the way your eyes look. With Dermal fillers, your eyes will restore their brightness and you will look fresh and rejuvenated.
9. INVIGORATE YOUR HANDS
Similar to the area underneath your eyes, the skin on your hands is also very thin and becomes even thinner with age. Just imagine how much you expose your hands to different environmental factors like sun, water, wing or just simply wearing away. They are sometimes even more exposed than your face. So, you end up with hands that have blemishes and wrinkles or a crepey appearance. If you can relate to this then you will be pleased to hear that Dermal fillers can rejuvenate your hands by restoring the firmness and smoothness to their skin.
So how do Dermal Fillers do it?
When you get fillers injected into your hands, they immediately plump them up and make wrinkles, bones and veins less visible.
Your doctor strategically injects the fillers and massages them into their place. This way the fillers shape around the contours of your hands and don't limit any of your movements.
Remember,
Always go to  a skilled doctor who has plenty of experience in injecting Fillers  into hands.
This way you will be certain that this doctor understands hand anatomy and also will know how deep to inject the fillers. If it's too deep the fillers won't last that long. If it's too close to the surface of the skin they will be visible. You definitely don't want that because your final results won't be natural-looking.
10.FIRM YOUR EARLOBES
Before and after photo of Dermal Fillers treatment for the earlobes rejuvenation
You probably don't pay much attention to this part of your body but as you age you will definitely notice them more. With time earlobes start to sag especially if you wear heavy earrings. Or they can also get wrinkles and fine lines. Luckily and somewhat surprisingly, Dermal fillers can tighten your earlobes and plump them up.
Using dermal fillers in your earlobes will eliminate creases and lines and add volume – your earrings will look much better against your face.
Where are fillers injected?
The doctor injects the filler all over your earlobe especially in the areas where your skin is droopy or very thin.
Good news:
You need only a tiny amount of fillers to get  the best result.
Again if you get too much your ears will look swollen.
Fillers used in your earlobes last longer than fillers used in other facial areas.
11. TREAT ACNE SCARS WITH THIS GAME-CHANGING PROCEDURE
Acne scars can be pretty tricky to treat. You might turn to chemical peels or laser therapy and get good results. But this depends on the type of acne scars you have. Since there are different types of acne scars that are difficult to clear, the good news is that dermal fillers can help you even here.
Dermal fillers work best if you have depressed or rolling acne scars.
As dermal fillers are injected underneath your scars they get lifted up and evened out with the surrounding skin. You get smoother and brighter skin.
One more thing – injected dermal fillers will trigger collagen and elastin production. Your skin starts to heal itself and gradually makes the scars less visible.
There are also types of fillers that can break up the bands in your skin that are responsible for scars and make the existing scars less noticeable.
When it comes to the amount of filler for acne scars, typically you need 1 to 2 ml, but it is all individual.
Fillers used for acne scars are HA fillers because hyaluronic acid is already present in your body and there is little to no risk of inflammation. Your dermatologist can create a customized treatment plan just for your acne scars issues.
What's great about fillers, in this case, is that they give you immediate results and almost no downtime. They are less invasive than some other acne scar procedures and improve your skin during the next couple of months.
If you are wondering whether your acne scars will return after fillers wear off that's Okay. Fillers are temporary and their effects can last for a few months to a whole year.
So, your acne scars might return to some extent, but they will never be as severe as before you got the fillers. And you can solve this with a simple touch-up treatment once a year.
‍
12. ENHANCE YOUR CHEEKS

The doctor is enhancing the patient's cheekbones with Dermal Fillers
If you desire better contoured and well-defined cheeks, dermal fillers are perfect for you because they give support to your facial tissue. The need for dermal fillers may come from the loss of volume in this area of your face because the density of the bone has reduced and the skin has started to get thin.
Dermal fillers are injected around and above your cheekbones and voila – you instantly get better-defined bone structure. Also, you get another benefit – fine lines and wrinkles smooth out in this area.
Of course, a proper amount of dermal fillers just give you a naturally lifted look.
Getting too  much filler in your cheeks will make your face look like an overinflated  pillow – you will constantly appear swollen.
This is not the look you wish to achieve.
The best fillers to use for cheek augmentation are HA and polylactic fillers. They are temporary and will give a nice structure to your cheeks. Fillers will add volume and hydration to your cheeks and you will instantly look younger and refreshed.
‍
13.GET RID OF HOLLOW TEMPLES
Another great benefit of dermal fillers is that they can add volume to your temples and create a healthy and symmetrical look to your face. If you have a long narrow face you definitely know what we are talking about and notice your hollow temples even more. With dermal fillers, you can restore a round-looking face again.
Again, here it is crucial to know who is doing the procedure in order to avoid complications like optical nerve damage. A skilled dermatologist will use a cannula here to make sure that the filler goes to its proper place at the right angle and not cause damage to the surrounding nerves.
If you are wondering what a cannula is – it is a thin tube used in dermatology for many procedures and administering dermal fillers is just one of them. It's a better choice in this case because a needle could damage the nerves in the temples or send the filler to the wrong place.
So, make sure  to double-check who is performing dermal fillers for the temples procedure.
The best fillers that are used here are again HA and PLLA fillers. The PLLA fillers take some time to kick in and boost the production of collagen but the effects can last for years.
With HA fillers you will get instant results that will last for a year and a half approximately.
Both fillers are great for filling in the hollow areas and replacing the fat loss in your temples.
TIP: If you get fillers that promote collagen  production, massage the area every day to prevent the appearance of lumpy  nodules.
14. LIQUID NOSE JOB – CONTOUR YOUR NOSE
You've heard about a surgical nose job or rhinoplasty – maybe you have even considered getting it. But you changed your mind because of various reasons – cost, long recovery time, fear because it's permanent and so on. The good news is that there is an alternative – dermal fillers.
Yes, you can even get minor changes on your nose with fillers. You can visually reduce bumps or lift droopy tips. With fillers, you can add extra volume to your nose, improve symmetry and contour your nose profile. The final result is a straight nose and a narrow profile.
The downside of liquid rhinoplasty is that you can't reduce the width of your nose. So if you already have a wide nose, fillers are not a good option for you.
The best part is that the results are immediate. You don't have to wait for swelling to settle after surgery to see what your nose looks like.
You leave the clinic with a new nose the same day you came.
 This is ideal if you want to reshape your nose for a special occasion and you don't have a lot of time to spare.
But getting a liquid nose job isn't a straightforward treatment and it must be done by a professional –  doctor with a good knowledge of nose anatomy and a good eye for aesthetics. You see, the dermatologist must inject the filler very carefully as if he/she is grafting your nose with cartilage. But before all this, the dermatologist assesses your facial anatomy and sees how your nose and chin are balanced. To get a perfectly balanced profile the whole face needs to be examined.
As with all the fillers, liquid rhinoplasty is not permanent which is great because if you don't like the results you are not stuck with them forever. If you got HA fillers, you can get them easily dissolved. Or just wait for them to get naturally absorbed by your body.
But if you  really like the way liquid rhinoplasty improved your appearance, you can  decide to get a traditional nose job surgery – you will already know how your  nose will look, so it's great for reducing the anxiety about the results.
‍
15. LIQUID FACELIFT – ENHANCE YOUR FACE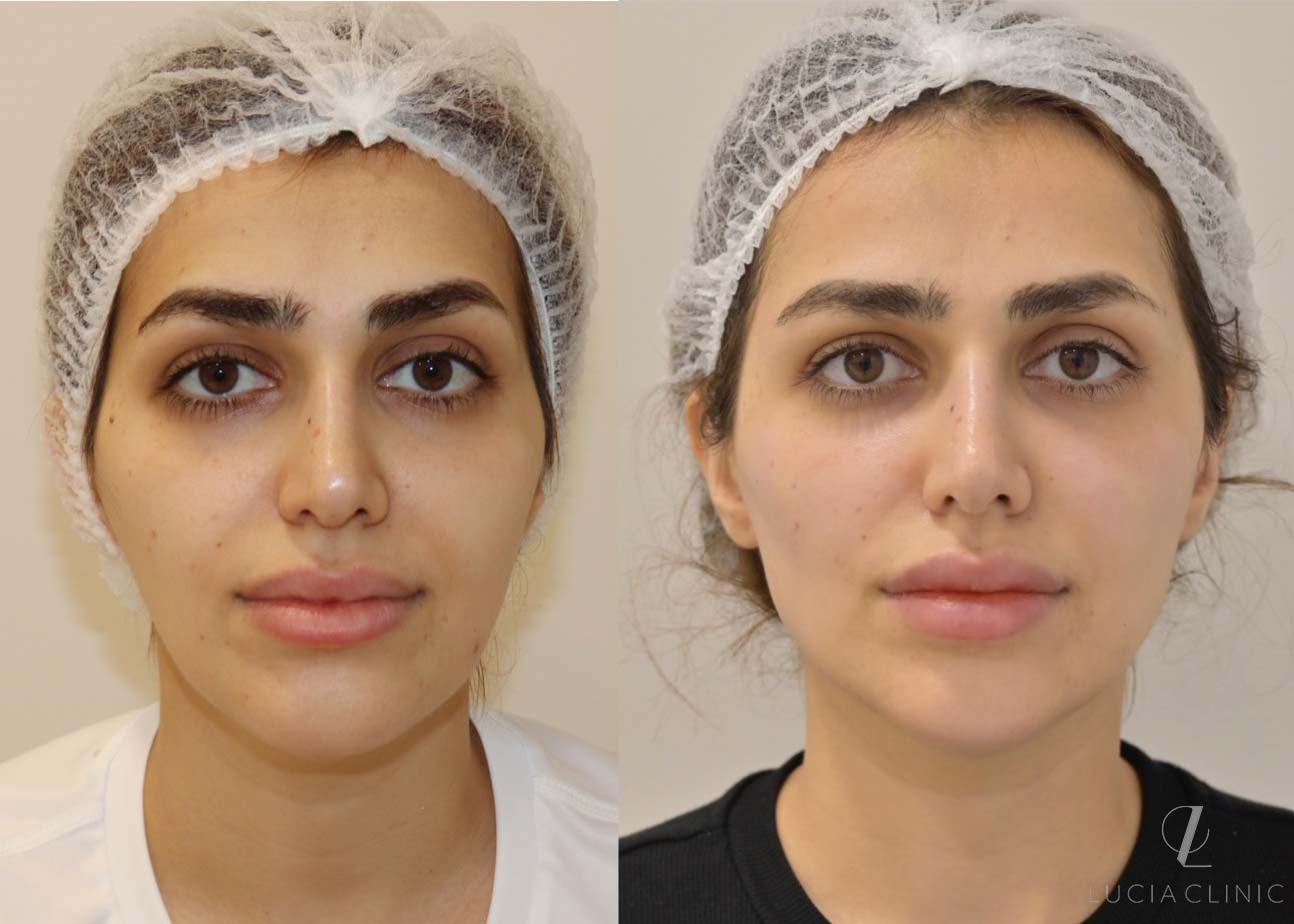 Before and after photo of Dermal Fillers treatment for enhancing the whole face
If you have decided to try out fillers and you want to enhance your whole face – good idea! As fillers are much less invasive than traditional facelift surgery, you get immediate results, rejuvenate your face, soften wrinkles and fine lines and plump your skin all at once.
A liquid facelift is a brilliant procedure that fills all the places where you have lost volume because of the loss of collagen and elastin. With fillers, you fight gravity and aging signs – and you win.
When compared to a traditional facelift, a liquid facelift is less painful, safer and the recovery time is much shorter -you can go to work the next day.
It brings a lot of benefits as the facelift does but it also plumps your skin, while facelift stretches your skin. So, with the liquid facelift, you get more subtle and natural-looking results.
Generally, a liquid facelift is perfect if you have mild to moderate wrinkles or sagging skin – in your 30s or 40s.  You can get fillers injected under your eyes, around your cheeks, chin and jowls, in your temples, next to the eyebrows and into nasolabial folds. But you don't need to do all that – you can treat just some areas of your biggest concern.
The most used fillers, in this case, are HA fillers but your doctor may choose different ones all depending on your skin problems and areas you wish to enhance.
What's amazing about this treatment is that it can be easily combined with Botox and achieve even better results. Botox can be used in the areas which have deeper expression lines like wrinkles between your eyebrows or around your eyes. Constant movements of these areas can lead to breaking down the fillers more quickly, so Botox is a better choice here because it relaxes the muscles that make these movements and these areas remain smoother and wrinkle-free for a longer period of time.
Another thing that is awesome about a liquid facelift is that you can get all fillers during one session or you can spread the injections and get them during the next session.
During this time you can see the results  gradually and slowly get used to fillers.
This also gives you some time to see if you like the results. Because if you do you will gladly commit to regular touch-up treatments and make the effects of fillers longer-lasting.
‍
16. LIFT YOUR BROWS AND YOUR EYES WILL POP WITH BRIGHTNESS
Your brows often are the first sign that your skin is maturing – they sag along with your forehead and make your eyelids look heavier and eyes smaller. But you can easily reverse this with fillers – they instantly improve the hollow areas on your forehead and provide support to your brows. They also plump your skin.
When injected, fillers lift your eyebrows and give you a more open and refreshed look. Brow lift with fillers is perfect alternative to surgical procedure – it is cheaper, easier and doesn't require along downtime. Not to mention – it gives you instant results.
Another benefit of this procedure is that it can improve balance and facial asymmetry.
So, your doctor will apply a proper amount of fillers into the area of your eyebrows – your eyebrows will be lifted and more voluminous.
The end results should be natural-looking -arched and pronounced eyebrows and open, alert eyes. These are perhaps one of the most wanted facial features.
If injected properly, fillers can last for 6 to 9 months.
So make sure to choose a qualified doctor who uses fillers of the best quality.
‍
17. MAINTAIN, SCULPT AND DEFINE WITH DERMAL FILLERS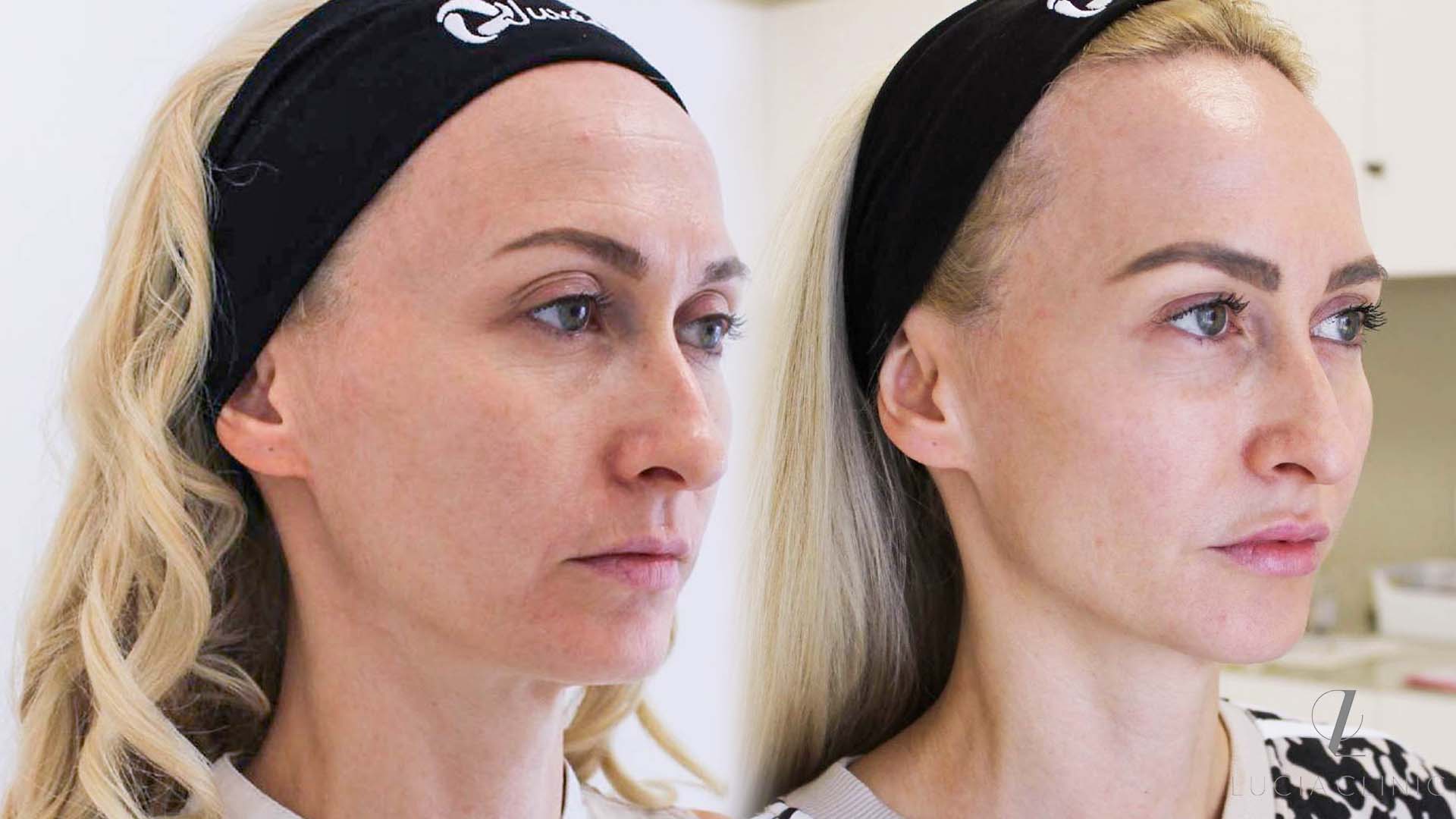 Before and after photo of Dermal Fillers for contouring and defining facial features
If you think that fillers are just for maturing people, you're wrong. A lot of millennials use fillers to augment and contour their facial features – and they still look natural.
If you don't want to spend hours doing makeup to achieve the right contouring, you can try fillers to accentuate your look by adding a bit of volume. And you will discover the magic of Fillers –
Even though fillers add volume to some features, they also  make other features appear smaller.
 It's all about enhancing the right feature.
Awesome right?
The top three filler treatments that you can try in your twenties are lip augmentation, adding volume to the cheeks and getting a better-defined jawline. And you don't need a lot of fillers here -you might want to focus on superficial layers of your skin because you are not filling deep wrinkles and folds.
Defining facial features with fillers is very popular these days. It enhances your own natural beauty and keeps you looking fresh and refined.
Always keep in mind –
There is no one size that fits everybody.
 In order to get the best results with fillers, you need to pay attention to the product, skin type and thickness, skin texture, gender and most importantly your facial proportions. Actually, your dermatologist needs to evaluate your face carefully.
It's a kind of art. Every patient has different facial attributes and dynamics. When a dermatologist analyses the biomechanics of your facial characteristic he/she can choose the right filler for you.
If you are in your twenties the best filler would be the softer one because you can get natural-looking contours and make all your facial expressions freely.
18. MEN, RETURN YOUR EDGE WITH FILLERS

The patient is consulted with the doctor before the Dermal Filler treatment
If you think that fillers are just for the ladies, think again! Fillers for gents are up-and-coming. The bar has risen for men and they want to have fillers as prevention and to boost their features or to look younger and stay competitive at work. Dermal fillers are an instant solution for what men want to achieve.
So, what should you consider before getting fillers?
First, you are aging differently than women. And you have different facial anatomies.
So, you need to get dermal fillers with a special injection  technique that will preserve your masculinity.
 You don't want to end up looking too feminine. So, your doctor needs to have a lot of experience in doing fillers for the gents.
Okay, yes the base is the same – both men and women want to enhance their features, smooth out wrinkles, and add volume or structure where necessary.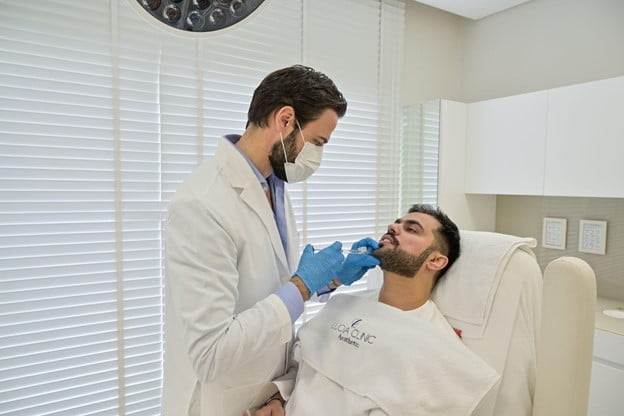 The doctor is enhancing the patient's chin with Dermal fillers
If you follow the trends in the aesthetics for men you will notice that a strong chin and defined jaw is something that is considered good-looking. So fillers can achieve this look in a very simple way. On the other hand, ladies want these facial areas to look softer if they are too prominent. So, you need to know exactly what you want to achieve with fillers so that your doctor can deliver the best results -one of them is to keep you looking like a man.
When you have chosen an experienced doctor, you can get fillers to smooth, lift and enhance your face, improve acne scars, treat hollowness underneath your eyes or improve the shape of your nose.
Just remember –
Don't go  overboard – keep a few lines on your forehead.
They still give you that sophisticated and attractive look.
19. IS A GOOD INJECTABLE DETECTABLE? NO

The patient can immediately see the results of the Dermal Filler treatment
You might shy away from filers because you think that they will completely change your appearance and your face will look "done". That is true, and we know it has happened before. The area where fillers can easily go wrong is the lips. Remember the names like "sausage lips", "trout pout", "duck lips"? Well, those names say it all. So the point is- less is more.
In reality, it doesn't have to be like that -you can get fillers and look great but nobody needs to notice that right away. So, when you come to the doctor's office just say – I want natural results. He/she will know what you are talking about provided that he/she has a great eye for aesthetics.
So it really matters who does your fillers.  It's very simple – it's your face, not your nails or hair. Getting an aesthetic treatment like fillers requires a professional who will give you natural-looking results, and not leave you looking funky.
So, what do you want to get from your filler treatment? Symmetrical and subtle results. You will look great and feel thrilled.
We must point out that there is a solution even if you are not satisfied with the results. If you got HA fillers, they can be removed with an enzyme hyaluronidase. The enzyme is simply injected into the treated area and it dissolves the hyaluronic acid within few hours.
Keep in mind that,
A skilled doctor almost never makes mistakes – but  keeps his/her clients happy.
20. EXTEND THE RESULTS OF FILLERS WITH A FEW SIMPLE TRICKS
Let's clear this right away – you can't make your fillers last forever, but you can make them last longer between touch-up treatments. There are some tricks you can try.
Don't touch your face for 24 hours after you get fillers. This also applies to putting pressure on the treated area. Also, don't rub your face when washing it and don't exfoliate it. This way your filler won't accidentally migrate to the wrong place.
Try not to sleep on the area where you got fillers for at least 2 days.
Hydrate well. Hydration will maintain your fillers. So drink a lot of water but also moisturize your skin with topical creams that have HA. This way your body will break down your fillers slower.
Pay attention to your skincare. If you do it properly your fillers will last longer. Again if you moisturize your skin and hydrate your body every day, you will enhance the absorption of water and prolong the effects of HA fillers. Your treated areas will stay plump and smooth.
Choose skincare products that boost collagen production and keep your skin protected from harmful free radicals. If your skin is healthy and has a strong structure, you can enjoy the effects of fillers for a longer period of time.
Extra tip:  Choose skincare products with Vitamin C – it is a powerful antioxidant that  protects your skin from pollution and sun damage.
Don't stay too long in the sun. Even though spending time in the sun is enjoyable, doing it for too much can actually reverse the effects of fillers. So, to avoid this, always wear a high SPF, especially on the days after the treatment. Don't go outside during hours of UV peaks or if you must wear a wide-brimmed hat.
Use an SPF cream with Vitamin C – it will protect you from the harmful effects of the sun. Spending too much time in the sun can lead to inflammation, and if this happens your skin will want to heal itself and your fillers will get broken down.
One more thing – exposing too much to the screens can shorten the effects of Fillers. Screens have blue light which is not UV light but it still harms your skin. Buy a blue-light filter or decrease the brightness on your screen – your skin will be thankful.
Don't forget to eat properly. The food you eat affects your skin – its health and appearance. So to make the effects of your fillers stay longer, avoid processed food, too much sugar or salt. Eating too much of this food can cause inflammation in your body and this will directly affect the health of your skin.
Don't stress too much. We know this is easier said than done, and that stress is present in our lives every day. But it can really harm your body and therefore your skin. When you are under a lot of stress your body releases too much cortisol and other hormones that speed up the aging process. The undesired signs of aging start to show on your skin. So to prolong the effects of fillers try to reduce the stress with some relief techniques like yoga and meditation. If will be beneficial in more than one way.
Choose a skilled doctor. This is perhaps the best way to prolong the effects of your fillers. An experienced injector will know how much filler to use and how to inject it precisely so that your results are long-lasting. Remember, it's your face we are talking about.
21. GET A CUSTOMIZED PLAN FOR TOUCH-UP TREATMENTS

The patient is consulting with the doctor about Dermal Fillers treatment plan
We have already established that fillers aren't permanent and require maintenance. This is simply because your body cells constantly renew – one skin layer is removed and a new layer emerges. That's why your body gradually absorbs fillers. But you can make a touch-up treatments calendar and navigate your budget around it.
This calendar will vary according to the type of filler.
If you got HA fillers, you might need touch-ups every 6 to 12 months. Hyaluronic acid fillers do tend to get absorbed faster than others.
If on the other hand, you have Calcium Hydroxylapatite fillers, they will last you for 12 to 18 months.
And finally, PLLA fillers last longer. You need touch-ups every two years.
But, you need to keep in mind that this is only in theory. Everybody is different – some people just age faster than others. You can also connect genetics to how long your fillers will last because it influences your processing of the proteins in your body.  There are also some contributing factors that affect how long your fillers will last.
One of those factors is the area where you got fillers. You move some areas more frequently than others like brows or areas around your mouth. So you will need more frequent touch-ups for these areas. If you got fillers deep in your cheekbones or tear troughs they will last longer because they are injected deeper and you don't move them as much.
Another factor is the dosage of the filler -it's logical that smaller dosages will be absorbed faster than larger ones.
But, once you decide to commit yourself to having fillers you can discuss with your doctor how often you should get touch-ups.
Remember-
A skilled doctor will know exactly  when to schedule your touch-up treatments and how to give you the best  results.
Anyway, touch-up sessions are fast and involve smaller amount of filler in your targeted area – just to keep it rejuvenated and smooth.
 That's all. Now we turn to you – schedule your first consultation and discover the magic of dermal fillers.