LUCIA CLINIC WELCOMES A SPECIAL COUPLE IN THE MONTH OF LOVE – SALAMA MOHAMED AND KHALID AL AMERI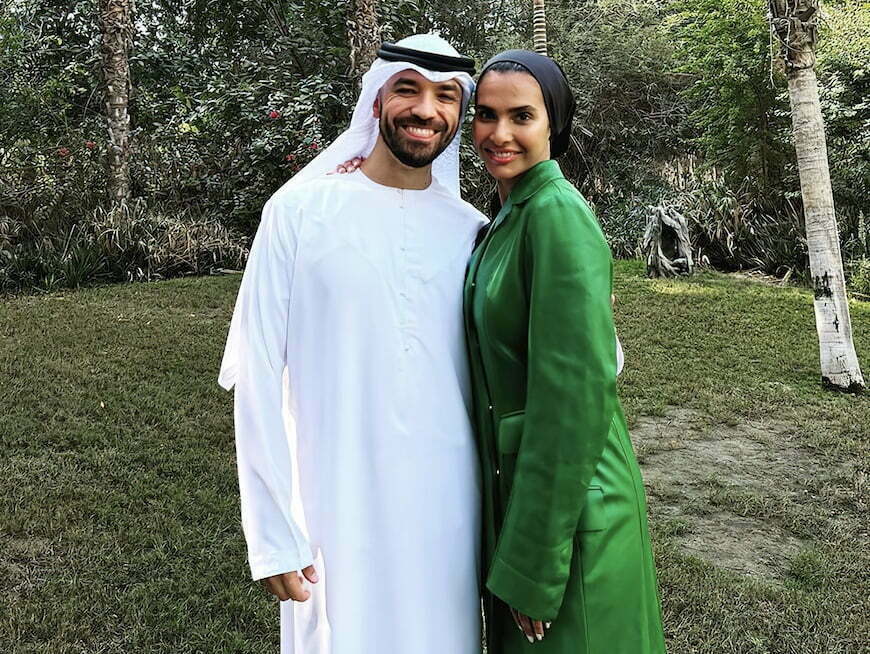 Love is in the air this February at Lucia Clinic. We are more than glad to welcome this fantastic married couple that continues to amuse and inspire the world with their Instagram posts. They are famous influencers that prove that love, devotion and support go a long way and are imperative for mutual growth and a healthy relationship. Khalid was huge support for Salama when she was launching her brand of beauty products and Salama stood by Khalid when he was chasing his dream of becoming a storyteller. Their mutual support is what kept them strong and determined to succeed in all their ventures. They have achieved so much together.
Apart from having busy careers of creating content on a daily basis, Salama and Khalid are advocates of a healthy lifestyle. Doing something great for yourself is beneficial for all of us and helps us to tackle the challenges that life brings us. This couple understands this completely and never misses a chance to visit Lucia Clinic and nurture their body and soul.
Khalid has been on a journey of transformation and his weight loss is truly inspirational. A regular fitness regime and a balanced diet can really pay off.
He has also become a huge fan of Lucia's Facials because this treatment helps him to feel refreshed and rejuvenated. These facial treatments are tailored especially for him by Dr. Lukian and address specifically his skin concerns. Lucia's Facials keep the skin clean, they exfoliate the dead skin cells and extract the dirt. They are finished with a soothing hydrating mask that makes the skin healthy and glowing.
What's awesome about this couple is that they come to Lucia Clinic together and share even their beauty treatments – it's really inspiring how they support each other and try to spend so much time together.
Salama has also included Lucia's Facial in her skincare routine – it is a really fast treatment and you can see the results right away. The skin is softer, more radiant and smooth. Facials are non-irritating, refreshing and suitable for all skin types – even the sensitive ones like Salama's skin.
She has tried Aquagold treatment – an incredible procedure that includes delivering powerful ingredients into the skin using micro-needling technology. Dr. Lukian created a bespoke treatment just for Salama – it included hydrating and improving the overall state of her skin. This treatment is so brilliant because it actually includes two therapies – microneedles boost the renewal of skin cell and collagen production, and serums enhance the results even more.  The treatment is really fast – it lasts for 20 minutes and it easily fits into Salama's busy schedule.
Another treatment that is among Salama's favorites is EmSculpt NEO – the next generation of body sculpting treatments. It is great because it takes fitness regimes and balanced diets to the next level. In just 30 minutes it can have impact on the muscles in the treated area. At the same time, it reduces stubborn fat pockets – in just 4 sessions you can eliminate up to 30% of fat on the treated area. It delivers absolutely magnificent results. It is perfect for people who want to firm, sculpt and strengthen their bodies.
But the support that this couple has one for another doesn't end here – it is present in every aspect of their lives.
Salama as she says alone is "blessed with vitiligo", a skin condition that results in uneven patches of lost skin color. It was a struggle for her, but she embraced this condition and started a wonderful journey towards self-love. She encourages others to accept their beauty because we are all unique and beautiful in our own ways. She openly shares with others everything about her journey to self-acceptance and inspires people not to hide their differences but to feel empowered and celebrate them. Khalid stood by her all the time and supported her ideas and joined her when she promoted awareness on vitiligo. Being active on social media really helped her to reach people with her inspiring messages and she got nothing but positive feedback.
The first thing about loving and accepting yourself is changing the way you look at yourself. It can be challenging but it is important to try to accept all your special qualities. Surrounding with positivity and support can help you in this process. Finally, being at peace with yourself is what represents self-love. It's important to love and cherish your skin. Her positive messages really help others to feel good about themselves and know that they are not alone.
Salama has launched a beauty brand Peacefull in her pursuit of ways to improve skincare concerns. The products are made with love and designed for sensitive skin. They do as their name says – keep your skin at peace. With their active ingredients that consist only of natural formulas, they are perfect for high temperatures in Dubai. They don't contain sulfates, synthetic fragrances or parabens – they only contain ingredients of high quality.
Dr.Lukian herself is an enormous fan of Salama's beauty products and describes them as light, absorbable and super hydrating. The products are ideal for the skin that is often exposed to the sun. One of her favorites is Peptide Eye Cream which moisturizes the skin and prevents dark circles. So, once more Salama has proved that with hard work and dedication and of course support from her loving husband it's possible to overcome challenges and give something special to the world.
But the story of this beloved couple doesn't end here.
Khalid has YouTube, Instagram and TikTok channels where he posts videos about love, family and life in general. He is known as an enthusiastic storyteller and shares inspiring and moving videos. He started this with the idea of bringing the world closer together – we all can live in peace and harmony. His videos are truly unique – they are humorous and personal and yet everyone can relate to them. They portray everyday marriage life in a funny and entertaining way. Of course, Khalid includes Salama in most of the videos as she supports and believes in him 100 percent. She takes part in his efforts to demystify traditional UAE marriage. She even helps him edit the videos.
They say that these videos have brought them even closer – they show their moments together, challenges they have overcome and how they got stronger with each and every hardship. These videos have made this couple one of the most entertaining and beloved – as a fanbase over one million proves it.
Khalid is very much loved by the community and people positively react to all his efforts. In his Facebook group, people can talk about their experiences and support each other. Everyone is listened and accepted. It's inspirational how he accomplished to create a global community where everybody is free to share his/her story without judging. This is something the world really needs right now.
While they are both busy entrepreneurs and successful content creators, they never forget to spend quality time as a family. As parents of two boys, they constantly share photos of them with huge smiles on their faces and in an atmosphere that shows love and affection. They travel together and spread joy and positivity through their Instagram reels. There is an abundance of support and care in this family. They never fail to inspire their audience with their genuine and hilarious videos and always strive to post fresh and exciting content.
Let's not forget to mention their humanitarian side. They donate funds to UAE resident fighting against breast cancer, contribute to charities and so much more. This lovely couple really represents everything the world needs – they never forget to give back to the community. Even though they are immensely successful and popular influencers they are down to earth – they always keep in mind that there are those that are less fortunate. This is something we all need to remember. Salama and Khalid are true role models of what our society needs. They have really impacted the world in a positive way and they will continue to inspire people in the future.
Love and support never fail – this amazing couple is a true example. Even with their busy careers of creating inspiring content on a daily basis, they still find the time to look after their health. Regularly visiting Lucia Clinic helps them to keep their skin radiant and youthful-looking but also to unwind from a busy lifestyle. It's important to find the time for relaxing and pampering. Another thing that makes this couple extra special is that they enjoy their beauty treatment together – this shows how married couples can share so many different experiences.
Lucia Clinic is always more than glad to welcome this beloved couple and they have made this month of love really wonderful for Dr. Lukian and her team.
 We love you Salama and Khalid and we are looking forward to seeing you again.