Brilliant must-have aesthetic treatments for brides-to-be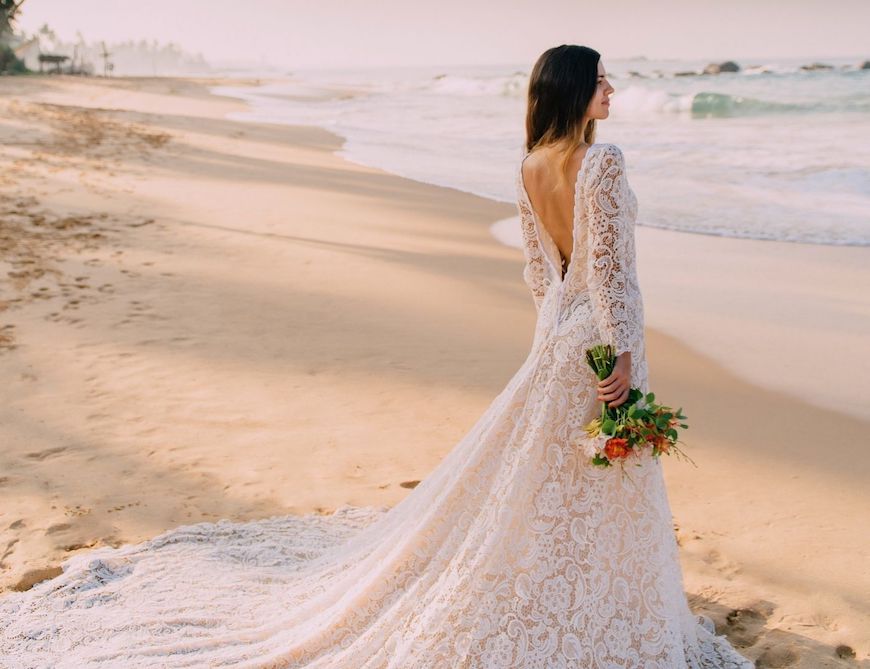 The Ultimate Guide To Aesthetic Treatments For Brides-To-Be
Today, I am going to tell you about amazing aesthetic treatments that will help you look and feel your absolute best on one of the most important days of your life – your wedding. From glowing skin to perfectly sculpted features – these treatments will cover everything you need.
In this article you'll learn:
1. HOW TO GET FIRM AND YOUTHFUL SKIN WITH NON-INVASIVE FACELIFT?
Imagine this scenario – your wedding dress is perfect, you have organized a beautiful reception and you can wait for your wedding day to come. Then you look in the mirror and see that your face doesn't reflect the joy you're feeling – your skin looks tired and dull (perhaps because of the stress of wedding preparations). But, you can easily restore your facial skin youthfulness and radiance with brilliant non-invasive facelift treatments.
Let's discuss.
Non-invasive facelift treatments are like a dream come true – they will make you look like you have found a fountain of youth. They are super advanced and make your skin firmer, better toned and more youthful without surgery, needles, stitches or long recovery. This last one is very important for you – you don't have a lot of time before your wedding for a long downtime.
WHAT NON-INVASIVE FACELIFT TREATMENTS ARE BEST FOR WEDDING DAY?
What's great about non-invasive facelift treatments is that they are versatile. You can choose the one which will suit your skin tone and texture and bring you that much-desired skin radiance.
You just need to consult with a skin specialist, who will recommend the treatment which will bring you the best results (and the fastest)
Remember – you are on a tight schedule here.
ULTHERAPY FOR EFFECTIVE AND NATURAL-LOOKING RESULTS
This non-invasive facelift treatment is perhaps one of the most popular for those who are about to tie the knot. The reasons are simple – Ultherapy is safe and doesn't require any downtime. It's perfect for your hectic schedule.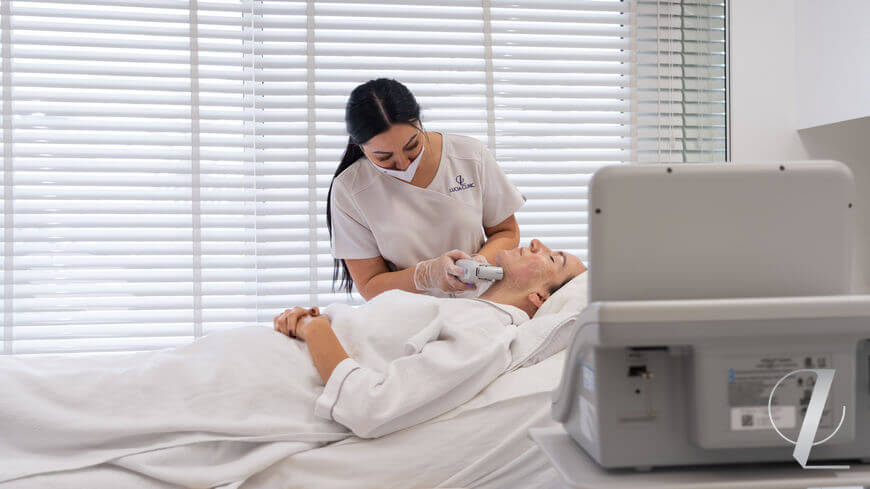 With Ultherapy, it's all about focused ultrasound energy that penetrates your skin at different depths. What singles this non-invasive facelift treatment is that it targets the skin layer which has collagen and elastin – two super important proteins that keep your skin youthful. Now, this powerful energy awakens collagen and elastin and they start to build up. Very soon, your skin feels tighter and appears more lifted.
Another thing – your wrinkles and fine lines are a thing of the past. Without these pesky aging signs, your wedding makeup will look amazing and most importantly it will stay in its place. Forget about melting face!
The secret of Ultherapy is that it gradually restores your skin radiance and youthfulness
Your own body produces collagen which gives you that refreshed look just in time for the wedding. And since the results are completely natural-looking, you won't appear overdone.
Your skin will look subtly enhanced and perfect in the wedding photos – that's all you wanted in the first place.
Another great benefit of Ultherapy is that it is a major time saver – you only need one session. This gives you plenty of time for your other wedding day preparations.
Just make sure to time this session properly because –
You will see the final results of Ultherapy after 2 to 3 months.
As I said, it gives you gradual results, but once they are there, they are here to stay. Ultherapy gives you long-lasting outcomes – you will enjoy the effects of this non-invasive facelift long after your wedding day is over.
So, you will look gorgeous on your wedding day, in the wedding photos, and up for a year, when you can get a touch-up session to prolong the results.
Most importantly, you will feel confident on your wedding day, because your skin looks radiant and firm. You will definitely spread this radiance and positivity while you are walking down the aisle.
Next, brilliant non-invasive facelift treatment, perfect for brides-to-be is
THERMAGE FLX FOR ULTIMATE FACIAL REJUVENATION AND LIFTING
This non-invasive facelift treatment can literally take years off your face and help you achieve that subtly enhanced facial skin without worrying about downtime or recovery.
Again, after Thermage FLX, you will have plenty of time to plan every detail of your big day, but with at least one quick check on your list – your perfect-looking skin.
Thermage FLX uses radiofrequency energy that goes deep into your skin layers.
Its main target is dormant collagen, which needs to be awakened before your wedding day. The energy boosts the production of this super-important protein and very soon your skin is tighter, lifted and glowing.
Thermage FLX can be fully customized to suit your needs – the amount of energy is precisely measured which gives you the best results (without any risks).
This groundbreaking non-invasive facelift treatment can subtly lift your eyelids, eyebrows, and jowls. Plus it reduces fine lines and wrinkles and generally improves the texture of your skin.
After Thermage FLX, your wedding makeup will sit perfectly on your face because it will be smooth, firm and radiant.
You won't need any photoshopping on your wedding pictures – you just need Thermage FLX.
Since you need just one session of Thermage FLX, you will have all the time in the world to create a wedding playlist, for example.
After a single session, you will notice the first improvements – your facial skin will be smoother and tighter.
But, as I said,
Thermage FLX triggers your own body's collagen production, so the final results will be there in about 6 months.
It sounds a bit long, but your skin will gradually improve and you will get the most natural-looking results. You don't want to look overly done on your wedding day.
But, when you think about it more, you plan your wedding for at least a year, so taking care of your face first will be a huge relief throughout the entire process. You will be happy to see your list with one quick check – your radiant-looking skin.
On your big day, your skin will look perfect. Every bride deserves to feel special on her wedding day and after Thermage FLX and its magic, you will look like you've just come out of the fairy tale.
2. HOW TO LOOK GORGEOUS WITH FACIAL CONTOURING TREATMENTS?
We all know that planning a wedding is not a piece of cake. You, as a bride-to-be want to look perfect on your big day, just as your flower arrangements and centerpieces are. You want to capture all the attention and be in the spotlight because your wedding day is all about you (and your chosen one).
So, one step closer to becoming the star of the show is having a perfect-looking face. A quick way to make your face radiant and breathtaking is to get the best facial contouring treatments.
Interested? Keep reading.
Facial contouring treatments can make your face look like a perfect canvas. They are safe and quick and require minimal to no downtime. This is important to you because you don't want to worry about side effects and recovery so close to your wedding (you have more important things to do).
WHAT FACIAL CONTOURING TREATMENTS ARE BRILLIANT FOR BRIDES-TO-BE?
There are numerous facial contouring treatments that can give you that captivating radiance on your special day. Some are minimally invasive injectable treatments, while others are non-invasive. So, you can get Dermal fillers or if you are not a fan of needles, you can go with EMFACE. Both are super effective and quick and will provide you with what you are looking for – getting in the center stage!
DERMAL FILLERS FOR ELEGANT FACIAL CONTOURING
Dermal Fillers are minimally invasive facial contouring treatments that can become your secret ally in achieving that perfect look of your face. They are injectable products of the highest quality – because you deserve the best.
They can make your face instantly more voluminous and youthful looking, plus they can make your facial features more symmetrical (if necessary).
The thing about Dermal fillers is that they must be performed by a skilled and artistic doctor or skin therapist. You don't want to end up looking like someone else, especially on your wedding day.
So, having a consultation with an experienced doctor will help you decide how much filler you want and where you want to have it injected. And of course, you will get the best final results – a plump and rejuvenated face.
Dermal fillers are super versatile and you can have them injected anywhere on your face where you lack volume or have wrinkles and fine lines.
The most popular Dermal fillers are made of hyaluronic acid which instantly hydrates your skin and makes it look refreshed.
For example, you can get Dermal fillers injected into your lips to subtly increase their volume or improve their symmetry. These Dermal fillers are softer, they add moisture to your lips, and are easily moved when you smile. Just imagine how special your first kiss with your chosen one will be – with your soft and plump lips. Just remember – less is more!
Don't overdo your lips with Dermal fillers, you want natural-looking and subtly enhanced lips.
Trout pout or duck lips are out of the picture!
Other areas which you can enhance with Dermal fillers include –
Your cheeks – Dermal fillers can enhance your cheekbones and lift the skin in this area. Plus they add more volume to your cheeks and restore your youthful plumpness. They provide better support to your facial features and reduce fine lines.
Your tear troughs – Dermal fillers are a brilliant solution for dark under-eye circles and tired-looking eyes. You will look fresh and vibrant on your special day.
Your nose – You can even correct imperfections on your nose with Dermal Fillers and make it more harmonious with the rest of your face.
Your chin – If you are unhappy with the way your chin looks, Dermal fillers can easily correct that. They can make your chin softer and less pronounced. Or vice versa – they can make your chin appear more pronounced and make your profile look perfect.
Your jawline – Dermal fillers can make your jawline more defined and lift saggy skin on this facial area. Your lower part of the face can look more harmonious with the rest of your face.
These Dermal fillers have a firmer consistency because they need to keep your facial features nicely structured and contoured.
Since time is of the essence here,
You need one or two sessions to achieve the desired results.
And the best part is that you immediately see them – your lips are plumper, your facial features have more volume and are nicely structured – all in a completely natural-looking way.
Now, since Dermal fillers are injectable treatments they can cause mild swelling redness, and tenderness to touch for a couple of days. And they can cause bruising that can last for two weeks (especially if you are prone to it)
So, make sure to
Time your Dermal filler facial contouring treatment at least 2 to 3 weeks before the wedding.
Don't worry about scheduling Dermal fillers treatment even sooner than that, because their effects last from 6 to 9 months. So, they got you covered for your wedding day.
Another facial contouring treatment that will make your face look dazzling is –
EMFACE FOR CAPTIVATING FACIAL CONTOURS
EMFACE is a brilliant alternative for facial contouring if you shy away from needles – it is completely non-invasive.
Now, we are talking about a seriously advanced aesthetic treatment –
EMFACE is the latest generation of facial contouring that simultaneously targets your skin and facial muscles
This is the first device of this kind – and you deserve to experience its benefits just in time for your wedding. It will make your facial contours harmonious, nicely structured and youthful-looking.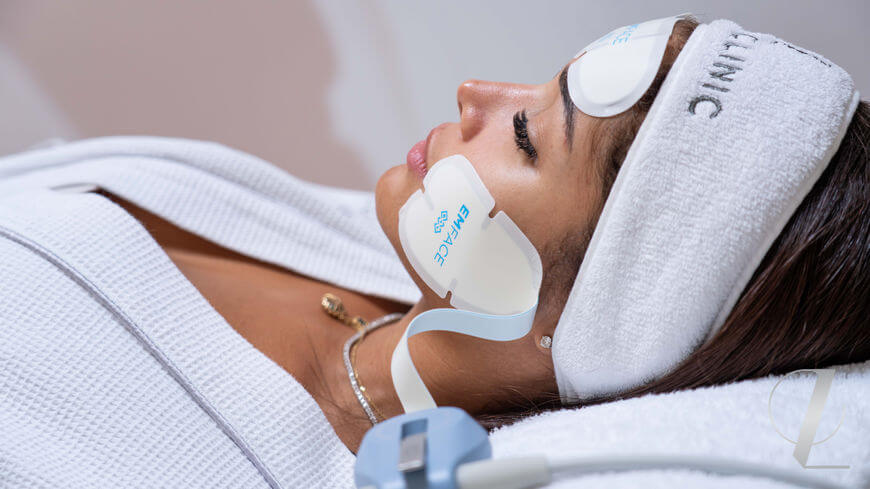 The secret of EMFACE lies in the perfect combo of RF and HIFES energy. The first one makes your skin tight and smooth because it triggers collagen and elastin production. These two proteins start to build up and gradually fill in your wrinkles and fine lines.
The other energy (which may sound like something from a Sci-fi movie) targets your muscles. It's like working out your facial muscles in the gym – which is actually impossible. But this energy contracts your facial muscles, making them better toned and stronger. In turn, these muscles keep your facial contours nicely structured and lift your saggy skin.
Very soon, you notice that your brows, cheeks and jawline are lifted, tighter and rejuvenated.
All this happens completely naturally because you gradually see that your skin is improving. So, just in time for your wedding, your face will look enhanced and radiant, without any effort.
When you think about convenience, EMFACE couldn't be more time-saving. A session last for only 20 minutes, after which you can continue with your wedding plans – like cake tasting or taking dance lessons.
There is no downtime and you don't have to worry about side effects or recovery.
You will need at least 4 sessions, one week spaced out so schedule your EMFACE treatments at least 3 months before your special day.
Since the results are gradual, you'll need some time to see the best results. You can't rush nature, but when you let it do its thing, the results are always breathtaking.
The results that you achieve with EMFACE are long-lasting and you will be able to enjoy your radiant and youthful face long after your wedding day or even the honeymoon.
So, just imagine how your radiant face will light up the entire room, while you're walking down the aisle. Your newfound confidence because of your perfect-looking face will be something priceless.
3. LASER HAIR REMOVAL FOR THE GRAND FINALE OF WEDDING PREPARATIONS
Picture this – you're counting weeks or months to your wedding day, preparing the guest list and appetizers, and then it hits you – you need to deal with pesky body hair. You think to yourself – I won't look perfect without silky smooth skin! Well, don't panik – your beauty secret to feeling like a diva from head to toe on your special day is laser hair removal treatment.
Want to find out more? Keep reading.
Laser hair removal treatments are super advanced today and don't cause any unwanted side effects. Plus they don't need any downtime which is a great plus for a bride-to-be.
hey are comfortable and convenient because of their cooling systems so don't worry about looking like a red lobster after the session – that won't happen. You can just expect your treated skin to be silky smooth and free of unwanted body hair.
WHAT ARE THE BEST LASER HAIR REMOVAL TREATMENTS TO HAVE BEFORE A WEDDING DAY?
The two most state-of-the-art laser hair removal treatments, that will save you from shaving, waxing, and other unpleasant and short-term hair grooming are definitely Soprano ICE and Soprano Titanium. Both are effective in eliminating unwanted hair, but there are some differences between them. Let's break them down.
SOPRANO ICE FOR A COMFORTABLE HAIR REMOVAL EXPERIENCE
Well, it's important to have a comfortable hair removal experience, especially so close to your wedding – you don't need another stressful thing in your life!
Soprano ICE feels very soothing on your skin because of ICE Cooling technology that keeps the surface of your skin cool.
There is no way that your skin gets superficial burns. At the same time, the SHR element in the applicator slowly heats the dermis of your skin, and when it reaches the right temperature it targets the hair follicle and destroys it. And that's it – the follicle can grow hair anymore. That's why the results of this laser hair removal treatment are permanent.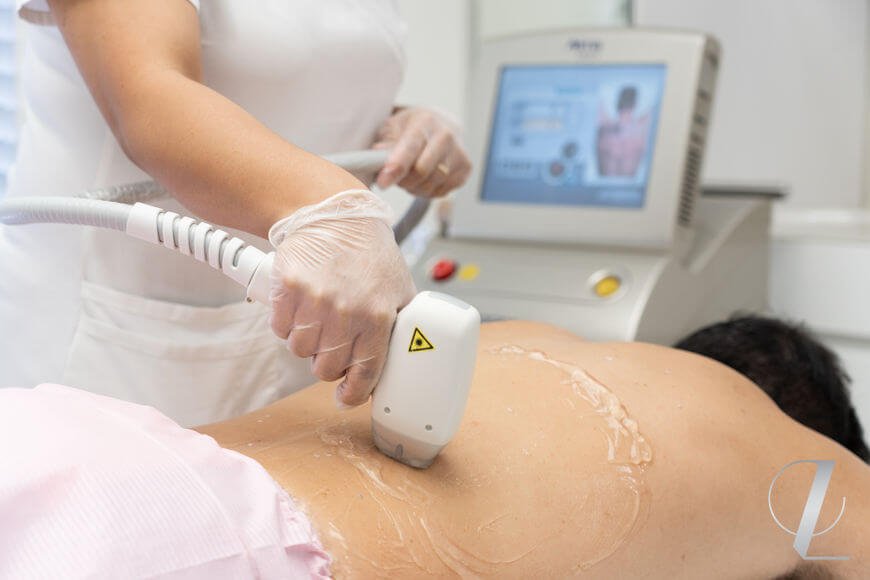 Soprano ICE laser hair removal is effective for all skin types – even suntanned. This means that you can have it done at any time of the year. It is effective for most hair types, except for red, grey or very fine hair. These types of hair lack melanin and melanin is what this laser targets.
For the best results (silky smooth skin from head to toe) you will need 6 to 8 sessions, 4 weeks spaced out.
This is because all your hair doesn't grow at the same time – that's why it's so pesky! It needs to be in its growing phase so that the laser can effectively zap it.
You will see the first results one month after the first session and the final results after the entire course of sessions.
It may sound too long, but just imagine what you're getting in the end – silky-smooth skin that will last for a long time. Plus no more panicking because you haven't shaved your legs.
Another laser hair removal that is even more advanced is –
SOPRANO TITANIUM – THE TREATMENT EVERY BRIDE-TO-BE DESERVES
And when I say every, I mean every skin tone and every hair type can be treated with this gentle giant. Soprano Titanium is the 5th generation of laser hair removal treatments and will work like a charm for you.
The secret of this laser hair removal treatment is that it has 3 laser wavelengths incorporated into one applicator.
The applicator targets hair follicles at deeper skin layers and effectively destroys them. This increases the effectiveness because the laser can target even lighter hair types.
I don't even have to mention that the surface of your skin stays cool because of ICE plus cooling tip – so there are no burns or other unwanted side effects.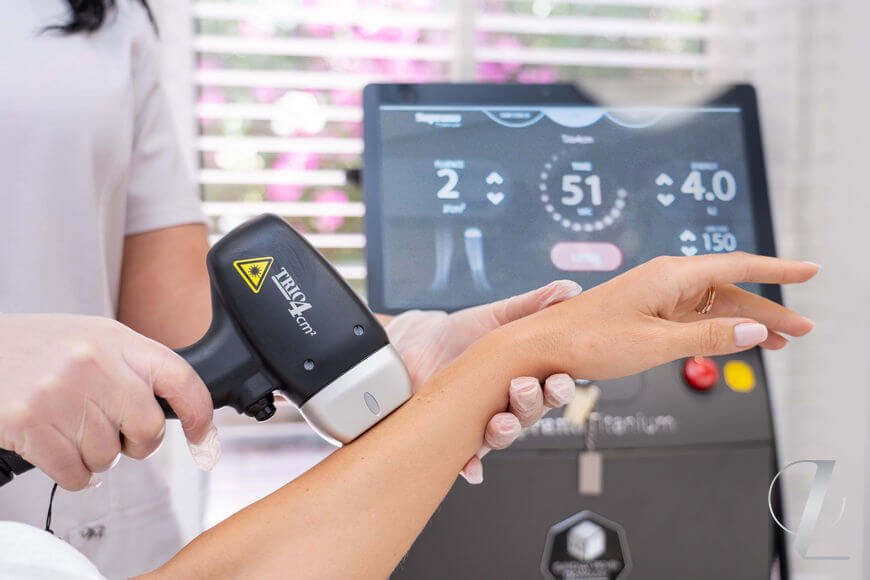 Plus, Soprano Titanium has a new larger applicator that covers larger areas and finishes the session in 40% less time. This is great if you want to target your legs or back – you are out of the clinic in a flash. Think about how much time you'll have for wedding dress fitting or cake tasting.
For the best results, you'll need between 6 to 8 sessions, 4 weeks spaced out.
This is simply because your hair doesn't grow at the same time.
So,
Schedule your first laser hair removal session at least 8 months before your special day.
Once you see the results, you will realize that it was worth it to be patient – no more shaving, waxing or tweezing. That nightmare is over.
And this goes for your honeymoon also. Just think about how much you will enjoy the exotic beach or sightseeing some charming cities without giving a second thought to hair grooming.
The results of laser hair removal are permanent – you will enjoy your silky smooth skin happily ever after.
4. HOW TO GET FLAWLESS SKIN WITH CHEMICAL PEELS AND FACIALS?
Among all preparations before you say, "I do", you notice in the mirror that your skin is saying "I don't"! Perhaps because of the pre-wedding stress, your facial skin doesn't look as radiant as it should. It may have developed blemishes, pimples, clogged pores or pigmentation spots. So, it's time to take a break and give your facial some true TLC pampering. And the most effective way to do it is having chemical peels and amazing facials.
Let's discuss more about these must-have treatments for brides-to-be.
There are various chemical peels that are of the highest quality – your face deserves to look its best before your special day.
When done by professionals, chemical peels make your face look refreshed and ready for wedding makeup. On the other hand, facials are soothing and effective in eliminating all the unwanted blemishes from your skin.
The best part is that they are non-invasive and cause no side effects – just flawless skin.
WHY ARE CHEMICAL PEELS A MUST-HAVE TREATMENT FOR BRIDES-TO-BE?
We are talking about one of the most exciting days in your life – your wedding day. You deserve to feel and look gorgeous in every possible way. Regarding your facial skin, chemical peels can bring you that radiance that will capture the entire room.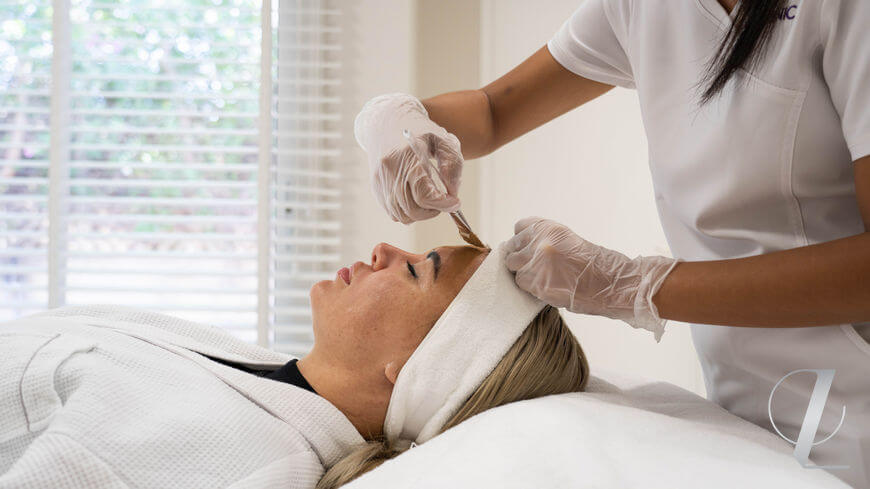 Chemical peels come in different textures and strengths. There are light, medium and deep, but before the wedding day, you may just stick to light or medium. Deep chemical peels bring the most dramatic results, but they also require a longer recovery. And this might interfere with your wedding plans because you already have no time to spare.
So, let's talk about light and medium chemical peels.
Both can improve the quality of your skin by eliminating various blemishes, lightening pigmentation spots and reducing fine lines and wrinkles. It all depends on what you want to achieve with a chemical peel.
The thing about the chemical peels is that their special and customized solution is applied to your skin and after a specific amount of time removed.
Then during the next few days, the superficial layer of your skin peels off and exfoliates, and beautiful, radiant and flawless skin is revealed – that's your goal in the first place.
For example, if you are bothered with pigmentation spots then go with the COSMELAN PEEL. It will lighten your skin because it breaks down the areas of melanin overproduction.
It does require a careful after-treatment protocol, where you use a special home kit. The kit includes moisturizers and a special cream that needs to be used for 2 weeks. So,
Time this type of chemical peel treatment at least a month before the wedding day.
It's best to strictly follow the recommendations and not break the cycle. After 3 to 4 weeks, you can expect to achieve flawless and radiant skin – just as you desired.
If on the other hand, you want to reduce fine lines and spots and keep your oily skin in charge, then go with DERMACEUTIC® MILK PEEL. It is a light chemical peel that is suitable even if your skin is sensitive.
It requires a two-weeks preparation, where you use a special serum before you come to have the treatment. Also, after the treatment you need to continue to use the serum for the best results.
Since you will probably need 2 to 3 sessions, 2 weeks spaced out, make sure to time your chemical peel accordingly.
It's super important to avoid direct sun exposure or use a high SPF during the process. Your new and fresh skin will be sensitive, but when this period is over, it will look brilliant.
Your skin tone and texture will be even, rejuvenated and flawless. Chemical peels will be your wedding makeup BFF.
Now, let's move on to –
FACIALS FOR THE ULTIMATE SKIN HYDRATION
This treatment will be like a stress relief from all your wedding preparations. During all the hectic running around and making important decisions to make your wedding day nothing but perfect, you may notice that your facial skin has taken its toll – it is dull, dehydrated and desperate for some pampering.
That's why facials are here – to ultimately pamper your skin. They are gentle, non-invasive, don't require any downtime or leave you with unwanted side effects.
Facials are perfect for taking a break and returning that radiant glow to your skin.
The first on the list is definitely EXPRESS HYDRAFACIAL. It's called express because it lasts only for 30 minutes – now that's a true time saver!
Express Hydrafacial will instantly refresh your skin with its super-advanced technique. It cleanses, exfoliates and extracts the pores with gentle Vortex technology. In the end, your skin is fused with a powerful serum that has antioxidants, vitamins and other important ingredients. This deeply hydrates and nourishes your skin and makes it look tighter, smoother and radiant. Plus these ingredients prevent your skin from getting damaged by stress, pollution or sun exposure.
Best of all, it's completely painless and there is no downtime. And you see the results immediately.
Since there are no side effects or downtime you can schedule your Express Hydrafacial treatment a few days before your wedding.
Express Hydrafacial is more than a facial – it's a treatment that will fully rejuvenate you and prepare you to shine, while you walk down the aisle.
Now, for a treatment worthy of royalty go for GOLD HYDRAFACIAL. This luxurious facial will significantly improve the quality of your skin, just in time for your wedding day. It is completely painless and requires no downtime. You can even have it done on sensitive facial areas like around your eyes or lips.
It involves several steps, including deep cleansing exfoliation, extraction and fusion of the skin with customized serums that will make your skin shine. Now the real treat is the final step – applying the gold mask to your skin. This is the step that will make you feel like royalty.
Gold mask hydrates and nurtures your skin, eliminates fine lines and reduces pigmentation. With its powerful growth factors, the gold mask will maximally rejuvenate your skin.
All that in just 60 minutes. And since it doesn't cause any side effects,
You can schedule your Gold Hydrafacial a few days before your wedding.
With these facials, your skin will be polished to perfection and your face will beam with radiance in every wedding photo.
5. HOW TO GET A PERFECT FIGURE WITH BODY CONTOURING TREATMENTS?
Picture this – you have found a perfect wedding dress that makes you look like a diva. But, something doesn't fit properly – while you are trying this gorgeous dress you notice that you have stubborn fat pockets in places that should be fit and nicely contoured. Then you decide to quickly start going to the gym which is a great decision. But, there is a secret ace down your sleeve which can shape your silhouette faster – non-invasive body contouring treatments.
Let's talk more about this.
There are different body contouring treatments that use different technology to sculpt your silhouette.
They are non-invasive, safe and don't require any downtime.
You just pop into the clinic to have your session and continue with your busy wedding schedule. They don't require any effort from your side – you just sit and relax while they do their magic. And they are quite comfortable so they can be a sort of stress relief for you. The best part – they bring you amazing results.
WHAT BODY CONTOURING TREATMENTS ARE BEST FOR FUTURE BRIDES?
Let's single out two of them – CoolSculpting and EmSculpt NEO. Both are super-advanced treatments that will shape your contours in no time. After a few sessions, your wedding dress will fit you like a glove. It will look like the gown was made just for you – the same as each body contouring treatment is specially customized to meet your aesthetic goals.
COOLSCULPTING FOR FREEZING AWAY PESKY FAT POCKETS
With CoolSculpting you will finally say goodbye to unwanted subcutaneous fat.
Its state-of-the-art technology works by precisely targeting isolated pockets of fat, freezing them with controlled cooling and destroying them.
These fat cells are eventually flushed out from your body and you notice that your targeted body area is slimmer, nicely contoured and firmer.
And you can choose almost any body area to contour with CoolSculpting – double chin, arms, legs, thighs, buttocks, love handles or abdomen. Wherever you see uninvited fat deposits, CoolScupting got you covered with its versatile applicators.
All that happens without downtime. Downtime is the last thing you need during your wedding day preparations.
Since CoolSculpting is super effective, you only need one or two sessions.
Just make sure to
Schedule your CoolSculpting treatment at least 3 months before the wedding, because that's the amount of time your body needs to flush away all the destroyed fat cells.
The results are completely natural-looking because your treated body area gradually got slimmer.
It may sound too long to wait for the final results, but just imagine what you are getting – a sleek silhouette that will put you in center stage on your wedding day. Plus, the results are permanent – the destroyed fat cells can't return. This is also great for your honeymoon – picture how great you will look in your bikini!
Another brilliant body contouring treatment that will work like a charm is –
EMSCULPT NEO FOR THE MAXIMAL BODY CONTOURING
If you are interested in simultaneously slimming down your body areas and toning your muscles then EmSculpt NEO is your golden ticket. You will slip into your wedding dress looking graceful and, well – perfect.
This body contouring treatment is a real game changer. Its secret is a perfect combo of RF and electromagnetic energies. It's really one of a kind because it combines two different body contouring technologies into one.
RF energy gently heats the underlying fat tissue and literally melts it.
It can melt up to 30% of unwanted fat deposits – you must agree that this number is pretty awesome. These destroyed fat cells are eliminated from your body through your metabolic processes and voila – your targeted body areas get slimmer.
But that's not all.
Electromagnetic energy makes your muscles contract like crazy – you feel 20,000 contractions of the targeted muscle group.
That's impossible to do alone. You can build up and define up to 25% of your muscles – again, pretty amazing!
All this happens simultaneously, without discomfort and downtime. The session lasts only for 30 minutes after which you can continue to get ready for your special day.
You will need about 4 sessions, spaced out one week for the best results. So,
Start with your EmSculpt NEO sessions at least one or two months before the wedding day.
Be patient while waiting for the final results because they will be mind-blowing. Your abdomen, thighs, legs or arms will be perfectly toned and contoured. Plus, the results are long-lasting because the melted fat can't return. And for the muscles – keep up with your fitness regime and you will be more than ready to rock your wedding gown.
There you have it. All these must-have treatments for brides-to-be will boost your confidence – you will walk the aisle like you own it!
Please feel free to contact Lucia Clinic to learn out more about these treatments and schedule your consultation.
&nbpsp;