DR. RADMILA LUKIAN – EXCLUSIVE GUEST DERMATOLOGIST AT SHISEIDO SUMMIT IN BARCELONA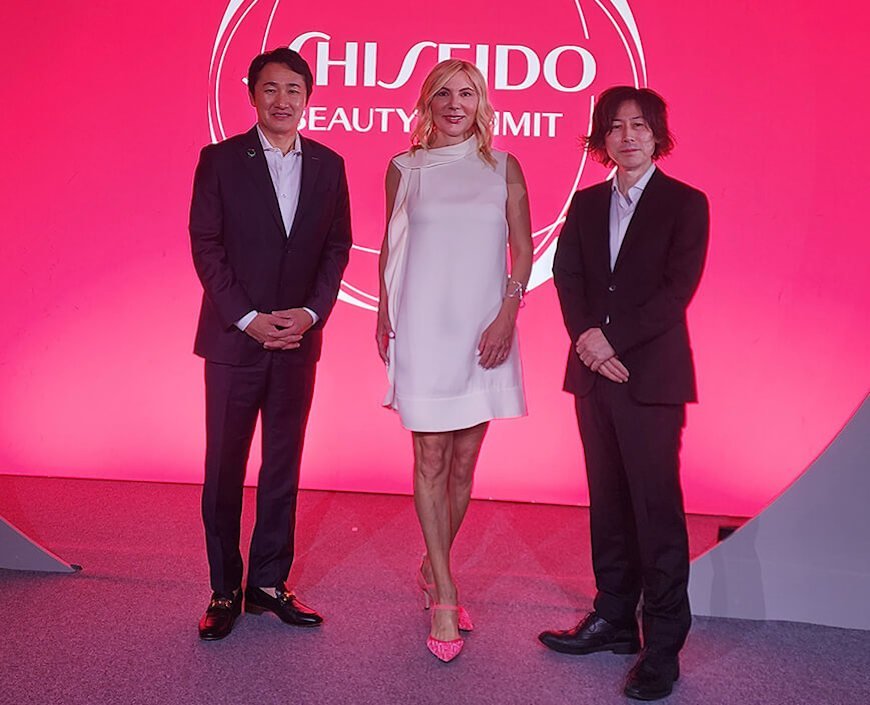 Another successful beauty and research event was held this September in Barcelona – Shiseido summit. Its main goal is to promote science and innovation. Also, it is dedicated to making the entire world a better place with breakthroughs in the world of beauty.
Our own wonderful Dr. Radmila Lukian was singled out from a pool of brilliant UAE dermatologists to be an honorary guest and participant in this event. This was a huge privilege and opportunity for her to contribute with her knowledge and innovative approach to skincare. Shiseido values a holistic approach to skincare – just as Dr. Radmila Lukian does.
The Shiseido summit wasn't just about beauty. The purpose of this international conference was to gather scientists, experts, dermatologists and influencers from around the globe to discuss advancements in anti-aging technology, green science and holistic approach to beauty. Pioneers of holistic approach to beauty, presented some of the most cutting-edge research and development.  The Shiseido summit wasn't just a simple gathering of glamorous people – it was a melting pot of new ideas, innovative methods and advanced technologies. The atmosphere was vibrant – the excitement of sharing and exploring the world of beauty was on its highest level.
The guests also attended the IFSCC congress, and participated in Shiseido conferences on beauty and science. These inspiring conferences were held by scientists who promote holistic beauty.
That's something you would expect from such a brilliant summit like Shiseido. Plus, key-note speakers were not average beauty mentors. They are visionaries and pioneers who bring together science and beauty. Their mission was to explain how beauty can make the world better.
Dr. Lukian enjoyed different discussions with her colleagues from all over the world. This is something she does the best – exchanging her ideas and research, which always sparks the next big thing in the world of aesthetic treatments and beauty. Her groundbreaking approach to skincare goes beyond a simple trend – it opens the door to future standards of skin solution.
DR. LUKIAN'S VISION OF BEAUTY MEETS THE VISION OF SHISEIDO SUMMIT
Since the Shiseido summit values research and innovation, it's no wonder that brilliant Dr. Lukian was part of it. She is an expert in anti-aging and skincare and she possesses an extensive knowledge of the ways we can make our skin youthful and radiant. She acquired this knowledge with considerable work ever since her career started. During these past 25 years of gathering experience and skill, Dr. Lukian has learned what stands behind a proper skincare, what causes pigmentation and how different skin blemishes can be improved.
This amazing doctor sees beyond the latest trend or fashion in aesthetic treatments. She recognizes the benefits of some innovative and original techniques and technologies that nobody has been introduced to yet. This is where her knowledge and vast experience comes in the spotlight – she is always at the forefront of the newest advances and developments in her field. It's no wonder then that Dr. Lukian is the thought leader in the field of dermatology and aesthetic procedures.
On numerous occasions, she has been the first to offer some of the most advanced treatments to her clients. And she was right about them – her clients loved them and saw how much these treatments can improve their skin. Whether it's the latest anti-aging procedure or body-contouring technique, Dr. Lukian's choice always proves to be the right one. That's why she is actually a trend-setter and the key-opinion leader, who earned a massive respect from many people from all walks of life. But, before she introduces the new treatments, Dr. Lukian always does thorough research – her patients' safety is in the first place. This is what singles her out – she is dedicated to providing outstanding results without exposing her patients to any risks or unwanted side effects.
When it comes to helping her clients find the best skincare solutions, Dr. Lukian always pays individual attention to each and every patient. This is very important to her because she understands that every patient is different and has different skin. That's why she creates bespoke treatments for them that work every time. And her clients always return because they trust Dr. Lukian expert opinion. She is well known for her customized treatment plans that helped many A-listers have radiant, youthful and healthy-looking skin. Dr. Lukian has become a celebrity doctor, who combines the treatments so well that each and every of her famous patients radiates on the red carpet, sport field or television. Her bespoke aesthetic treatments have certainly helped many to find the recipe for the timeless beauty.
DR. LUKIAN APPROACH TO SKINCARE REVEALS THE SECRETS OF HEALTHY AND RADIANT SKIN
As the Shiseido summit was all about a holistic approach to beauty, Dr. Lukian was at the right place. Once you learn about dermatology and how and why the skin matures and develops irregularities, it's all about the creativity and skill of combining proper aesthetic treatments to help the skin. This help represents ways to regenerate, refresh and heal the skin and make it look radiant and young again.
But, these treatments are not just skin deep. They go way beyond the surface of the skin and enter the world that lies beneath. That's what a holistic approach to skincare is all about – keep your well being healthy and your skin will mirror this health. Dr. Lukian believes that apart from aesthetic treatments that improve the skin, a patient's lifestyle is also important.
Since, Dr. Lukian founded Lucia Clinic in Dubai, she understands how much extensive sun exposure can harm the skin. The sun, no matter how wonderful it is, can make the skin start maturing too early and developing aging signs like fine lines and wrinkles, sagging and brown spots. The skin loses hydration and becomes tired and dull-looking. That's why Dr. Lukian always stresses out the importance of using high SPF when enjoying the sun. Also, for the clients that need to be outdoors, like professional sports players, she creates bespoke treatments that deeply hydrate their skin and help it become resilient to the harmful influence.
All Dr. Lukian's signature treatments are non-invasive or minimally invasive, and don't require downtime. She performs them with absolute precision that keeps the surface of the skin unharmed. Her treatments do their magic beneath the top layer of the skin – they boost collagen and elastin remodeling and production, and trigger the skin's own healing processes. The outstanding results gradually resurface – the skin becomes subtly lifted, smooth, refreshed and rejuvenated.
But that's not all. Dr. Lukian always educates her clients about their skin type and texture and most importantly their skin needs. Once they get to know their skin better, her patients understand why it is important for them to improve their lifestyle habits. Daily hydration, proper nutrition and regular exercise are beneficial for the skin but also for the entire well-being. Good lifestyle habits balance the body and thus balance the skin. When you radiate on the inside, you radiate on the outside too. The skin shows everything – health, stress, emotions… When all this is in harmony, the skin is beautiful and glowing.
SHISEIDO SUMMIT AND THE QUEST FOR BEAUTY
It's the never ending story – searching for the beauty that will make the world a better place. Even though so many secrets of radiant and healthy skin have been revealed, there is still a lot to do. The world of beauty, dermatology and aesthetic treatments is constantly developing and the best in these fields will always keep up the pace. Like our own Dr. Lukian, who will continue with her research and create even better and more effective aesthetic procedures for her patients.
The Shiseido summit in Barcelona was a wonderful opportunity for Dr. Radmila to celebrate a deep relationship between pursuit of knowledge and beauty. She graced this event along with other experts from the beauty and scientific community. This sophisticated and glamorous conference was a true example of artistry and innovations. It was not just about the latest trends in the beauty world. It was a manifestation of research and development that revolutionized the fields of aesthetic and dermatology every day.
Dr. Lukian contributed to this brilliant event with her extensive research and innovative approach to skincare. She was not just a simple attendee – she influenced and witnessed the changes and breakthroughs in aesthetic and beauty evolution. The right combination of different treatments, bespoke procedure plans, holistic approach and promotion of healthy lifestyle habits all represent the future of anti-aging and other skin improvement methods. All combined, these formulas help us approach revealing the secret of radiant and beautiful skin.
Today, science meets aesthetic and beauty treatments – they can't go one without the other. The Shiseido event was a great opportunity to break the boundaries and challenge the knowledge in this field. Dr. Lukian is a perfect example of an expert who constantly seeks to expand her skills and learn something new. She looks forward to attending the next Shiseido event.