FEEL POSH IN YOUR PARTY CLOTHES WITH EMTONE® AND SOPRANO TITANIUM LASER HAIR REMOVAL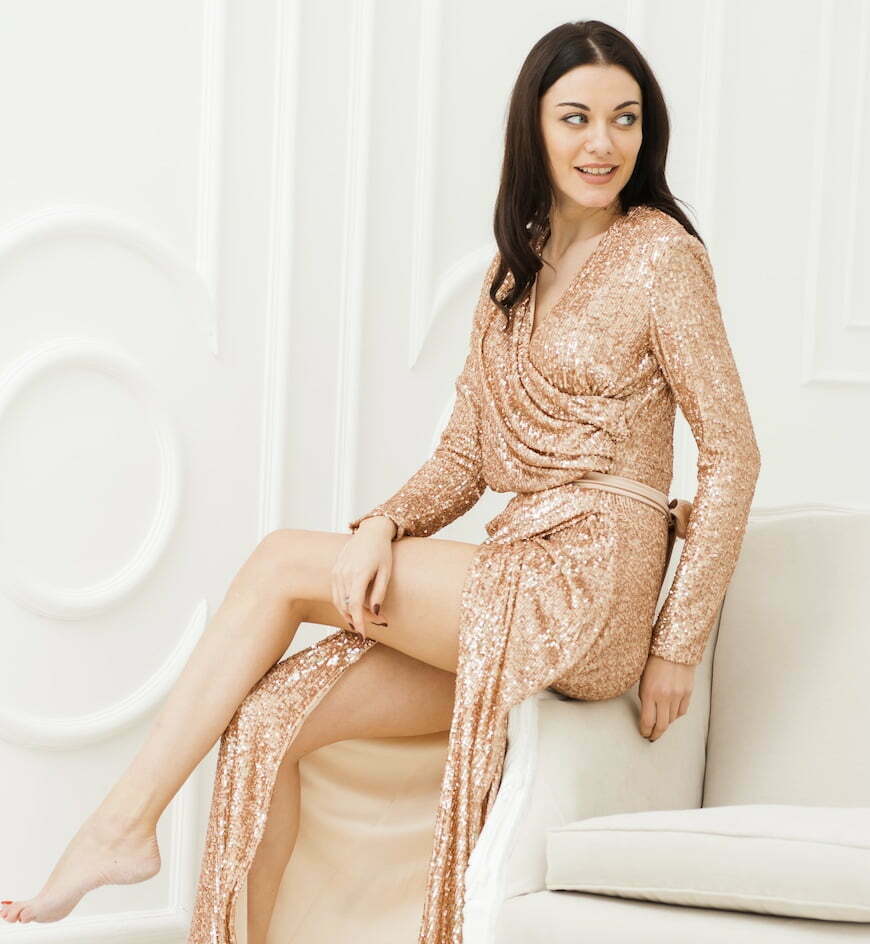 All set for Lucia's this week's specials? We have two awesome treatments for you – Emtone®, a brilliant procedure that tackles your issues with cellulite and Soprano Titanium Laser hair removal, which brings you that long-wished-for silky smooth skin. You will love both of them – they are effective, comfortable and give you long-lasting results.
EMTONE® – GET RID OF UNWANTED CELLULITE
Your battle against unwanted cellulite dimples is finally over – Emtone® improves your skin appearance in just a few treatment sessions. It firms the lax skin and enhances the skin's texture in anon-invasive and successful way. Emtone® is all about achieving smooth and tight skin. It is a powerful but gentle treatment – during your session, you feel as if you're getting a hot stone massage, but actually, your cellulite is disappearing. The magic happens beneath your skin, while the surface stays unharmed. You can feel the improvements right after the first treatment and try on your favorite tight shorts immediately because there is no downtime.
GETTING SMOOTH SKIN IS NO LONGER A CHALLENGE
Emtone® is an awesome ally in reducing unwanted cellulite dimples. It's your solution if exercising and keeping a balanced diet don't bring you results. This treatment always delivers because of its effective combination of RF energy and pressure wave therapy. The Emtone® applicator creates vibrations that improve your blood flow and reduce he metabolic fluids that can pile up under your skin and contribute to the appearance of cellulite. One more thing – Emtone® disrupts the fat cells and boosts the production of new collagen. Pretty soon you notice that cellulite is being replaced with firmer and smoother skin.
DISCOVER THE BENEFITS OF EMTONE®
Cellulite is a real nuisance that can appear everywhere- on your abdomen, waist, arms, buttocks or thighs and keep you from wearing your favorite slim-fit clothes. All this can be a thing of the past when you get your customized treatment plan that will strategically target your problematic body areas. In just 30 minutes, Emtone® will start a change in the structure of your underlying collagen fibers. Its powerful energy helps new collagen to build up and eventually it rejuvenates your skin. A few months after your final session you will see that unnecessary centimeters on your thighs or waist have melted away. All thanks to this advanced treatment.
‍
GET FIRMER SKIN – LOOK FABULOUS
It's so easy – just come to Lucia Clinic and get your Emtone®  treatment. Once the unwanted cellulite dimples get eliminated, your skin will be tighter and smoother. You will definitely look like you take good care of your body – the results of the treatment are completely natural-looking. This is because Emtone® utilizes two energies at the same time and deals with the underlying causes of cellulite, like accumulated metabolic waste, poor blood circulation, build-up fat under your skin and others. Apart from that, when you achieve smooth body contours, you will be motivated to continue with your regular fitness regime and proper diet This way you'll keep the results of the treatment for a long time – another plus for this treatment.
‍
INCLUDE EMTONE® IN YOUR SKINCARE ROUTINE
This treatment is perfect for you if you have a busy schedule. It can be easily fit into your lunch break – you can go to your next social event right away. You will feel only a mild heating sensation after the treatment – the RF energy that is emitted targets only the cellulite underneath your skin. Your skin therapist makes sure you don't experience any undesirable side effects. Emtone® delivers amazing results – in just 4 treatment sessions you can increase elastin and collagen by more than 50%. More importantly, you get rid of cellulite. You will never feel less confident because of cellulite dimples. On the contrary – you will feel and look great.
‍
GET LONG-DESIRED BODY CONTOURS
After a few Emtone® treatment sessions you will feel completely rejuvenated. Loose skin will be firmer, more enhanced and smooth. Your struggle with cellulite will be finally over – your body will be better shaped. Lucia Clinic's team will gladly guide you on your journey towards brilliant-looking skin. They will give your nothing but the highest quality service. Start the new year by doing something just for yourself -improve your skin appearance, eliminate pesky cellulite dimples and recharge your batteries for the new beginnings. It's time to wear your best clothes because with Emtone® you will look fabulous.
Another awesome treatment you can check this week is Soprano Titanium Laser hair removal – one of the most loved treatments for getting silky smooth skin.
SOPRANO TITANIUM LASER HAIR REMOVAL – GET GLOSSY SKIN
Forget about tweezing, waxing or plucking – try Soprano Titanium Laser hair removal. This groundbreaking body hair reduction treatment is nothing but comfortable and effective. It is fast and non-invasive – perfect for a busy lifestyle. You can finally enjoy your beautiful skin without constantly worrying about unwanted body hair. The start of the new year is ideal for planning your social calendar. But first – get silky smooth skin with Soprano Titanium Laser hair removal. It is one of the best treatments on the market – there is no downtime and the sessions can be over in 10 minutes.
TAKE YOUR GROOMING TO THE NEXT LEVEL
If you think that you're wasting your precious time with constant shaving or waxing then you will definitely love Soprano Titanium Laser hair removal. This hair reduction treatment has transformed photo epilation because it targets the root of the hair follicle and destroys it while keeping the surface of your skin cool. The laser emits the heat that works beneath the skin and once the root is destroyed the hair can't grow back. The whole process is gentle and painless – remember that Lucia's team always thinks about making your treatments as comfortable as possible.
‍
THE BEST TECHNOLOGY FOR THE BEST RESULTS
Mark the start of the new year with this advanced treatment. The method used in Lucia's laser hair removal is precise and effective – the laser energy slowly heats the dermis and when it reaches the appropriate temperature it is absorbed by melanin. That's the moment when hair follicles are destroyed – for good. The best part – the energy doesn't harm the surrounding tissue. At the same time, your skin is kept cool so it can't get burned or overheated. That's the reason why this method of Laser hair removal doesn't cause side effects – it provides brilliant results while being gentle to your skin.
ENJOY YOUR GORGEOUS SKIN WITHOUT UNWANTED HAIR
You will love Soprano Titanium Laser hair removal because it can be done on most skin types and it will enable you to enjoy the results for a long time. It can be done at any time of the year even on tanned skin. This aesthetic treatment is one of the best – you can eliminate undesirable hair on almost all areas of your body. From face to bikini zone to feet – every area can become smooth and glossy. You will never have to delay your meetings because of unshaved legs – with Laser hair removal, you will just put on your best clothes and look and feel stunning.
‍
ELIMINATE UNWANTED BODY HAIR BEFORE THE SUMMER SEASON
It's so easy and effortless – all you need to do is visit Lucia Clinic. After a consultation and minimal preparations, you can get a fully customized treatment plan that will address the body areas you wish to be silky smooth. The beauty of Soprano Titanium Laser hair removal lies in its versatility – each body area requires a specific applicator and precise level of laser energy. This ensures the best results and shortens the treatment duration. The area above your lips can be done in just a few minutes. So you just pop to Lucia Clinic, get your Soprano Titanium Laser hair removal treatment and go on with your busy schedule. You will love the results.
SILKY-SMOOTH SKIN IS NO LONGER A DREAM
It can become your reality. There are several benefits of Lucia's Laser hair removal – it's safe, effective and gives you full-proof results. The world of aesthetic treatments is constantly evolving and Lucia Clinic never ceases to follow and set the trends. Soprano Titanium Laser hair removal is one of the latest methods in providing you with beautiful and hair-free skin. It is painless because it doesn't overheat your epidermis but powerful because it destroys the targeted hair follicles. After a while, the hair falls off and your skin is left smooth and shiny. With occasional touch-up treatments, you will be able to keep the results for a long time.
IT'S TIME TO LOOK AND FEEL GREAT
The start of the new year is the best time for the new beginnings and doing something for yourself. You deserve a bit of pampering after a long Holiday season. With Lucia Clinic's Emtone® you will prepare yourself for the long and awesome summer season by eliminating unwanted cellulite dimples. On top of that, you will get silky-smooth skin with Soprano Titanium Laser hair removal treatment. Experience these two procedures – you will love them!
Don't miss out on booking your consultation at Lucia Clinic.