MORPHEUS8 – EVERYTHING YOU NEED TO KNOW ABOUT THIS SKIN TIGHTENING TREATMENT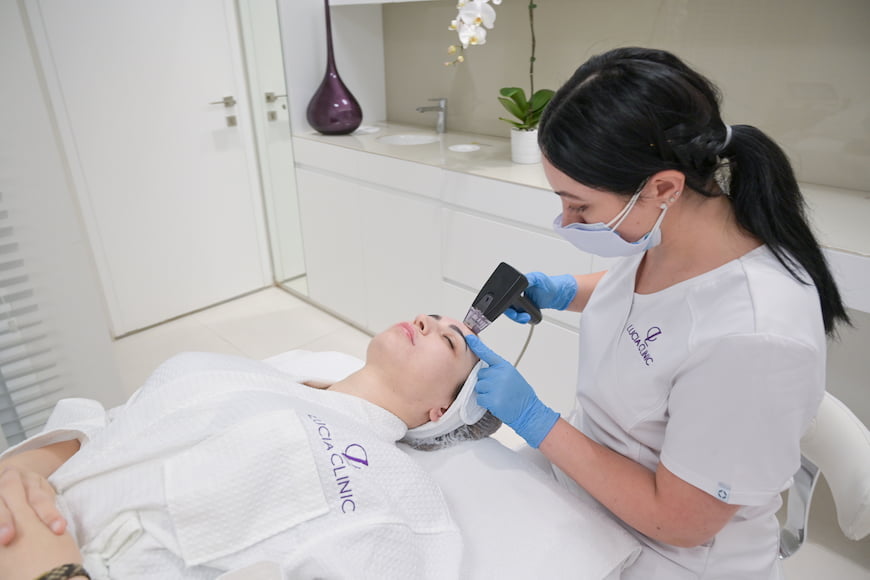 Let's face it – we all find loose and saggy skin on the face, neck or other parts of the body unattractive and undesired. As we get older, our skin loses collagen and elastin and develops laxity that causes crepey skin on the neck, the notorious turkey neck, jowls and wrinkles. Wouldn't it be wonderful if you could wake up one day and these skin concerns were just a dream? Well, your dream can come true with Lucia Clinic's Morpheus8- a powerful treatment that unites micro-needling and RF energy. This innovative skin tightening treatment is the first treatment that can address full-body subdermal adipose and remodel your skin. You can get your skin to look as you have long desired – smooth, firm and youthful.
‍
MORPHEUS8 – THE GENTLE TITAN
Perhaps when you hear the words needles you start feeling uncomfortable but the word micro- will put you at ease right away. Morpheus8 treatment utilizes very fine needles that you almost don't even feel – you don't feel them but they do so many good things to your skin. Morpheus8 can reach deeper layers of your skin and target even the hard-reachable body areas that need to be treated with delicacy. That's why this treatment is gentle but absolutely effective.
By applying a micro-needling applicator to your skin, very small "wounds" are created in your dermis and epidermis that boost the natural production of collagen and elastin – your body starts its natural process of healing. That's the beauty of this treatment – you improve your skin concerns yourself, with a little help from this brilliant treatment. Your skin becomes smooth and firm, your complexion gets more even and your wrinkles get minimized.
‍
FIRM YOUR SKIN FROM WITHIN
Morpheus8 is actually so much more than a traditional micro-needling treatment because it comes with a twist – it transmits RF energy through the microneedles. This is what makes this treatment so brilliant – the energy can penetrate deeper under the skin, up to 4mm. The heat that is generated from the RF waves tightens the skin and coagulates the fat underneath. This method of skin rejuvenation and skin restructuring provides you with nicely shaped facial contours and smooth and even skin tone and texture.
And that's not all – your Morpheus8 treatment can be fully customized to address your specific skin concerns. The energy can go to a smaller or bigger depth – it all depends on the aesthetic goals you want to achieve. And you will achieve amazing results that will continue to become even better as time passes.
THE EFFECTIVE COMBINATION OF MICRO-NEEDLING AND RF ENERGY
Morpheus8 is the first treatment of this kind that can coagulate subdermal fat and contract connective tissue to get firmer and rejuvenate the skin. The treatment is so beneficial for your skin because24 micro-needles penetrate into the subdermal layer and create micro-channels. Through these channels, the emitted RF stimulates collagen and elastin production at even deeper levels that can't be reached with just micro-needling treatment. These layers of collagen and elastin keep your skin fresh and youthful-looking on the surface.
When RF energy reaches these deeper layers, it's when the magic of this treatment happens – your skin truly gets transformed.  You can achieve more effective results with this powerful combination than with just micro-needling or RF energy alone. RF goes directly into the middle and lower layers of the skin which reduces the risk of harming your skin surface. The combination of these two elements stimulates a brilliant anti-aging process that firms and smooths your skin – all in a non-surgical way.
‍
GET GLOWING SKIN IN A NATURAL WAY
Even though the most favored target areas of Morpheus8 treatment are jowls, jawline and submental area, it can firm crepey skin on the abdomen, knees, arms and inner and outer thighs. It is more than effective in treating fine lines and wrinkles on your face, neck and décolletage and deep creases like nasolabial folds. But that's not all -Morpheus8 can minimize the appearance of acne and acne scars, large pores and stretch marks.
This minimally invasive treatment can sculpt the stubborn fat pockets firm deep layers of your skin – double chin or turkey neck become the thing of the past. And still, the benefits of this outstanding procedure don't end here. Because the treatment triggers the production of collagen you will notice other improvements as well. Aside from contouring your face, Morpheus8 can reduce age and sun spots, melasma, visible veins and provide the general refinement of your skin tone and texture.
MORPHEUS8 – QUICK, SAFE AND STRAIGHT FORWARD
We live in a busy world and don't always have the time for a long recovery – or we simply don't want long down time. That's why Lucia's Morpheus8 treatment is ideal for clients who want to do something good for their skin but don't want to miss social encounters or take time off work. Do you want rejuvenated skin on the go? Then Morpheus8 will provide you with glowing skin in a flash.
The treatment doesn't require any special preparations, it can be finished in less than 2 hours and there is minimal to no downtime. You just come to Lucia Clinic, consult with the therapist and have your first Morpheus8 treatment done. You will get a fully customized treatment that targets your specific skin concerns – whether those are wrinkles, double chin or loose skin on your stomach, after a couple of treatment sessions your skin starts to look firmer and younger. All thanks to the advanced technology of Morpheus8 that restructures and turns once saggy skin into the firm and healthy one.
‍
IMPROVE YOUR SKIN COMPLEXION NO MATTER YOUR SKIN TONE
One of the remarkable benefits of Morpheus8 treatment is that it is suitable for all skin tones, even dark ones. You don't have to worry about the risk of hyperpigmentation. The RF energy precisely heats the deep layer of the skin and not the surface – it doesn't ablate the top layer of the skin. With this advanced technology, Morpheus8 brings the side effects caused by some resurfacing treatments to the minimum. This is something that singles out this treatment from the others – it is not just for the lighter skin. It provides uniform results without causing thermal damage to the dermis. Minimal side effects include only a mild redness but you can easily conceal it with makeup after two days post-treatment. Also, you only feel a mild heating sensation similar to the one after a day at the beach. As time passes and the new collagen is building, you will notice that your jaw, chin, neck, face or body is getting tighter. Your skin continues to rebuild itself and starts to look firm and youthful again.
‍
ACHIEVE GRADUAL BUT COMPLETELY NATURAL RESULTS
If you are bothered with wrinkles and saggy skin but don't want to undergo an invasive treatment, Morpheus8 is an ideal alternative for you. You will notice the initial improvement after the first treatment session, but to fully enjoy the benefits of this powerful treatment, it is recommended to have between 2 and 4 sessions. In the end, it all depends on your skin condition and the aesthetic goals you wish to accomplish. Lucia's team of therapists will gladly consult with you and advise you about the right number of sessions that guarantee full success.
After your last treatment sessions, the effects of Morpheus8 will continue to improve. This is where the beauty of this treatment lies – your skin gradually improves as the level of collagen and elastin rises.  After a few months, you will be able to enjoy a subtle lift of your facial skin, improved elasticity and reversed signs of aging. Morpheus8 can do so much for your skin on so many different levels.
‍
START YOUR JOURNEY TOWARDS REJUVENATED SKIN
As we get older our skin drastically changes -it develops laxity, fine lines and wrinkles and loses elasticity. All this can lead to loss of self-confidence and loss of radiance. All this can change with this cutting-edge treatment that delivers quick results – it plumps the face and gives more volume to skin contours that were depleted, provides a better-sculpted jawline and improves contours in the targeted areas of the body.
The treatment helps with the rebuild of your skin cells which in turn reduces the skin laxity and gives you a smoother skin texture. The best part is that the results are long-lasting. When the collagen builds up it strengthens your skin and keeps it resilient – your skin is better prepared for future aging. Elastic cells replace the old ones – fine lines and wrinkles become less noticeable.
With Morpheus8, you can prolong your youthful appearance and maintain more vibrant skin. Dedicated Lucia's team, is more than skilled and professional when providing their clients the best solutions for their aesthetic concerns.
RESTORE YOUR RADIANCE AT LUCIA CLINIC
Lucia's team is always looking for innovative and more effective ways to treat your aesthetic concerns. Morpheus8 treatment truly represents the core of Lucia Clinic – real benefits and very real results. It is definitely one of the best treatments for skin rejuvenation – it restores and revitalizes aging skin in a minimally invasive way. You can even combine this treatment with other anti-aging procedures like dermal fillers or PRP therapy – it's all up to you and your aesthetic goals. Lucia's team will help you decide what is best for your skin and what treatments will help you feel and look your best.
With Morpheus8 treatment, you can empower yourself without downtime, surgery or discomfort.
Book a consultation at Lucia Clinic and treat yourself to this brilliant skin tightening treatment.