GET READY TO LOOK GORGEOUS THIS RAMADAN SEASON WITH LUCIA CLINIC'S SPECIALS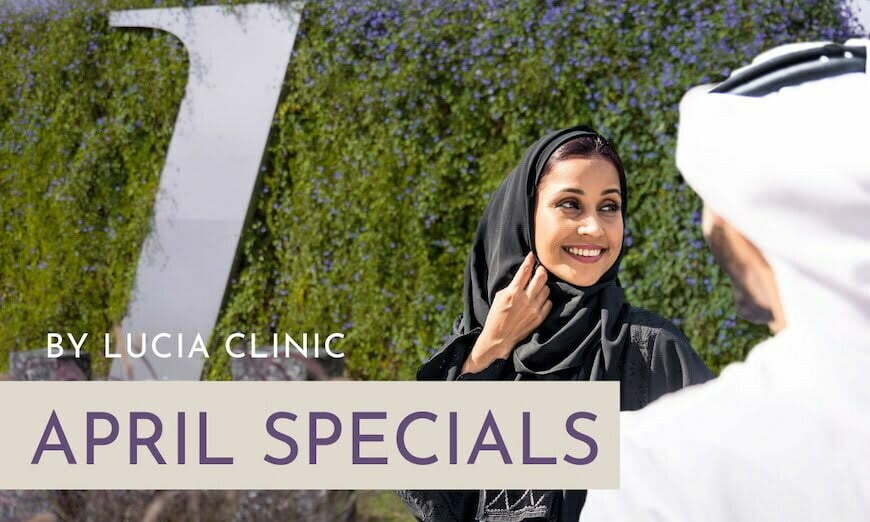 April's specials are here! It's time to rejuvenate your skin and get into perfect shape. This month you can reverse the signs of aging on your face and feel refreshed and ready for spring. Do you wish to take your fitness goals to the next level? Then don't miss out on trying EmSculpt NEO treatment. Prepare for the summer season and freeze away those last inches of stubborn fat with CoolSculpting! Read more about this month's specials.
REMODEL YOUR SKIN WITH LUCIA'S SECRET DUO
Lucia's Secret DUO treatment is special – it combines two amazing treatments, Secret RF micro-needling and Secret Erbium. This powerful combination remodels your skin at deeper levels and makes your skin youthful-looking and firmer. This is just what your skin needs this spring- a refreshed and rejuvenated look. Both treatments are one of the most advanced aesthetic procedures that are safe for all skin tones. Secret DUO reveals your natural beauty in a fast way, with minimal downtime and maximal results.
AWAKE YOUR COLLAGEN WITH SECRET RF MICRO-NEEDLING
It's all about collagen – the powerful protein that keeps your skin firm and youthful-looking. During Secret RF micro-needling treatment, a safe RF energy is used that heats different levels of your skin and removes old collagen fibers. At the same time, it stimulates the new, healthy collagen that starts to build up and remodel your skin.  Eventually, your skin becomes tighter and stronger and the signs of aging are eliminated. Even though RF energy heats your skin, it is absolutely controlled and can't harm the surface layer of your skin. It works on deeper levels where there is an abundance of collagen. It just needs to be woken up and this treatment is perfect for that.
TIGHTEN YOUR SKIN IN A GENTLE WAY
Secret RF micro-needling treatment is performed with a special device that has tiny needles attached to its tip. But the needles are only minimally invasive and can treat even the most delicate areas like around the eyes or the mouth. You can get a fully customized treatment that will address only your skin concern. It can be facial wrinkles, large pores, loose skin, acne scars and so much more. The advantage of this treatment is that it reduces all skin imperfections but it doesn't harm the skin surface. The secret of this treatment is that microneedles make perfect contact with the skin and penetrate it gently. RF energy is precisely delivered between the microneedles and targets deeper layers of the skin. The micro-wounds trigger your body's natural healing processes and you are left with clear, glowing and remodeled skin.
PLUMP YOUR SKIN WITH SECRET ERBIUM TREATMENT
Another powerful and advanced treatment that is part of Lucia's Secret DUO procedure is Secret Erbium – a non-ablative, fractional resurfacing laser treatment. Its secret is working deep within your skin but without harming the surface. This is a huge benefit for you because you can return to your daily routine really quickly – you feel refreshed and rejuvenated but you don't have to spend a lot of time recovering. This laser treatment emits multiple light beams into the dermis of your skin and heats it- it remodels the collagen fibers and leaves you with smooth and plump skin.
RETURN YOUR NATURAL RADIANCE
These two advanced treatments work so amazingly together – they offer you a gentler treatment, with reduced downtime and awesome results. Secret RF micro-needling improves the skin imperfections like sun damage, acne scars and large pores, while Secret Erbium laser smooths and plumps your skin inside out. Both treatments improve dull and tired skin and make it more radiant. Non-ablative skin resurfacing reduces the appearance of fine lines and wrinkles and improves skin tone and texture. At the same time, your skin gets mildly lifted and tighter as the new, healthy collagen builds up. You will love Lucia's Secret DUO because it can do so much for your skin.
Another treatment you can try out this April is Lucia's EmSculpt NEO treatment – get ready to look and feel great!
‍
 GET FIT WITH LUCIA'S EMSCULPT TREATMENT
As summer is approaching, it's the perfect time to do something awesome for your body. EmSculpt NEO treatment is the next step in taking your fitness regime to a higher level. This advanced treatment eliminates our stubborn fat pockets and at the same time tones your muscles. It is safe, fast and delivers amazing results. EmSculpt NEO represents a revolution in body sculpting treatments and is definitely something you have never tried before.
TONE YOUR MUSCLES IN AN EFFORTLESS WAY
What singles EmSculpt NEO from other body contouring treatments is that it can sculpt your arms or legs as well tone your calves or enhance your buttocks. If you have trouble defining any area of your body no matter how much you work out, EmSculpt NEO can do it for you. With different size applicators, you can address bigger or smaller areas of your body -EmSculpt NEO works great in both cases. The advantage of this treatment is that it causes 20,000 contractions in your muscle group, while you comfortably sit on a chair and relax. This is something you can never achieve while working out in a gym. Your muscles adapt to these conditions and start building up. You define your muscles basically doing nothing – EmSculpt NEO does it for you.
CONTOUR YOUR SILHOUETTE
This is where the second benefit of EmSculpt NEO does its wonder. If you have pockets of unattractive fat on different areas of your body and you simply can't get rid of them, this treatment will do it effectively for you. Here the revolutionary EmSculpt NEO technology is your way out – it targets stubborn fat cells and destroys them. In the end, your body's own metabolism flushes these fat cells away and you are left with slimmer arms, legs or abdomen. One more thing – the eliminated fat cells are gone for good. With regular exercise and a healthy diet, you can maintain the results and enjoy your slimmer body.
GET EMSCULPT NEO TREATMENT DURING YOUR LUNCH BREAK
That's another brilliant thing about this treatment – it is super fast. Each session lasts only for 30 minutes – after that, you are free to continue with your daily routine. There is no downtime or recovery. If you have a busy schedule you can easily fit EmSculpt NEO in it and feel great because you are doing something excellent for your body. Prepare to get more defined muscles and slimmer contours in just 4 sessions. That's a great way to empower yourself and feel more confident about your body. Once you complete all treatment sessions, you can start wearing clothes that are more flattering – you no longer have to worry about stubborn fat pockets or poorly defined muscles.
CUSTOMIZED EMSCULPT NEO TREATMENT IS WAITING FOR YOU AT LUCIA CLINIC
Everyone is different and everyone has different body issues. The advantage of EmSculpt NEO treatment is that it can be tailor-made to address your specific needs and meet your specific expectations. Lucia's team of skin therapists will go the extra mile in helping you overcome your body imperfections in the most effective way. Also, don't forget that Lucia's team pays special attention to your safety and will make your EmSculpt NEO treatment experience as comfortable as possible. So, don't think that EmScult NEO might be too intense for you because it won't. The skin therapist can adjust the intensity to suit your comfort level. During the treatment, while you read or work on your laptop your muscles are getting stronger and your contours are getting slimmer – that's how much EmSculpt NEO is effective.
Last but not least, this April you can try out Lucia's CoolSculpting treatment that eliminates your stubborn fat pockets in a safe and effective way. Get ready for summer with smooth and firm skin.
‍
 ELIMINATING UNWANTED FAT IS COOL WITH LUCIA'S COOLSCULPTING
You can finally get rid of stubborn fat pockets with this powerful treatment. It cools and freezes fat cells underneath your skin and makes them shrink. The fat cells can't escape CoolSculpting -your body eventually flushes them away. What is great about this treatment is that the fat cells will never return. You can finally enjoy your smooth and firm skin and maintain the results with healthy lifestyle habits. Fat bulges on your thighs, arms, back or chin are the thing of the past after this awesome treatment.
GET RID OF STUBBORN FAT UNDERNEATH YOUR CHIN WITH COOLMINI TREATMENT
 Is double chin bothering you or you don't like fat pockets above your knees or under your armpits? Say no more, because CoolSculpting has different size applicators that can address all areas of your body, even the smallest one. We all know that sometimes exercising hard or keeping a strict diet can't sculpt the jawline or make the knees look slimmer. But with the CoolSculpting mini applicator, you can eliminate unwanted fat cells in these delicate areas. This applicator is small and gentle but it delivers brilliant results in the safest way.
SCULPT YOUR BODY AREAS WITH COOL MEDIUM TREATMENT
How about finally being able to wear your cool jeans? CoolSculpting medium applicator can treat your inner or outer thighs and get them better contoured. Stubborn fat pockets are really stubborn on areas like thighs, love handles or buttocks, but Cool Advantage applicator can make these body areas tighter, smoother and sculpted. Get your CoolSculpting treatment session during your lunchtime – it's that fast. In just 35 minutes your first CoolSculpting treatment session can be finished. You don't need recovery -there is no downtime. You can enjoy the rest of the day but with a twist – you will finally feel confident about your new and slimmer contours.
FREEZE AWAY ALL UNATTRACTIVE FAT BULGES
CoolSculpting is so easy and effortless -while you are sitting or lying comfortably, it is freezing fat cells on all your problematic spots. All you have to do is come to Lucia Clinic and get a customized treatment plan that will target your fat pockets even the ones that are difficult to reach. Double chin, love handles or saddlebags on your thighs can become a thing of the past. Look graceful this spring with your slimmer and natural-looking contours – all thanks to CoolSculpting treatment.
Visit Lucia Clinic this April and find the best treatment for you. It can be a skin remodeling procedure with Lucia's Secret DUO treatment or body contouring and toning treatment with EmSculpt NEO or CoolSculpting. Whichever you choose you will feel radiant and more than glad that you are doing something awesome for your face and body. More importantly, you will be more than satisfied with the results.
 Book your consultation at Lucia Clinic today!