LUCIA CLINIC IS INTRODUCING ALMA HYBRID TREATMENTS TO THE MIDDLE EAST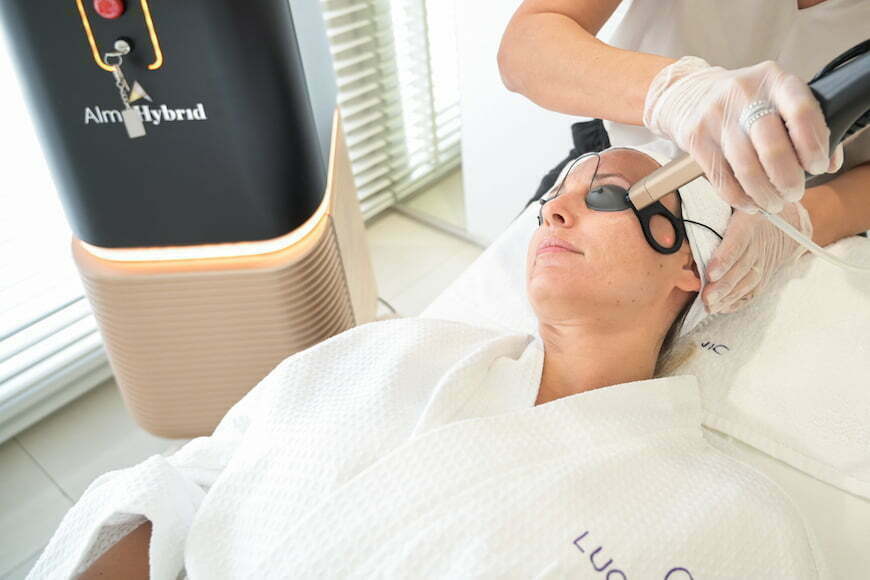 Lucia Clinic is proud to present Alma Hybrid -advanced laser treatments for scar elimination and skin rejuvenation. With technology that has never been used before, Alma Hybrid combines 2 powerful lasers to provide incomparable and supreme results. Are you concerned about your skin appearance – wrinkles and fine lines, sun spots, uneven skin tone or texture? Or are you feeling self-conscious about an unwanted scar? Don't be anymore – Alma Hybrid offers endless treatment options that meet aesthetic and medical improvements for every patient.
‍
TO ABLATE OR NOT – THIS IS NO LONGER A QUESTION
The dilemma about whether to choose ablative or non-ablative laser treatment is over. So far there has always been a choice between just ablative or non-ablative lasers. But, Alma takes this world of medical and aesthetic lasers to the next level – a combination of these contrasting energies and creating an unprecedented synergy – the ablative element for supreme resurfacing and non-ablative effect for collagen stimulation.
With the precisely controlled ratio of ablation and non-ablation, you get nothing but outstanding results with minimized risk of side effects and significantly reduced downtime. On top of that Alma Hybrid offers one more surprising feature – Trans Epidermal Delivery of essential skin products. Rejuvenate your skin beyond measure with this powerful trio of energies all at once!
‍
GET RID OF THE SCARS, BRING BACKYOUR CONFIDENCE
Restoring smooth skin without scars has never been easier with Alma Hybrid OScar treatment. Designed to treat various scars, from acne to surgical ones, this treatment provides successful scar remediation. Get a fully customized treatment protocol with proper parameters of powerful CO2 and 1570nm laser wavelength. CO2 uses precise fractional laser energy to combine coagulative, thermal and ablative effects. 1570nm is a potent non-ablative laser that triggers the regeneration of the dermis with its thermal effect. It boosts the collagen production that replaces the damaged tissue with the healthy one. The final touch – IMPACTTM infuses your skin with essential skin products to boost the outcomes even more. And what are the outcomes?  Smoother skin with significantly less visible scars in just 4 to 5 treatment sessions.
GOT A LUNCH BREAK? TRY LUCIA'S HYBRID SOFTLIFT
This virtually is a lunchbreak skin rejuvenation procedure. It refreshes and refines your skin tone, reduces fine lines and mild wrinkles and makes different skin lesions like acne scars less visible, in just 45 minutes and without downtime. The powerful but gentle1570nm laser creates a notable thermal effect and boosts the production of collagen and elastin deep in the dermis, but of course, doesn't injure the epidermis. This leads to a significant regeneration of the extracellular matrix and brings one more extra benefit – it works even for dark skin tones.
The treatment is safe for dark skin types because it doesn't provoke any side effects that other laser therapies might. What are the results? With only 1 to 2 treatment sessions you can achieve the best outcomes. Get smoother, younger-looking and glowing skin in nothing but a safe, minimally invasive and comfortable way.
LUCIA'S HYBRIDLIFT – A VIRTUALLY OVER-THE-WEEKEND TREATMENT
Are you in for skin rejuvenation that will only take two days off your time? Get your wrinkles and fine lines reduced or eliminate the unwanted solar pigmentation. All this is achieved with the power of two lasers – CO2 and 1570nm. This extraordinary renewal treatment combines first-rate features of ablative and thermal effects. The contrasting energies work perfectly united to smooth your skin and make it more younger-looking.
Don't forget the finishing twist – infuse your skin with essential products with the IMPACTTM ultrasound. The products go directly through the micro-channels created in your skin and are so much more effective than any other topical skin product. After a short downtime, you will experience dramatic results – wrinkles and fine lines are significantly improved and solar pigmentation is eliminated. Best of all – your skin looks younger and feels smoother.
GO A STEP FURTHER WITH ALMA HYGRID APPLICATOR
This innovative applicator is a true star of Alma Hybrid treatments. You can get a completely customized treatment protocol for any skin issue that you are dealing with. Your signature treatment plan includes your skin type, the treatment area, treatment time and most importantly necessary downtime. This innovative approach to skin treatments also enables you to get a perfect balance of the power of ablative and non-ablative elements for supreme results. You can take full advantage of bothCO2 and1570nm lasers – this is what makes Lucia's Alma Hybrid treatments ahead of the competition.
This is the only treatment of this kind that combines the power of three different energies and offers so many different options for practically anyone. These treatments represent a true revolution in aesthetic and medical procedures when we talk about the patient's safety and satisfaction with the outcomes.
GET YOUR OWN PERSONALIZED TREATMENT PROTOCOL
The beauty of Lucia's Alma Hybrid treatments lies in crafting a bespoke skin-treatment protocol. You can get a signature treatment that will address only your skin concerns and bring the outcomes that only you desire. Your tailor-made treatment can even provide a balance between the time when you see the results and the necessary downtime. Your treatment protocol can include one ablative and one non-ablative pixel – it all depends on your specific needs and goals. Whether your skin concerns include age-related problems like wrinkles, fine lines and sunspots or you wish to eliminate the unwanted scar Alma Hybrid treatments are capable of providing you with an effective solution with its mass of various treatment options, that will only serve you.
This kind of technology has never been used before – be the first one to experience it at Lucia Clinic.
ADVANCED LASER TECHNOLOGY JUST FOR YOU
Lucia Clinic's professionals are on top of the game with Alma Hybrid treatments. They are super excited to offer these absolutely magical treatments to you. Scars, wrinkles, hyperpigmentation are the thing of the past – with your personal treatment protocol Lucia's team will show their unique skill and experience and lead you to remarkable results. All skin issues that bother you can be addressed regardless of your skin tone -this is another excellent benefit that Lucia Alma Hybrid treatments can offer.
The important fact that makes this treatment stand out among others is that the results that you achieve are outstanding and yet the necessary downtime is decreased. With your customized treatment, you get a perfect combination of ablative CO2 injury and non-ablative 1570nm injury- this is something that has never been done before and this perfect injury pattern can only be achieved with this brilliant treatment. Your treatment time can be significantly shorter because with the complete control of laser energies and affects only the damaged skin tissues are treated. There is no risk of overlapping or injuring the healthy skin tissue. Your Alma Hybrid treatment becomes absolutely comfortable because it has been tailored just for you.
ACHIEVE REMARKABLE IMPROVEMENTS TO YOUR SKIN WITH A MUCH SHORTER DOWNTIME
Experience the advanced and never-seen aesthetic laser treatments that deliver exceptional results. Alma Hybrid treatments are so much more than traditional fractional laser – virtually every aspect of your treatment can be pre-determined. This supreme control is what makes Alma Hybrid the first and only device on the market that completely works for you and enables you to get absolute satisfaction with the results.
Having a busy lifestyle leaves no room for prolonged downtime after skin treatments. Keeping this in mind, Alma Hybrid treatments offer you a perfect balance between the downtime and the results. Next to a customized ratio of ablation and non-ablation, your treatment time can be significantly reduced. The duration of your recovery time is totally managed to meet your personal needs. Alma Hybrid treatments really show their supremacy over the other laser treatments here – keeping the patient's needs and expectations in the first place is at their very core.
ENHANCE YOUR BEAUTY WITH LUCIA'S ALMA HYBRID TREATMENTS
There is nothing more beautiful than respecting nature. When it comes to aesthetic treatments it is essential to remember that natural results are all that counts. Lucia's team always keeps this in their minds and with the help of unique Alma Hybrid treatments they can keep the fine line between natural and enhanced beauty unchanged. With Alma Hybrid treatments you can enhance your beauty and feel more confident without crossing the line towards overly dramatic results. You can truly get a transformation of your skin, but still, stay yourself which in the end is the point of naturally enhancing aesthetic treatments.
THE FUTURE OD SKIN REJUVENATION AND SCAR TREATMENTS IS HERE
Don't miss a chance to embark on this wonderful journey towards skin improvements. Lucia Clinic's team couldn't be happier to be the first in the Middle East to introduce to you these avant-garde and cutting-edge aesthetic and medical treatments. Alma Hybrid treatments technology truly represents a gold standard in the aesthetic enhancement industry and is futuristic by all means. But, this future can become present to you right here, right now at Lucia Clinic.