MUMMY MAKEOVER – A JOURNEY BACK TO YOUR SELF-CONFIDENCE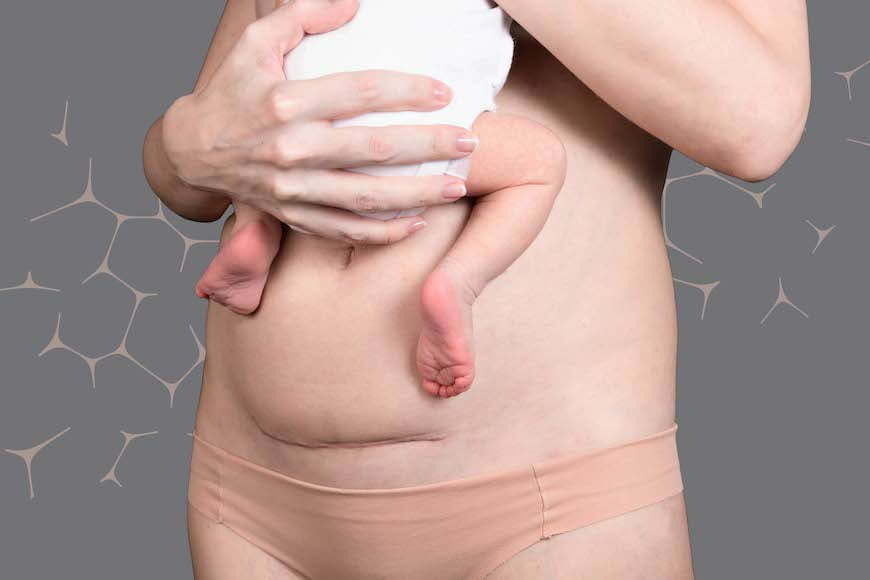 All mums always say that having a baby is one of the most exciting and enriching experiences. But we sometimes forget that pregnancy puts women through a lot of changes regarding their body and emotions. Their body becomes different and there are some body areas that they struggle to restore after childbirth. Their tummy is bigger because of weight gain, their breasts are bigger, smaller or saggier, or they have saggy skin or excess fat deposits in other body areas. They also develop stretch marks which are not easy to get rid of.
If you can relate to these changes and have a desire to restore your pre-baby body Mummy Makeover surgical procedure is something to consider. This procedure targets all your problematic body areas and improves them through liposuction, body contouring, breast augmentation or reduction and tummy tuck procedure. It can contour the waist, hips, arms or thighs and the main goal is to restore your body as it was before pregnancy and childbirth.
After this surgery, you will feel like a new woman or like a woman you used to be -you will restore your radiance and achieve results that will put your body inharmony again.
‍
MUMMY MAKEOVER IS VERSATILE AND THEREFORE PERSONALIZED
This is a great benefit of this surgery – you can decide to have a combination of procedures to improve body areas that you are not satisfied with. Every woman is different and has different body types or body issues. So each Mummy Makeover is customized for every patient's need, goals and her own "makeover". There is no one-fit-Mummy Makeover. With the help of an experienced and creative plastic surgeon, you can bring your body back to shape and additionally remove stretch marks, make your skin firmer and restore your skin's elasticity.
Having a thorough consultation with your plastic surgeon is crucial. You can express your wishes about which body parts you wish to enhance and the surgeon can advise you on which procedures you can have to achieve the desired results. You can discuss the amount of restoration you wish to achieve, where you wish the incisions to be placed, or do you prefer breast implants or other alternatives for breast augmentation for example.
Mummy Makeover usually involves Breast improvement and Tummy tuck, but you don't have to stop there. You can also choose to have an arm lift, thigh lift or buttocks enhancement.
BREAST SURGERY – ENHANCE YOUR CLEAVAGE
Mummy Makeover often consists of breast surgery. Breasts are body areas that can get significantly changed during pregnancy and after breastfeeding.
 They can become deflated, they can appear uneven or get too big because of weight gain. Especially nipples get stretched and distorted and breasts appear too heavy and asymmetrical.
You can decide to get breast implants and restore the lost volume.
On the other hand, if your breasts become too saggy and have too much stretched skin, then the best solution for you would be breast lift surgery. This procedure will address weak and sagging breast tissue and restore your breasts' firmness, perkiness and return them to a higher and more youthful position.
You can even combine the two procedures -breast implants plus breast lift will create a youthful-looking appearance of your breasts again.
Finally, if you are left with large breasts that look disproportionate to the rest of your body, breast reduction surgery can reduce the size of your breasts and make them appear more balanced.
If you are bothered with incisions, don't be. They are strategically placed underneath your breasts and are practically invisible.
No matter which issue you have with your breasts, Lucia's plastic surgeons will use all their expertise to achieve the best results for you. Your breasts will get firm, symmetrical and shapely as they once were.
TUMMY TUCK – FEEL GOOD IN YOUR SKIN AGAIN
The Tummy Tuck procedure can be next on your list for a makeover. Pregnancy and childbirth can separate the abdominal muscles and leave you with a bulge on the abdominal wall. Fluctuating weight and loose muscles can make you feel not at your best after your baby comes into the world. Sometimes if you work hard, you can return to your previous weight but you are still left with saggy skin and weak muscles.
Also, you may have extra fat deposits around your waist and stomach. This extra fat just simply won't go away no matter how much you exercise or keep a proper diet.
Liposuction is the best way to eliminate excess fat, but what about loose muscles or saggy skin? Liposuction can't solve these issues. But luckily, the Tummy Tuck procedure can. It removes excess fat, tightens the muscles and eliminates loose skin. You can choose to have a mini or a full Tummy Tuck – it all depends on your needs. With mini Tummy Tuck, you can address saggy skin below your navel. With full Tummy Tuck, you can address your full abdomen and make it flatter and firmer.  Muscles underneath your skin get decentralized and appear better contoured. Don't worry about the incisions -they are placed just under the bikini line and won't be even noticed.
The Tummy Tuck procedure removes your stretchmarks, firms your abdominal skin and creates an overall slimmer silhouette. One more advantage of this surgery is that it can improve your posture, strengthen your abdominal muscles and overall ergonomics – get ready to feel awesome when wearing bikinis again.
LIPOSUCTION – IMPROVE YOUR BODY CONTOURS
Liposuction is often a part of Mummy Makeover because it can help you to sculpt other parts of your body apart from the abdomen. It's the best solution for those persistent fat pockets that occurred in different body areas after pregnancy and simply won't go away. It can even eliminate fat in hard-reachable places like your neck or above your knees. After liposuction, you won't be bothered anymore about unattractive fat bulges.
It can remove stubborn fat deposits from your waist, thighs, arms or hips. It is fast and effective and it blasts off the unwanted fat. There are some advanced techniques for liposuction that don't have to be so invasive or painful. A good example of this is Tumescent Lipo which is done with local anesthesia and guarantees faster recovery. Or there are ultrasound-guided or laser-assisted liposuctions as well. So very quickly and with short downtime you can be back on your feet again but with a firmer body and better contours.
SAVE TIME AND RECOVER FAST WITH A MUMMY MAKEOVER
Since Mummy Makeover is a combination of plastic surgeries, it is performed all at once. It is one procedure with multiple benefits. The surgery lasts a bit longer, but after a day you are free to go home and relax. If you are a busy mom with more kids, one period of recovery will save you time. The recovery period is typically from 4 to 6 weeks and then a whole new life-changing period starts for you. Of course, you can choose to have these surgeries separately because of different reasons but then you need to hassle with multiple consultations and longer recovery. Also, if you do it all at once, you get a single round of anesthesia and reduce the undesirable side effects. If you do it all at once you also recover only once.
It is definitely better to achieve your goal during one operation. You will achieve more dramatic results and see the biggest change in a short period of time. And the results will be fantastic -your breasts will be firmer and nicely shaped, your abdomen will be slimmer and free of excess saggy skin, your arms will be lifted and your thighs, hips, buttocks and waist will be slimmer and smoother. Your goal to restore your pre-baby body shape will be fulfilled. Just imagine the rise in your confidence when you look yourself in the mirror and wear clothes you wore before pregnancy. It truly is a huge difference when you feel satisfied with your body- you feel happier and your sense of wellbeing is improved.
REVITALIZE YOUR BODY WITH MUMMY MAKEOVER
Let's be honest – during pregnancy, your body has done some wonderful things for the baby. But now, when your children are older and you have finished planning a family it's time to do something for yourself. Looking in the mirror and not seeing your beauty but just your body issues can really diminish your self-confidence. With Mummy Makeover you will be able to see yourself as you really are – radiant with vitality and beaming with self-confidence.
With Mummy Makeover you can refresh your skin that has been affected by stretching or hormonal changes. Your skin can get firm again without pigmentation and stretch marks. When the excess skin is removed, your body will be fitter and better sculpted. After this procedure, you will find clothes that actually fit you. You will start shopping for smaller sizes.
The results of Mummy Makeover are really natural-looking and long-lasting. Of course, it is always best to keep with your healthy lifestyle habits like exercising regularly or eating a balanced diet. This way you will maintain the results for a really long time. You can start exercising once your body fully heals and by exercising you will enhance the results even further.
‍
TURN BACK THE CLOCK WITH MUMMY MAKEOVER
Lucia Clinic's Team of plastic surgeons keeps the patients' safety and best interest in the first place. They will go the extra mile to help you feel good about yourself again. They are patient-oriented and will provide you with the best service and best postoperative advice to help you maintain the results of Mummy Makeover. With the best possible combination of plastic surgeries, they will bring out the best in your body no matter what stage of life you are in.
Being pregnant and childbirth is a wonderful thing but it can take its toll on your body. With Mummy Makeover you can bring back the confidence that you had before. You will feel like your old self as you restore your physical and emotional wellbeing.
To find out how Mummy Makeover can benefit you, schedule a consultation with Lucia's plastic surgeon.