WHAT ARE LIP FILLERS AND WHAT DO THEY LOOK LIKE?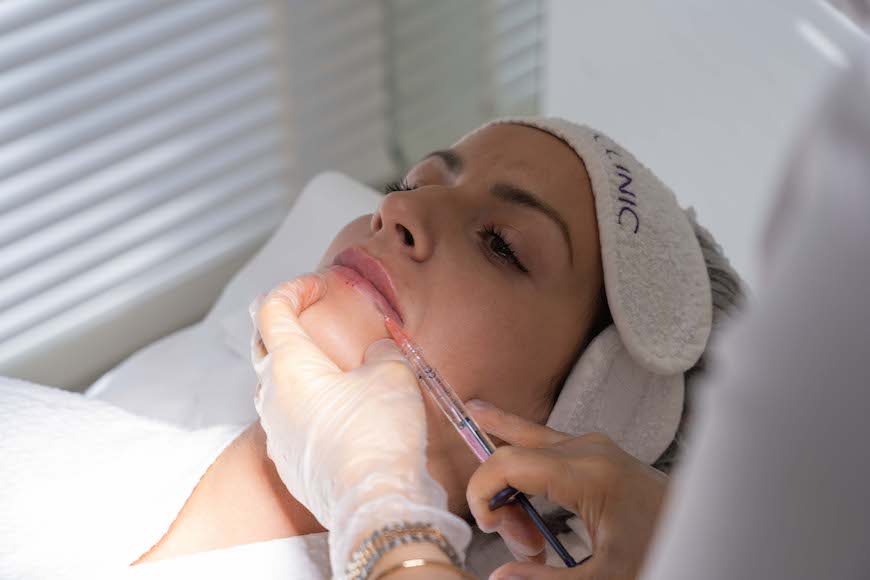 Although lip augmentation procedure was once thought of as a novelty reserved only for those who are well-off, the advances in the cosmetic industry allowed for it to become readily available to anyone who seeks to improve the appearance of their lips. As a non-surgical, affordable, and highly effective procedure with minimal downtime and natural-looking results, it is no wonder lip fillers are considered one of the most popular beauty trends of this decade.
WHAT ARE LIP FILLERS?
Lip fillers or lip augmentation is a cosmetic procedure performed in order to give you plumper and fuller lips. The procedure implies injecting your lips with a dermal filler, usually hyaluronic acid (HA) based filler, and should be done only by a licenced medical doctor.There are various different types of dermal fillers available on the market today, mostly hyaluronic acid based. The reason for this is the very nature of hyaluronic acid –  since it is a substance already present in the human body, the body is more likely to accept and utilize it without any side effects and complications.
WHAT ARE THE BENEFITS OF HYALURONIC ACID FILLERS?
Hyaluronic acid lip fillers are well-known for their unique ability to improve the appearance of your lips. Namely, once injected, they will add volume, structure, and shape to your lips, making them look plump and smooth. Hyaluronic acid is also very effective in softening the fine lines that can appear around the lips, and it can be used for volumizing the upper, lower, or both lips. The advantages of opting for this type of lip fillers are numerous. To begin with, using hyaluronic acid gives you greater control over the volume of your lips since only a certain amount of the substance is injected at a time. What is more, the treatment is gradual, meaning that you may receive several injections until you are satisfied with the result. Also, bruising and swelling are reduced, and the possibility of having an allergic reaction is highly unlikely. Moreover, the very nature of the substance allows for any bumps and lumps to be dissolved fairly quickly. However, probably the greatest benefit of hyaluronic acid lip fillers is the fact that even though the results are not permanent, they are reasonably long-lasting – typical HA fillers need to be redone every six to nine months.
WHAT DOES THE PROCEDURE LOOK LIKE?
At the very beginning, you should have an extensive consultation with your doctor so as to determine the exact area you wish to be injected and the amount of substance or the number of treatments you will need for achieving the desired results. Then, the doctor will mark the desired areas and, if needed, apply a topical or local numbing agent which enables the procedure to be painless, apart from a slight pinching sensation. Once your mouth feels numb, the doctor will use needles to inject hyaluronic acid into your lips. The whole procedure takes around 15 to 20 minutes. After lip fillers are injected, you will receive either a massage or have ice applied to the treated area to ease the discomfort, prevent swelling, and avoid forming bumps and lumps.
WHAT TO EXPECT AFTER THE PROCEDURE?
You will be able to notice the results immediately after the lip fillers are injected and the procedure is over. A certain degree of swelling will be visible for the first day or two, but the numbness you might feel in your lips will wear off in just 15 short minutes, which means you can go back to your usual everyday activities as soon as you leave your doctor's office.To get the best results, it is recommended to keep yourself hydrated and avoid getting a face massage or a facial the same day. You should also avoid strenuous exercises and heated environments, due to the increased blood flow. In addition, do not take vitamin E, fish oil or painkillers which are known to thin the blood and thinner blood increases the possibility of bleeding and bruising. Moreover, avoid putting any kind of firm pressure on the treated area and refrain from using lip balms or lipsticks right after the procedure.
HOW TO MAINTAIN LIP FILLERS?
Since lip fillers are not permanent, their effect may last anywhere from three months up to a year, so the exact time to schedule a touch-up is different for every patient. The longevity is affected by the type of a lip filler used, a patient's age, and their lifestyle. For example, the filler tends to dissolve faster when a patient has a more physically active lifestyle, as opposed to those patients whose lifestyle would be best described as sedentary.
CAN THEY BE REMOVED?
If it happens that you dislike your lip fillers to such an extent that you want the effect to be reversed immediately, the good news is that it is possible to do so. Your doctor will inject you with another substance that can break down the filler within five minutes.
CONCLUSION
Lip augmentation is among the most popular non-surgical cosmetic procedures done worldwide. This should not come as a surprise if we take into consideration the effectiveness, safety, and longevity of the procedure itself. However, to avoid any complications and ensure you get quality lip fillers that truly complement your facial features, it is of utmost importance to make an appointment with a reputable and experienced doctor.