19 QUICK ANSWERS THAT WILL CHANGE YOUR VIEW OF BREAST AUGMENTATION SURGERY FOREVER
Today I am going to shed some light on key questions you have about breast augmentation surgery. These quick answers will help you loosen up a little, ease the anxiety that you might feel about this surgery and take the next step – deciding to do it.
In this article you'll learn:
1. WHAT IS BREAST AUGMENTATION SURGERY?
Imagine standing in front of the mirror every day, looking at your breasts and wishing they were bigger. Let's say that you have been imagining what would your breasts look like in a skimpy top with full cleavage or without a push-up bra for about 10 to 15 years. And then you realize – there is something I can do about it. I'll google the term breast augmentation and read all about it. I'm sure you have stumbled upon the same answers to the question of what breast augmentation represents.
But here it is again –
Breast augmentation is a surgery that makes your breasts bigger. It can be done with silicone breast implants which the surgeon places under your chest muscles or under your breast tissue.
That's what breast augmentation is – in a nutshell. It helps you feel more confident, sexier and perkier. Or it helps you reconstruct your breasts if you are unhappy with how your breasts look. This can mean that one of your breasts is smaller than the other and needs a little boost. Or you have finished planning your family and lost significant amount of weight and now you want to focus on yourself and make your breasts look as they did before your pregnancy.
The reasons for your breast augmentation are yours and only yours.
One important thing is that it is a surgery after which you usually can go home the same day. You rarely have to stay overnight in a hospital or surgical center.
REMEMBER – Finding a surgeon you can trust, a surgeon who will answer all your questions (even those that sound silly) and is more than qualified to do this procedure is the key to your successful breast augmentation surgery.
Let's move on to the second question –
2. HOW CAN I PREP MYSELF FOR BREAST AUGMENTATION SURGERY?
We all know that surgeries are a bit scary. But if you know how to prepare for breast augmentation it will help you ease the anxiety you may be feeling no matter if you are just starting to consider it, you have already booked a consultation with your plastic surgeon or you are counting the days before D-day.
Read the following tips.
EXPLORE THE BREAST AUGMENTATION SURGERY
Before making your decision, learn about this surgery as much as you can – what it involves in every detail. This way you will be sure that this surgery is right for you and that you are comfortable going through this process.
TRY TO BE IN THE BEST EMOTIONAL AND PHYSICAL SHAPE
This is important for your surgery to be successful and for your recovery of course. You will have a much faster and better healing experience. This means that you have a stable weight and are generally healthy. As for emotional state – don't neglect it. You need to feel okay about the procedure and surround yourself with supportive people like a boyfriend, husband, friend or family member who will be by your side all the time.
FOLLOW YOUR SURGEON'S RECOMMENDATIONS
This may include a lot of different advice like proper nutrition, regular sleep and exercise and minimizing stress. Now, this is not always easy, but be positive about your surgery. Remember – it's just for you and the end result will be more than satisfactory.
BE STRAIGHT WITH YOUR SURGEON
This means that you need to inform him about all medications, vitamins and supplements you are taking and about all the illnesses or conditions you may have. This could interfere with your surgery and prolong your recovery period – this is something you definitely don't want to happen.
Finally,
MAKE POST-OP ARRANGEMENTS
Because you don't want to come home after surgery and be unprepared for your recovery. First, arrange for someone to drive you home because you won't be able to do it because of anesthesia side effects.
Then do everything around the house that you won't be able to do in the next period. Put all your food in the lower levels to avoid reaching for it.
Make sure to get post-op garments like comfy sports bras that have clips on the front and don't have wires.
Prepare loads of ice packs – they will help you with post-op swelling.
Keep taking prescribed medications if your surgeon gave you the green light. Just avoid blood thinners because they can interfere with your surgery and recovery in terms of causing prolonged bleeding.
On the day of surgery, bring a list of last-minute questions for the surgeon – you never know what will pop into your mind.
That's it – you're ready! Remember – all detailed instructions will be given to you by your surgeon. Just follow them and your breast augmentation journey will be smooth and positive.
3. THE BIG QUESTION – HOW LONG AM I UNDER ANESTHESIA DURING BREAST AUGMENTATION?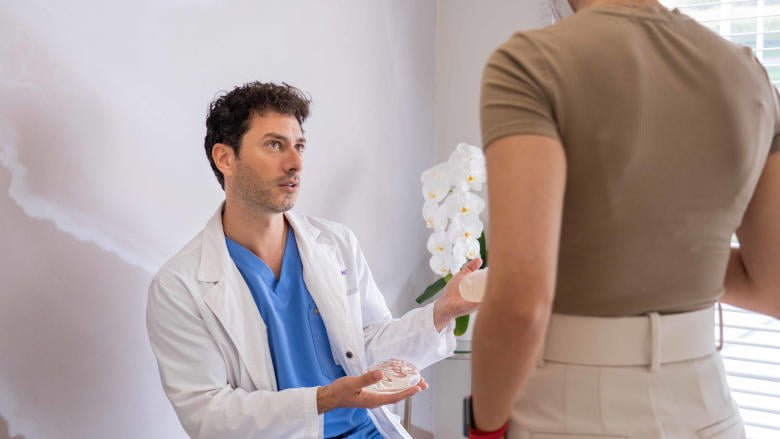 It's only natural to ask this question and to feel a bit nervous about it. But knowing some general guidelines about anesthesia will give you a bit of peace of mind.
For this surgery, you are under general anesthesia even though it is quite a quick procedure. In most cases it lasts for 1 hour, so during that time, you are completely asleep. You are unaware of what's happening around you nor you will remember the surgery itself when you wake up.
Since you are fully asleep, an anesthesiologist monitors your vital signs while your plastic surgeon and the staff are performing the surgery. So, you are in good hands all through the process of breast augmentation.
Another question that you may ask is whether anesthesia is painful. Let me tell you right away – no, it isn't. With today's advanced techniques used for delivering anesthesia, the only discomfort you may feel is a needle prick for IV. Otherwise, no other pain should be felt.
Finally, you may also be wondering how long it takes to wake up. Well, usually 30 minutes to one hour. So there you have it – you will be under anesthesia for an hour and a half or max two hours. Let's admit – that's not too long, considering that breast augmentation is major surgery.
JUST DON'T FORGET – arrange for someone to pick you up from the hospital and drive you home.
4. I REALLY WANT TO HEAD TO THE BEACH – BUT WHEN SHOULD I DO IT AFTER BREAST AUGMENTATION?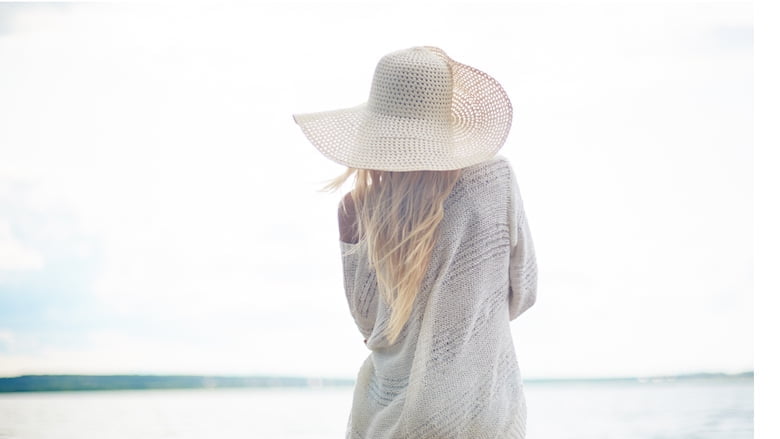 Think about this – you have always been self-conscious about your breasts and the way they look in bikinis or other swimsuits.
And now after, breast augmentation, you can finally get a bikini that will show your fuller and better-shaped breasts. You are eager to present your new and proportionate figure.
But, you need to be a bit patient and listen to your body, before you hit the beach.
Why?
Because you want to avoid unnecessary complications.
Everyone is different, your body is different and perhaps you will feel that these time limitations are too long for you and that you are ready to enjoy beach activities, but just keep them in mind:
If your scars are dry and properly healed you can go underwater after 6 to 8 weeks. And you can go swimming in the lake, sea, ocean or other natural water after 3 months. Your incisions need to be completely healed so you don't catch bacteria from the water. This is because this water is untreated and you don't want to end up with an unnecessary infection. If you do go to the beach sooner, just don't get your incisions wet.
Also, try not to expose to the sun too soon after the surgery. The sun can increase your swelling or make your scars darker than they should be.
Be patient with beach activities like volleyball for example. It is too strenuous for you in the early stage of recovery, so wait for 6 to 8 weeks before you serve a ball.
One last thing – after the surgery, your breasts need to be properly supported. So you'll need to wear a compression garment or a sports bra for 4 to 6 weeks before you can slip on a fun and flattering swimsuit top.
So, just take your time.
Waiting for 6 weeks is not that big a deal when you know that after that you will be able to fully enjoy your fun day at the beach.
5. WHEN CAN I WEAR A REGULAR BRA AFTER BREAST AUGMENTATION?
Another thing you can't wait to do after your surgery is shop for new tops, shirts and, well – normal bras. You want to highlight your awesome new figure and that's completely legit.
But, again you'll need to be a bit patient before you head on a shopping spree.
Your new breasts will need some time to drop into their position in the breast pocket and fluff – more precisely 3 months. So, if you buy new bras too soon, later when you actually see the end result of your breast augmentation surgery, you may find that they don't fit you correctly. You may also have some residual swelling and when it finally settles, your new bras will be too big.
Also, the exact moment when you can start wearing normal bras depends on the type of implants you got. You'll need to wear a sports bra or compression garment if you got silicon breast implants because your new breasts need to be supported as they are healing.
Also, it is important if your silicones are smooth and round or textured and teardrop-shaped. For smooth and round implants it can take months before they drop and settle, and for teardrop implants, you need to super support them in order to prevent them from rotating and creating an unnatural look.
So, what can you do to avoid this and still wear a bra?
Simply buy some cheap bras while you are recovering. Just make sure that they are comfy and don't have a wire. A wire could potentially disrupt your incisions and that's something you don't need while you're healing from the surgery.
6. I KNOW MY NEW BREASTS WILL FEEL TIGHT AFTER BREAST AUGMENTATION, BUT WHEN DO THEY STOP?
This is something everyone wonders – why are my new breasts hard and how long will they stay like that? To tell you right away, once you get silicone implants your breasts start to heal and swell and that's why you feel tightness. It takes time for the muscles and tissues around your implants to stretch and get used to the added volume. As your breast pockets expand your breasts start to fluff, drop and get that natural look and feel you were expecting.
So, when does that happen?
Generally, after 2 to 3 months post-op, your new breasts will get softer and more settled. As for tightness, you may have to wait for 6 months to fully resolve. It's simple – as I said your new breasts need time to accept the new implant and once that happens, your breasts will feel like a part of your body again.
But, tightness after breast augmentation surgery is normal and leads towards the end result you desired – improved, perkier and natural-looking breasts.
7. WHEN IS IT OKAY TO SLEEP ON MY SIDE AFTER BREAST AUGMENTATION?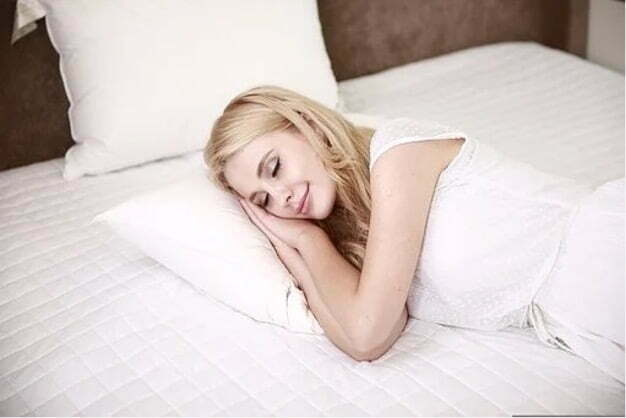 We all know that every surgery requires extra rest afterward but some surgeries change
how you should sleep
. Breast augmentation is one of those – you need to sleep on your back post-op. You need to rest and keep your body comfortable while it is healing.
Now, you can slowly change your sleep routine and try sleeping on your side after 6 to 8 weeks. During this time, your beasts will have healed in a way that the implants won't cause pain and discomfort anymore. Sleeping on your side too soon may lead to wrinkling around the breast area, and you definitely don't want that to happen.
Also, once you start sleeping on your side, put a soft pillow under your breasts to lower the pressure on them. And don't forget to wear your approved bra – it will keep your implants in the right place even when you start sleeping on your side.
EXTRA TIP: Try to get used to sleeping on your back prior to the surgery.
That way you will be already accustomed to this sleeping position. And it won't be so uncomfortable post-op.
8. MY BREASTS ARE SWOLLEN AFTER BREAST AUGMENTATION – HOW CAN I REDUCE IT?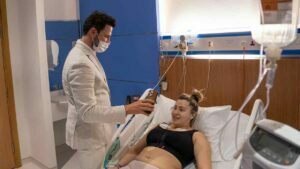 To tell you right away, swelling is normal after this type of surgery. Your body is reacting to surgery and swelling is part of your healing process. But there are some things you can do to decrease this uncomfortable feeling, so read the following tips.
Just to know, most swelling appears in the first 3 days and then slowly decreases. By the end of 3 weeks, there is a huge difference in how much your swelling has reduced. By the end of week 6, the swelling should be cut in half, and after 6 months your swelling should be completely gone.
GOOD TIP: Take a photo of your breasts right after the surgery and 3 weeks after to compare.
Now let's go back to the tips.
DON'T NEGLECT YOUR COMPRESSION GARMENT
You'll wear it right after the surgery for a couple of weeks. Then you can wear a tight sports bra with no wires or cups to keep your new breasts properly supported. Now, these compression garments and sports bras may not look very attractive or comfortable but they do their jobs – they reduce the swelling much faster.
APPLY COLD COMPRESSES
Ice can really help you reduce swelling in the first 3 days. You can put ice packs or towels stuffed with ice or even bags of frozen peas on the treated area, just not directly in contact with your skin, always wrap the frozen item with something.  Do it for 15 minutes and then take a break for 20 minutes. Cold constricts your blood vessels and limits fluids and blood leaks.
PRO TIP: Ice and cold can also reduce your bruises.
Just make sure not to apply it directly onto your incisions to avoid irritation.
TRY TO SLEEP IN AN ELEVATED POSITION
Now, since you need to sleep on your back after surgery, try to sleep with your chest a bit higher than your lower body. This way you can improve circulation and relieve the pressure of your breasts – and reduce the swelling.
EXTRA TIP: Try to sleep on 'a neck pillow' – it can really help you sleep more comfortably in this position.
HYDRATE, HYDRATE, AND HYDRATE
Isn't this a bit contradictory? You may wonder. But actually, it isn't. When you drink a lot of water while you are recovering post-op, your body flushes away everything you don't need, swelling included.
DON'T STRAIN YOURSELF – TAKE IT EASY
Just take as much rest as you can. No reaching, lifting heavy things or moving around quickly should be on the list of your routine – your swelling can get even worse. So, move around the house slowly and your swelling will resolve faster.
Just think – you definitely don't want to compromise the end result of your breast augmentation surgery.
9. MY BREAST AUGMENTATION POST-OP RECOVERY HAS STARTED – WHEN CAN I REMOVE THE BANDAGES?
I realize that coming home after your surgery with tons of bandages wrapped around your new breasts is not a pretty sight. But luckily you don't have to wear them for a long time.
Actually, the moment you can remove your bandages depends on what kind of bandages you have.
If your bandages are held in place by your postoperative garment, you need to remove them and place new ones once a day for a week until you meet with your surgeon for a follow-up appointment. The surgeon will then tell you if you can totally remove your bandages.
If on the other hand, you have bandages that are held by clear plastic tape, you can remove the bandages 2 days post-surgery.
When bandages are off, you will be left with sutures or stitches. They can be dissolvable or you'll need to head to your surgeon to pull them out – of course when the time comes.
10. HOW CAN I RELIEVE PAIN AFTER BREAST AUGMENTATION SURGERY?
Again, I must point out that experiencing some level of pain after this surgery is normal and expected. But you can do some simple tricks to minimize it.
Your surgeon will of course prescribe you pain medications. They can be upsetting for the stomach so they are generally taken with anti-nausea medication and after you have eaten well.
However, you can also try some basic exercises to relax the muscles and therefore ease the pain. Just make sure your surgeon gives you the green light to do them.
For example, you can do a simple shoulder roll, where you lift your shoulders up and down to your ears every day 10 times. Then you can move your shoulders forward and backward in a circulation motion.
Then go with arm circles, which you do in a sitting position and very very slowly. Do it 10 times forward and then 10 times backward.
Finally, try stretching your arms by placing your forearm on top of your head and then touching your elbow with the other hand. Keep the hand on your elbow for 10 seconds and then switch. This exercise helps you to stretch pectoral muscles.
REMEMBER: avoid lifting heavy objects and do all these exercises gently and slowly.
11. I FEEL MUCH BETTER NOW – WHEN CAN I DRIVE AFTER BREAST AUGMENTATION SURGERY?
You definitely feel impatient to resume your daily activities after your surgery – driving included. But here, you really have to listen to your body and feel when you are ready to sit behind the wheel again.
Generally, it can be after one week to several weeks post-op. So, the first week will definitely keep you at home but after that, if your surgeon says it's okay, you can start driving again. You must admit – one week is not that long.
The reason why you need to wait for at least a week is pain medications that can make you feel drowsy. Also, you will need to move slowly because of stitches, swelling and so on – your attention won't be fully on the road.
So, it all boils down to this – wait until you are recovered enough to drive again. Maybe it will take two weeks, but that's totally okay because every breast augmentation surgery is different and the pace of recovery is different too.
12. I LOST SOME OF THE SENSATION IN MY BREAST – HOW CAN I GET IT BACK?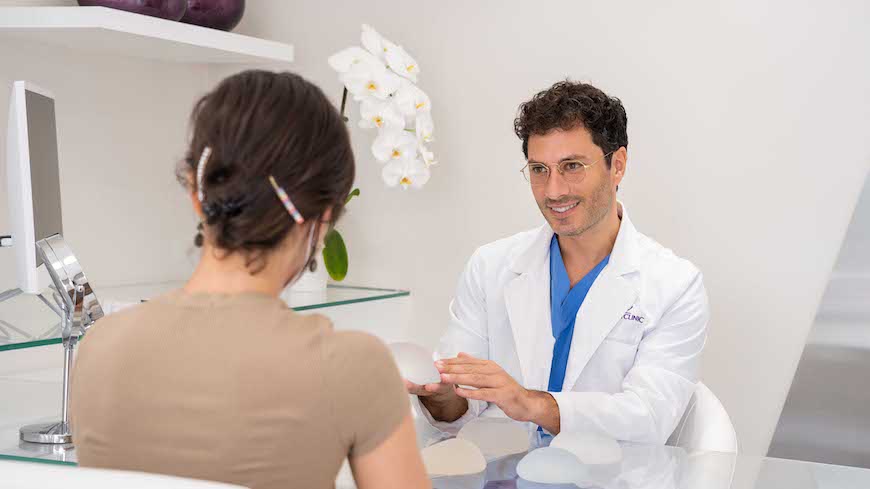 This happens because some of the nerves in your breasts got disrupted by the surgery or are compressed because of the swelling. The loss of sensation may last for a couple of months but there are some things you can do to feel better.
The nerves will naturally start to regenerate and you may feel itching and sometimes even pain in your new breasts.
Don't hesitate to touch the numb areas of your breast – massage them to stimulate the nerves and speed up their regeneration. You can combine massaging your breasts with daily massaging of the scars. Focus on the nipple area as well – by massaging your nipples you restore or create new paths of sensation between your brain and your breasts.
Do it yourself, because it will also help you to accept your new breasts and feel as if they are part of your body again.
One fact that might lower the chances of losing sensation in your breasts is the size of your implants. So, think about it beforehand and choose the implant size that is proportionate to your chest diameter. With only slightly smaller implants, you will disturb fewer nerves and so keep most of the sensations in your breasts as before.
13. I HAD BREAST AUGMENTATION SURGERY AND THEN GOT PREGNANT – NOW WHAT?
Ah – the beauty of expecting a child! You can't always control when you'll get pregnant so surprises tend to happen in that department. Even right after you had your breast augmentation surgery. So you start thinking that this surgery might harm you or your baby, but don't. Because there is no direct risk to your pregnancy because of this surgery.
First, what pops into your mind is will I be able to breastfeed?
Let's say, probably yes. However, if you are a first-time mum you don't even know if you'll be able to breastfeed with implants or without. To find out, you'll need to wait for your baby to be born and then deal with it. So breast implants have nothing to do in this case. They are usually placed under the chest muscles and the breast tissue lays above this muscle. So, no worries there.
Next, you may wonder if incisions can harm milk ducts.
They shouldn't harm them because they are made under the breasts and as I said, the implants are placed through the incisions under the breast tissue.
Finally, you may ask yourself – how will pregnancy affect the look of my new breasts?
Well, it all depends. I can't stress enough that every woman is different and every breast augmentation is special. I could say that if you don't gain a lot of weight during pregnancy and if you got smaller implants then you won't notice significant changes in your breasts. Your breasts do get larger during pregnancy, but not because of implants.
It may happen that breasts glands stretch the skin of your breasts, but after pregnancy, your breasts can simply return to their normal size again.
If on the other hand, you do get saggy breasts after pregnancy and breastfeeding then you can simply get a breast lift procedure and return your breasts to their normal pre-pregnancy position.
So, as you can see, getting pregnant right after breast augmentation is not that big a deal.
14. MY CHEST MUSCLES ARE SORE AFTER BREAST AUGMENTATION – HOW CAN I RELAX THEM?
This is something that is usual after breast augmentation but it can be quite uncomfortable. Fortunately, there is something you can do like taking a massage.First of all, your chest muscles are tight because they are in spasm after the surgery. And you know that when any muscle is in spasm it hurts.
So, when you get your implants under the chest muscles they need some time to relax again.
This is where massage can help. When you get a back massage it immediately relaxes your front chest muscles. All these muscles are connected by fibrous tissue. So once you relax your back muscles you will relieve the spasm in the front muscles that go over your breast muscles.
Just get this massage in a sitting position of course – not while lying on your stomach.
Next, you can also directly massage your breasts – it will also relax chest muscles. Do it gently and softly because if you press your breasts too hard you can end up feeling even more pain, or dislocating your implant.
So how do you do it?
The usual breast massage is the implant roll – you take off your bra, use your open palm and press it under the nipple. And then you roll your palm upward against the chest wall. Do it for 10 to 15 seconds, 3 to 5 times a day.
Last, but not least keep a good posture. This may sound like something I don't even need to mention, but it is important. If you stand upright and sleep in the proper position you will relax your chest muscles by taking the unnecessary stress from them. Pretty soon your muscles will get stronger and you will feel more comfortable and relaxed.
15. MY BREAST AUGMENTATION SURGERY IS FINISHED – WHAT CAN I EXPECT NOW?
Okay, you've done your research, found a perfect plastic surgeon, prepared for the surgery, had the surgery and now what. Well, you need to recover before you can enjoy your new boobies and start shopping for new clothes.
So, let's talk about what you can expect after your surgery.
THE VERY FIRST DAY AFTER THE SURGERY
As I've already mentioned, you can go home soon after it's all finished, and you don't feel nausea from the anesthesia. If you feel comfortable enough, the doctor lets you go home. If you feel like you need to spend the night at the surgical facility, that's okay too. If you do go home, remember that someone needs to pick you up.
You get instruction from your surgeon on how to take care of your bandages and incisions – follow them because you do want to heal as quickly as possible and avoid being left with scars.
And then you just rest. You will think that the surgery was performed on you, but actually, your body is the active participant here. It starts its natural healing process to help you recover. So you just need to rest and let your body do the work.
THE FIRST WEEK AFTER BREAST AUGMENTATION SURGERY
During the first week, your body is working hard to heal your incisions. Eat well, to give your body enough energy. Keep relaxing and steer clear of heavy lifting, even if you feel well. You will feel the discomfort where your incisions are and the swelling will climax on the third day. Your new breasts will also feel tight. In general, your breasts won't look like themselves.
REMEMBER: Don't feel post-op blues.
Again, your new boobs may look too big on one day, or too small on the other. The worst you can think about is whether you have made the right decision. But, try not to give in to these gloomy thoughts. All the discomfort will eventually pass and then you will say to yourself – I should have done this sooner.
THE FIRST MONTH AFTER THE BREAST AUGMENTATION SURGERY
You will start feeling much better at the start of the second week. You will probably get a green light to drive again. You will still have to wear bras that don't have wires but soft sports bras. Your breasts still need to be properly supported. After this first month, you will probably be able to start working out again – only slowly of course and return to your normal routine.
THE FIRST YEAR AFTER BREAST AUG SURGERY
Once the first month is over, your swelling will noticeably drop. Your incisions should be almost completely healed. You will still have some swelling in the next months but it will become hardly noticeable.
Also, the scars will change and may look even worse than before. But you need to be patient because scars need a year or a year and a half to start looking as they will look forever. Just follow the instructions about taking care of your scars and you will minimize their appearance – this will ensure the results you wanted. Pretty soon you will feel rejuvenated and start getting compliments from others. But most importantly you will feel great in your body and feel that confidence boost you have always needed.
So, that's it in short. Think of this year as a year of transition – towards your newly found confidence about your awesome new look.
16. I AM YEARNING FOR A BATH – WHEN CAN I TAKE ONE AFTER MY BREAST AUGMENTATION?
If you are the type of person that likes to relax and take the load off in a nice long, hot, bubbly bath it's completely natural that you will want to continue this routine ASAP. Good news – you don't have to wait too long.
So, we've already established that you will have stitches after the surgery and that you need to take care of them to reduce your scars. Taking a bath right away won't be a good idea, because your stitches need 48 hours to close completely. So you can't submerge them into the water at first.
In the first 2 days, you should even avoid showering, but after that, you need to clean the incisions with a sponge, soft cloth or gauze wetted with lukewarm water. You can use non-irritation soap to gently clean the area around the incisions, so don't disrupt or rub the incisions directly.
So, basically, you'll need to wait for your incisions to fully heal until you can take a bath and that's approximately 6 weeks. Not too long you must admit – just be a bit patient and you'll enjoy the scented hot baths as you used to before.
17. HOW CAN I RECOVER SUPER FAST AFTER MY BREAST AUGMENTATION SURGERY?
Okay, it won't be super fast, but doing some useful things pre and post-op can certainly help you go through your breast augmentation journey smoother and quicker.
So, what can you do?
PREPARE THE PLACE YOU WILL BE RECOVERING – BEFOREHAND
This way you can start your recovery right after the surgery. Put all the things you need close to your bed or recliner – pain medications, vitamins, TV remote, books, etc.
HELP IS MORE THAN WELCOME
Have someone by your side at least for the first week. It can be your
partner, cousin or friend. It's important to have someone support you both physically and emotionally.
EAT HEALTHY AND HYDRATE WELL
Healthy nutrition is vital during your recovery. As I said your body needs the energy to recover. Include almonds, apples, bananas, oranges eggs, beans and rice in your diet, but try to avoid salty food – it can increase the swelling.
Drink loads of water, lemonade or orange juice to help your body flush away all unnecessary residue, but steer clear of fizzy drinks and alcohol for a couple of weeks.
SAY NO TO SMOKING PRE AND POST-OP
Smoking can interfere with the speed of your recovery because it constricts your blood vessels and lowers your blood supply which is more than necessary for a fast recovery. Try to avoid smoking six weeks pre and post-op.
JUST REST
And I mean get a lot of rest. Don't go to work for at least 2 weeks and take it easy. Your mobility will return slowly but until it does don't make any sudden movements. You don't want to disrupt your new breasts.
WHAT YOUR SURGEON SAYS GOES
This should be in the first place on this list. Follow all the instructions given by your surgeon to recover quickly and smoothly.
DON'T NEGLECT YOUR COMPRESSION GARMENT
Wear it as instructed. It provides proper support to your new breasts but also reduces swelling and bruising. This definitely helps you speed up your recovery.
The general timeline for recovery is 6 to 8 weeks. If you feel that you need even more time that's totally okay. If you feel that you are well enough to start with your normal daily routine sooner than that, that's okay too. Just check it with your surgeon first.
REMEMBER: proper recovery will lead you to the best final results.
18. HOW CAN I PREVENT STRETCH MARKS AFTER BREAST AUG SURGERY?
Stretch marks may appear on your new breasts because the skin is stretched to accommodate the implants.
So, it needs a bit of time to adjust and return its elasticity. There are some things you can do to prevent stretch marks from becoming too visible.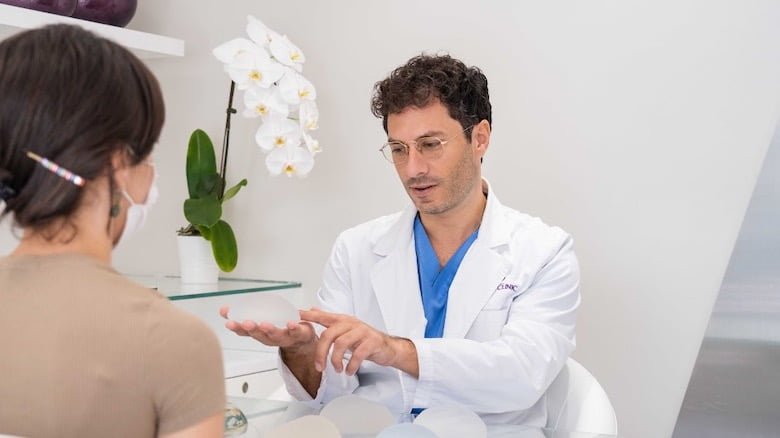 BE CONSISTENT WITH YOUR AFTERCARE REGIME
Keep your skin moisturized with products that have Vitamin E. Massage these products gently into your breasts and your skin will be hydrated and elastic. You can combine these products with a scar minimization routine, usually 6 weeks post-op.
CONSULT YOUR SURGEON ABOUT OTHER TREATMENTS
There are several treatment option that can reduce the appearance of stretch marks like laser treatments, microneedling and others. The best thing you can do is ask your doctor to recommend which one would be the most suitable in your case.
REMEMBER: if stretch marks do appear after your breast aug surgery they will fade with time.
Help your skin to adapt to the implants and you will prevent stretch marks and get the best results.
19. HOW MUCH DO I NEED TO PAY FOR MY BREAST AUGMENTATION SURGERY IN DUBAI?
This is another big question and perhaps the first question that pops into your mind when you think about breast augmentation. That's totally normal.
Let's discuss it.
I'll tell you right away (again) that every breast augmentation surgery is different because every patient is different. So, the total cost may vary accordingly.
The surgery cost is affected by the choice of implant type and its size. The latest generation of implants may cost more than usual. There are some other expenses that have to be covered as hospital stays for example.
So, what can you do?
The best thing is to schedule a consultation with a plastic surgeon. You can talk about the best financial options for you and cover all the details regarding the surgery and of course, how and how much to pay for it.
That's it. I hope these answers have helped you to better understand some facts about breast augmentation surgery.
Now, over to you – schedule a consultation with Lucia's plastic surgeons and find out what this surgery can do for you.