GIVE YOUR BODY A NEW EDGE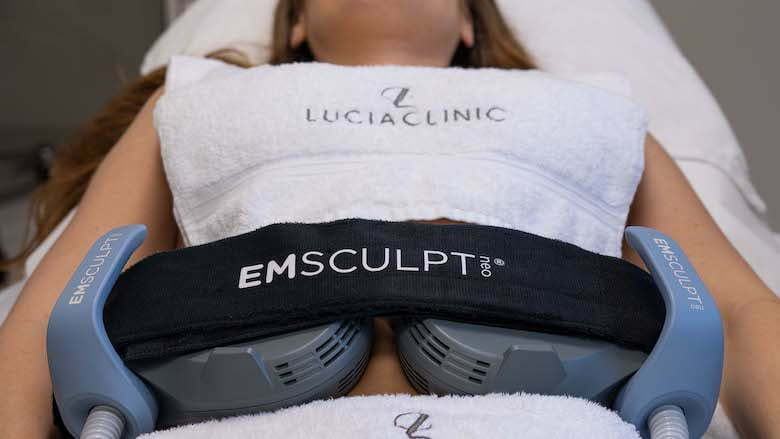 Lucia Clinic has a brand new treat for you – EmSculpt NEO Edge applicators for sculpting curvy body parts. We are proud and excited to be the first in the Middle East to introduce this brilliant addition to EmSculpt NEO treatment. Now, you can finally contour almost any part of your body, even the ones that are hard to reach, like the lateral abdomen or the infamous love handles. More muscles and less fat in your lateral abdomen in just 4 sessions is what EmSculpt NEO Edge is all about.
Numbers speak for themselves – EmSculpt NEO Edge can burn up to 30% of fat and build up to 25% of muscles. Before, this was only possible in the middle area of your abdomen. But now, with the new sleek applicators, you can treat the sides of your abdomen with the same effectiveness. Your core strength also improves while your waist is toned and slimmer without downtime or surgery.
WHY IS EMSCULPT NEO EDGE SUCH AN EXCITING INNOVATION?
Because it can treat your whole mid-section now, not just the middle abs. This is a real breakthrough in non-invasive body-contouring treatments because EmSculpt NEO Edge targets these difficult-to-reach body areas. It is precisely developed to target the main concerns as love handles and replace them with shaped muscles.
The new applicators are sleekly designed to wrap around your entire abdomen and make your waist slimmer and better defined. They sculpt your oblique muscles and contour your midsection. As your oblique muscles get stronger, you feel less pain in your lower back area and stand up straight because suddenly your posture has also improved. How awesome is that! You build muscles, get rid of back pain and look "taller," thanks to this non-invasive, completely painless, super-effective treatment.
SCULPT YOUR WAIST IN JUST 30 MINUTES
As EmSculpt NEO Edge continues the effective tradition of its forerunner EmSculpt NEO, each session still lasts only for 30 minutes. Why change something that already works perfectly? EmSculpt NEO Edge is fast and ideal if you are a busy person. It's even shorter than the time you spend in the gym, exercising those lateral abs that simply can't get defined as you want them. But now they must – with this intense sculpting, your lateral muscles will start building hard. After half an hour of effortlessly lying on the treatment table and relaxing, you can continue your day. Think of EmSculpt NEO Edge as a perfect lunch break treatment.
BUILD MUSCLES AND GET RID OF FAT AT THE SAME TIME
Yes, that's what you're aiming at. EmSculpt NEO Edge is the only treatment that simultaneously works on muscle definition and fat elimination. It's all about the right combo of treatment energies – Radio Frequency and HIFEM energy. RF energy targets those stubborn fat pockets that are accumulated around your waist. It heats them and they get destroyed – super simple. Once they are destroyed, your metabolism eliminates these fat cells from your system. After that, your waist becomes super slim. HIFEM targets your muscles. It makes them contract so intensely that they immediately start reshaping. You can't work on your muscles like that on your own. So not only does your lateral abdomen gets better shaped, but your flanks melt away also.
MELT THOSE LOVE HANDLES AWAY
We can't fight genetics. Perhaps we are predetermined to accumulate fat deposits in our waist and form those nasty love handles. No matter how much you exercise or eat healthy, love handles stay stuck on your waist. But not anymore – EmSculpt NEO Edge applicators specifically target this body area. It isn't easy to reach the curvy lateral abdomen, but not with this treatment. The applicators are specially designed to wrap around this area, target fat deposits and build muscles. Love handles stand no chance against EmSculpt NEO Edge, they just melt away. Your waist gets slimmer and nicely shaped and love handles stay in the past. Your waist gets enhanced in a non-invasive and completely safe way.
IT'S NON-INVASIVE AND YET SUPER EFFECTIVE
And completely painless. You do feel the sensation of heat but it's not uncomfortable. And you experience strong contractions in your lateral abs but the intensity can be set according to your comfort level. That's the beauty of this treatment – your treatment therapist can simply lower the intensity of the energies so that you feel comfortable while having the treatment. You get a tailored treatment just for your needs and aesthetic goals. Your skin doesn't get harmed because of the heat, and you don't experience any side effects except short-lasting redness. With zero downtime and effective results, EmSculpt NEO Edge lets you take your fitness goals to the next level.
MELTED FAT CELLS ARE GONE FOREVER
This is one of the most awesome traits of EmSculpt NEO Edge – once it destroys stubborn fat deposits and they get eliminated from your body, they are gone for good. That's how effective this treatment is. The destroyed fat cells are naturally eliminated from your system so you need a little time to thoroughly flush them away. You will gradually notice that your waist is becoming slimmer and more defined and after 3 months you will see the full effects of this brilliant treatment. And it is also brilliant again because it motivates you to keep those great results. With regular exercise and a nutritious diet, your waist will stay nicely contoured for a long time.
EMSCULPT NEO EDGE IS FULLY CUSTOMIZABLE
This innovative treatment targets your waist or lateral abdomen, and if these are your trouble spots, EmSculpt NEO Edge is your solution. During the initial consultation with Lucia's skin therapist, you can express your wishes for a better-contoured waist, and the therapist will create a treatment plan just for you. It usually includes 4 sessions spaced at 1 or 2 weeks. You don't need to prepare for the treatment because it is super simple – you just come to your scheduled appointment and relax while EmSculpt NEO Edge does its magic and sculpts your midsection. With this revolutionary treatment, non-invasive body sculpting has become even easier than before.
TAKE YOUR FITNESS GOALS TO A WHOLE NEW LEVEL
If you are already a fit and active person, then EmSculpt NEO Edge is right for you. Once it builds your muscles and increases your core strength, you will be supercharging your workouts. You'll notice that you can run a bit faster and exercise a bit harder. Maybe you will be able to do more crunches or sit-ups. Becoming stronger and getting better-defined lateral abs will benefit your whole well-being. So if you are close to your ideal body weight and love handles are the ones that bother you constantly then try this excellent treatment – you'll be surprised how beneficial and effective it will be in your body contouring.
EMSCULPT NEO EDGE IS AWESOME FOR MEN TOO
If you are tired of countless side situps in the gym, this muscle-toning and fat-burning treatment is your solution. With the new additional applicators, EmSculpt NEO Edge targets your flanks and contours your body's natural curves – as a result you get that V shape you have always desired. The fat deposits in your waist get permanently destroyed and your mid-section muscles build up. Your waist looks trimmed and tight. These are really brilliant results achieved without downtime or surgery. You can opt to have occasional touch-up treatments to maintain the results but keep up with working out. This way your lateral abs will stay firm and defined. The best results are there 3 months after your last session. So say goodbye to muffin tops, spare tires and nasty love handles.
EMSCULPT NEO EDGE CAN DO SO MUCH FOR YOUR BODY CONTOURING
This innovative non-surgical procedure will contour your most problematic body area – the lateral abdomen. The last inches of fat will melt away and muscles will take their place. Think about the boost in your confidence when you finally reach your desired results. You will feel fantastic. With love handles out of the picture, you will look amazing in your clothes. All it takes is 30 minutes and 4 sessions – EmSculpt NEO Edge even saves you time. The effects of this state-of-the-art treatment after 4 sessions can be compared to 4 long months of constant workouts. And again there is no guarantee that you will be able to sculpt your lateral abdomen the way you want to. But with this fast and effective procedure, you will finally define these muscles and enhance your waist.
LOOK AND FEEL THE BEST WITH EMSCULPT NEO EDGE
This treatment truly gives you that edge you are looking for to define your muscles and melt stubborn fat deposits. Especially in the hardest area to sculpt like your waist. These game-changing new applicators spread the effectiveness of EmSculpt NEO to your lateral abdomen. This treatment is the only one that combines two energies and simultaneously burns fat and builds your muscles – in a non-invasive way. You notice that your posture has improved and that your mid-section is better sculpted. Think about how much you will boost your confidence when you finally leave love handles behind you.
LUCIA CLINIC – THE LEADER IN INNOVATIVE TREATMENTS
Lucia Clinic is always among the first in the aesthetic world to introduce the most groundbreaking non-invasive procedures that achieve the best results. So, this time they are first in offering you EmSculpt NEO Edge and their mission is to help you fulfill your aesthetic goals even further with this effective and non-surgical body-contouring solution. Lucia Clinic is the leader in offering gold-standard treatments and EmSculpt NEO Edge certainly deserves its place there. Your safety is of course in the first place, so getting a bespoke treatment will guarantee that you are in good hands. The intensity of EmSculpt NEO Edge can be set to suit your comfort level so your experience will be nothing but comfortable.
Start your journey toward a nicely shaped and enhanced lateral abdomen and waist with the latest, non-invasive body-contouring treatment – EmSculpt NEO Edge.