HOW LUCIA CLINIC HELPED THOUSANDS OF PATIENTS RESTORE THEIR NATURAL BEAUTY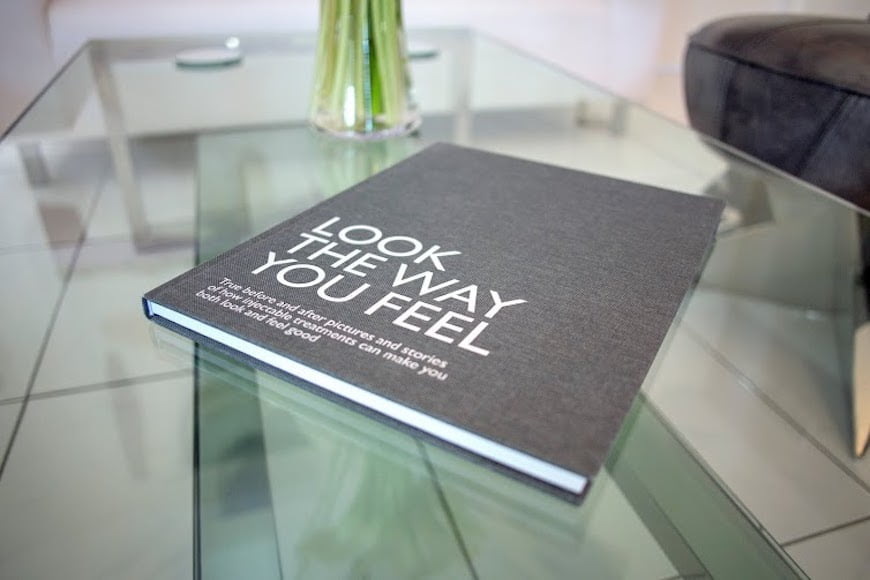 Today I am going to show you how Lucia Clinic's patients reversed the signs of aging and returned their confidence in how they look and feel. With professionalism and expertise, Lucia Clinic's team of doctors helped them achieve brilliant results non-surgically, without scars or incisions and with minimum to no downtime. The patients restored their natural beauty in natural ways.
I will tell you step-by-step how Lucia Clinic guided them on their journeys.
Deciding to do something for yourself is not always easy but when you do it you embark on a beautiful journey towards your better self. Change is always a positive thing especially when it comes to the world of aesthetic dermatology. In other words when you decide to keep your face and body in top shape or to deal with imperfections that have been bothering you for years. Whether wrinkles and fine lines are keeping you from enjoying your graceful aging or you have issues with stubborn cellulite dimples or pockets of fat that simply won't go away, you start imagining how you would feel and look if you finally solved those concerns. And then you start looking for an aesthetic clinic that will help you to achieve your goals. You want the best for your skin, but you don't know which clinic to choose when there are so many different experiences and different opinions. You browse through the internet and find yourself swarmed by a mass of treatments and procedures, clinics and aesthetic dermatologists. Which treatments are the best for you?
Well, don't ask yourself that anymore. I am happy to present to you some of the patients from Lucia Clinic that got their questions answered and got their skin issues solved with the best possible results. I am going to tell you the main reasons why they chose Lucia Clinic. Their insights are so valuable. Their stories are true,first-hand experiences.
The main reason they chose Lucia Clinic is more than 10 years of experience in aesthetic dermatology, hospitality, a warm atmosphere and above all perfectionism when it comes to the results.
So, let's meet some of the Lucia clinic's clients straight away.
Iva S. decided to visit Lucia Clinic in search of a treatment that will refresh her look, make her skin look younger and reverse the early signs of aging. As a busy lady, she didn't have time to undergo invasive treatments. She wanted to keep that fresh, youthful look for years to come. She already had a regular skincare routine, but she wanted to boost her results.
Iva wanted something simple, fast but above all effective to treat her face and help prevent the environmental effects on aging. And that's exactly what she got at Lucia Clinic – Clear + Brilliant treatment that made her skin look gorgeous.
Caroline G. was looking for a clinic in Dubai that would take care of her skin in the long term. After visiting two clinics her path led her to Lucia Clinic and she knew right away that she was in good hands. She knew they would make her more beautiful. The appearance of fine lines and wrinkles on her face was her major concern.
Botox treatments are not something you should deal with if you don't trust your dermatologist. But Caroline knew that Lucia Clinic will take care of her in the best way. And she was right.
Ivana T. has been coming to Lucia Clinic for six years. She had some concerns on her face like sun damage, pigmentation and other discoloration of the skin tone. No matter which treatment she tried at Lucia Clinic these last six years she was more than satisfied with brilliant results. The last treatment she tried was AnteAGE Dermapen – and it went as usual – brilliant results and brilliant face.
Enisa B. is a young and beautiful woman who was always concerned about the way her lips looked. No matter what she did, she couldn't achieve that plump look. That all changed when she discovered Lucia Clinic and tried lip fillers for the first time. She didn't want an unnatural look and overly noticeable results. She just wanted her lips to look bigger, plumper and more rejuvenated. And that's exactly what she got.
Sania Mirza, one of the best Indian tennis players in the world visited Lucia Clinic in search of a treatment that will hydrate her overly sun-exposed skin. Spending long time outdoors takes its toll on the skin and this remarkable lady was welcomed by Lucia Clinics doctors who helped her with some skin concerns. A basic Lucia's facial did the trick for this awesome sportswoman and prepared her skin for the next tennis match in the hot sun.
Carolin D. was always struggling with skin imperfections, like inflammation, rosacea, broken capillaries, discoloration and others. Her problematic skin was brought to perfection at Lucia Clinic – AFT treatment brought that long-desired brilliance to her face.
Khaled A. is a busy young man, who wanted to be in trend but noticed something that started to bother him – his hair began to get thinner. Without losing his precious time, he arrived at Lucia Clinic in search of a treatment that will help him restore his hair volume and stimulate its natural growth again. A difficult task, you might think. But actually, this is exactly what he found at Lucia Clinic – the Acell + PRP treatment.
Leila A. is a young woman whose main concern was constant shaving, hair plucking, and expensive waxing. All she wanted to achieve was silky smooth skin. Don't all girls want that? Is it possible to achieve this without pain, and a big amount of money? She found out that it is absolutely possible to achieve the desired smooth skin at Lucia Clinic with Soprano Ice laser hair reduction.
Sabrya A. was concerned about her face skin because it started to look saggy and loose in the lower area of her face. She wasn't ready for a surgical procedure, she just wanted something simple and effective but non-invasive to treat her skin and rejuvenate it. Upon arriving at Lucia Clinic, she was very happy to meet with the doctors who found the perfect treatment for her problems – Ultherapy.
Jean Michel E. decided to make a big change for himself – he wanted to remove the tattoo on his arm. The tattoo was no longer as significant to him as before and he believed that it was possible to remove it with minimal pain and scars. He didn't want to live with the unwanted ink on his skin and that was the moment he decided to visit Lucia Clinic and look for a laser treatment that will help him eliminate the old unwanted tattoo. Laser tattoo removal was exactly what he was looking for and he found it at Lucia Clinic.
‍Amir Khan, two-time World boxing champion, is already in perfect shape, but he still wasn't satisfied with his muscle alignment – he wanted more definition to his abs. We all know that these muscles are a bit tricky to tone perfectly, and when we think perfect abs, we think six-packs. So, he came to Lucia Clinic and found the answer to his problem. EmSculpt NEO treatment woke up those abs and made Mr. Khan feel wonderful about it.
‍
LEAVE THE PAST BEHIND AND OPEN UP TO THE BRIGHT NEW FUTURE
You have probably thought about trying some aesthetic treatments, but you were reluctant because you were unsure about the results. You hear so many stories and get lost in amass of advice. You ask yourself – will I still look natural? Will I be able to keep my facial mimics after I do Botox? Do body sculpting treatments actually help with eliminating fat and building muscles? Will I be satisfied with the results? All these questions are totally legit. You are entitled to ask them. The Lucia Clinic's patients asked themselves the same before they arrived for their first consultation. And after that everything was different. After that, the door of the bright new future was opened to them. And they felt and looked great. Why? Because they got exactly what they were looking for – amazing results and solutions to their facial and body concerns. What results did they achieve?
Let's find out.
Iva did the Clear + Brilliant treatment and felt brilliant. She could see the positive results after three sessions. She will definitely return for the next session because keeping the results is the key when it comes to aesthetic dermatology. Iva noticed a clear improvement when it comes to the removal of dead skin cells and her skin was really glowing. Fine lines and wrinkles on her face were significantly reduced. Iva understood that Clear + Brilliant treatment gave her immediate results but also progressive ones. That's what is brilliant about this procedure – it
continues to improve the skin on the face as the days pass. After some time, Iva's skin felt softer, looked brighter and showed a more even tone. A natural look is something that comes slowly but brings satisfaction in the long run.
Lucia Clinic's Clear &Brilliant treatment really offered her a solution she was looking for -youthful-looking, soft and supple skin, reduced pores and fine lines, improved skin tone and texture and overall radiance. Iva was more than satisfied with the decision to try Clear + Brilliant treatment because it helped her prevent early signs of aging and also to reduce the
environmental effects on her skin. We can't escape the sun's UV rays or avoid the air pollutants, but Iva found a solution – she can now keep her face stunning at any time of the year.
‍Caroline wanted to maintain the skin on her face youthful and fresh and decided to do Botox. Choosing Lucia Clinic to provide her with this service was the best decision she has ever made. The warmth and hospitality but above all the professionalism and expertise of Lucia's Team was something she recognized right away – and something she fell in love with. Using Botox to prevent the appearance of deep wrinkles was something she achieved at Lucia Clinic. We all know that Botox should be performed by trained and expert dermatologists so Caroline was in good hands. Aesthetic doctor at Lucia Clinic injected Botox into her glabellar lines, horizontal lines on her forehead and in the outer corner of her eyes to treat crow's feet. And voila! Her natural beauty was immediately enhanced and of course, she could still make the facial expressions that actually make her a beautiful individual. Fine lines were reduced and Botox provided a natural and subtle enhancement to her face. She found the best treatment to keep her face youthful and the best expert to provide her with the best results. "Now I have a place that really takes care of me and makes me beautiful", this is how Caroline described her visit to Lucia Clinic.
Ivana wanted to try something new at Lucia Clinic, and as Lucia Team dermatologists are the only doctors she would trust with her skin concerns, Dermapen micro-needling with AnteAge treatment was something she chose to try. She achieved her wanted aesthetic results with this treatment that combines ultimate skin rejuvenation with stem cells growth factors. Ivana was more than surprised to see the initial results right after the first treatment -micro-wounds that she was concerned about started to heal immediately. Her skin looked smoother and more radiant. Since this treatment triggers the production of the new collagen, Ivana understood that the most dramatic results will be visible after a few weeks. Since this treatment is non-invasive it takes sometime to bring the best results. You can't rush nature. The same applies here -you can't rush collagen growth that in the end, when the process is finished will give a fresh, rejuvenated look to your skin. Ivana's skin condition was overall improved in a fast and safe way. That's all she wanted – improved skin and a natural-looking face.
Enisa's main concern about Lip Fillers was to achieve natural-looking results. And that's exactly what she got from Lucia Team – fuller and enhanced lips with gently enhanced structure. Nobody needs to know that you have lip fillers – your lips will look natural if the treatment is done professionally as in Lucia Clinic. After a single treatment, Enisa could see that her lips had better shape and restored volume. Enisa was more than happy with the results. She loved the way her lips looked after the treatment and she definitely found the perfect doctor at Lucia Clinic. The secret behind Enisa's beautifully plump lips is that the fillers are actually hyaluronic acid fillers which made her lips look soft and natural. Hyaluronic acid is actually something that we already have in our bodies and that's the fact that makes these lip fillers so effective in providing a natural appearance, but only when done by doctor who has excellent technique. Enisa improved the lips' symmetry and defined the lip borders. Enisa's doctor used HA lip fillers to precisely target the areas of her major concern and managed to provide her with the best results. "I am very happy with the results, as you can see, they look absolutely natural, who would know that I had lip fillers!" Her perfectly shaped lips now matched her face – she will definitely return for the next treatment as maintaining her natural-looking lips is something she wants to include in her aesthetic routine. 
Sania Mirza visited Lucia Clinic for the first time and was amazed by the results she got with Lucia's Signature Facial. It was designed especially for her skin tone and texture and it met her aesthetic goals – refreshed and hydrated skin. Every skin is different so every Lucia's facial is designed for each type of skin. Sania could instantly feel that her skin was refreshed and hydrated after the treatment was over. Her skin texture was improved and her complexion was brighter-looking. This facial was perfect for her because it provided her with immediate results with no irritations afterward or downtime. Sania had 3 facial sessions because she understood that it was important to maintain the results.  It prepared her skin for long tennis practices in the hot sun. When she takes a break from her busy life as a prominent tennis player, she will definitely return to Lucia Clinic to continue nourishing her skin.
Carolin arrived at Lucia Clinic for her second AFT treatment, and she could see a difference in her skin. It already looked much better after the first treatment. The inflammation she was struggling with was almost gone and her face appeared cleared and rejuvenated. She was amazed by the results because after the treatment her skin was smoother even though she understood that she needed more sessions to achieve the best results. IPL laser treatment was ideal for her skin's imperfections because the laser light doesn't damage the surface of the skin, but it is powerful enough to treat the targeted flaws. The AFT treatment transformed her patchy skin in a natural way – it was smooth, bright and had a more even complexion. The skin heals itself naturally, which takes a little time, but the final results are beyond imaginable. Carolin could really notice a significant and positive change in her skin. A natural way of restoring her perfect complexion – that's all she wanted.
Khaled found a treatment for his hair thinning concern at Lucia Clinic that was beyond his expectations. His goals were to restore his hair in a fast and effective way.ACell + PRP procedure was the hit in the center. He was overwhelmed with the Lucia Team's expertise and patience – they really listened to his problem and found the perfect solution. He wasn't ready for a surgical procedure, and ACell + PRP treatment provided him the best and completely natural results. How? Well with the power of his own body. His weakened hair was stimulated to get thicker. The treatment repaired the damaged tissues and allowed the new and strong hair to grow. Really fast treatment – that's all he desired, and that's what he got with ACell + PRP. "It's absolutely smooth and nice, and you won't feel anything."- this is how he experienced the procedure. He understood that the maximal results would be seen three months after his last treatment – but that's not too much time when regarding the achieved results. Thicker hair and shedding reduction – no more worries about hair loss.
"I think every woman has to visit Lucia Clinic – zero pain and amazing work is what you get!" – this is how Leila experienced The Soprano ICE laser hair removal treatment. She basically said it all – it's painless and it delivers amazing results. After the final session, she was finally free from shaving, painful plucking and waxing – the Soprano ICE laser made the surface of her skin silky smooth and beautiful. She was more than happy with safe, consistent and full-proof results. She could finally enjoy her beautiful bare skin for a long long time.
After consultation with Lucia Clinic's doctor, Sabrya decided to try Ultherapy treatment for her sagging facial skin concerns, and she knew she was in good hands. The doctor performed this treatment on her lower part of the face – jawline, chin and lower part of the cheeks. And the results? She was amazed! That's the beauty of the Lucia Clinic Team of doctors – they are humble, welcoming but above all, they listen to their patients! When you listen, you understand! The Ultherapy provided Sabrya exactly what she was looking for – nicer and firmer contour to her lower face, without pain and discomfort. Naturally enhanced beauty and vibrant-looking skin on her face – Ultherapy was the best solution for her. This treatment provides natural build-up of new collagen, which in turn provides radiant, lifted and more elastic skin. Sabrya understood that she will njoy the best visible results after two to three months but it was so worthwhile. You can't rush nature. But the final outcomes are so beautiful that you realize how much being patient pays off in the end, and how much you enjoy your rejuvenated and beautiful skin after Ultherapy treatment at Lucia Clinic.
Jean Michel was determined to remove his old tattoo and Lucia Clinic Team had a perfect solution for him – Tattoo removal laser treatment. He was more than satisfied with the results after the first session because his old tattoo started to fade away. The experienced laser therapist made his journey owards the new future as comfortable as possible. Jean Michel was especially glad that the therapist used absolute precision when targeting the unwanted ink, so there was no room for harming surrounding skin. Precision and effectiveness – two words that made him certain that Lucia Clinic's laser therapist knew what she was doing. Even Though he had more than one session until the end, he knew that this treatment would work brilliantly for him. And he was right. "It's been great so far, and it's not as painful as you might think."- that's how Jean Michel described his experience at Lucia Clinic.
"I already feel a lot better; it aligns your body and gives you that kind of six-pack look." This is how Mr. Amir Khan described his experience of EmSculpt NEO treatment session done on his abs. The results were more than satisfying and this world-renowned sportsman managed to awake the muscles he hasn't felt for a while. Mr. Khan was already in perfect shape, but EmSculpt NEO provided him with improvements on his abdominal muscles – more tone and better alignment. Some muscles are difficult to define no matter how much we exercise. That's when EmSculpt NEO comes in handy – it's perfect for people who are in a good shape but wish to addmore definition to specific muscle groups. No stubborn fat pockets can escape this powerful treatment – a perfectly aligned body with well-defined muscles is what Mr. Khan got after finishing EmSculpt NEO treatments.
‍
DOES CONSISTENCY MATTER IN AESTHETIC TREATMENTS?
The answer is simple- yes! Once you find an Aesthetic Clinic that exceeds your expectations regarding service, hospitality and above all achieved results you will always return to it, because you know that you are in good hands. That's how the mentioned clients feel and that's how you will feel. The journey towards skin and body improvements and a beautiful, natural-looking face is so easy and straightforward with Lucia Clinic's team of doctors and therapists – listening to their patients' needs and goals is the key to finding the best aesthetic solutions for each and every one of them. Whether the patients are VIP personas, famous sportspeople, actors, renowned influencers or bloggers, or people who keep out of the limelight, Lucia Clinic welcomes everybody warmly and openly.
No matter which treatment is performed Lucia Clinic's doctors and therapists provide consistently amazing results. Experience and perfectionism are two features that beam through every member of the Lucia Clinic's team. That's why they are so beloved and that's why so many patients trust them when it comes to skin concerns.
HOW DID LUCIA CLINIC'S PATIENTS ACHIEVE NATURAL-LOOKING RESULTS?
Every patient is different and every treatment he/she tries is different. Two identical facial skins or two identical body shapes don't exist. We are all unique and Lucia Clinic's team understands that. That's why every patient is consulted with the doctor or therapist first to see which treatment will suit him/her best and which treatment will bring the best results. Only when each patient understands the treatment to the fullest, his/her journey to improved skin or body shape can begin.
Let's see how this journey looks like at Lucia Clinic…
‍
CLEAR + BRILLIANT TREATMENT FOR NATURAL-LOOKING AND BRILLIANT FACE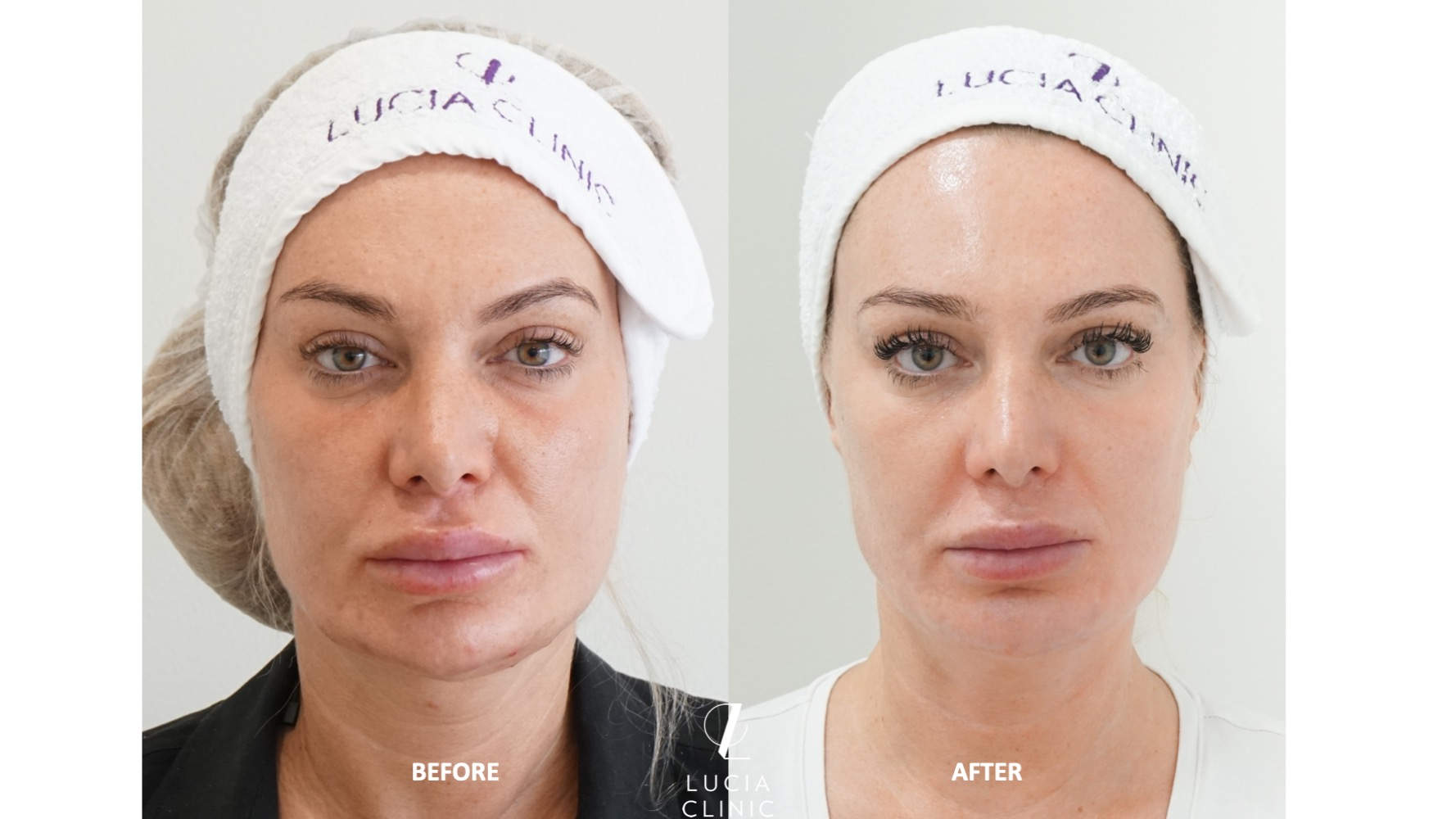 Clear + Brilliant is an effective laser treatment for regular maintenance of skin appearance. Just what Iva was looking for. She arrived at her treatment session and first, the treatment therapist thoroughly cleaned her skin. In order to make the treatment more comfortable a topical anesthetic cream was applied to her face. Comfort comes first! After 15 minutes anesthetic cream has been removed and then the treatment started – a laser handpiece was gently and precisely glided over the surface of her skin. It covered the whole face, especially the problematic areas.‍
WHAT WAS HAPPENING TO IVA'S SKIN DURING THE TREATMENT?
The laser used in Clear + Brilliant treatment is very gentle but powerful. It targets the skin tissues and causes microscopic and multiple subsurface thermal injuries. This stimulates the change in collagen and elastin and gradually improves the appearance of sun-damaged or aging skin. So the skin actually heals itself. That's why the treatment provides natural-looking results – our body actually improves the skin on its own. The laser penetrates to a controlled and absolutely precise depth, and it's safe and comfortable.
The treatment therapist used the patented Intelligent Optical Tracking™ System (IOTS) which made sure that proper contact to Iva's skin was maintained and that all treated areas were uniformly addressed.
So, Iva's skin was actually refreshed from the inside out. The laser energy replaced damaged skin with healthy, younger-looking skin. When the Clear and Brilliant laser treatment was finished, the therapist applied a refreshing mask to her skin.
After about 60minutes, the session was over. Iva experienced a mild heating sensation but it seized quickly. When the recovery time was over –approximately 1 week after the treatment Iva's skin was more radiant and refreshed.
Clear + Brilliant treatment was an ideal solution for Iva because she wanted a laser treatment that was fast, gentle and effective. Lucia Clinic's therapist helped her to prevent signs of aging and refresh her face. Iva will definitely return to Lucia Clinic for her next session as she has included Clear + Brilliant treatment in her skincare regimen because she knows that it will protect her skin from environmental and natural effects of aging.
‍
BOTOX® – THE BELOVED AND EFFECTIVE AESTHETIC TREATMENT
Botox® can really goa long way when turning back time and enhancing natural beauty. This is why this treatment is so desired by Lucia Clinic's patients. This is why Caroline decided to maintain her face fresh and rejuvenated with Botox®.
Upon arriving at Lucia Clinic, Caroline was first consulted with a doctor, specialized in the field of Botox treatments. The doctor carefully examined her face to see what kind of facial expression Caroline makes. The main reason for this is to keep those expressions natural after the treatment. This can only be achieved if a professional doctor performs the procedure. After the specific treatment plan was created, Caroline could start with the procedure. She knew that she was in good hands.
 HOW DID THE BOTOX® TREATMENT LOOK LIKE?
The doctor first thoroughly cleaned Caroline's face and then marked the spots on her upper part of the face where the Botox® would be injected. The spots included dynamic wrinkles, which when they start to appear can be perfectly treated with Botox® and slow down the appearance of static ones. So, the target areas were horizontal lines on the forehead, glabellar lines between the eyebrows, crow's feet wrinkles on the outer corner of the eyes and above the outer corner of the eyebrows.
The Botox needles are very fine so Caroline felt only mild discomfort when her doctor started injecting the Botox®. The process of administering the Botox® needles is slow, gentle and precise – the needles are inserted only into the marked spots, or the muscles that need to relax and stop making the wrinkles. There is no room for mistakes when using Botox® – Lucia Clinic's doctors know this and follow this rule without exception.
During the treatment, the doctor injected Botox® first into Caroline's glabellar lines, then horizontal forehead lines, then into crow's feet lines and finally above the eyebrows. The treatment was over quickly and Caroline could see the first results after one week time – the facial muscles where Botox was injected were relaxed and fine lines in the treated areas were reduced. The best and most important fact – she was able to keep her facial features achieving more radiant look. Let's face it- nobody wants to look like a frozen porcelain doll after Botox®. Caroline will never have to worry about that – she knows that she will always keep her natural look after Botox® treatment with her Lucia Clinic's doctor.
Since Botox® is minimally invasive there was no downtime for Caroline – she could continue with her normal daily activities after the treatment. She was only advised not to lay down flat or bend for 4 hours, not to touch or massage the treated areas and not to go for heavy exercise for 24-48 hours in order to avoid any unwantedside effects.
Botox® treatment contributed to Caroline's natural and subtle enhancement of her face. She included Botox® in her regular skincare routine because she knew that she would enjoy the long-lasting benefits of Botox® and consistently amazing results.
‍
DERMAPEN MICRO-NEEDLING WITH ANTI-AGE TREATMENT- JOURNEY TO REJUVENATED SKIN
Ivana arrived at Lucia Clinic for her scheduled treatment – Dermapen. She had concerns about her facial skin appearance and consulted with the Skin therapist who examined the skin on her face. After the custom-tailored treatment plan, just for Ivana, was created, the treatment could start.
 HOW DID IVANA'S TREATMENT LOOK LIKE?
As usual, Ivana'sface was first thoroughly cleaned – the make-up was removed as well as otherparticles of dirt. Then the therapist applied numbing cream to Ivana's face andneck to ensure maximum comfort during the treatment. After 15 minutes Ivana wasready to start with the treatment. The therapist used a special Dermapen™micro-needling device to treat Ivana's skin. This device is revolutionary andprovides brilliant results when it comes to lifting, tightening andrejuvenating the skin. It is absolutely safe and consists of individuallysealed, sterile and disposable needle cartridges. Every needle tip usesproprietary technology to vertically penetrate into the skin and deliver up to1300 micro punctures per second. It is powerful but it doesn't cause anydamage.
This is what happenedduring Ivana's Dermapen treatment. The device created small, micro-channels inthe skin and stimulated the skin's natural ability to heal itself and increasethe production of new collagen and elastin. At the same time, the therapistused a rollerball – AnteAGE DM brightening solution. So, Ivana was getting adouble anti-age effect. Firstly, Dermapen stimulated the collagen and elastin productionin her skin. It activated new healthy skin cells instead of old and damagedones. At the same time AnteAGE brightening solution that has growth factor was easilyabsorbed by her skin and rendered more effectively than a traditional topicalapplication. Dermapen treatment promoted tissue remodeling, making her skinlook tighter.
Ivana's Dermapentreatment was finished in about 45 minutes. The skin on her face and neck wasvisibly red but as Dermapen treatment is non-invasive, her skin healed quickly.The redness lasted for a day and improvement was seen after one treatment.Ivana was absolutely satisfied with her skin appearance and she is lookingforward to her next Dermapen AnteAGE treatment.
LIP FILLERS – A NATURAL WAY TO PLUMPER LIPS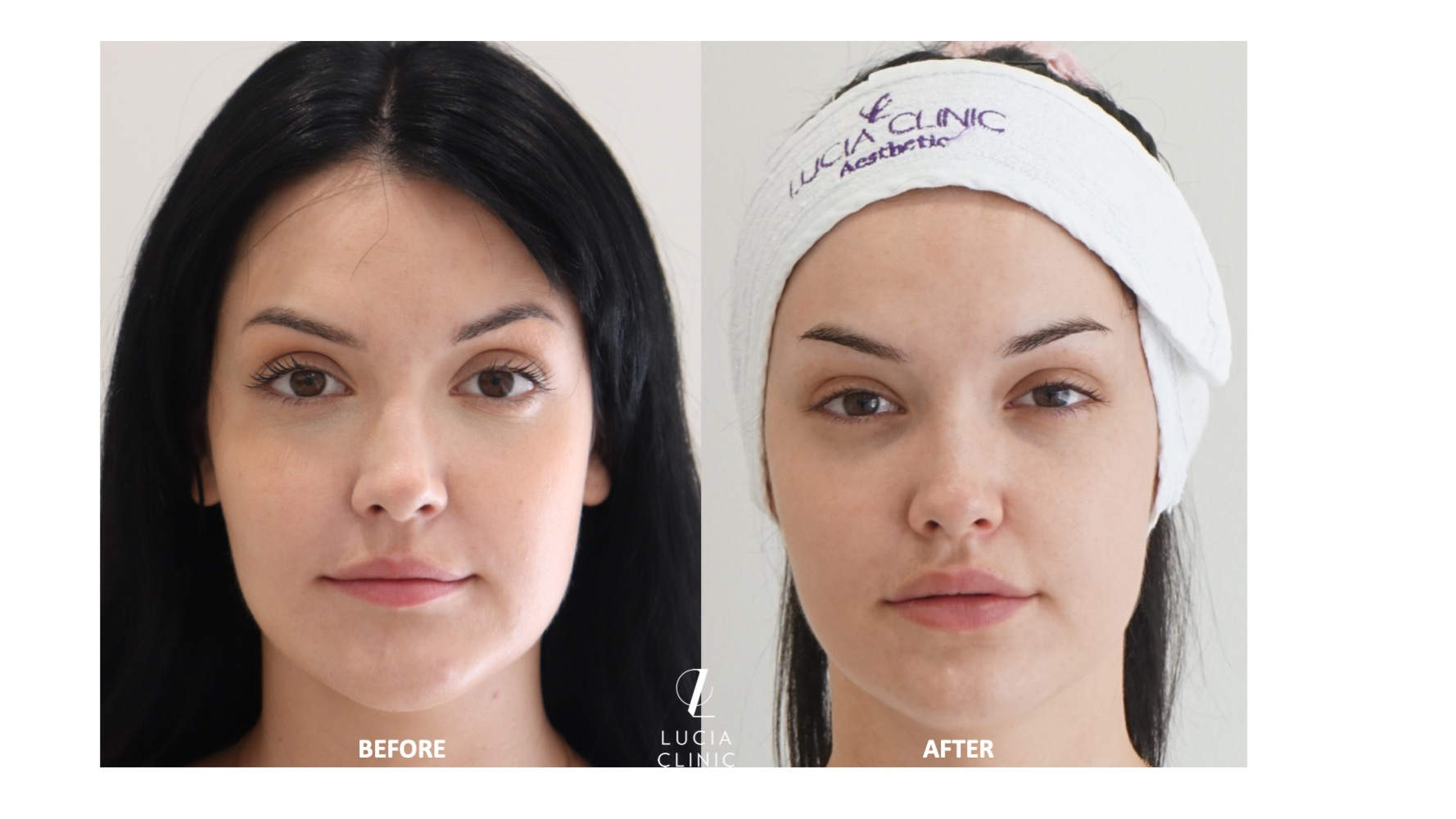 For Enisa, her lips weren't as enhanced and representative as she wanted. She wished her lips were more symmetrical, voluminous and well-balanced. Upon meeting the Lucia Clinic's doctor who would guide her on her journey to perfect lips, she knew she was in good hands.
After a consultation, the doctor created a custom-tailored treatment plan just for Enisa. The thing we should always remember is that everyone has differently shaped lips and different concerns and goals. That's what Lucia Clinic's doctors always keep in mind – listen to the patient and provide the best and expected results.
EVERYONE WANTS LIPS THAT TURN HEADS
Enisa rebuilt her lips in a natural way, where the doctor used JUVÉDERM® hyaluronic acid lip injections. These lip fillers are completely safe and make the lips look fuller and defined.
The doctor carefully injected lip fillers along the borders of Enisa's lips and massaged the injected spot every time to ensure that the filler was evenly distributed. He strategically addressed Enisa's concerns and achieved the desired results.
JUVÉDERM® hyaluronic acid lip fillers are semi-permanent solutions and when the doctor injected them into the soft tissue of Enisa's lips – her lips were enhanced and smooth. Since HA is something that we already have in our body, lip fillers keep the natural look, movement and feel of the lips. That'sone of the main reasons Enisa was so happy with the results – she got naturally enhanced lips with perfect contours and boosted volume.
The lip fillers treatment is only mildly uncomfortable. Also, the JUVÉDERM® lip fillers contain an anesthetic that temporarily numbs the tissue of the target area. This way the treatment is even more comfortable. So, Enisa wasn't worried about the discomfort. After the treatment, she could immediately see that her lips were softer and fuller.
Since the lip filler procedure is only mildly invasive the area around Enisa's lips was mildly red and swollen, but these sensitivities ended after a few days. Enisa was advised by her doctor to avoid sun exposure, vigorous exercise, sauna, steam room, spicy food, hot drinks and make-up for the next 24-48 hours. After that – thesky was the limit.
LUCIA'S SIGNATURE FACIAL – A JOURNEY TOA BEAUTIFULLY HYDRATED FACE
Sania Mirza arrived at Lucia Clinic hoping to get her facial skin hydrated and rejuvenated. And she got more than she expected – Signature Lucia facial, created especially for her skin type and skin concerns.
HOW DID THE TREATMENT LOOK LIKE?
First, Lucia Clinic's facial therapist cleaned Sania's face and since this treatment is comfortable it didn't require any topical anesthetics. Sania could relax while the therapist diligently worked on improving her skin appearance.The therapist used a special device that has different tips and uses Vortex-Fusion technology to create a vortex effect. It is a very gentle and yet powerful device that really goes an extra mile when it comes to skin nurturing. It lightly swirls across the skin and is comfortable even for sensitive skin.
Next thing was -cleansing. The therapist removed oil, any residue from skincare products or makeup and other impurities.
Then – peeling. The therapist reached deeper levels of Sania's skin to clean the pores and improve the absorption of the treatment serums. The peel was of course very soft, very comfortable.
Following step -extraction. With the device that had a specially designed suction tip, the therapist extracted the blackheads, dirt and other debris but with the twist -there was no irritation or redness. That was followed by manual extraction for the most persistent spots.
Finally – hydration and nourishment. This step involved moisturizing Sania's skin and then infusing it with customized serum that contained antioxidants, amino acids, hyaluronic acid and other important ingredients.
After the last step, Sania's skin was maximally hydrated and rejuvenated.
Since the facial is absolutely safe and non-invasive there was no irritations or downtime. Sania could continue with her normal daily activities right away – like returning to the tennis court. But this time with perfectly protected and brilliantly hydrated skin.
‍
AFT PHOTOREJUVENATION – A JOURNEY TO A BRIGHTER COMPLEXION
Carolin came to Lucia Clinic because of the inflammation on her facial skin. During her first visit, she was consulted with Lucia Clinic's doctor about her skin concerns. They created a custom-tailored treatment plan just for her. This plan included deep cleansing facial and the number of AFT sessions for achieving the best result.
Before the AFT treatment started the doctor thoroughly cleaned Carolin's face, to remove make-up or other skincare products. The comfort of their patients is always very importantto Lucia Clinic's Team – they always go the extra mile in ensuring their patients a pleasant experience during treatment. The doctor applied a cooling gel to her face – another plus for comfort but also to protect her skin. Carolin received protective eye shields in order to protect her eyes from the laser. And then the treatment started. The doctor glided the IPL handpiece across her face.
 HOW DID AFT TREATMENT IMPROVE CAROLIN'S SKIN PROBLEMS?
Photorejuvenation treatment or photo-facial non-invasively improved Carolin's skin because of intensive pulses of broadband light. The light treated the skin concerns at the surface or cellular level. IPL light penetrated deep into the epidermis and caused collagen fibers and blood vessels to constrict but it didn't harm the top layer of the skin in any way. The targeted light was absorbed by melanin and red blood cells deep in Carolin's skin and it intentionally damaged the area where it was directed. So, there was no harm done on the surface of the skin, but a lot was going on on the inside – the dormant cells were woken up and they transformed the inflamed skin into a more even and smooth complexion. The doctor used a special technique called pulsed light therapy and through the handpiece emitted intense and bright light. The IPL handpiece has a glass or laser surface tip that was pressed to the targeted areas and emitted light. This light disrupted the collagen that was underneath the skin and heated it up. So, we are talking here again about the body's natural way of producing more collagen and healing the skin itself. That's exactly what happened to Carolin – it started to heal on its own and reduced the inflammation she was concerned about.
Carolin experienced the laser as a light snap of a rubber band together with a mild heat. But, since the AFT handpiece has a cooling effect, her discomfort was minimal.
Carolin could immediately see the improvements in her skin after the first course, but she understood that she needed a few more sessions to achieve the best results.
Another thing that made AFT rejuvenation treatment particularly appealing to Carolin was that after the treatment there is minimal downtime. She could continue with her daily activities right away. She experienced mild stinging and redness after the treatment but these sensitivities ended quickly. Her doctor advised her to avoid excessive sun exposure for one day and use minimum of SPF 30 sunblock.
After the final session, her skin was younger-looking and smooth. The issues with inflammation on her face were solved, and AFT treatment left her complexion healthier and brighter.
ACELL + PRP TREATMENT – A JOURNEY TO STRONGER AND HEALTHIERHAIR
Upon arriving at Lucia Clinic, Khaled Alattar was first consulted with a doctor who assessed the status of his hair and listened to his goals and expectations. Since Khaled was dealing with hair volume loss, they decided that this combination treatment will be a perfect solution for his problem. The doctor then created a customized treatment plan to meet his specific hair restoration needs.
Before the treatment could start, a Lucia Clinic technician first drew some blood from Khaled to create platelet-rich plasma concentration.
 WHY IS DRAWING BLOOD IN THIS TREATMENT ESSENTIAL?
Because our bodies can help us to improve some of the problems that we experience on our skin. Our bodies are our best allies when it comes to hair restoration. PRP is a concentration that is actually derived from our own blood. It is full of bioactive proteins and growth factors that trigger the healing of skin and soft tissues. PRP therapy is a perfect solution for hair loss reduction and thickness of the existing hair increase. Moreover, it is impossible to get an infection or allergic reaction because the patient's own blood is used in the treatment. It is completely natural and the body doesn't reject it because it is a substance that's already present in it.
Anyway, our blood consists of four major components – red and white blood cells, plasma and platelets. Platelets are a type of blood cells, and plasma is the liquid that holds the platelets together. In order to get platelet-rich plasma, the blood components must be separated. ‍
BACK TO KHALED TREATMENT
After the blood was drawn it was placed in a centrifuging machine for 5 minutes. In this process the separation of blood's components took place. The separated platelets were injected into the plasma and then mixed with the powdered ACell product to create an injectable serum.
In the meantime, Khaled's head was locally anesthetized in order to make the treatment more comfortable. When his scalp was numbed the treatment started. The doctor carefully and precisely injected the ACell + PRP mixture along his hairline and in different areas of his scalp. After the treatment, his hair was cleaned and he could return to his daily activities.
When the mixture was injected into his scalp, the PRP stimulated inactive hair follicles to enter the active growth phase and the growth factors and proteins stimulated the repair of the tissue. The mixture also increased blood supply. So, the whole process stimulated the power of his own body's tissue regeneration and triggered hair follicles to grow. In the end, the treated follicles became healthier and bigger and started producing stronger hair.
Khaled understood that he needed two more sessions of PRP spaced one month apart to achieve the best results. But this waiting period was nothing compared to the benefits he got from these two powerful therapies. ACell repaired his hair at a cellular level and PRP triggered his hair growth. Combined, these two therapies really helped him restore his confidence and enjoy his thick and healthy hair.
‍
THE SOPRANO ICE LASER HAIR REMOVAL – THE JOURNEY TO A SMOOTH AND SILKY SKIN
Leila arrived at Lucia Clinic for her first consultation with the Lucia Clinic laser therapist. The therapist assessed the body areas where she wished to treat with The Soprano Ice laser device. The laser therapist can create a custom plan for each and every patient to ensure patients' safety and achieve the best results. We must remember – every skin is different and every patient reacts differently to laser treatments. This is something you will always hear from Lucia Clinic doctors.
Leila was advised to avoid hair removal creams, tweezing, threading and waxing for 6
weeks before the treatment. The only way of hair grooming allowed was shaving. Why was this important? Because the laser targets the root of the hair and most hair removal forms take out the root. So, the hair root needed to be present in order to achieve the best results with the laser.
When the scheduled treatment day arrived, Leila was amazed by the Lucia Team's professionalism but also with their hospitality. It was a wonderful experience for her.
Before the treatment, the laser therapist cleared Leila's skin and gave her special protective eyewear – to protect her eyes from the laser beam. And the last thing – the therapist applied the cooling gel to the area that would be treated to glide the laser applicator smoothly over Leila's skin and also to ensure that her skin is protected from the heat.
The treatment started. The therapist swiftly moved the laser applicator over the targeted areas as many times as necessary. As we said every treated area was different and required a different level of laser energy. The therapist controlled the laser energy as necessary and constantly made sure that Leila was comfortable and safe.
 WHAT WAS HAPPENING TO LEILA'S SKINDURING THE TREATMENT?
Since the Soprano ICE laser is perfectly safe Leila was more than comfortable during the treatment. The surface of her skin stayed cooled because of SHR™ technology and theIn-motion™ technique. This technology enabled the laser therapist to sweep the applicator consistently over the targeted area. The laser applied low fluency at high repetition rates – this way a full coverage of the treated area was guaranteed. Also, at the same time, the treatment included ICE™ technique that cooled the surface of her skin – so the treatment was painless. The laser device consists of a sapphire diode laser that actually prevents the skin from overheating.
The heat is actually very important in this treatment. It was maintained inside the dermis and treated the hair follicles. The diode laser produced a focused beam of light that targeted the melanin in the hair follicle. SHR™ slowly heated the dermis until it reached the temperature that was absorbed by melanin which in turn heated up and destroyed the hair follicle and stopped the hair from growing again. This effective laser technology actually prevented unwanted hair growth and ensured silky smooth and beautiful skin. Leila was very happy with the results.
After the treatment was over, Leila experienced some minor sensitivities like redness but it was quickly over.
She was advised to avoid heat from saunas and strenuous exercise like swimming for 24 hours. Just to be sure there wouldn't appear any irritation. Since the skin was sensitive after the treatment, she was also advised to avoid tanning for a few weeks after the treatment.
And that's all.
Leila is looking forward to her next Soprano ICE laser hair removal treatment. She understands that over time the hair will become weaker and will fall off. After her final session her skin will be completely smooth and free of unwanted hair. No more painful plucking, waxing or tiresome shaving – Soprano ICE laser is an effective solution.
‍
ULTHERAPY – A SAFE WAY TO LIFTED AND REJUVENATED SKIN
Sabrya Ali arrived at Lucia Clinic to have unique Ultherapy treatment and improve her skin tone and firmness. During the consultations with Lucia Clinic Ultherapy therapist, Sabrya's skin was carefully examined and the therapist created a treatment plan to meet her exact needs and expectations.
 WHAT HAPPENED DURING THE TREATMENT?
First, Sabrya's face was thoroughly cleaned and then the therapist carefully marked the area on her lower face where the treatment will be performed. Next, the therapist applied the cooling gel to the marked area and started with the procedure. The therapist used the ultrasound device and gently pressed it to Sabrya's lower cheeks, jawline and chin. The therapist glided the applicator with absolute precision because she could see the targeted layers of tissues and focus the ultrasound energy exactly where it was needed.
When the treatment was over Sabrya experienced minor redness on the treated area which stopped shortly afterward. During the whole treatment, the therapist ensured that Sabrya was comfortable. Patient comfort is always in the first place for Lucia Clinics Team – they deliver the best results, but also care about the patient's safety and well-being.
HOW DID ULTHERAPY® TREATMENT HELP SABRYA IMPROVE HER SKIN?
Since the Lucia Clinic therapist used a smooth applicator, she placed it precisely on the targeted areas. The ultrasound energy stimulated the deep layers of Sabrya's skin and it didn't harm the top layers of her skin. A low level of ultrasound energy was sent just under the skin which triggered the skin to respond to this energy in building new collagen.
Collagen is a super important protein that actually gives the skin its youthful appearance and improves its tone and firmness. It improves its elasticity and strength. Ultherapy stimulated the building of new collagen and rejuvenated Sabrya's skin.
Sabrya was more than happy with the initial results after the session, but she also understood that the further effects will show after two to three months post-procedure. She was more than willing to wait and see the further enhancement of her skin. We all must understand that we can't rush nature – it takes a little time to build up the new collagen that will strengthen the skin from inside. After this "invisible" result – the new collagen creation, Sabrya will enjoy her new revived skin and improved contour of her face.
TATTOO REMOVAL PROCEDURE -MAKE THE UNWANTED INK GO AWAY
Jean Michel Elias had a big black tattoo that he wanted to remove. When he arrived at Lucia Clinic, first he was advised by the laser therapist who assessed his skin in detail and made sure that the laser treatment is right for his concern. And then the treatment started.
The laser therapist first cleaned the targeted area, then numbed Jean Michel's skin on his arm and gave him protective eyewear. Then the therapist precisely guided the laser across his arm – the laser delivered powerful bursts of energy with very short pulses to break down the pigment ink. When the laser energy was applied with the right wavelength, it targeted the pigment and its particles absorbed the laser energy. The laser actually caused micro-damage to the skin and the procedure was a bit uncomfortable, but Jean Michel handled it really well. The therapists asked him all the time if he was comfortable – the patient's well-being was in the first place.
During the procedure, the therapist used a Clear Lift laser handpiece with Q-switch energy which can reach the deepest layers of the skin – up to 3 mm in depth. This state-of-the-art laser technology can shatter tattoo ink without causing any damage to the surrounding tissue. So, there is no possibility to cause any scars during and post-procedure. Of course, this fact was something that was really important to Jean Michel – an effective procedure but without side effects. Anyone who is removing a tattoo doesn't wish to remember it by scar.
Basically, Q-switch laser broke down the ink into smaller particles through its powerful burst of energy, and then the particles were absorbed into Jean Michel's bloodstream and expelled from his body. His body's natural healing processes (the lymphatic system)would remove these ink fragments. The end result – after the final session his tattoo would fade and the surrounding skin tissue would stay unharmed. All healing stages and repair of the skin would happen under the intact epidermis.
And that's how Jean Michel's tattoo removal procedure looked like. He understood that he needed more sessions to get the best results because his tattoo was quite large. Nevertheless, he was absolutely satisfied with the treatment. The laser therapist advised him to avoid sun exposure in order not to get skin irritation.
Jean Michel was on his way of leaving the past behind with the help of the Lucia Clinic Team.
‍
EMSCULPT NEO – TWO PROCEDURES IN ONE
It is the first and only device that combines removing the stubborn fat pockets and builds the muscles at the same time. Also, Lucia Clinic is currently the only clinic that provides this exclusive service. That's why Mr. Amir Khan was interested in this amazing treatment. Amir arrived at Lucia Clinic for the first time this year and first, he was consulted with the Lucia Clinic therapist. Amir wanted to try out the procedure on his abs. So, the treatment plan was created to specifically address this area.
WHAT WAS GOING ON DURING THE EMSCULPTNEO TREATMENT?
You might think that combining two treatments at once could be a bit tough to handle but it is actually quite tolerable. The therapist placed the EmSculpt NEO applicator on Amir's abdomen and he could feel the intense muscle contractions and heat. These two sensations were the result of HIFEM and RF energies.
HOW DO THESE ENERGIES HELP WITH BODY CONTOURING?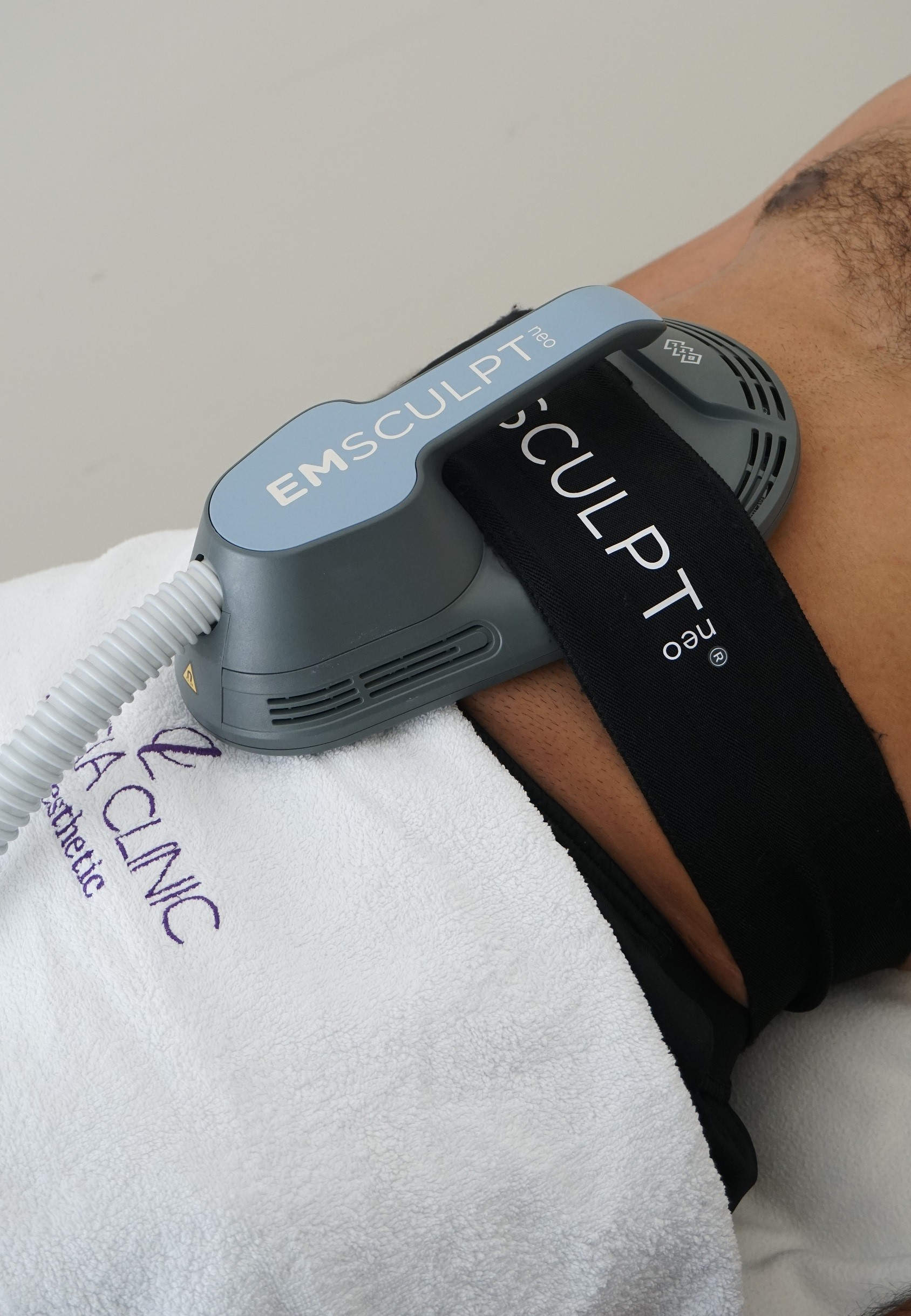 HIFEM energy builds the muscles.  It is electromagnetic energy of high intensity and it is focused on the stimulation of muscle contractions. This muscle stimulation happens deep inside the tissue and you feel as if you get 20,000 contractions in muscle groups (not possible with normal exercising). Little by little the muscles start working and BAM! They were highly impacted.
Anyway, this whole process shouldn't be painful. Everybody responds to the treatment differently and the therapist can adjust the intensity ensuring that the patient is comfortable.
But, that's not all. This treatment uses RF energy that helps stubborn fat pockets reduce through heating its tissues. So, fat cells have no chance against EmSculpt NEO – they are melted away and eventually eliminated from the body through natural metabolic processes.
This is how Amir experienced EmSculpt NEO treatment for the first time. He has three more sessions to go until he will get that more-defined six-pack look on his abs. EmSculpt NEO treatment requires 4 sessions and the best results are seen 4weeks after the final one. It so worth waiting!
That's all. That's how Lucia Clinic's patients maintained, restored and improved their natural beauty – non-surgically, without downtime and with a bit of patience. You can achieve the same results and solve your skin or body issues with the help of Lucia Clinic's doctors' expertise and guidance.
IF YOU FOUND THIS CASE STUDY INTERESTING, PLEASE SHARE IT OR LEAVE A COMMENT.