HOW TO CHOOSE THE BEST BREAST IMPLANT SHAPE & SIZE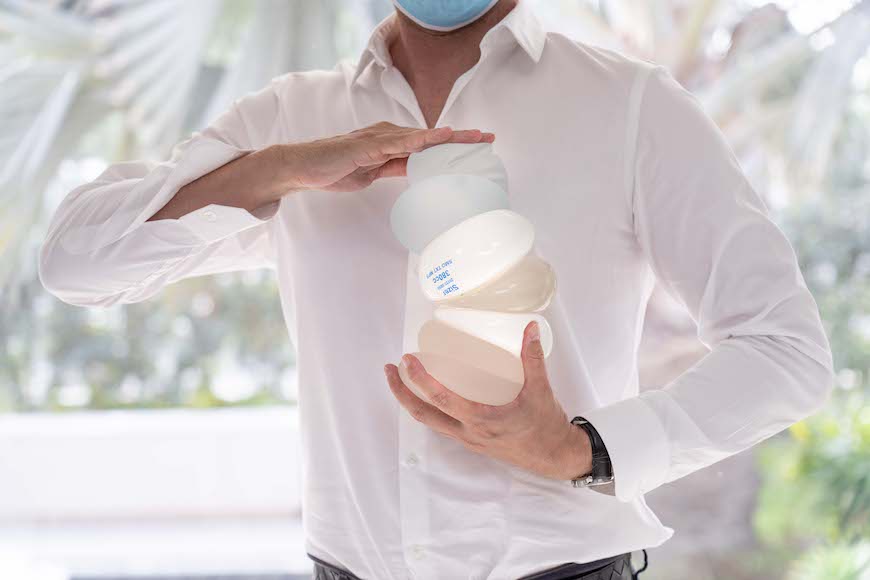 Breast implants are not universal – everywoman has a different body, proportions and in the end different goals and expectations. That's why there is a huge variety of breast implants – smaller, larger, round, tear-drop and others. So how do choose the best-fitting ones? With the help of an experienced plastic surgeon who has a touch of artistry and a sense of what looks natural and therefore beautiful. Every breast augmentation with implants is different because it is first customized to fit your body type, your natural breasts and your goals.
When choosing the best implant shape and size for you, it all falls down to your body proportions, the quality and the level of your breast tissue and the projection and width of the breast you wish to achieve with the surgery.
At Lucia Clinic, the plastic surgeon is focused on delivering exceptional results. The top priority is your satisfaction. By working closely with you, the surgeon can advise you on which implants would suit you the most so that you can finally achieve your aesthetic goals.
Now you are thinking – that's all wonderful, but what's the cost of this plastic surgery?
If you are concerned about the cost then you are definitely one step closer to having this aesthetic surgery. We realize that you are interested in the cost – but since every patient is different, every surgery is different. It's hard to say how much your procedure will cost. What we can tell you is that Lucia Clinic is the right place for you! We have competitive prices and we can customize your surgery to fit your budget. The cost is important but individual care, highly-skilled plastic surgeon and staying safe is beyond price.
Breast augmentation surgery can be a very positive experience that boosts your self-confidence and improves yourself-image. Our plastic surgeon has helped numerous women to achieve their aesthetic goals – to feel and look great! With the newest techniques in breast augmentation procedures, we give you brilliant results – improvement in breast shape and size. We are highly committed to supreme patient care and high-graded aesthetic surgeries.
WHAT DIFFERENT TYPES OF BREAST IMPLANTS ARE THERE?
Now is a great time to have breast augmentation surgery because you have more choices of breast implants than ever. Whether you want a small boost in your decolletage or more dramatic breast enhancement there is a choice for you.
It's all up to your goals. And one very important fact – don't choose the same breast implants as your friend did, because they might not fit you. We are all different and have different proportions and curves. Of course, the plastic surgeon will take your wishes into account and find the best implants that will compliment your body. Remember – your goal is to achieve a natural-looking breast augmentation, so your body type, size of your breast and proportions are all important when choosing the right implants.
SILICONE IMPLANTS – FOR THE NATURAL FEEL AND LOOK
Silicone implants are filled with coherent silicone gel that looks very naturally once inserted into your breast. They are stable and carry a minimal risk of rupture or leakage. And they are of the highest quality. Lucia Clinic offers only premium products so breast implants are no exception here. They are of the newest 4th generation and they don't have to be replaced every 10 years – this is one of their biggest advantages. This means that you don't have to undergo another surgery just to take out your implants. These top-quality implants let you enjoy your new and nicely-shaped breasts forever. Of course, provided there aren't any unexpected problems. With silicone implants, you really get long-lasting results.
Another super popular and top-quality silicone implants are so-called "gummy bear" implants. You're probably wondering about the name – the gel inside the implants is very form-stable and doesn't leak at all. Just like the gummy bear candy. They are very safe and consistent and won't shift while you move. They have this awesome feature of shape-memory which means that they always return to their original contours. They won't crease or fold.
CHOOSE THE RIGHT IMPLANT SHAPE
Selecting the best implant shape refers to the breast appearance you desire to get with breast augmentation. Once more, a consultation with the plastic surgeon is vital here – together you can choose implants that are the most flattering to your body shape. That being said, there are a few things that are considered before you pick up the right implant shape. Some of the important factors include how elastic is your breast skin and what's the natural shape of your breasts. Also, the right implants should go with the rest of your body and look natural. Choosing the wrong implant shape, for example too big, can make your body look disproportional. Moreover, larger implants can stick out too much and appear fake.
So, what implant shape can you choose from?
Round breast implants add more volume and make your breasts appear rounder. They are the most popular implant shapes and can be of different projection profiles. If you choose higher profile implants they can lift your breasts a little and make them appear fuller. Round implants generally have higher projection because they stand out further from your chest. But you can talk to the surgeon about how high your implants should stand because the right projection of implants is as important as the right size and shape. Generally, you can choose moderate, high or extra high projection. Just keep in mind that the right implant projection should complement your body figure and not make it look unnatural.
Round implants are generally inserted under the muscle in your breast. This way they give you more fullness in the upperpart and achieve a natural look of your breast. They are also an ideal choice if you have a curvier figure because they will go well with your body proportions.
Teardrop-shaped breast implants, on the other hand, are perfect if you have a slimmer figure and less breast tissue because they make your breast project naturally. They give more fullness to the lower part of your breasts and fit into the breast's natural slope. These implants will fit your natural breast shape perfectly and you won't need to re-shape your breasts to get implants that just don't match. This is a big advantage because sometimes if the surgeon changes the shape of the breast too much, breast augmentation surgery simply doesn't look right in the end. The wrong implant feels unnatural or it can stick out too much. You definitely don't want that to happen, because it makes your figure less aesthetically attractive.
BREAST IMPLANTS COME IN TWO DIFFERENT TEXTURES
When you choose the right implant shape, you can also talk to the surgeon about the right implant texture.
Round implants can be textured and smooth. Smooth textured implants don't wrinkle or fold when moved. They can rotate in their pocket without changing the original breast contours.
Teardrop implants have a textured surface. This keeps them from rotation because if they would shift their position the breast would look seemingly disfigured. So textured implants will stay exactly where the surgeon puts them.
The choice of implant texture depends on your natural breast shape and of course your desires. Together with the plastic surgeon, you can select the right implants for you.
CHOOSE THE BREAST IMPLANTS SIZE CAREFULLY
You might already know that breast implants are measured in ccs or cubic centimeters. Generally, 150 to 200 ccs can increase your breasts by one cup size. On average, implants can be up to 400ccs in size. If you want bigger than that then your implants need to be specially designed to hold more ccs.
When selecting the right size for your implants, the surgeon takes a few things into consideration. He measures the distance between your breasts and determines how broad is your chest and how wide is the base of your breast. He also checks how elastic is your breast skin and if you have enough tissue to cover the implant. Finally, he will check if your breasts are symmetrical. All these measures help your surgeon choose the right implant size for you or the size you will be satisfied with.
In general, don't think about the bra size you would like to have. It's better to think about ccs because bra sizes can vary according to the manufacturer. During your consultation, you will try on different implant sizes to see how they look on your body. The surgeon can also show you a 3D image of your breasts before and after the augmentation so that you get a better picture of how your breast may look. This will definitely help you decide which implant size is the right for you.
DON'TGO OVERBOARD WITH THE IMPLANT SIZE
You know how they say that sometimes less is more. This definitely applies to breast augmentation. If you aren't fit to handle a large implant that's totally fine. With moderately sized implants, you can still add volume to your breasts which will be more than effective. This way your newly enhanced breasts will perfectly go with the rest of your body. And this is what you initially wanted to achieve.
Remember that having unnaturally large implants carry a risk of developing wrinkles, thinning skin and muscles, stretchmarks and worst of all another surgery to fix these problems. Working with a skilled plastic surgeon and taking all his aesthetic recommendations into account will help you choose the right breast implants that will suit just you and fulfill just your aesthetic goals.
GET ALL YOUR ADDITIONAL QUESTIONS ANSWERED AT LUCIA CLINIC
Getting breast implants is not an easy decision especially if you don't know anything about this plastic surgery. But when you find a skilled plastic surgeon who you can trust, you are one step closer to achieving your aesthetic goals. Getting your breasts enhanced can boost your self-confidence and change the way you look at your body. Bringing you the best possible results is the main goal of Lucia's plastic surgeon. He will gladly answer all your questions about breast implants and help you choose the best option for you. His extensive experience and eye for aesthetics will help you rest assured that getting breast implants is the right decision.
‍
Book your consultation at Lucia Clinic today