IT'S TIME TO LOOK MIGHTY FINE THIS AUGUST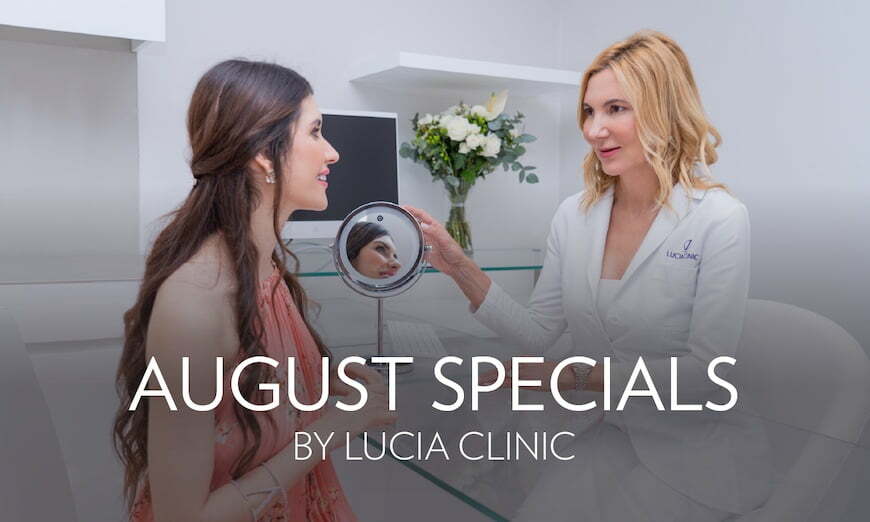 The summer is on, it's hot outside so we have prepared some hot offers for you this August. This time we are thinking about everything – your face, your body or all together. Freeze away those last pockets of stubborn fat with CoolSculpting. Rejuvenate your face with advanced RF Microneedling. Remove cellulite with Med Contour and Viora treatment. Or geta free initial consultation with our plastic surgeon. Whatever you need to feel beautiful this summer we got it at Lucia Clinic.
Check out our special offers.
FREEZE AWAY UNWANTED FAT AT LUCIACLINIC
With Lucia's CoolSculpting treatment you can finally eliminate all your trouble spots. This brilliant treatment eliminates fat pockets from your chin, arms, waist, abdomen or legs. It is perfect for the last-minute tweaking of different body areas. It's fast and fits perfectly into your busy summer schedule – in just 35 minutes you can see less fat on your targeted area. After that, you are free to head for the beach because there is no downtime.
GET NOTHING BUT NATURAL-LOOKING RESULTS
This non-invasive treatment freezes fat cells just underneath your skin. But it doesn't harm the surface of your skin – all the magic is done on the inside. Pretty soon you can see the results on the outside – once your body naturally flushes away destroyed fat cells, your skin becomes smooth and firm. And what's the best part? The eliminated fat cells never return – you can enjoy your slimmer contours for good. Just keep up with a healthy lifestyle and you will never lose confidence about the way you look again. After CoolSculpting treatment, you will feel and look great.
GET SLIMMER CONTOURS IN AN EFFORTLESS WAY
CoolSculpting treatment will do everything for you. You just sit or lie while CoolSculpting is melting away fat cells in your targeted body area. It's all up to you to decide which body area you want to make slimmer – CoolSculpting can make it happen. At your consultation with Lucia's skin therapist, you can specifically mention which area bothers you the most – double chin, love handles or others. CoolSculpting treatment can be fully customized to meet your desires and expectations. With its versatile applicators, it can address even the smallest areas of stubborn fat deposits. Look brilliant this summer after this amazing body-contouring treatment.
The next thing you can do for yourself this August is
REVERSE THE SIGNS OF AGING WITH SECRET RF MICRO-NEEDLING AT LUCIA CLINIC
This is a truly special treatment – it remodels your skin and leaves it radiant and firm. Youthful-looking skin is just what you need this summer and you can achieve it with this groundbreaking anti-aging procedure. Your natural beauty will be revealed in no time no matter what skin tone you have. Expect to get amazing results with minimal to no downtime. That's how effective this treatment is.
BOOST THAT COLLAGEN FOR A REFRESHED LOOK
What keeps your skin youthful and tight? Collagen of course. But sometimes it needs a little help to do its job properly. Secret RF Microneedling treatment is ideal for boosting your collagen fibers. RF energy heats the deeper layers of your skin, reaches the dormant collagen and awakes it. The collagen starts to build up again and makes your skin stronger, tighter and more resilient. Don't feel anxious about the heat -it is controlled and precisely directed into the skin layers where it is most wanted. The secret of this treatment is that it doesn't harm the surface of your skin – it works on the inside. The best part – you can see the results on the outside.
ELIMINATE THOSE SKIN BLEMISHES THAT BOTHER YOU
Even though Secret RF micro-needling treatment involves tiny needles, it is minimally invasive and so gentle that it can address even the most sensitive facial areas like around the eyes. The effectiveness of this treatment lies in the fact that it can be fully customized to meet your specific needs and expectations. The treatment is really versatile and can treat different skin blemishes – wrinkles, loose skin, acne scars, large pores, pigmentation – you name it! It also improves skin tone and texture – it can really do a lot for your skin.
‍
LET THE NATURE HELP YOU RESTORE YOUR RADIANCE
As micro-needles create micro-wounds, your natural healing processes wake up and your skin starts to recover really fast. And the treatment doesn't have to treat your whole face – only a fraction of it. It actually targets only the area that is affected by skin imperfections. This significantly reduces downtime and speeds up the recovery. This gentle and less invasive treatment provides you with brilliant results only with much fewer side effects. Once the healing is over your skin is smooth, clear and subtly lifted – it is simply radiant.
‍
WATCH AS YOUR SKIN BECOMES EVEN MORE REJUVENATED WITH TIME
You will love the Secret RF Micro-needling treatment. Why? Because your skin will continue to improve after the treatment. As the new collagen builds up your skin gets remodeled and damaged cells heal. After 6 weeks you will notice that your skin looks even healthier and more radiant. Your once dull and tired-looking skin becomes refreshed and aging signs get reduced. The results of this treatment are completely natural and long-lasting – all thanks to gentle but powerful Secret RF Micro-needling.
Let's move on to the issue of cellulite dimples because this August you can:
‍
REDUCE CELLULITE WITH TWO EFFECTIVE LUCIA CLINIC TREATMENT
If you don't feel 100% ready for the beach because of unsightly cellulite dimples then Med Contour combined with Viora treatment will help you reach your desired aesthetic goal – reduction of "cottage cheese" under your skin. Plus you don't have to spend a lot of time on recovery – both treatments require no downtime, especially Med Contour.
MEET MED CONTOUR – THE MOST COMFORTABLE BODY CONTOURING TREATMENT
Yes, that's true – Med Contour is an advanced treatment that feels like a hot stone massage. But it is very effective in reducing cellulite and circumferential fat after just one session. Above all, it can be done during lunch break. It is a very simple treatment – ultrasound in combination with lymph drainage guarantees a smoother, firmer and better-contoured body. Again your natural processes are included in the treatment- after the fat cells are broken down, your body eliminates them through your metabolic process. Nothing beats natural-looking results – and Med Contour will give just that.
GET RID OF CELLULITE PERMANENTLY
That's possible with this awesome treatment. Once you eliminate those destroyed fat cells you can't grow them back. All you are left with is softer and smoother skin. Just keep up with the healthy lifestyle and you will enjoy your cellulite-free skin for a long time. Even though this procedure can treat your problematic area at a much deeper level than some other procedures, it is still gentle and doesn't harm the surrounding tissue or skin. That's why you don't have to take time off your work or social interactions – you can enjoy your summer activities right away.
On top of all that, you can improve your skin quality even further with additional treatment –
‍
VIORA V-FORM – ANOTHER EFFECTIVE CELLULITE REMOVAL PROCEDURE
Combined with Med Contour, Viora treatment will enhance your results even more – it will bring your body contours to perfection. If you have recently lost a lot of weight but are left with cellulite dimples or stubborn fat pockets then you will greatly benefit from this treatment. During Viora treatment, safe RF energy is sent precisely where it is needed – to the deeper layers of your skin where collagen is abundant. Again collagen is important here – as it builds up, cellulite gets reduced and your skin becomes more elastic and smoother.
‍
REDUCE CELLULITE IN ANY AREA OF YOUR BODY
We all know that cellulite can appear everywhere. And it can't be eliminated with proper diet and exercise. Well, Viora treatment can bring you that desired smooth skin in any body area – hips, underarms, abdomen, buttocks and even above the knees. It can target even the smallest areas of unattractive cellulite dimples – that is one of the biggest advantages of this treatment. Once cellulite is eliminated you can enjoy your new slimmer contours for a long time. You will be confident to wear more flattering summer outfits.
Finally, we conclude this August's specials for those who want to
GET READY AND HAVE PLASTIC SURGERY THIS SUMMER
If you have decided to approach your body issues in a different way and want to undergo plastic surgery, this couldn't be a more perfect time for that. And what is the first step? Something that Lucia Clinic is offering you right now – a complimentary consultation with the plastic surgeon. Deciding to have plastic surgery is a huge step for you, but consultation enables you to understand everything that this step includes. Perhaps you are not sure which plastic surgery will be the best for you, or how long you will need to recover – you definitely have tons of questions buzzing in your head. And Lucia's highly-experienced plastic surgeon will gladly give you all the answers.
OPEN UP AND SHARE YOUR BODY CONCERNS
We know that talking about your body concerns or your medical history is not always easy. But once you meet with Lucia's plastic surgeon you will feel more than comfortable sharing all your personal information with him. A pleasant and inviting atmosphere and the doctor's full attention will help you share all your insecurities about your body and of course your expectations from the surgery. You will realize that it's okay to desire more enhanced breasts, buttocks or pectorals or to reshape your nose if you are unsatisfied with it. More importantly, the surgeon will create a treatment plan that will work just for you and bring the results that are just for you.
CHOOSE THE MOST SUITABLE PLASTIC SURGERY
This is where the consultation with the surgeon really helps. We all have different bodies – different contours, proportions and different skin. The plastic surgeon can help you imagine how proper plastic surgery can bring your body to its ideal proportions by eliminating excess fat with liposuction or enhancing your breasts with implants. It's all about the right proportions – the surgeon's trained eye and creativity can help you achieve that. This also goes for the face – tweaking your nose a bit or having eyelid surgery can make a dramatic change to your appearance. Of course, you will still look like you, only rejuvenated and refreshed. Also, you need to know everything about the recovery period – every little detail counts. Whether it's avoiding the sun or resting for a couple of days, following all doctor's recommendations will speed up your healing.
FEEL SPECIAL WITH LUCIA'S SPECIALS THIS AUGUST
Don't miss a chance to add a finishing touch to your appearance and be completely ready for the summer. Eliminate those last deposits of fat with CoolSculpting and enjoy your slimmer contours. Or rejuvenate your face with Secret RF Micro-needling treatment. If you are bothered by cellulite dimples opt for Med Contour and Viora procedures. Finally, if you are ready for plastic surgery, have a complimentary consultation to help you decide which surgery is the right one for you. It's all up to you to choose between Lucia's August specials and finally reach your aesthetic goals.