SKIN-TIGHTENING WEEK AT LUCIA CLINIC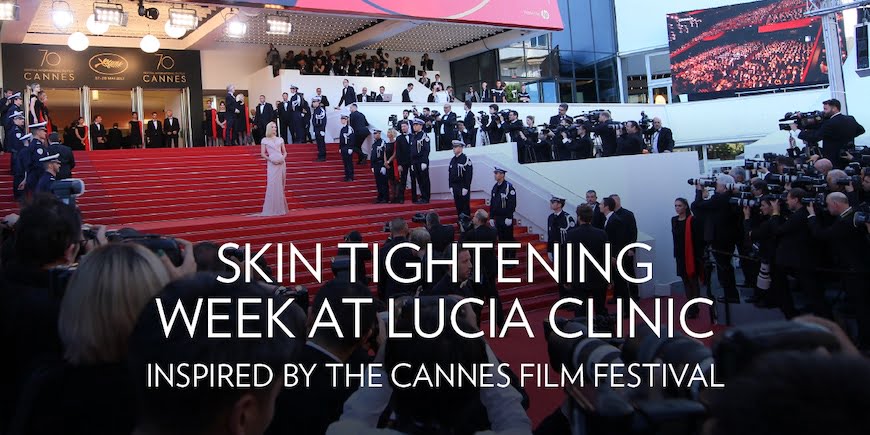 Something really special is happening at Lucia Clinic from 15 to 27 May – you can make use of this attractive offer and choose effective and sophisticated skin-tightening treatments! What else is happening in the world? The Cannes Film Festival – one of the most famous and world-renowned events in the world of cinema. Since it is a glamorous and cultural event it attracts a colorful array of visitors. Filmmakers, actors, directors all get together to celebrate their talents. Also, this festival is an event that celebrities from the world of art, fashion and culture never miss out on – they walk down the glamorous red carpet.
And all celebrities who will walk the red carpet want to look their best – their preparation includes tight, radiant skin. And they don't have enough time for invasive or surgical treatments.So, that's where non-surgical skin-tightening treatments at Lucia Clinic enter!
They are fast, effective and minimally uncomfortable – we can say that they are last-minute treatments! There is minimal to no downtime – right after the treatment you can continue with your day (or celebrities can pick their outfits and head to hair and makeup!)
WHAT LAST-MINUTE SKIN-TIGHTENING TREATMENTS CAN YOU TRY THIS WEEK?
First on the list is Sofwave. This amazing skin-tightening treatment zaps away wrinkles and fine lines with powerful ultrasound energy. It can also lift your brow and submental area – it is subtle but very noticeable.
If you need a magic wand that will quickly turn your dull-looking skin into smooth and youthful-looking skin then Sofwave is your thing. This great procedure kick-starts your collagen and you already know that this important protein keeps your skin nicely firm and rejuvenated.
As we said celebrities don't have time for long treatments and downtime – they want results right away. So what's great about Sofwave is that it can improve your skin in just one session. Your skin gets an instant boost – it looks plumper and youthful.
All this happens in a completely natural way – your own skin heals itself and gradually improves. You can expect nothing but natural-looking results, which include enhanced skin and subtly lifted facial features. All this is perfect for last-minute skin-tightening!
The next one is Ultherapy – a brilliant treatment that can improve your skin in deeper layers. With powerful ultrasound energy, Ultherapy firms and lifts your skin on the face or neck – it's like magic. It's super precise and can target the exact layer of your skin which needs improvement. It boosts your collagen production and gives you a smooth and tight skin appearance. And again, there are no needles, scars or long recovery.
Ultherapy is fast and effective and leaves you with tight and toned skin that simply radiates.
All this happens after a single session. Ultherapy really saves the day – you go from appearing tired and stressed to radiant beauty. You are more than ready for your special event after Ultherapy.
Then we have Accent Prime – it can give you Photoshop perfection but for real. It uses a powerful combo of RF energy and ultrasound to contour and firm your skin. It breaks the fat cells and eliminates fine lines and wrinkles – your skin complexion looks significantly improved after this amazing skin-tightening treatment.
Accent Prime is especially effective in slimming and sculpting your chin and submental area – it helps your skin to return elasticity and youthfulness.
Plus it works on your skin laxity and can be used anywhere on the body. It can reduce cellulite and lift saggy skin on your legs, abdomen, buttocks or arms. If this treatment doesn't help you look flawless in your red carpet outfit we don't know what does. You will be radiant from head to toe – your facial skin will be rejuvenated and firm and your body contours will be slimmer and firmer. You will definitely look glamorous after Accent Prime.
Finally, there's Thermage treatment – it will truly fulfill your wish of having perfect skin. Thermage uses safe RF energy to trigger collagen production in your skin. This energy heats the deeper layers of your skin and triggers the natural production of this important protein. It provides you with immediate improvements in your skin.
What results can you expect? Of course beautiful and natural-looking – and these results are the best ones. Your skin is subtly enhanced, radiant and youthful.
This non-invasive skin-tightening laser treatment is super versatile. You can lift your eyelids and improve the skin around your eyes. Or you can tighten and lift the skin on your entire face and neck area. Finally, if you want to firm and contour your body areas like the abdomen, buttocks, arms or thighs, Thermage can even help you in this department.
Again, this treatment can improve your skin from head to toe. With beautiful and enhanced facial skin and nicely contours silhouette you will definitely attract a lot of attention.
WHY ARE THESE LAST-MINUTE SKIN-TIGHTENING TREATMENTS GREAT?
For starters, they are like your best-kept secret to looking great. Nobody needs to know that you had last-minute skin tightening treatments, but they will definitely admire your glamorous and radiant look. That's all because the treatments are non-invasive and don't change your appearance. They subtly enhance your natural beauty and bring you flawless skin. That's all that celebrities want before they appear on the red carpet at the Cannes Film Festival.
Since these treatments are gentle you don't have to worry about side effects, scars and complications. All your skin concerns disappear quickly and effortlessly. There is no downtime which means a lot to celebrities who are in a hurry to look their best on the red carpet. You can even squeeze your skin tightening treatment in your lunch break and then continue with your day. Even if you do experience some mild side effects like redness or swelling, they all resolve in a couple of hours. Then you are definitely ready to show your flawless skin.
And it's also important that these skin-tightening treatments offer you a great pampering session. They offer you a chance to relax and have a mini spa day while they work their magic on your skin. It's a perfect chance for a bit of TLC before your special event.
All these skin-tightening treatments are absolutely customizable – you can get a tailored treatment plan that will address your specific skin concerns. It can be fine lines and wrinkles, loose skin, dull-looking complexion and others – proper customized skin tightening treatment at Lucia Clinic will fulfill your aesthetic goals. Lucia's team will be like your own beauty guide on your journey to radiant skin.
That's it. These last-minute skin-tightening treatments come in and save your day – they boost your confidence and give you what you need to feel elegant, sophisticated and ready for the red carpet – as any other celebrity.
Don't miss out on the chance to get your customized skin-tightening treatment this week. Visit Lucia Clinic and make use of this really attractive offer – feel and look like a superstar!